If the thought of freely roaming the country, taking to the open road and having no fixed address appeals to you or you just want to be able to save money on holidays, you may be considering the possibility of buying a new caravan (part exchange advice here). Who can blame you? Owning a caravan opens the doors of opportunity for interesting and exciting adventures, not just in the UK, but further afield too.
It'd be nothing short of magical to be able to just visit your local dealership or get in contact with a seller advertising one online to exchange your hard-earned money for that perfect mobile home. However, in the real world, it's not nearly that simple. There's a lot more involved in buying a new caravan than just picking the first one that suits your budget and handing over the money. Whether you've owned one before or not. After all, you are essentially buying a home on wheels.
For one thing, a caravan is a significant investment and not one you should make lightly. There's also the fact that's there's a wide variety of different manufacturers, models, styles and sizes of caravans to choose from.
You have to figure out what berth you want, the kind of layout you want, one that can be safely towed by your current car or vehicle and so much more.
With so much to consider, it's hard not to find it all a little overwhelming. However, the very last thing you should do is let that feeling stop you from buying a caravan. It's possible to buy a great caravan when you know what you should be looking for.
With this guide, the team at Caravan Helper want to help you understand the whole thing better so you can eventually find and buy the perfect caravan for you.
Which Type of Caravan is Right for You?
The first thing you need to think about is the type of caravan that is right for you. In this section of our guide, we will outline some of the most common and popular types of caravan and who they might suit.
Traditional Single Axle Caravan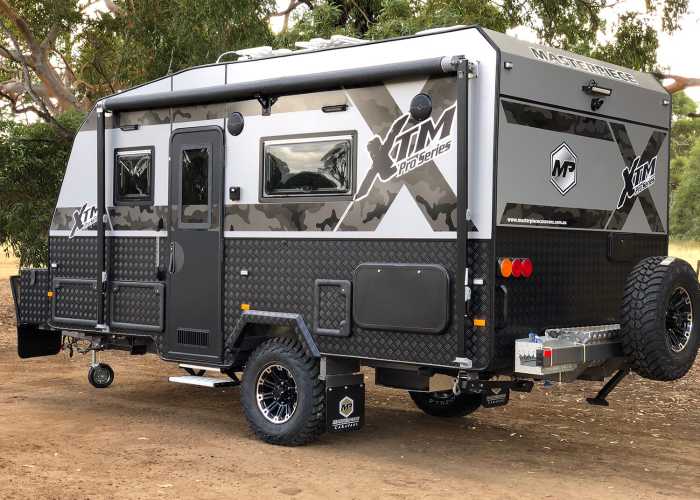 Most caravans you will come across in your search will utilise a single axle along the middle of the caravan with a wheel at either side of it. They have an interior of roughly 3 to 6.5 metres long. The number of people that can comfortably sleep in one will depend on the specific layout of the interior, though it is normally a minimum of two to a maximum of six people.
They normally consist of a kitchen area featuring work surfaces, a hob, sink and some cupboard and storage space. Another standard is a bathroom with a shower, basin and toilet.
Most new models of caravans available in the UK are manufactured by one of six companies, some of which build touring vehicles under various brands. American and Continental tourers have become more and more popular over the years.
The most popular and reputable UK caravan manufacturers are:
Vanmaster
Swift Group (manufacturers of Sprite, Sterling and Swift vehicles)
Lunar
Elddis (manufacturers of Buccaneer and Elddis caravans)
Coachman
Bailey
However, there are some other brands worth considering, such as:
TEC
Sterckeman
Knaus
Hymer
Geist
Dethleffs
Caravelair
Adria
The Double or Twin Axle Caravan
Caravans larger than the normal sized touring vehicles are often fitted with twin axles, which means that rather than having just one axle running along the middle of the vehicle, they have two axles and two wheels on each side.
Having two axles helps to make the caravan chassis much stronger. This can also help to make the caravan more stable when towing it along the motorway. The downside is that it also makes it a lot harder to manoeuvre into place on a driveway or a pitch.
You should look at both double and single axle caravans and decide which you feel more comfortable towing.
Manufacturers of double axle caravans in the UK include:
Swift Group (who make the Sterling and Sprite lines of vehicles)
Lunar
Elddis (responsible for the Buccaneer and Elddis tourers)
Coachman
Bailey
Teardrop Trailers
If you are not interested in having a particularly large caravan or touring vehicle, you may find attractive teardrop trailers suitable. Sports cars, classic cars and, remarkably, trikes are often the kinds of vehicles you will see towing teardrop trailers.
Accommodation in teardrop trailers normally consists of just a double bed that takes up much of the floor space. There are some available that have limited space for storing equipment and even have cooking facilities, though basic.
Popular teardrop trailer manufacturers include:
The Pod
Teardrop Trailers
Stimson Designs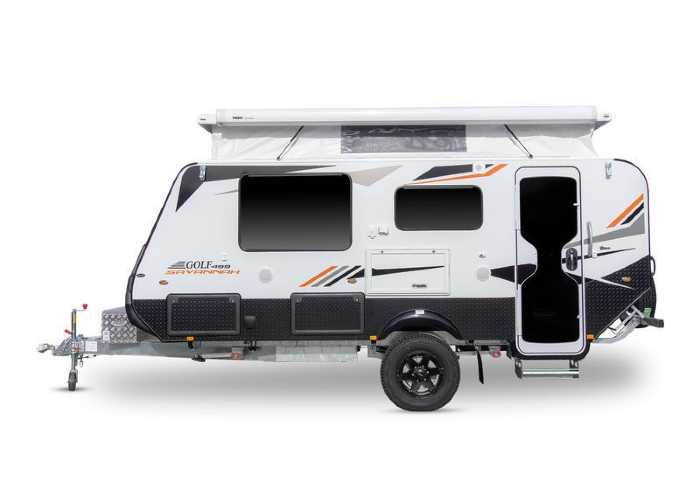 Pop Top caravans are less popular than they were in the past. these particular touring vehicles consist of a small caravan that has a roof that can be lifted to increase the standing headroom.
The benefit of this design is that it means there is less area at the front meaning that there is less drag when you are towing and therefore, your touring vehicle will have better fuel consumption. Another major benefit of this design is, thanks to their height when the roof is down, they can be stored in a conventionally sized garage.
The most popular manufacturer of pop top style caravans is Eriba, based in Europe. The company has been making these intriguingly designed tourers for over 50 years and counting.
Visually impressive, folding caravans are marvellous to watch as they unfold from a low-profile trailer into a fully equipped, full size caravan. While they obviously benefit from being easier to tow and store, the downside is that they need to be erected each and every time you arrive at a different site. This means they are more time-consuming and less convenient than the other caravans detailed above.
One of the only main manufacturers of folding caravans in the UK are:
Gobur Caravans
Small GRP Caravans
There are some small caravans available known as GRP or fibreglass. One of the most popular of this type of caravan is the Freedom range. Freedom GRP caravans are Polish-built, low-priced and small. As the they are made from one piece of plastic body-reinforced with glass which is not only unique but long-lasting and ensures the value lasts reasonably well.
On the interior the fittings are very basic, meaning they are lighter than premium no-expense spared luxury caravans. That said, these have provided many thousands of couples and families with value-for-money comfort.
Choosing the Caravan Layout
It's relatively simple buying cars when it comes to choosing the layout, because there's only a few different seating layouts. As caravans can have various layouts though, it's not quite as simple as there's a wide variety of caravan layouts.
Generally speaking, the layouts of caravans built in the UK are designed to fit anything from two to six. So, you need to determine how many berths you need and if you require additional space for any guests you may have touring with you at some point.
To help you understand the options you have, in this section we will discuss the most common and popular caravan layouts.
Two Berth Layout
The vast majority of caravans feature the two-berth layout. This is the most affordable, lightest and smallest available. It should be noted that virtually all UK-built caravans feature a frontal parallel lounge that has either two convertible single beds or one convertible double bed.
This is the main focus in this type of layout, with either a side kitchen area and full-width bathroom or a rear kitchen and side bathroom. Couples who are looking for a caravan that is affordable and lightweight should consider this layout, as long as they don't require extra space for guests.
Fixed Double Bed Layout
It's no surprise that this is thought to be the most popular layout for caravans in the UK, as couples touring in one don't need to make their bed up each night.
The most common berth of fixed double beds caravans is four, also called 'two plus two', because couples often like this choose this option and then keep the front sleeping area as spare.
The double bed part of the layout can be placed in a variety of different places, with one of the most common being alongside the nearside of the caravan, efficiently making use of space (caravan bedding choices here)
Washroom space is something you also need to think about if you are looking at fixed-doubles. For instance, if you like using the shower on the caravan, then it is probably best that you get a full-width bathroom, while if you enjoy using facilities at a site, a compact wet room tucked into the corner might suit you.
Island Bed Layout
Perhaps you and your partner like waking up at different times and would prefer an island bed layout. This type of caravan layout features a double bed either on the wall on the nearside facing across or against the back wall facing the caravan's front. In either setup, there is a comfortable amount of room at either side of the bed, making it easy to get out.
Fixed Twin Single Layout
One caravan layout that has gained popularity recently is the fixed twin single. Perfect for families, this layout consists of four berth and is fairly self-explanatory, offering two fixed single beds.
This layout would suit families where the couples prefer/need to sleep separately at night or older children who are too big for bunk beds and don't want to sleep in the same bed as their sibling.
What is the Best Layout of Caravan for Families?
Generally speaking, the term 'family layout' is applied to any caravan with five to six berths, as they will consist of at least two to three beds that have been designed with children in mind.
You will also find that fixed double layouts are available in both five and six berth version and consist of a side dinette area, which can be converted into two bunk beds or a single bed, depending on the model and manufacturer.
There are various other options suitable for families that we've not even mentioned. The best thing to do, if you are unsure, is to go to a local dealership and take a look at the interior of various layouts to see which you like best and which would be most suitable for your family size and everyone's ages.
Can You Tow a Caravan with Your Car?
Further aspects involved with owning and towing a caravan that you need to consider before deciding to buy a particular model include whether or not you can on your licence, whether your car is suitable for towing or not, working out the towing weight and if you may need to invest in additional kit.
First things, you need to determine if you can actually tow a vehicle.
Although in the UK we do not have anything called a 'trailer licence', you may have to take a driving test for an additional category depending on the load weight you are towing.
As of the 19th of January, 2013, all drivers who have passed a category B (for cars and small vehicles) driving test are legally allowed to tow:
Trailers over 750kg, if the weight of the towing vehicle and trailer combined does not exceed 3,500kg MAM or Maximum Authorised Mass,
Small trailers that weigh up to 750kg
If you're looking to tow a trailer with a weight that exceeds the 750kg limit and the combined weight of the trailer and towing vehicle is over 3,500kg MAM, you need to obtain the additional B+E entitlement for your driving licence.
If you pass your test after the 1st of January, 1997 and possess an ordinary category b licence, you are allowed to:
Tow a trailer that weighs over 750kg MAM, if the towing vehicle and trailer combined weight does not exceed 3,500kg
Towing a trailer that weighs as much as 750kg, while driving a vehicle that weighs 3,500kg MAM or 3.5 tonnes.
If you need to tow a trailer that's heavier, you need to sit the category B+E driving test.
If, however, you passed your test before the 1st of January 1997, you are usually allowed to drive a trailer and vehicle with a combined weight of 8.25 tonnes MAM, but if you have any doubts, you should always check out what you are entitled to tow on your licence. You can find out more information about this at https://www.gov.uk/view-driving-licence.
Working Out Towing Capacity
You will normally find the maximum weight that your vehicle is able to tow (that is the fully loaded trailer or caravan and fully loaded towing vehicle) in the owner's handbook.
As it's often not there, or if you have difficulty locating it, there are two important numbers you to know – the caravan's maximum mass (which has the less catchy sounding name of Maximum Technically Permissible Laden Mass, or MTPLM for short) and your car's kerb weight.
Essentially, if the caravan's mass is 85% or less of the kerb weight of your car, you will find it easy and safe to tow it.
However, if the caravan mass is between 85% and 100%, proceed with caution. It's recommended that only experienced caravanners consider towing a van that heavy.
Regardless of your experience though, if the caravan is heavier than the vehicle you are going to use to tow it, you can't do it. Finding the right car for the right caravan and vice versa is what experts refer to as 'outfit matching'.
The kerb weight is normally listed in the vehicle owner's manual, in the V5 registration document (as G: Mass in Service) or sometimes on the door sill on a plate.
The caravan weight is often listed on a plate close to the door frame, though the manufacturer of the touring vehicle should be able to give you the mass.
Other Important Numbers – Length and Width
Along with the weight of the caravan and towing vehicle, you need to be careful to ensure that the trailer or caravan you are going to tow is no wider than 2.55 metres, and no longer than 7 metres, for any vehicle that weighs a maximum of 3,500kg.
Checklist for Buying a New Caravan
There are some things you need to check when you buy a new caravan, including:
It comes with a user's handbook that is un-used and new.
It should also come with some kind of manufacturer warranty. Normally these provide coverage for at least 10 years for the caravan chassis and exterior and 3 years for parts.
When buying a caravan directly from a dealership, you should ask about the entitlements that are included as part of the after-sales support package. The most reputable and best dealerships provide ongoing support for new caravans.
Where You Should Buy a New Caravan
The final aspect of buying a new caravan that we need to cover is where you actually should buy one from. Ideally, you should look for a reputable dealership that offers as extensive a range of caravans as possible. Not just in terms of the manufacturers, but the models, sizes and layouts as well. This will give you a selection that will enable you to make the best choice to meet all your requirements and preferences.
It's also recommended that you compare and contrast a number of different dealerships, to see where you can get the best value deal.
Only ever do business with a dealership that is fully accredited and licenced, ensuring that they are approved by the NCC or National Caravan Council and part of the organisation's Approved Dealership Scheme. This scheme is run by a reputable independent body that uses a strict code of practice.
You should now have enough information at your disposal to find that awesome new caravan. We hope this guide helps you to enjoy many years on the road touring the country and beyond.
At Caravan Helper we are extremely passionate about caravanning, and we have many other blogs and articles that offer important information and buying guides to accessories and other aspects of caravanning, so please check them out.
Check out our article on what to put in your caravan cupboards when you buy it.
Maybe a caravan isn't for you? We put together an article on caravans vs motorhomes, check it out and it might get you thinking about which is right for you.
If you need help convincing the other half to buy a caravan then we have an article about that as well.