Milenco 2691 Calibrated Nose Weight Gauge Caravan Trailer
Kampa (AC0225) Caravan Nose Weight Gauge/Indicator
Maypole MP970 NOSEWEIGHT Indicator Gauge
Milenco 2691 Calibrated Nose Weight Gauge Caravan Trailer
Kampa (AC0225) Caravan Nose Weight Gauge/Indicator
Maypole MP970 NOSEWEIGHT Indicator Gauge
The caravan nose weight, otherwise known as the vertical force exerted onto the tow ball of your car when you have your caravan attached to it. It is normal and essential for the caravan weight should place some downward pressure on the rear of your touring car, as this aids the read tyres to grip to the road and ensure your car has full control over steering the outfit.
Ensuring that you have the right caravan nose weight is crucial though for towing a caravan safely with stability.  If it's too heavy, the load pushing down on the tow ball can cause the front of your towing car to lift, affecting your steering; while if it is too light, the caravan can cause your towing car's rear to life.
If either of these problems is not addressed, it can lead to serious accidents. Therefore, all caravanners should invest in a caravan nose weight gauge. In the following article we will highlight some of the best available gauges available right now. Before we look at these great products though, we will look at the subject of nose weight in greater detail.
Caravan Nose weight Gauges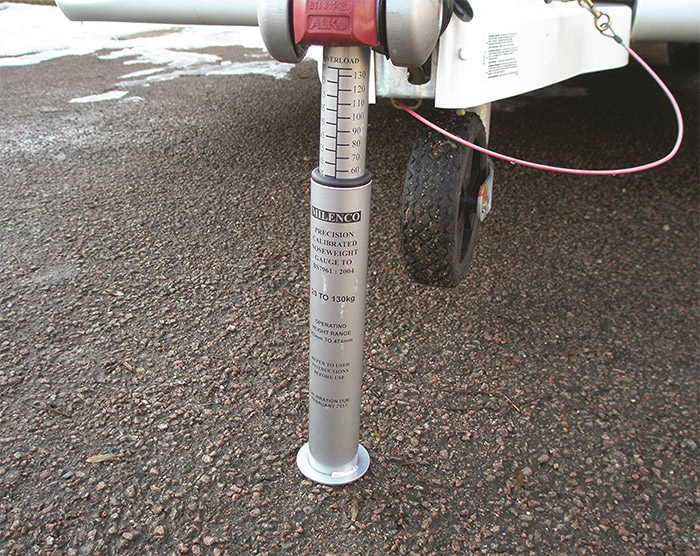 The first caravan nose weight gauge we have highlighted is this excellent value model from the highly reputable caravan accessories manufacturer Milenco.
As well as being manufactured by Milenco, it is noteworthy that this is the only gauge approved and calibrated to the British standard. This device provides you with technical superiority, reliability and accuracy that you apparently can't get from other items.
It features a clearly marked and very big scale, so you can make an accurate reading. It is compatible with weights up to 130Kg and can be accurate up to and past 1000 uses.


Another big name in the caravanning world, Kampa have a sterling reputation for designing and producing high-quality caravan accessories and equipment. This nose weight gauge is no different.
It has been calibrated to weights between 50kg and 100kg and features a scale that is large and easy to read and measures the nose weight in 10kg increments. It's made from aluminium is is very strong and durable and the soft head will not cause any damage to your hitch.
This gauge from Kampa also benefits from being incredibly compact and easy to store when it's not in use.


The next caravan nose weight gauge on our list is this excellent model from Maypole. We've feature Maypole on many different lists across this site, and we've highlighted this one because of their reputation for high-quality camping and caravanning accessories and equipment.
It benefits from having a clear and easy to read scale that measures from 50 to 100kg, is made from high-quality and robust steel. Although no gauge is completely accurate, this one has a reported accuracy of within 3%.


This is another great nose weight gauge from Kampa, it's sturdy, and has a soft head that won't damage your hitch. It's easy to secure it to the towing head and use and has a very clear scale.
Reich offers a digital nose weight gauge with their 22664 model. With the use of two 1.5v AAA batteries, this will provide you with a digital readout each time.
This product ensures the utmost precision when it comes to accurately loading. Thus, it helps you avoid the more common of problems that tend to be associated with non-digital wheel nose gauges.
Combining an excellent design with improved practicality, the Reich 22664 will take a maximum load of 115kg. With dimensions of 170 x 68x 120.5 mm, its temperature range is 0-50°c.
Working on a single axle caravan, this is highly rated by many customers as being better to use than that of the usual spring-loaded devices!
What Should the Caravan Nose Weight Be?
The recommended caravan nose weight should be about 7% of the caravan's laden weight, which usually falls between 75 and 100Kg.
Finding the Correct Nose weight
There are three numbers you need to be aware of to work out exactly what the nose weight should be when you are towing your caravan. Those numbers are:
The maximum nose weight of the chassis
The maximum nose weight of the tow bar
The maximum nose weight of the towing vehicle
The lowest number of these three is the number you should avoid exceeding.
Measuring Caravan Nose weight
Although this can be done in several different ways, the two most common methods used are:
Using bathroom scales
Using a caravan nose weight gauge
As we are focusing on using a caravan nose weight gauge for this post, that's what we will be referring to onwards.
The basics of using a nose weight gauge to calculate your caravan's nose weight involve loading the caravan as normal, making sure it's on a level flat and stable surface and then attaching your chosen gauge following the instruction manual.
Caravan Nose Weight Guide
The easiest way to adjust the nose weight is by balancing out the load placing in your caravan. If you find that the nose weight is too high for instance, you should try and move some items back towards the axle line. Avoid moving them any further back than this as this could cause even more instability. If you are still finding that the nose weight is too high, and you've tried redistributing the load across the axle, you may have to unload some things or move them to your towing vehicle, if possible.
If the nose weight is too low, on the other hand, you again have to move things – this time moving them forwards so that more weight is on the tow ball.
Expert Loading Tip – When you are trying to load your caravan and towing car, so that it doesn't exceed the nose weight limit, is to place the leisure battery and gas bottles on first. These are generally two of the heaviest things you are likely to be touring with. So, by putting them in first and making sure you have room for them, you will make it easier to know what else you can and can't load.
Nose weight gauge may not have been something you even knew you had to worry about and while it is not quite as tricky as you may have thought, it's still something that deserves your attention.
If you don't take the noise weight into consideration when you are loading your caravan and towing car, you could have a serious accident, that if it doesn't cause damage to anyone else or their vehicles on the road, causes costly damages that you need to repair.
With the above post though, you not only know what the best caravan nose weight gauges are on the market, but also the right way to check and measure the nose weight. We hope our caravan nose weight gauge reviews have helped you. If you wanted to know the combined weight of your car and caravan then you should find the nearest weighbridge to you and see what the weight is.
Need some more towing tips and advice then check out these articles!