Maypole MP9256 9256 Hitch Cover, Green, medium
Universal Caravan / Trailer XL Hitch Cover Heavy Duty Blue.
Speedwellstar Hitch Cover Universal Caravan Trailer quality 191g weight 4...
Material
4 layer, non woven fabric
Maypole MP9256 9256 Hitch Cover, Green, medium
Universal Caravan / Trailer XL Hitch Cover Heavy Duty Blue.
Speedwellstar Hitch Cover Universal Caravan Trailer quality 191g weight 4...
Material
4 layer, non woven fabric
There are so many accessories available these days for caravans and everything connected to towing one. So, may in fact that it can be quite intimidating trying to suss out just which are necessary purchases, and which are not. A caravan cover, for instance, is something that very few people would argue as being anything other than essential.
The same applies to awnings in their various shapes and sizes. These are ideal accessories when you want to extend the covered space your caravan provides further. Even awning covers are a necessity to make sure your awning lasts if it possibly can. However, there are some caravan accessories and items that are not as necessary to invest in.
Although some people consider caravan hitch covers to be in this category, we here at Caravan Helper would disagree.
A caravan hitch cover is more than just an aesthetic accessory that makes your caravan look a little better when its parked up and if you're interested in finding out the best of the plethora of caravan hitch covers on the market right now, you've come to the right place.
Now you know why we recommend that you invest in one, what are the best caravan hitch covers out there right now?
Caravan Hitch Covers (Some Options)


First on our list is this extremely affordable hitch cover manufactured by Maypole. Maypole are a very reputable supplier of caravan accessories and this hitch cover is no different. It has been manufactured using heavy-duty, high-quality PVC plastic that has been reinforced for increased durability. It is very easy to use and comes with all the necessary adjustable straps and buckles.


This is another cost-effective hitch cover made from high-quality nylon-like material. Rather than having straps or buckles, this has an elasticated cord and drawstring on the underside that enables you to adjust it for a tighter, secure fit.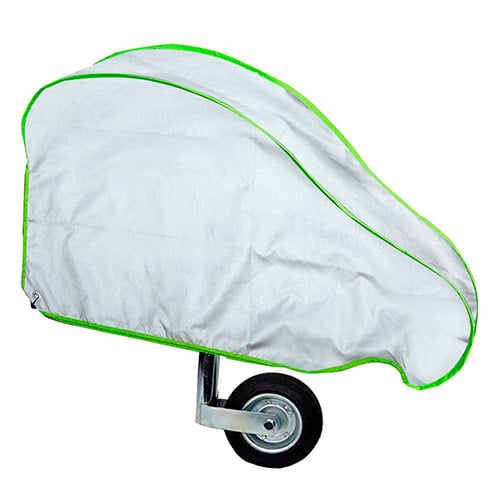 Made from 600DD Oxford cloth, this silver-grey hitch cover from Eluto it's a little bit pricier, but comes with a storage bag to keep it in when it is not in use. It's again, easy enough to attach using the string provided, you just feed it through the eyelets and tie them off around the hitch,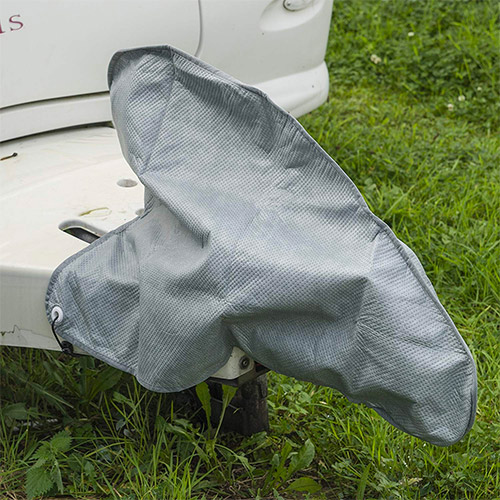 This next cover is another universally sized one that offers weather resistance and protection for your hitch. It comes with a bungee cord that you use to secure it tightly around your hitch, so it won't blow away and leave it exposed.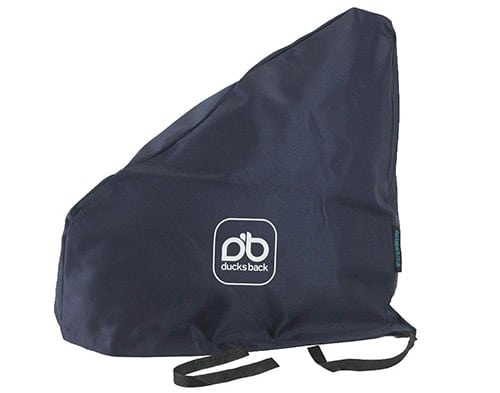 The next high-quality hitch cover on our list is by Ducksback and is constructed from heavy-duty 600DD polyester that is water-resistant and has a hard-wearing PVC backing. This hitch is designed to fit most hitches and is secured using webbing straps that tie through an attached loop that fits underneath the hitch.
As good quality as the fabric in this cover is, it is not protected against UV rays and therefore, the colour will fade in time.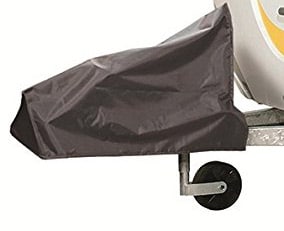 Streetwize products are often featured on Caravan Helper because of their affordability and the fact that they are well-made. This caravan tow hitch cover is no different and is made from a heavy-duty nylon fabric that is weather-resistant and will keep dirt, grime ice, snow, tree sap, bird droppings and so much more from building up on your caravan hitch and causing it to deteriorate.
This caravan tow bar cover also benefits from having resistance to UV rays so will not fade in the same way others do over time.


From the appropriately named Bags and Covers Direct Limited, comes our second-to-last caravan tow bar cover. This cover is available in a variety of attractive colours to suit almost everyone's preferences and is made from a 600DD polyester fabric that will keep out the rain, dirt, tree sap and other mess that can interfere with your hitch. It is easy to fit using straps and webbings. As it does not been treated with UV stabilising chemicals, the colour will fade in time.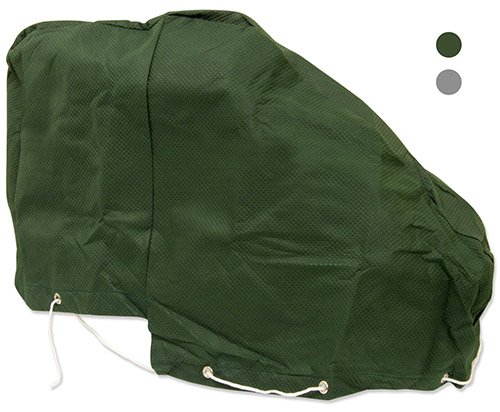 The last hitch cover on our list is this official Andes product and the company have a good reputation for designing, producing and supplying high-quality accessories for caravanning and camping. Designed to fit most hitches, and consists of eyelets and a drawstring cord for tight and secure fixing.
When you are looking for a bit of a cheeky hitch cover that stands out among the others, consider this hitch cover by Grove. Recognize your caravan from a distance with the big white letters on a bright red background that say 'keep calm and caravan'.
The hitch cover is made of high-quality nylon with a durable and water-resistant PVC coating. At its widest point, the hitch cover measures about 32 inches and at its highest point the hitch cover measures about 24 inches. Large enough for your average hitch.
Personalised Caravan Hitch Cover
We've already considered that as well as providing protection caravan hitch covers help to add a bit of pizazz and aesthetic value to your caravan outfit. They help to cover over the clunky, unsightly looking mechanical components. Therefore, it's not surprising that you can invest in personalised caravan hitch covers, like those available at:
https://bags4everything.co.uk/product/personalised-tow-hitch-cover/
Personalised Tow Hitch Cover
From Bags4Everything, you can invest in a personalised cover for a large or extra-large tow hitch, by emailing the company with your favourite picture. The cover itself has been constructed using the strongest available PVC-based material and will protect your A-frame or hitch from all weather conditions and are easy to fit with side-release clips 2 webbings.
Protection from the elements
The hitch is a very important component when it comes to towing a caravan. Therefore, it makes sense to keep it in as good condition as possible. Besides regularly assessing it for damage, damp, cleaning it properly and oiling it from time to time, you will also need to protect it from the elements and dirt.
Rain and other adverse weather conditions can slowly, but surely wear your hitch out. So too can dirt, grime and other messy build-ups. Therefore, if you want to avoid paying out for a replacement sooner than you expect, you should invest in a cover. They have very real benefits.
They Protect You, Those Travelling with You and Other Caravanners
Tow hitches attract a lot of dirt, oil and grime and when they get wet they just get dirtier and messier. They also have very sharp points and edges. The last thing you, someone in your travelling party or another caravanner wants is to either have their clothes dirtied up, ripped or otherwise torn by your exposed tow hitch.
Unfortunately, it may not just be clothing that suffers, as exposed tow hitches can cause accidental cuts and scrapes. So, a caravan hitch cover, with padding and thick material, is a safe way to not only protect the hitch itself but you and others from nasty injuries.
Why Cover Caravan Hitch
On this page, you will find many caravan hitch covers that are worth investing in. But you may wonder, why should you cover your caravan hitch? Although they do add to the aesthetic value of your caravan outfit, the main reason you should always cover your hitch when you're pitched up is protection.
When you leave the hitch uncovered and exposed to whatever Mother Nature throws at it, it will eventually suffer from corrosion and other water-related damages. This, in turn, makes it increasingly unreliable and harder to operate. In the end, you may have to replace it. Therefore, avoid this unnecessary cost by investing in a hitch cover.
There you have it folks, our pick of the bunch. We are sure you'll be able to find the best caravan hitch cover for your own setup. The one piece of advice we'd offer before you buy one is to just make sure that the dimensions will fit the size of your hitch. Although they have universal sizing, there are always exceptions. So, avoid disappointment by checking the measurements first. Once you know a cover will fit your hitch, there's no reason why you shouldn't invest in one. If you've never used one in the past, you'll quickly see why so many people do not caravan without them.
For more towing related information, check out our articles on the best caravan towing mirrors or rearview cameras.
Don't forget your hitch lock!