Today, we will be looking at the best caravan hitch locks. Before we continue, let's answer the question 'what is a caravan hitch lock'. A hitch lock keeps your caravan safe from thieves by preventing any cars from hooking up to your caravan. If you quickly search on Google for different caravan hitch locks, you will find a shed load of different options, including double lock caravan hitch locks, Maypole hitch locks and locks from Streetwize.
You will want an option that is durable, so it is not easily destroyed by somebody with a hammer, and you will want it to be visibly deterring so thieves know not to try to break in. Another thing to bear in mind is if the hitch lock for caravans is if they are Sold Secure certified. Sold Secure is a not-for-profit organisation for testing and certifying safety products by working with the police, insurers, and security product manufacturers to test how secure a product is.
The three different certifications are bronze, silver, and gold, with gold being the most secure. If a hitch lock is certified by Gold Secure, you know that it is a good product.
Although this may seem like a lot to bear in mind, we have you covered with this selection of different caravan hitch locks. We hope that this article will help you in choosing the right hitch lock for keeping your caravan free from any theft attempts.
Caravan Hitch Locks (Some Choices)
MAYPOLE Alko Hitch Lock
Maypole's Alko Hitch Lock is a robust yet lightweight lock that will provide extra security for your caravan and car when they are parked together, such as in motorway services. Fitting only takes ten seconds, and this hitch lock for caravans is approved to the Sold Secure Gold standard. The strong anti-saw steel casing covers the bolts fixing the lock to prevent anybody from stealing it.
Along with this, the Maypole Alko Hitch Lock has its own unique patented system for locking and the locks have thousands of potential combinations, and three keys are provided along with a key identity tag. Due to the robust nature, the hitch lock caravan is corrosion proof and waterproof. The Maypole Alko Hitch Lock is a sturdy, durable, high-quality product that is one of the best caravan hitch locks on the internet and is guaranteed to give your car and caravan extra security.
Streetwize SWTT125 Guardian Hitch Lock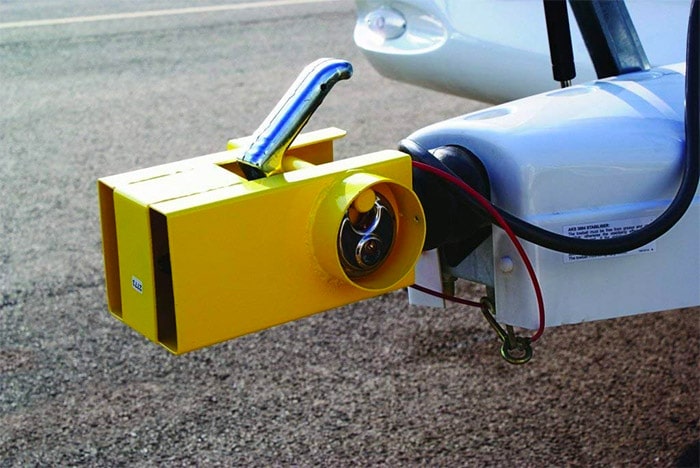 If you want to not only stop your caravan from being towed but also visibly deter anybody from trying to touch your caravan, then this is the lock for you. Easily locking on to the caravan, this caravan tow hitch lock will prevent anybody from towing or stealing your caravan. A recessed lock guard is added for extra protection, and two keys are supplied with the caravan hitch lock. The recessing lock system covers the bolt, so if a thief tries to cut the lock, it will be extremely difficult. Overall the Streetwize SWTT125 Guardian Hitch Lock is perfect for deterring any thieves from towing away your caravan.
Milenco 4534 Lightweight Safety Coupling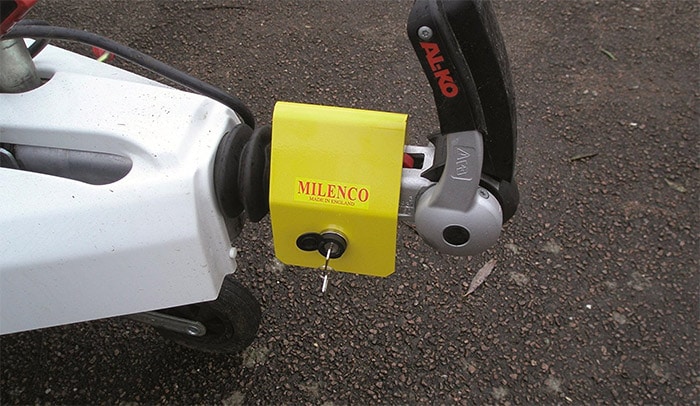 Milenco has provided a safety lock for caravans that perfectly covers the handle of the safety coupling and will allow for caravan safety when you are at home, for short breaks, and for if you are constantly on the road and need to promptly use an easy-to-use, simple and effective lock. Both unhitched and hitched caravans are compatible with this lock, but you must not use it on the hitch whilst the caravan is being towed. All in all, the Milenco Lightweight Safety Coupling is simple and easy-to-use, easy-to-carry, secure and an all-round great product that will mean you can leave your caravan with peace of mind that it will be safe from any thieves.
Bulldog Security GA95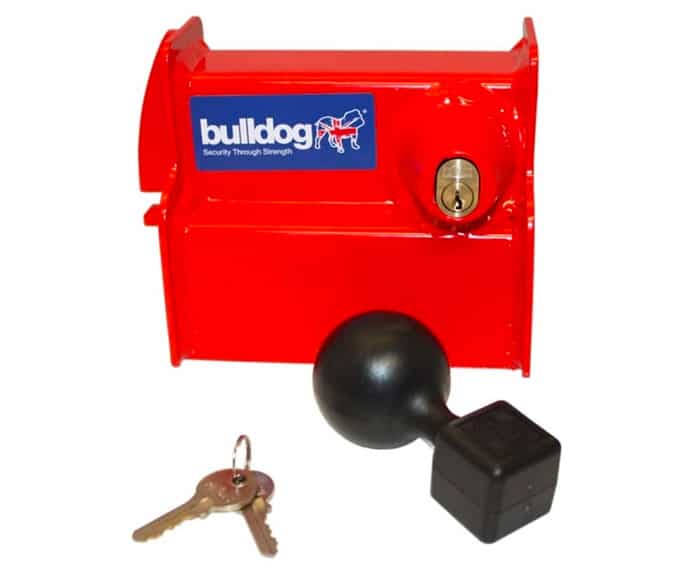 Our final product is a highly visible, sturdy and all-round secure quality product from Bulldog. Fitting is simple, and a dummy ball is supplied for when you are using your lock when it is not attached to your caravan. The red powder finish is visibly deterring to any thieves, and two keys are supplied with the product. Unfortunately, this hitch lock only fits un-hitched caravans. Overall, the Bulldog Security GA95 is incredibly visible and a great deterrent to thieves, an easy fit and a product that is guaranteed to keep your caravan safe and secure.
Conclusion
After looking at the best hitch locks available on the Internet, we hope that you can find an option that suits you. Durability is a vital quality of the hitch lock of your choice. As was, you do not want a lock that is easily smashed with a blunt object. Sold Secure certification is something to look out for as also mentioned before because you will then know that you will receive a quality hitch lock that will protect your caravan. We hope that you have found this article informative and helpful and that you will find the perfect hitch lock.
After some extra on the drive security? Have a look at caravan security posts.