One of the keys to having as comfortable and enjoyable an experience on the road in a caravan is being able to power the various appliances and devices you want to use. Obviously, compromises must be made. As there are many lower voltage models such as televisions for entertainment, hair dryers for personal grooming and microwaves, kettles and toasters for those home comforts you simply can't do without. You can even get a 12v coffee machine, if you prefer.
An important part of your caravan outfit, especially if you want to benefit from using the appliances above to get the most out of the experience, is having a leisure battery. At Caravan Helper, we've already discussed leisure batteries, leisure battery chargers and leisure battery storage boxes. One thing we've not looked at so far is something called leisure battery monitors. In the following post, that's exactly what we are going to look at. You'll find out a little more about them, what they are, why you need them and we have also searched out some of the best monitors on Amazon to help you make choose the right one for you, if you're interested in buying one.
Leisure Battery Monitors (Some Choices)
Sxstar LCD Digital Battery Capacity Monitor
The first of the great battery monitors we have to look at that would help you get the best out of your leisure battery is this monitor from a company called Sxstar. It has been designed and built to work as a monitor/detector for lead-acid and lithium batteries, such as lithium-ion batteries, polymer batteries and ternary lithium batteries.
You get the benefit of a crisp and very clear, high-quality LCD digital display that can be read easily from just about any angle. It can be set to display the voltage and battery charge either together or on their own and has a wide working voltage range of DC 8 to 65V and can be set to 12-volts, 34-volts, 36-volts and 48-volts.
Given its rather low price and the fact it features protection against reverse polarity, we think this is a worthy addition to your caravan outfit, especially if you're looking for a simple and budget monitor.
Cleanpower Multifunction 12-Volt LCD Lead-Acid Battery Capacity Meter
Next up we have the slightly more expensive model from Cleanpower. This is suitable only for lead-acid batteries and GEL, AGM and SLA. It also features a very bright and easy-to-read LCD digital screen. It is multifunctional as it can monitor battery capacity and voltage at the same time or show the battery capacity and temperature, all pieces of information that are very valuable. You can switch very easily between these two display options at the touch of a button. As it has been made to work while only consuming a low amount of power and has a working current of 5mA, it won't cause you problems.
DROK DC 120-Volts Multifunctional Meter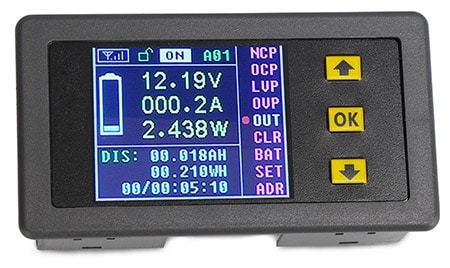 Next, we have another great monitor, this time form DROK and it is an even more versatile offering because it can a wide array of related to your leisure battery. That includes Time (displayed in hours), Energy (displayed in W/H), Capacity (displayed in aH), Power, Current (displayed in Amps) and Voltage (displayed in Volts). All the readings are visible simultaneously on the nice and visible LCD digital screen, so unlike some other models where you must press a button, possibly even a couple of times, to find the right reading you're after, this is far more convenient.
Another huge benefit from investing in this monitor is the fact that it's equipped with a superb bidirectional current detector. This basically means that it can be used to monitor a battery while it is charging or discharging and tell you how much time is left for each. it features wireless tech, there are multiple options for inputs, that will depend what your preference and current setup is.
As well as over-current protection, it has also been designed with time-limited protection, under-voltage protection and over-voltage protection. If using the wireless connection, you can avoid interference from other devices hooked up to the wireless by setting different channels for them all.
Nasa Marine Instruments Clipper Bm2-12 Battery Monitor
Nasa Marine Instruments is the company that we had heard of before looking at these battery monitors. Here, their Clipper Bm2 battery monitor is designed to work with 12-volt led-acid batteries with a maximum capacity of 999 Amp hours. Like all the battery monitors in our list, it has all the equipment and cables you need, plus an instruction manual, to help you install it easily.
The monitor will continuously read and display the number of Amp hours, Current, Voltage as well as its charge state and the time until it is either fully discharged or charged.
DROK Digital Multimeter DC 6.5 to 100-Volt
Another great battery monitor and the final product we're going to discuss in this post is the second we must share from DROK. Again, this features a large and crystal-clear LCD digital display and shows the readings for Energy, Power, Current and Voltage all at the same time. A nice feature that we like is that it has an over-voltage alarm function that will light and flash the screen if the voltage increases too high. What's more, the monitor will retain the data it last detected when you turn it off. To make it easy to read in the dark there's an attractive blue backlight.
What is a Leisure Battery Monitor and Why do You Need One?
A battery monitor is a special device that will, unsurprisingly, monitor the condition of the battery to give you a clearer and more accurate (in most instances) understanding of what's going on with it. It's a better option than a more simplistic voltmeter that you sometimes get with batteries and other equipment, because it gives much more detailed information.
For instance, as well as measuring the current going in and coming out of the battery, it will also keep track of the remaining capacity and the estimated time it will take until it is either fully discharged or charged. Knowing this information can obviously help you to use your battery, in this case, your leisure battery, more efficiently. This means that the battery is less likely to fail, particularly when you need it most, and you will increase its lifespan.
You need to be aware though that as there are many leisure battery monitors on the market, not all of them are made equally. Some are more accurate and helpful than others. It's always a good idea to look at both the information we provide and the online customer reviews, to get the best sense of whether a battery monitor is good or not. There's also the point that what's good and suitable for the type of leisure battery you have in your caravan will be different for someone else. So, always remember to check that the monitor is compatible with your auxiliary battery.
Conclusion
We hope this post has been useful for you and helps you find the best leisure battery monitor. Given that we've established that the leisure battery you have for your caravan outfit is crucial to how enjoyable an experience you have on the road, it's important to look after it. Having a clearer view of what's going on internally with it can help you to have greater control over the power you have at your disposal.
If you are completely new to caravanning and using additional batteries, then don't be alarmed, the battery monitors listed above all come with helpful instructions and there's even videos online that can help you with connecting them up properly, regardless of what your setup is like.
Whichever model you choose to invest in, we hope it helps to improve your caravanning experience!