Essentials To Always Have In Your Caravan Food Cupboard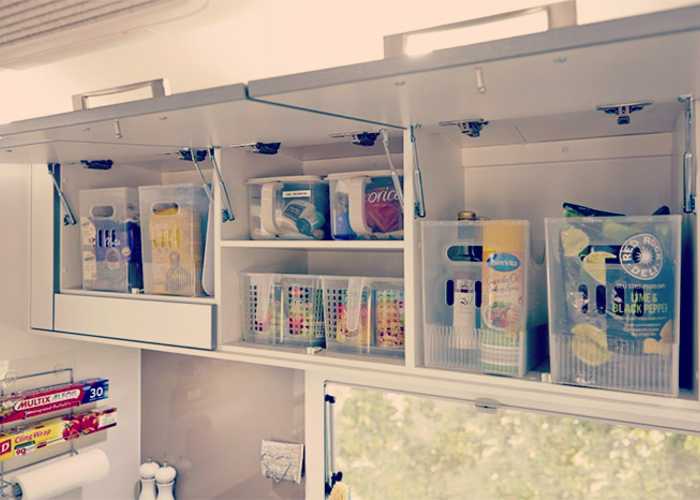 When setting out on your caravan travels across the countryside, it's important to have a number of easy meal options sorted out ahead of time in case you need food fast. There will inevitably be times when you are away from town or the store is closed. Having a well stocked cupboard in your caravan allows you the flexibility to enjoy a good meal wherever and whenever you set up camp.
Here are a number of helpful tips to prepare your caravan cupboard so you won't be caught hungry during your travels. These food items are easy to pack, take up minimal space, need little refrigeration (with a few exceptions) and don't require much preparation or cleanup.
Saving Space
For starters, how you store your food can be just as important as what you choose to bring. With any caravan, cupboard space is limited, so it's important to make every inch count.
Square storage containers take up less space than round ones. Look for containers that can be easily stacked and won't slide around during transit.  Avoid glass containers and jars, if possible. They are heavier to transport and will break if there are any unfortunate mishaps.
Plates and bowls. You will want ones that are not going to smash while your caravan is being towed. We put together an article on some of the best melamine dinner sets.
Dry goods such as flour, sugar and rice can be removed from their packaging and placed into smaller, space saving containers. Items such as these will also stay fresher and have less chance of spilling thanks to the tightly sealed lid. Just make sure you have everything properly sorted and labelled to avoid confusion.
Spices
A good selection of spices is essential for adding a full spectrum of cooking flavours without taking up much space. Keep all your spices together in a single box so you can easily pull them all out during cooking and pack them away quickly when you're done. Another spice storage option is to get shallow metal tins and store them on a magnetic strip mounted on the wall. This frees up precious shelf space.
Essential herbs & spices include:
Salt

Pepper

Bullion Cubes or Liquid Stock Pots

Minced Garlic in a Jar (fresh is great too, but jarred garlic minimizes cleanup and smell)

Onion Powder

Paprika (regular or smoked)

Oregano

Rosemary

Parsley

Basil

Curry Powder

Cumin

Marmite

Mustard

Spice Combinations – Lemon Pepper, Italian Seasoning, Piri Piri, Etc.
Cooking Staples
Next, you want to make sure that you have all the staples you need for cooking. It's easy to forget to bring these in your caravan because you tend to always have them on hand at home. Olive oil is a good option for traveling due to it's versatility. Whether you are sauteing onions or enjoying freshly picked greens, olive oil is an ideal choice. It's best to purchase a smaller bottle to save space.
Tomato sauce, chopped tomatoes and tomato soup are all must haves in your caravan cupboard. From pasta and rice dishes, to soups and stews, tinned tomatoes are a standard base for hundreds of easy one pot recipes.
Don't forget items such as flour, sugar, rice and other quick cooking pulses and grains that you normally enjoy at home. You don't necessarily have to bring the entire package. Portion out the amount you think you'll need for the trip (plus a little more, just in case).
Filling Comfort Foods
Now that we have all the basics, what are some main meal options that will keep you full, but don't take up too much space? 
Here are some suggestions.
Pasta is a satisfying and easy to prepare dish that everyone loves. One thing to keep in mind when purchasing your pasta is the smaller the size, the quicker it cooks. The shorter time your burner is on, the less fuel you use. When shopping, look for smaller pastas such as orzo, shells, macaroni and angel hair which take less time to boil.
Baked beans on toast is a super quick and easy campsite breakfast. Porridge is another easy to store, easy to prepare breakfast item to add to the shopping list.
Mushy peas are an excellent accompaniment to almost any main course. (Especially that fresh fish you caught earlier in the day!)
Curry served over a simple bed of steamed rice makes a delicious meal. Look for curry sauce mix granules or ready to heat up packets. When you are in the mood for a rich, spicy meal, a good saucy curry will warm you right up.
Tinned fish like sardines and kipper snacks are another popular camp snack. Just pop the top and enjoy on a piece of toast with a drizzle of olive oil.
Bread, crisps, and biscuits can take up a bit of space, but are nice to have on hand for a quick nibble in between meals. Make sure you have these items safely stored in a chew proof container so they won't attract pesky rodents.
Perishables
Ideally, you want to keep your perishable food items to a minimum, but items such as milk and butter can turn a good meal into a great meal. If you do plan on buying milk for your trip, consider choosing the smaller size. You can always pick up more at a local store during your holiday.
Butter is another refrigerated item that is really wonderful to have on hand. Toast (caravan toasters recommendations here), pasta, porridge, rice and fish can all benefit with a dab of butter before serving.
Tea
If you boil water for tea or coffee multiple times throughout the day, consider purchasing an electric kettle. These countertop kettles heat up water in a fraction of the time and uses your caravan's electrical outlet instead of the propane stove burner which saves you on fuel costs.  
With these caravan cupboard essential food items, you won't be caught unexpectedly hungry if you pull up to the campground after hours and the store is closed. With a handful of staple ingredients and a variety of herbs and spices, you will be ready with a number of tasty meals options that will keep you and your family well fed, full of energy and ready for the next camping adventure.
All of the above costs money, but if you want a full break down of what to expect when caravanning then check our how costs of owning a caravan article.