Whether you are a free spirit wanting to take road trips to roam this fair country or you just want reasonably priced holidays for you and the kids, deciding on a caravan vs motorhome is something to think about. Here we take a look at some of the pros and cons of both and see if we can help you see which is best for you.
I asked 2 friends of mine. One owns a motorhome and the other owns a caravan and I wanted to get both people's perspectives on each.
My motorhome friend said the following "Travelling for me is all about getting out and seeing as much of the world as possible. I picked a motorhome over a caravan for the freedom it gives me"
My touring caravan friend said "I love caravanning. Once I am parked up I don't want to be taking all the belongings with me. We usually caravan by the sea and it's a short walk into the village for the shops. If we do need to go on days out then we have the car"
I can see it from both sides, so let's take a detailed look into the subject of caravan or motorhome, and which might be best suited for you. Please note, this is only covering touring caravans and not static caravans. We will do another article about those soon.
Motorhome or Caravan – Which is Easier to drive?
We are covering the most important one first. The simple answer is, that a motorhome or campervan is much easier to drive than towing a caravan. If you are a confident and experienced driver, with a bit of practice you can drive a motorhome. It just takes a bit more time. Check that your driving licence allows you to drive one.
A caravan will take some more practice. Towing a touring caravan takes more practice and don't think that everyone whos towing one was amazing at first. Chances are, it took them a lot of practice and they went out early on a Sunday morning to get used to it. There are also a lot of towing courses that you can to learn the basics.
Is a Motorhome More expensive Than A Caravan?
It's not especially easy to compare motorhomes with caravans for regular yearly costs because caravans can last four years or twenty-four years. It's very important to do your research on the type of caravan you get. Motorhomes have a standard life of around 20 years or about 200,000 miles, whichever is sooner.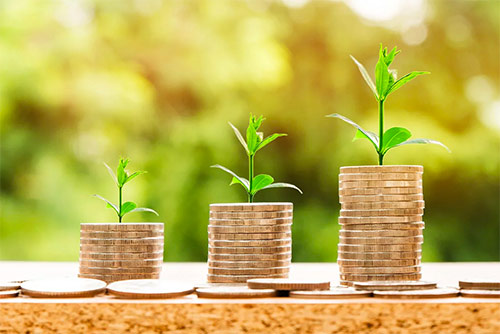 Motorhome or Caravan – The Costs
If you are deciding whether to buy a motorhome or a caravan, the cost is a huge factor to take into consideration. A leisure vehicle should be seen as an investment, whether you eventually buy a motorhome, caravan or even one of the great camper vans that are out there.
With that in mind you need to not just think of the initial cost involved in buying caravans and motorhomes, but the ongoing running costs and how much return you are going to get on your investment.
Initial Price
A top of the range new motorhome costs more than a new caravan – you are getting more because you are getting a caravan and a car in one. Your initial outlay will be greater. A top-notch caravan would cost about £34,000, brand new. For a slightly lower price of around £32,000, you could buy a 9-year-old motorhome that has done 13,000 miles. Both are beautiful, don't get me wrong, but it's still comparing buying a new caravan with buying a second hand (old) motorhome.
Part of the initial cost for a caravan might involve buying a new tow car. If you own a small car like a Vauxhall Corsa then you are going to have to change it for a much larger vehicle.
Ongoing Running Costs
Motorhomes require taxing, MOTing and servicing each year. The yearly costs for this, including repairs, will easily cost you £2,500. A caravan will cost much less than that, it won't need taxing and MOTing, obviously, but you will need to make sure it's insured.
You do need to insure, tax and MOT the car or tow vehicle, but as you would need to do that whether you were towing a caravan or not, it is an additional cost.
Some caravans will last just a few years then need replacing, particularly if the dreaded damp presents itself. Many experienced caravan owners feel the older caravans were built more robustly than the newer models. If you are taking the caravan route. which is undeniably cheaper, then really take a long time to investigate which caravans present the best value for money.
Caravan Insurance vs Motorhome Insurance
Technically, you don't need to buy insurance for your caravan. However, it does mean you will not be covered against accidental damage or theft. Fortunately, caravan insurance is not nearly as expensive as motorhome insurance and can work out as little as £150 a year.
Motorhome insurance is going to cost you about double that of caravan insurance. A motorhome is likely to do more miles and be on the road more. It is also going to be a more expensive item.
Caravan or Motorhome for Touring Around Europe? Or Maybe A Campervan?
Most of my friends that use a caravan abroad go to France and a few go-to Spain. That isn't to say you can't take a caravan further, it's just likely to be a bit harder with some of the small roads that there are on the continent.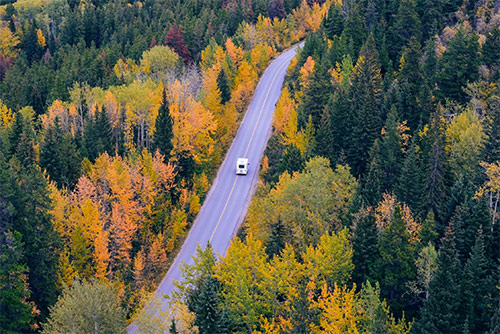 It also depends on what you intend on doing. If you are thinking about being more spontaneous and wild camping then a caravan is probably not for you. If you are going to your favourite beach resort in France for a long summer holiday, then a caravan, and not a motorhome, is the better option. Campervans are also a great choice for camping travels to Europe as they are a bit smaller and might be easier to drive on roads you don't know.
Caravan or Motorhome for UK holidays?
We think this is a 50/50 split. The UK has a lot of campsites that are very suited for both.
Who will you be travelling with?
If you have 3 kids and 2 dogs then living in a motorhome might end up being a bit of a tight squeeze. As the engine and the cabin where the driver sits takes up a lot of the space and eats into the available living space. That's, where a caravan might be the better option so that everyone can have their own space and the dogs, have more room to run around. Even if the weather is rubbish the dogs can go outside in the awning without bringing mud inside.
Which is more relaxing?
I think that caravanning is more relaxing. Once you are parked up in your spot then that's it, your home on wheels is staying put. You can leave the awning set up to extend your living space, and all your furniture can stay where it is.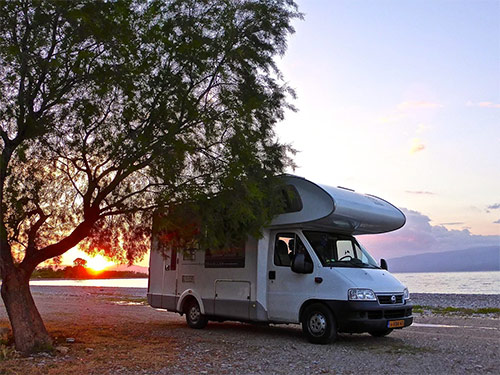 With a motorhome, if you want to take trips out then you have to pack everything up each day and make sure it's all securely fastened down. Unless you have the use of or tow a small car.
On the other hand, as many people will argue, driving a motorhome is more relaxing than towing a touring caravan!
One thing we will say on the subject of relaxation is that caravans don't tend to have waste water tanks in the same way that motorhomes do, so you need to take a portable model and clean it out daily unless you fancy having a rancid smell.
How long are you going away for?
If you are thinking of going away for a few months then we think the better choice is a motorhome as you can move about a lot easier.
However, if you have the caravan based in a campsite or somewhere permanently and use it as a holiday home at the weekends then a caravan might be the better option.
Which is safer?
For the safety-conscious among us, this is a serious consideration. Much depends on where you park. If you park in a proper caravan site, then you can introduce yourself to the neighbours, who then know who is supposed to be around your car and leisure vehicle. If you are free or wild camping or have just parked your motorhome up, there is less security and you are at greater risk of vandalism and theft. You are never going to be 100% risk-free, but you can help yourself with security measures for both caravans and motorhomes.
Travelling Light
If you are the sort of person who likes to travel around and stop wherever you want, if you like to just be a bit more spontaneous, then a motorhome might suit you better. You can drive to a spot, stay a few days, drive to another spot and enjoy that one, too.
There is less to set up, you just find a place to park. It's worth knowing that all Asda car parks in the UK welcome motorhomes, so if you fail to find anywhere else, you can always park there, no charge. Asda knows that you will want to go in and buy stuff in the morning so they benefit from your being there anyway.
Where will the caravan or motorhome be stored?
This is a very important factor to consider. Do you have room on your drive at home to park it? If you live in a terrace house and want to own a caravan then you could always look for storage that's close to home.
Another option is to store the caravan near to where you holiday. If you are travelling to Devon each year but like to visit a few campsites down there then it would make more sense to store the caravan in that area. This saves you towing it as far each time you want to use it
Which is best for kids?
This depends on the kids. If your kids are young then probably a caravan would be better. Of course, Mum and Dad will have to set up the caravan and take care of the kids, so that might be a problem. But once it is set up, then you know you have a "home living space" to come back to.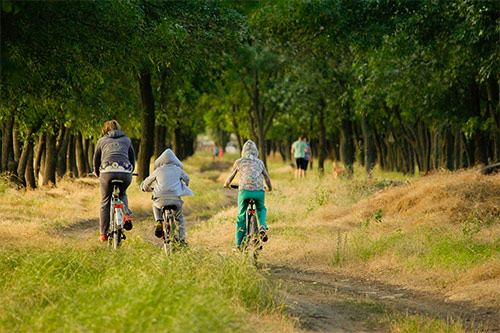 It means that you can leave your stuff and go and enjoy yourself during the day. It means if it starts to rain then you can come back and spend some time together in the caravan. You can stock it with favourite toys and teddies and make it a place that is special for your kids and there are fewer worries when going on a holiday.
While the same holds true of motorhomes that are parked up at sites, it isn't the same for people who want the freedom to roam. Will younger kids understand that there is a huge amount of driving involved? That if you drive all day to get "there", and it rains, then you have to stay put in the motorhome for even longer? Particularly if "there" doesn't have a kid's club, a pub or a play centre? For people who have older children while they undoubtedly won't like it, at least they can understand why they are going to different places and the risk that it might rain but that's ok. Usually, because they have an iPad or tablet or phone they can use! If you do get a motorhome and have kids, then get a large motorhome.
Which Suits Dog Owners Best?
One of the best things about holidaying in the UK is how easy it is to take our dogs with us.
But, what if you have a motorhome? Where to put the dog then? Well if your dog is used to going into the cabin, you can put a harness on him and you will be fine. You can also get travel crates that could go in the motorhome. Whatever option you pick just make sure they are secure.
We think a caravan is slightly more suited towards a dog. There's a bit more room and if you have an awning then you can keep an eye on them easier.
Which is Best for Sightseeing and Day Trips? – Motorhome or Caravan?
As well as considering where in the world you are going and who is going with you, you need to think about what kind of holidays you are going on. One of the joys of travelling around the UK in a leisure vehicle, even if you are staying at a caravan park, campsite or holiday resort, is that you have the opportunity to explore the towns and cities in that area.
Like many of the subjects we have discussed, there are pros and cons for each type of vehicle in this regard. However, we feel that caravans come out on tops.
Say, for example, you go on holiday to the Lake District. Even if you are staying at a well-equipped, luxury caravan club site, you will undoubtedly want to get out there and explore the natural beauty of the area. When you are towing a caravan, this is a lot easier to do, because once you have set up your caravan you can then use the car to easily get out and about, taking in the sights, sounds and whatever else floats your boat of the area, in this case, the Lake District. You don't need to worry about strapping everything down securely and packing everything up again, as long as you have decent security for your caravan, there is nothing to worry about.
However, if you have a motorhome, it will be a lot harder to have this kind of experience because unless you tow a small car along behind your motorhome (or enclosed inside it at the back if you can buy a motorhome that is quite modern) you can't take it out for small day trips.
For one thing, you will always need to pack up and secure everything, which could get frustrating if you are just taking mini road trips to the seaside or to visit a museum and you may find that you are not allowed to park it up in a small town car park. Especially one that is enclosed. Then there is just the fact that a large motorhome is very cumbersome and not ideal for small-town roads and streets.
Final Thoughts
Ultimately when it comes to deciding whether a motorhome or caravan is best, it is all about what you want out of a holiday vehicle and the kind of experience you would like that will make you decide on your first motorhome or a caravan. That, and price. If it were me, I would consider starting with a caravan (especially if I had a young family) and seeing how I felt about the camping/caravanning lifestyle. If both you and the kids take to it well, then consider moving up to a motorhome when they get older. If you are retired and can afford the price, get a motorhome, and give yourself the freedom of the open road.
Either way, give it a lot of thought, consider the pros and cons and don't rush into the decision.
If you have decided that caravanning is for you then check out our guide on how to buy a new caravan.