If you're considering purchasing a caravan, but aren't too sure whether the caravanning lifestyle is for you just yet, there is a great alternative here, in that of the pop-top caravan.
A smaller but fantastic idea, these more compact of vans are often referred to as micro manageable and can be an excellent way of determining how well you'll take to caravanning. People that like these have often owned campervans or motorhomes in the past and moved to caravanning.
Alternatively, you might be looking to downsize from a caravan. Perhaps you already own a caravan and would like to add something with a difference to your collection?
Whatever stage of the caravanning journey you're at, the pop-top caravan is an exciting little invention which is well worth looking into if you enjoy the great outdoors.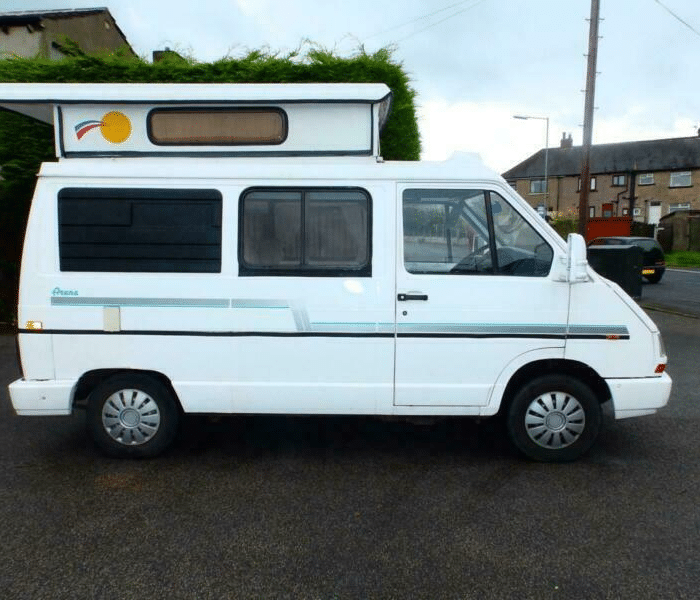 What Is a Pop Top Caravan?
Often referred to as a "popup" caravan, it is a caravan with a pop-top! Therefore, the roof of such a van, that is the top, pops up to offer a standing room and headroom in what is, in general, an otherwise smaller caravan when compared to touring caravans.
The practicalities of this lifting roof allow many owners to store these models undercover in the comfort of their own conventional height garage at home.
In addition to this cheaper storage solution, they have less of a drag and better overall fuel consumption for your car when towing one. This is because of their reduced frontal area design.
Many fans of these caravans will also claim that the running costs of these smaller vans are indeed a great deal lower than standard caravans.
What to Look for When Buying a Pop Top Caravan
When considering if these micro vans would work for your personal needs, it's worth taking time beforehand to look at a couple of important factors here.
You'll notice that the majority offer a standard layout which includes a good-sized kitchen area, with sink, hob, oven/grill, and fridge. They also have a good selection of storage cupboards, perhaps even a wardrobe, and then more than likely a double-sized bed.
The biggest concern here is how many people will be using the pop-top caravan. In all honesty, these vans were never made with the concept of playing host to large families or groups! They are, in fact, ideal for those single travellers and perfect for couples. Therefore the most common are two births, but you will find three and quite possibly even four births on the market also.
In addition to size, it may be worth ensuring beforehand whether your pop-top caravan has heating and hot water, as there are a few that do and once again make life on the road all the more bearable – and certainly a good step up from camping!
In addition to such features, when you look at pop up caravans, make sure that the additional height when lifted is comfortable. This is especially important if you're tall or taller than average, as you won't want to spend your entire time crouching when in your van.
Other issues that you may want to look for here include how easy it is to erect the top of the caravan, is it compatible with an awning and how to clean vinyl on a pop-top caravan?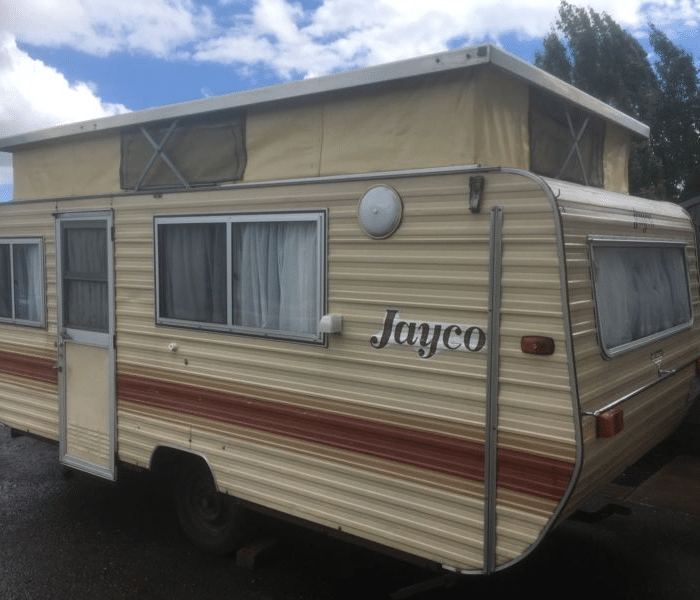 The Toilet and Shower Situation in a Pop Top Caravan
It's worth mentioning here that the majority of them will not have any such toilet and shower facilities, simply because they don't have the room for them.
Now, if you've been camping for many years and are looking to start off with one, this may not bother you too much. But, if you've had enough of the inconvenience of having to use the site's facilities every time, this is a point worth considering before purchasing.
Some searches may yield a couple of these models that offer a separate bathroom with something along the lines of a flushing cassette swivel toilet.
Yet, it stands to reason that a reduced caravan of this size is not going to be able to offer full en-suite shower facilities, especially one with a bonus bathroom. Therefore, you may have to compromise here and simply make use of the shower facilities onsite each time you pitch up.
You may notice that when you begin a search for these caravan types, those older types will either have a toilet or not. But it's rarer to find an older model with a shower room. However, that's not to say they don't exist! If you're willing to pay a considerable amount more, you can find a more luxury model with a shower and toilet.
If there is no dedicated bathroom, you can do what many owners of these models do in circumstances such as these and add your own porta-potty, perhaps placing it in the most private of areas, or indeed moving the fittings around to accommodate this is, if this is of the most important to you.
Manufacturers
There are a couple of well-known and trusted brands that you will most likely come across as you begin your search for these models, including:
Eriba – A European brand who have been building some of the most distinctive of top pop caravans for half a century. They produce up to 4 berth caravans.
Rapido – Another favourite, though they now solely make motorhomes, you'll find many a Rapido pop-top caravans available on the second-hand market, alongside a Rapido folding caravan.
Trigano – A leading French manufacturer of camping equipment, you'll still find many of these models newly built and sold in today's marketplace.
The Typical Costs for a New and Used Pop Top Caravan
A vast majority of these caravan types have actually been around for many years. Therefore you're more than likely to find an abundance of such models on the online marketplace on places such as eBay or Preloved, for example.
So, as guidance when wading through that pre-used market, you can expect to pay anything from around the one thousand mark to as much as ten thousand pounds for something in good condition.
Those newer and top of the range tend to go for anything near the ten thousand price tag to as much as up to twenty thousand pounds.
FAQ
Can you fit an awning to a pop-up caravan?
Yes, there are ones out there! Not as many as normal caravans but they do exist
Is it similar to a trailer tent?
Yes and no. But more, no. They both pop up but a caravan is a lot more permanent and bigger.
Are they a lightweight caravan?
Yes, compared to normal touring caravans they are a bit lighter.
Do they have cookers?
Yes, most do.
Final Thoughts
So, the real question is, are pop-top caravans better than standard caravans, and should you pop or not? The answer, of course, maybe all down to personal opinion and preference.
They do not offer the exact comfort and indeed straightforwardness of a standard caravan, but neither do they claim to. But, as a step up from a tent, pop tops are indeed considerably more luxurious, and a great way to test the waters before making a significant outlay on a caravan.
Though there will be obvious limitations in precisely what they can offer, especially if you select one without a bathroom and shower, if you're looking for an introduction to real caravanning, they are certainly a fantastic starting point.