Are you a space-loving caravanner? Do you find yourself staring off into the middle distance and pondering just what is the biggest touring caravan? Can you picture yourself relaxing in the biggest touring caravan on site, accommodating your family members and friends with ease? Do you dream of a spacious tourer that has oodles of storage for your knick-knacks, and even has room for Fido your beloved Great Dane?
As you cruise along the motorway you enjoy the attention of envious drivers and fellow caravanners, as they gawp out of their windows – "Wow!" exclaims one awe-struck guy, pointing enthusiastically at the "Biggest touring caravan UK" sticker, resolutely fixed to your bumper. Ok, so we might be getting a bit carried away here, but you can see where we are coming from – there's something to be said for going large!
Before You Go Large
Before you go large let's check out the restrictions (yes, even towing a touring caravan comes with a certain amount of red tape). Luckily our friends at GOV.UK enjoy furnishing us with information, and they remind us that most cars do indeed have a maximum weight they can tow (if you're not sure take a look in the handbook or on a specification sheet). You also need to be aware of width restrictions, the maximum trailer width for any towing vehicle is listed as 2.55 metres. In terms of length, a vehicle weighing up to 3500Kg is permitted to pull a load of up to 7 metres long.
So, you know the limitations, what next before you go shopping for a big one? Well first off you will need to check whether your current vehicle can cope with the demands of towing a whopper. Is your motor powerful enough to pull a big touring caravan? You should give a thought to manoeuvrability too. Larger, heavier touring caravans tend to be fitted with twin axles -making them more stable when being towed, but trickier to move into place when you get to your pitch, or want to pop your caravan back into storage.
Is Bigger Better?
Still convinced you need to bag yourself the largest touring caravan? Then you're in for a treat! The biggest touring caravans tend to offer the space and luxury smaller caravans just can't match.  Going large doesn't necessarily equal more beds, or being able to accommodate more overnight guests. The biggest touring caravan is more than just a place for a large family to have a sleepover! It's about gaining space, not feeling cooped up and staying in a caravan that's well-appointed and offers a degree of comfort. We're talking bigger berths, better kitchen facilities, larger and more luxurious wash rooms, and a general sense of enhanced comfort.
So, what would you do with the biggest touring caravan? UK residents might choose to climb aboard with their nearest and dearest and go off on an adventure. You might opt to just head off with your spouse and enjoy the open road (along with all the extra space you are able to enjoy when in your oversize pad). Hey, you can even entertain friends; inside your caravan! You no longer need to perch on the steps as you talk to your guests hovering outside – you can actually invite them in – without feeling crammed in like a tin of sardines! You could even invite your pals to go touring with you (if you like them enough to spend time with them in close quarters)!
Let's Talk About the Largest Touring Caravan
There are some sizeable models on the market, and today we are going to shine our spotlight on a few of the best. If you want to find yourself the largest touring caravan you've come to the right place, let's explore some of the biggest touring caravans on the market.
Swift Elegance Grande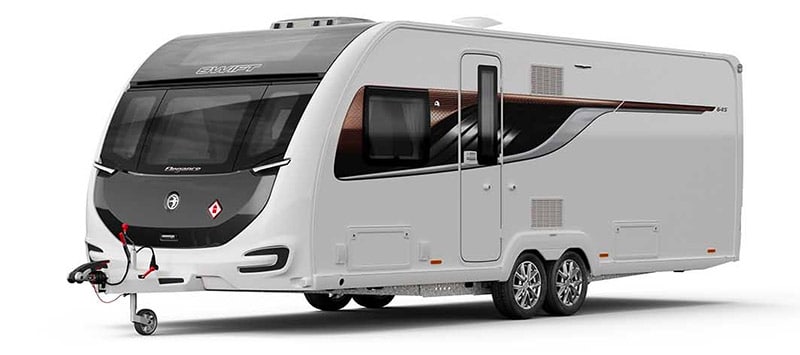 If you're seeking generous living space, that's also rather grand and sumptuous, then you won't be disappointed by the three models in the Swift Elegance Grande range.  There are two 4 berth caravans (The Elegance Grande 635 and 645), and there's also one 6 berth touring caravan (The Elegance Grande 655). All three are twin axle, 7.98m in length and 2.45 m in width.
"Engineered to excite, a true no compromise, home from home," The manufacturers aren't afraid to blow their own trumpet when it comes to the caravans in the Swift Elegance Grande range, and who can blame them? The caravans are constructed using SMART (a very strong timberless frame, built on a foundation of technology), and come with a lifetime water ingress warranty and innovative floor construction. The Swift Elegance Grande range has caravans that are reportedly built to last – and the manufacturer has carried out rigorous testing to back up the claim.
The exterior is sleek (check out the aerodynamic front panel) and fitted with triple flush windows and sunroof. The graphics are chic, there's a premium jockey wheel, road lights are bright LED's and there's even a rear-view camera. Inside the Swift Elegance Grande range caravans are pretty impressive too – from the stylish design to the attention to detail. There's a choice on the soft furnishings, you can opt for the softly-softly look of woven fabric and velvet, or go for contemporary leather.
As for the kitchen, the likes of Jamie Oliver would be at home here – we're talking scratch resistant work-tops, drawers and doors that have soft-close fittings, illuminated splashbacks, a top of the range oven and a large fridge. Things are looking good on the sleep-front too – mattresses are comfy, and the larger 6 berth Elegance Grande 655 (a relatively recent addition) has an ingenious bed that you can pull down over the dining area, to accommodate more guests.
Tech savvy caravanners are well-cared for, the designers have given thought to power points, USB and audio interfaces, so you will be able to plug in your devices. There's also a cutting-edge control system complete with LCD touch screen – providing app interface.
The Elddis Buccaneer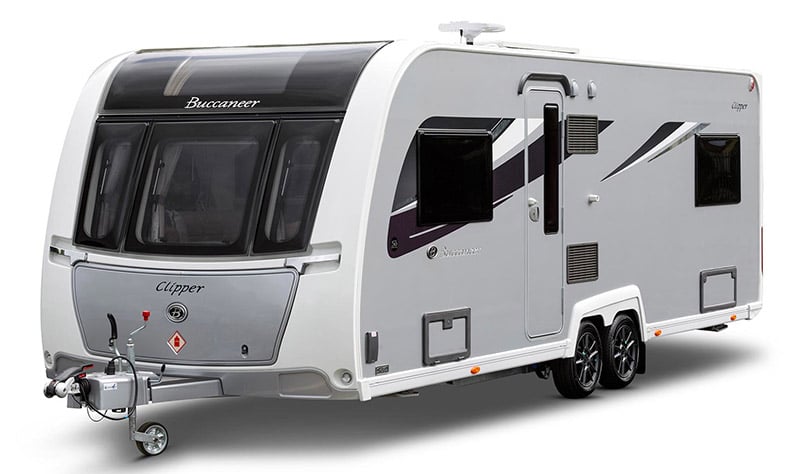 Here's another large, and popular touring caravan – The Elddis Buccaneer. This is a high-spec caravan that is heavy on technology, comfort and luxury. It's been given a makeover for 2019, further enhanced for discerning caravanners.
There are various models (all around 2.44m wide), to choose from. Four are 4 berth models, and there's one 6 berth model – the Buccaneer Aruba. All of the models bring something to the party, offering pioneering design, and plenty of space, wheel spats, and 100W solar panels.
The interiors are also well-thought out, bringing together style and comfort with functionality and practicality. There's a stargazer rooflight, a load monitor (no-more tripping the pesky electrics), aquaclean upholstery (use water to wipe it clean), and underfloor heating, to name just a few of the features that make this caravan very desirable. There are also a few recently added bonus features that you might be interested in. These include LED reading lights, bathroom accessories (including very handy extra towel hooks), and a new 'Abstract Beige' kitchen splashback. The list of goodies keeps going, and there are plenty of optional extras on offer too.
Coachman Laser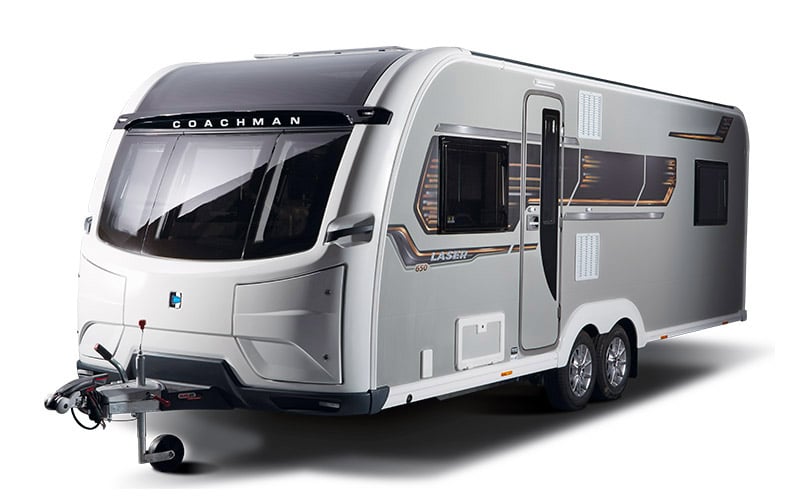 There are three new versatile layouts to choose from, all high-spec and with lots of new features. The Coachman Laser twin axle caravans are the epitome of luxury, offering ample space for four people to sleep comfortably in, and oodles of style. The models include various features including new worktop designs, a front lounge design and island beds. 
Inside you are met by a contemporary look, think two-tone doors separating the lounge and bedroom (complete with soft close hinges – well you wouldn't expect banging doors in a place as nice as this)! You will also find modish LED lights and a digital panel that enables you to take control at the touch of your fingertips. There are a few other highlights worth mentioning – fixed beds that have skylights above, and a new domestic 10 series electronic fridge freezer adorning the kitchen area. Music-lovers are well-catered for, you can play your tunes from your smartphone or digital radio, or use an aux-in / USB to listen on other devices.
The exterior is just as eye-catching – with laser (as per the name) 3D graphics, grey/silver walls, and silver alloy wheels. There are a few new features too, including a Whale exterior cold shower, 13 pin car alignment cap and certain models also have two luggage locker doors.
Bailey of Bristol – The Bailey Retreat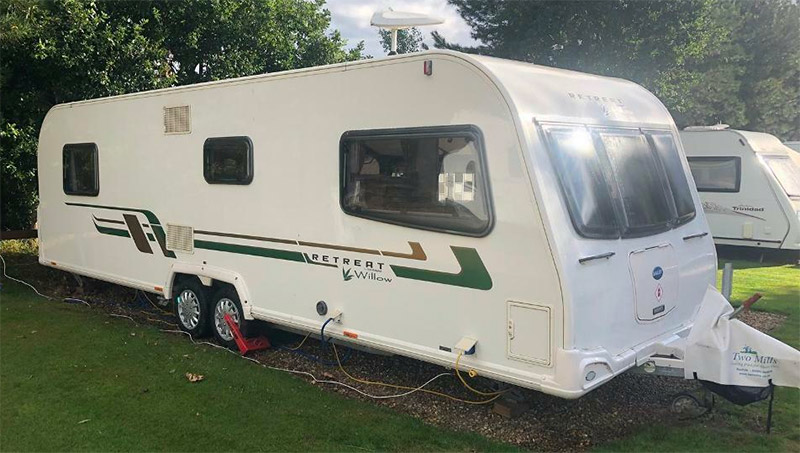 Now for something a little different, allow us to introduce you to the Bailey Retreat – Willow. a hybrid tourer/static caravan (if such a thing exists)! Produced in particular for those who like the idea of staying put on a seasonal site. The Bailey Retreat Willow can be towed to a site of your choice and left to enjoy – visit after visit. You simply turn up and have a nice time! Of course, you can do that with your standard tourer, but the Bailey Retreat Willow has been built specifically with the idea of staying sited on a long-term basis. It's the perfect way to get that pad in the country you've been hankering after at a fraction of the cost!
Made from high-performance Au-Tech bodyshell, with impact resistant GRP outer, and insulated to a high standard, the Bailey Retreat provides you with a caravan you can use whatever the season. It comes with central heating and there's even a mounted outdoor water tank for extended use. It's durable too (with a reinforced floor and a heavy-duty chassis to boot). Like to be outdoors? Then this could be the perfect caravan for you – there's a large storage locker to stow away your deckchairs etc, a BBQ and 230v sockets.
So, Do You Fancy Going Big?
We like the idea of going large, but it's not for everyone. The largest touring caravan isn't always the best option – especially if you aren't so keen on the idea of towing and parking up the biggest touring caravan on the road / site!  However, if it's space you're after you can't go wrong, and the four brands we've mentioned above have more going for them than just their size – they are well-appointed, offer a sense of luxury and could be the perfect place for you to spread out and unwind.
Another alternative to large caravans could be a pop up caravan? This gives you more space vertically.