Have you recently invested in a caravan? If so, a world of adventure awaits you. There are various places up and down our beautiful country you can explore with freedom in your new tourer. However, what are you going to do with it when you are at home? Whether you stay in Banbury, Bicester, Thame, Oxford or even Chipping Norton, if you think it will be safe enough parking your caravan in front of your home or in the driveway, think again. Along with motorway service stations, the places where most caravans are stolen from are right under the nose of the owners.
It is much better to make use of a purpose-built caravan storage facility, of which there are quite a few open around Oxfordshire. If you are worried about the cost, why not take a read at our guide to this subject, here. We have meticulously and thoroughly researched the sites we have listed below, to ensure we only note the best of the best.
Caravan Storage in Oxfordshire
Bicester Caravan & Leisure
Address: Windmill Nurseries, London Road, Bicester, Oxfordshire OX26 6RA Website: https://www.bicestercaravanandleisure.co.uk/storage
Bicester Caravan & Leisure is a firmly established and popular, family-owned business specialising in the sales and purchases of caravans. As they are caravanners themselves and are passionate about touring vehicles, they are in the ideal position to offer the best protection for your caravan.
They provide a fully equipped and highly secure storage facility for all motorhomes and caravans. There is a total of 75 spaces, all hardstanding pitches and it benefits from various high-end features. This includes personnel onsite throughout the day and night, security lighting, CCTV cameras, security gates, and perimeter fencing.
Shilbrook Caravan Storage
Address: Shilbrook Services, West End Farm, Shilton, Burford, OX18 4AN
Website: https://www.shilbrookservices.co.uk/storage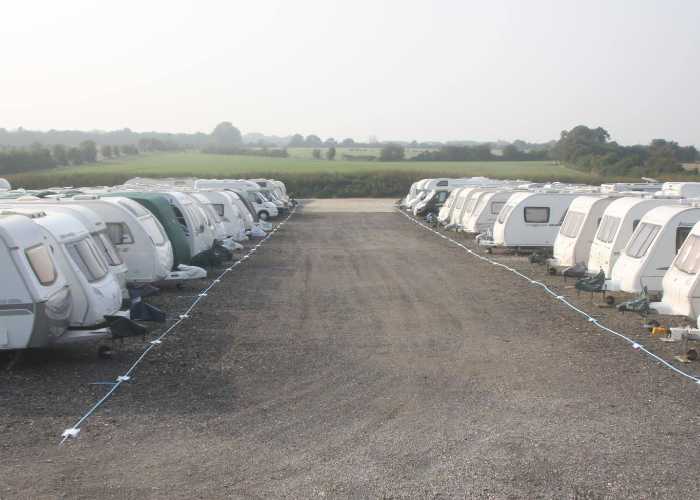 Next in our list of the Oxfordshire caravan storage options, we have the offering from Shilbrook Services, based at West End Farm in Shilton, Burford. This is a family-owned business that offers premium protection for tourers. It is ideally located with easy access to and from the A40, M40, M4, and M5. Rather than providing secure space for just caravans and motorhomes, you can also store boats and cars there too. The keys to the facility are only possessed by the owner, so they only have access at all times.
It was given the Silver Award from CaSSOA in 2018, which should give you peace of mind and confidence that your pride and joy is going to be well protected. As there are not many details about their security features, you may need to contact them directly to find out more.
Home Farm Equestrian Centre Caravan Storage
Address: Home Farm, Brockhampton, Nr Swindon Village, Cheltenham, Gloucestershire Website: http://www.homefarmequestriancentre.co.uk/caravan-storage/
Although this is based in Gloucestershire, it is well-positioned to serve as a caravan storage facility for you if you live in or travel regularly around the Oxfordshire area. It has received the Gold Award from CaSSOA, the highest of its kind offered by the organisation and offers indoors storage facilities for your tourer. Not only caravans are catered for, though, as campervans, motorhomes, and other leisure vehicles can be stored here too.
Every vehicle gets its own hardstanding bay and there is controlled access to the facility along with 24-hours CCTV surveillance. In terms of services offered, they provide completely free access to a compressed airline. If the indoor facility is full, though, don't despair. The Equestrian Centre at Home Farm also offers a limited amount of outdoor spaces.
Conclusion
Although there are only a small number of facilities offering indoor caravan storage in Oxfordshire, all of these businesses provide high-quality security features. With many holding silver and gold awards from CaSSOA, you can rest assured that your pride and joy will be in safe and capable hands at any of them.
If you are interested in finding other options throughout the country, why not check out some of our other caravan storage guides for popular areas such as Cornwall, Dorset, Kent, Essex and Glasgow among many more.
Also, if you are interested in finding a suitable and safe place to store your caravan across the Channel in Europe, we have guides to facilities in both France and Spain.