Caravan storage is something all caravanners need to consider. A touring caravan is a huge investment after all, so it makes sense to protect that investment. We've discussed the subject of caravan storage on Caravan Helper before, covering areas such caravan storage costs and caravan storage in both Essex and Kent. While domestic caravan storage is good if you only ever intend on travelling around the UK, what if you intend to or already travel around Europe with your tourer, say to France?
This is something many caravanners in the UK deal with. It's not exactly the easiest journey in the world, even if you are a competent at towing caravans, when you must traverse miles and miles of different terrain, including ferry trips too. It's easy to see how it could be of benefit have access to caravan storage in France. In the past, it was not only hard to find a good quality caravan storage site overseas, but it was also hard to secure appropriate insurance to cover for using that kind of service. Over the last decade or so, it's become a lot easier.
While you need to make sure you get specific caravan insurance for storage in France. Once you've secured this, though, you will find there's plenty of different touring caravan sites with storage in France. Below we have highlighted the best of the best.
Caravan Storage Options In France
Camping De Courte Vallée Caravan Storage
Address: 8 Rue de Courte Vallee, Courte Vallée, 79600, Airvault
Website: http://www.caravanningfrance.com/CaravanStorage.asp
First in our guide is the Camping de Court Vallee. This is owned and ran by Brits and situated in the River Thouet valley and is just a walking distance from Airvault, an ancient medieval town. The campsite itself is 10 acres of amazingly landscaped area and as well as caravan pitches for holidaymakers, they also offer caravan storage.
Their caravan storage is 360-Euros and for that money you get:
Spring wash, annually
Siting and levelling service on a pitch, whenever you want it to come out of the storage area)
The caravans are stored at a different point on the site, on a hardstanding pitch in very secure and locked section.
You can also pay for barn storage in a covered and secure barn for just 535-Euros every year. This is a short drive away from the caravan site.
In addition, they also offer temporary storage at the extremely affordable 3-Euros a day. This is ideal if you are towing your caravan to France earlier in the season with the intention of returning a little later in the year, but you don't want to tow your caravan back and forward to the UK each time.
As an additional feature, they have a caravan engineer on the site, who is fully qualified to deal with British specification caravans and will carry out annual services and any repairs as required.
La Sablière
Address: 53250 Charchigné
Website: http://www.lasabliere.co.uk/caravans.htm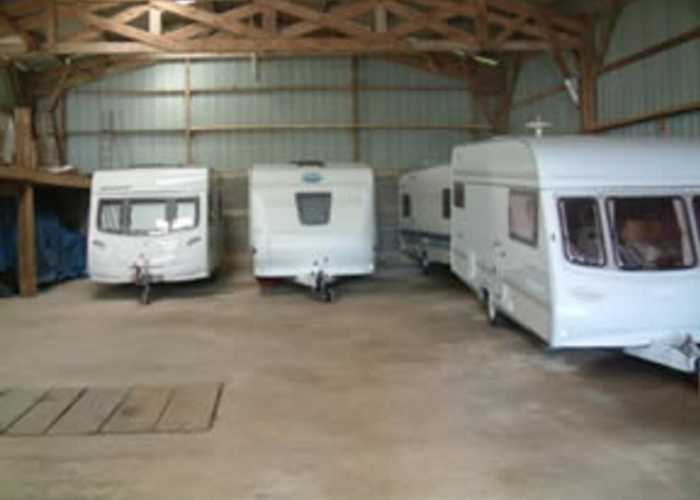 The caravan storage offered at La Sablière is very modern and secure. Their storage facilities consist of a big hanger, strengthened by a steel frame with a solid concrete floor. It is set next to the owner's home and is back from nearby busy roads. They have a simple access point that enables you to enter while towing, if necessary, giving you the opportunity to load and unload with relative ease.
Everything is kept dry and the comments of previous clients suggest that it is a well-maintained and safe storage facility where caravans are well looked after. They even offer an electrical supply, if required, to charge up with, along with a water supply to clean your caravan.
The storage hanger is accessible throughout the year and you can even stay at the B&B owned by those who run the caravan storage at an affordable rate.
Camping Le Paradis
Address: 2 Route de Mareuil, Mazieres, 16270, Terres-De-Haute-Charente
Website: https://www.le-paradis-camping.com/info.php?pid=15
Based in the beautiful French region of Charente and been in business since 1995, Camping Le Paradis is open all year and benefits from being in the heart of some truly breath-taking French countryside.
As well as providing a place to pitch up your caravan, Camping Le Paradis also offers caravan storage. Interestingly, the site offers a cracking deal whereby if you spend at least 20 nights there, for 1 pitch, 2 adults and electricity, during a 12-month period, you have the chance to store your caravan for free during that period. You don't even have to spend those nights there consecutively.
So, consider the pricing for one night, on an ordinary pitch for 2 adults and electricity = 26-Euros. For 20 nights that would be 520-Euros and in addition to the pitch you also get free storage for a year.
Extra services include:
Caravan washdown, varying prices depend on the size of the tourer
Leisure battery charging, with daily electricity charges applying
Caravan can be sited at your pitched and taken back to the storage area,
South West France Caravan Storage
Address: Bourgougnague, 47410
Website: https://www.swfcaravanstorage.com/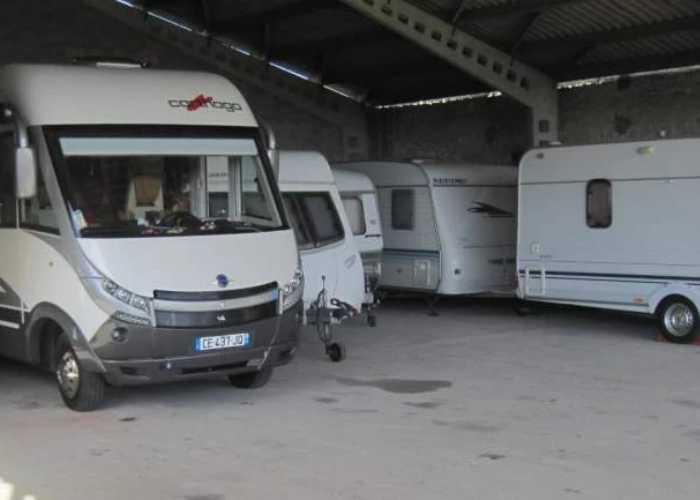 Located in the south western French region of Bourgougnague, South West France Caravan Storage offers both open and covered secure storage all year round for caravans. They are on the border of Lot et Garonne and Dordogne.
Storage comes in the form of an area that was specifically built for this purpose and features many ditches and hardstanding pitches. When the entrance is not being used and no-one is on site, it is secured by lockable steel-built posts. There is no way for anyone to gain access or entry to the storage area without passing the owner's house first.
They also offer concrete-floored covered storage with full lighting so you can even access your caravan in the dark.
Camping Le Touroulet
Address: 24800 Chalais
Website: http://www.camping-touroulet.com/caravan_storage.asp
Another campsite and caravan storage facility based near Dordogne, this time to the north of this splendid rural area, is the La Touroulet Campsite Caravan Storage. Although the campsite itself is open between March and mid-December, you can access your touring caravan when its closed by arranging it with the warden. Your caravan can be towed onto the pitch at no additional charge.
As the storage facility is placed in a sunny and open position, you are less likely to suffer from mould due to damp and falling leaves, and here is a forest surrounding the enclosure that helps to provide protection against high winds and storms.
As well as the towing of your van, the storage owners will also clean it for you at no additional charge and you can benefit from the services of a local engineer too.
Although the area is safe, this storage facility benefits from great safety and security features, such as:
Owners on site most of the year
Pathway to the site runs in front of the owner's home
Barrier up when owners are away on holiday
Regular patrols
A security gate
Dordogne Storage Solutions
Address: LE Conte, 24540 Capdrot
Website: https://dordognestoragesolutions.com/caravan-motorhome-storage.html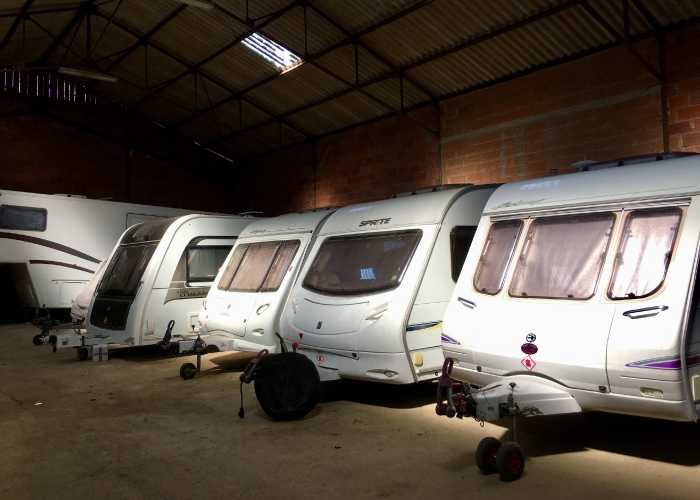 Dordogne Storage Solutions offers caravan storage and has more than 14 years' worth of experience in the industry. Available at their site is both outdoor and indoor storage. They are caravanners themselves so know only too well the importance of securing your mobile home and keeping it safe.
Their indoor storage obviously provides superior protection against the natural elements. They offer a full range of extra services, including:
Valeting, consisting of anything from just a simple wash and rinse to a full-on hand wax and clean out of the interior
Servicing by an experienced and qualified engineer.
Towing – they offer a full range of options, including towing from the storage facility to their own campsite or pitching it at another site within France. They will also offer to collect and return your caravan to and from the UK
Pitch and Store – This means your caravan will be towed from the storage facility to a one of the pitches and you will be collected from the airport and taken to the caravan. The same can be arranged for when you return home to the UK.
Store and Tour – You can store your caravan with them, then drive down with your own car, to collect your tourer, saving a lot of money.
Breakdown – they offer a breakdown collection service, whereby if you break down, they will collect you, the car and the tourer and bring them back and arrange for a local and qualified mechanic to make the necessary repairs.
Camping de la Touché Caravan Storage
Address: The Loire Valley, 37240 Ligueil
Website: https://www.theloirevalley.com/caravan-storage.php
Located close to The Loire Valley, a beautiful region in central France famous for its wine is where Camping de la Touché campsite and its caravan storage facilities are based. For a very affordable price, they offer the option to store your caravan with them all year round and will prepare your touring vehicle for you, when necessary, by washing it and hooking it up to electricity.
As you can see there are lots of options for caravan sites with storage in France. The great thing is that, as you will see from our post on caravan storage in Spain, that there's options for you to use one or the other as a base and then you can explore either of the countries.