Caravan Storage Near You
There's nothing quite like hitching up your touring caravan and setting off on the open road. After all, don't we all enjoy escaping the 9-5 and the myriad of house-hold chores? But when you're not out touring you will need to find a place to store your beloved caravan. If you have the space (and good relations with your neighbours), you might choose to store your caravan on your own driveway. However, we're not all fortunate enough to have plenty of extra space out front (or a plot of spare land up our sleeve). If that's the case you will need to consider alternative storage options.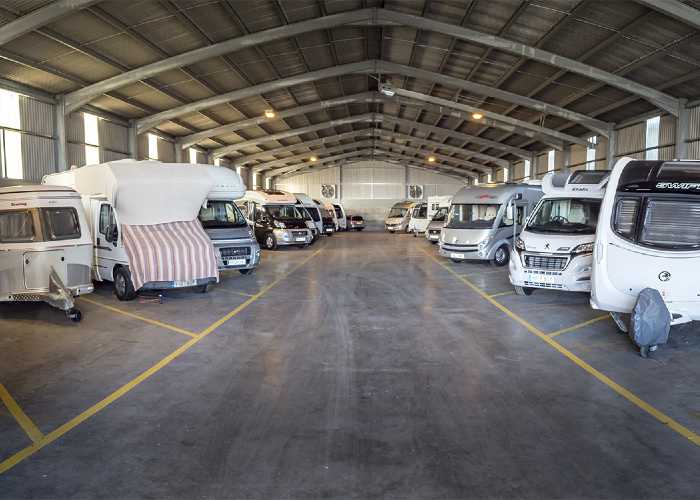 What Are the Options?
Outdoor Storage: Storing your caravan outdoors is a cheaper option, and you can still opt for secure storage. However, there won't be any protection from harsh weather conditions. 
Campsite Storage: If you often visit the same site you could consider leaving your caravan there whilst you're not using it. This will save you from having to pack up and transport your caravan to a storage area, plus everything is in place when you fancy a nice little holiday. Also, you get the added of bonus of someone keeping an eye on your caravan for you. The down-side is that the site might not be secure enough, and as your caravan is sitting out in the open, it will be exposed to bad weather

.
What Does It Cost?
The cost of storing a caravan varies, depending on certain factors, including:
The type of storage you require (e.g. indoor, outdoor)

The location (expect to pay more in certain areas)

The duration (how long you want to store your caravan for)

The size of your caravan (single or double/twin axel)
There are numerous options, and storage facilities all over the UK. We've done a little research on your behalf, so let's check out what you can expect to pay:
Caravan Storage Down South
Piran Caravan Storage in Cornwall, offers long term (all year), medium term (winter season from start of October until the start of April) and short-term caravan storage.
The site is undercover (sheltering your caravan from the unpredictable weather) and fully secure. There's CCTV, an onsite owner, security lighting and fencing in place, and controlled access. Piran Caravan Storage also offer a towing service, and will deliver your caravan to a site of your choice – this will cost you £55 if the site is within 6 miles, with a further charge of £3 per mile thereafter. Storage costs for 2019 are listed on the website as follows:
Single Axel

Double Axel

Long Term Storage

£13 p.w / £676 p.a.

£15.25 p.w / £793 p.a.

Medium Term Storage

£16.50 p.w

£18.25 p.w

Short Term Storage

1-4 wks £25 p.w

4+ wks £20 p.w

1-4 wks £28 p.w

4+ wks £22.50 p.w
Caravan Storage Heathrow is based in Greater London, and provides a handy storage solution if you don't want to be tied into an annual storage agreement. You pay a month in advance to grab a place for your tourer in the secure open-air facility. If you provide 24 hr notice the company will pull out your caravan ready for you so you can "hitch and go." They also offer a home delivery service, delivering your caravan directly to you (for a fee)! Prices are listed on the website as follows:
| | | |
| --- | --- | --- |
| | Up to 7 Metres Long | Over 7 Metres Long |
| Monthly Storage | £40.00 + VAT | £40 + £5+VAT per extra metre per month |
Caravan Storage Up North
Westby Hall Caravan Storage is based near Blackpool, and offers both indoor and outdoor caravan storage. Outdoor pitches are hard standing and well hidden from the main road. The storage facility is secured by gates, CCTV, and onsite 24-hour security. There are maintenance bays should owners want to carry out their own caravan checks (or you can ask the Westby Hall team to do that for you for a fee)!
Indoor caravan storage is also available (great for protecting your caravan from harsh weather conditions). The indoor storage unit is secured by steel doors, CCTV, and electronic gates. Prices as listed on the website are shown below:
| | | |
| --- | --- | --- |
| Indoor | 6 Months Storage | 12 Months Storage |
| Up to 22ft 6" | £215 | £420 |
| 22ft – 26ft 6" | £240 | £470 |
| Supersize | £285 | £560 |
| | | |
| --- | --- | --- |
| Outdoor | 6 Months Storage | 12 Months Storage |
| Up to 22ft 6" | £175 | £340 |
| 22ft – 26ft 6" | £195 | £380 |
| Supersize | £225 | £440 |
Tameside Caravan Storage, are located around four miles South-East of Manchester. The company has a "no minimum or maximum stay policy," great if you're looking for a little flexibility. The site boasts a secure outdoor storage area, complete with CCTV, concrete floor standings and wide bays. Fees to leave your caravan on this site start at £10 per week.
Caravan Storage in the Midlands
Albrighton Caravan Storage offer outdoor caravan storage in Wolverhampton. The site has 24/7 CCTV, a steel perimeter fence and a ram-proof gate.  Plots are hard standing and spaced out for easy and convenient parking and access. The website lists Indicative prices as follows:
| | | |
| --- | --- | --- |
| | Single Axel | Twin Axel |
| Annual Storage | £515 pa | £545 pa |
As the name suggests J26 M5 Caravan Storage is based just off the M5 Motorway – great if you like to head to the West Country for your holidays. There's indoor and outdoor storage on offer. The indoor storage facility has CCTV, an electronic fully secure roller shutter steel door, numbered bays for caravans, and swipe card access for owners. Standard indoor bays are of a generous size, and premium bays are ideal for double-axle and longer / larger caravans. Outdoor storage is also available.
The website lists indicative prices as follows:
| | | | |
| --- | --- | --- | --- |
| | Standard Indoor | Premium Indoor | Standard Outdoor |
| Annual Storage | From £564 pa | From £600 | From £456 |
Caravan Storage Further Up North! (Scotland)
Scottish Caravan Storage in East Lothian offers hard standing pitches, CCTV and security lighting / fencing. The company have also introduced a cutting-edge bio-metric fingerprint access system. Prices shown on the website are listed below (including VAT and subject to change with 3 months' notice):
| | |
| --- | --- |
| Annual Storage | £41.95 per month |
| 6 Months (Limited Access) | £300 |
| 3 Months (Limited Access) | £200 |
| 1 Month (Limited Access) | £100 |
| 1 Week (Limited Access) | £50 |
Based in Stirlingshire, near Falkirk, Murray Caravans offers spacious storage complete with hard standings, CCTV, security lights / fencing, electronic security gates and a night watchman. Murray Caravans offer short term storage (for up to one month, for £75), and 6 months / 12-month storage options. Prices, as listed on the website, are shown below:
| | | |
| --- | --- | --- |
| | 6 Months | 12 Months |
| Standard Single Axel Pitch | £245 | £419 |
| Twin Axel Pitch | £251 | £430 |
| Extra Wide Pitch | £263 | £455 |
| XX Wide Pitch | £290 | £505 |
| Short Term (Up to 1 Month) | | |
Caravan Storage in Wales
Plas Farm Caravan Park is situated in Abergele, North Wales, and offers seasonal pitches for caravan owners. They offer a "pitch and store" storage solution for caravans less than fifteen years old. Your caravan can be stored in the secure facility next door, and then moved to a pitch prior to your arrival (there's a tow on / off fee of £15 for this service). Seasonal pitches are a great option if you like the idea and convenience of your caravan staying put on a pleasant caravan site.
| | | |
| --- | --- | --- |
| | Single Axel | Twin Axel |
| Annual Storage | £450 | £505 |
Pen-y-fan Caravan Park
Located in South Wales, Pen-y-fan Caravan Park has secure storage, with CCTV and around the clock key card access. There are also washing facilities and showers on site, readily available for caravan owners to use.
| | | |
| --- | --- | --- |
| | 6 Months | 12 Months |
| Annual Storage | £250 | £365 |
Pen-Y-Fan also offer short term storage at a cost of £3.50 per night.
Things to Consider
It's always wise to check out the storage site for yourself, just to make sure it suits your needs and is as good as described! A quick roundup of things to consider:
Is the location convenient for you?

Are the staff helpful and conscientious?
Are the security measures adequate?
Is the facility well-designed, well laid-out and well looked after?
When can you access the site – is there 24 hr access or is it limited to set times?
Is the price reasonable for what you are getting?
Is there are a contract regarding how long you will site your caravan?
Are there any extra services?

E.g. cleaning, repair, towing etc

Do you have adequate insurance?
Are there plans in place should there be any problems / emergencies on site?
Finally, you could check put if the site is accredited. The Caravan Storage Site Owners Association (CaSSOA) represents caravan storage site owners across the UK, working towards offering the best security measures possible to protect your caravan.  There are three levels of accreditation – bronze, silver and gold, and knowing your chosen storage location is accredited could offer you extra peace of mind.
Good luck with your caravan storage search – and happy touring!
If you are in your caravan a lot then check out our article on living in a caravan permanently.