There are many great places to go on a caravan holiday in the UK, as the team here at Caravan Helper are sure you're aware. Cornwall, though, stands out as being a favourite among caravanners and other domestic holidaymakers. It's not hard to see why – the stunning and dramatic coastline, the breath-taking scenery, the lovely people and just that more laidback and idyllic lifestyle and pace that exists there. These are all good reasons for packing up your caravan and heading down south.
As Cornwall is a big and expansive place, though, you could be stuck deciding where you should go for your caravan holiday. Many people are in the same boat and have a hard time choosing between two towns in specific in south Cornwall, the coastal spots of Polperro and Looe.
These two towns, as you'd see form looking at a map are really very close to one another. In fact, they are around 4.6-miles apart, which is roughly a 12-minute drive. The best way to decide which you'd prefer to visit therefore is to take them individually. That's exactly what we're going to do in the following post. We will look at what's available in both, concentrating on the following;
The caravan parks
The beaches – considering if any are suitable for you dog owners who want to take your canine chum along
The restaurants
The attractions – with a focus on what's available for kids.
Polperro
Polperro is a small fishing harbour, civil parish and village located within what is known as the Polperro Heritage Coastline in the south of the county. It only has a population of around 1,554. It has ties to the county and coast's smuggling past, which is seen in many of the tourist spots, shops and eateries.
Caravan Parks in Polperro
There are a multitude of different holiday resorts and other types of accommodation in the south Cornwall area, as you'd imagine, including some great caravan parks. To keep things simple, we picked out two that are classed as being in Polperro.
Killigarth Manor Holiday Park
The first Polperro caravan park we wanted to highlight is Killigarth Manor Holiday Park. It can be found tucked away down a little country lane with scenic vistas all around. Although it's a relatively small operation there's some great facilities at the park. Including
An indoor swimming pool, with special pool for toddlers
Gym and sauna
Tennis court
Foxy club, for kids
Crazy Golf
Table tennis
Outdoor skittles
Picnic areas
Laundrette
Snooker table and pool tables
Free Wi-fi
Takeaway food
Amusements
Soft playroom
Adventure playground
There's obviously a lot to do at this park for the whole family. The one word of warning we would say that because there are many parts of the park that are very hilly, it might not suit the elderly or guests in wheelchairs or with other mobility issues. That's not to say that you wouldn't be fine there, but it's best to phone ahead of booking and check they will be able to accommodate your specific mobility needs and requirements or for the person with health issues coming along with you.
Great Kellow Farm is a fully operational and working sheep and beef farm that sits overlooking the town of Polperro. While it is a small campsite, they welcome families, children and dogs too. From there, you've guessed it, you are treated to some stunning vistas of the sea along the coast and it's perfectly placed as a base for some interesting and awe-inspiring coastal and countryside walks.
Despite the park being smaller and more grassroots than the one above, it still offers pitches to tents, campervans, motorhomes and tourers and you even have the choice of electric hook-up or not (though, it's important to book that in advance). What it lacks in things to do it makes up for in space to make your own entertainment.
The basic facilities you can avail yourself of at Great Kellow Farm includes:
Toilets
Hot showers
Electric hook-up
Chemical disposal points
Numerous water points
Recycling facility
Polperro Beaches
As you can probably imagine, Cornwall in general has some of the most beautiful, pristine and idyllic beaches in the whole of the country. Many surfers are obviously drawn here for the big waves, but even if you're just interested in laying in the sun for a few hours or playing on the beach with your kids, you won't be disappointed by the beaches on offer in Polperro.
Talland Bay Beach
Okay, so the first beach in this mini guide could be placed under both Polperro and Looe. Since we're covering Polperro first, that's where we're sticking it. It's found at the midway point between the two towns. There, you will find two beaches that are both very small. The one to the west of the area is sandy both at low and high tide and is best for swimming at both low and high tide.
Your kids will love exploring the rock pools that are exposed during low tide.
The other beach in the east of the area is not quite as sandy and is best for swimming during low tide. If you fancy a little boat trip though, this is a great spot as there's a ramp that's used to launch boats from the main beach, though you can also launch smaller boats from the beach closer to famous Smugglers Cottage. This beach is full of naturally created tidal pools great for swimming and coves to explore.
Although this is a few miles outside of Polperro, it's still worth highlighting. Often referred to as West Coombe, Lansallos Beach is a very pretty, quiet cove of rocks and sand facing southwards. Reed Water is worth checking out – it's a small waterfall that in the past powered the small mill that used to stand in the area. That can be found to the west of the beach.
The Restaurants
You probably have ideas of having a nice meal in the coastal town of Polperro while you are visiting it and navigating through it's narrow streets and lanes. Fortunately, there's a lot of great places to try out. We've picked out two.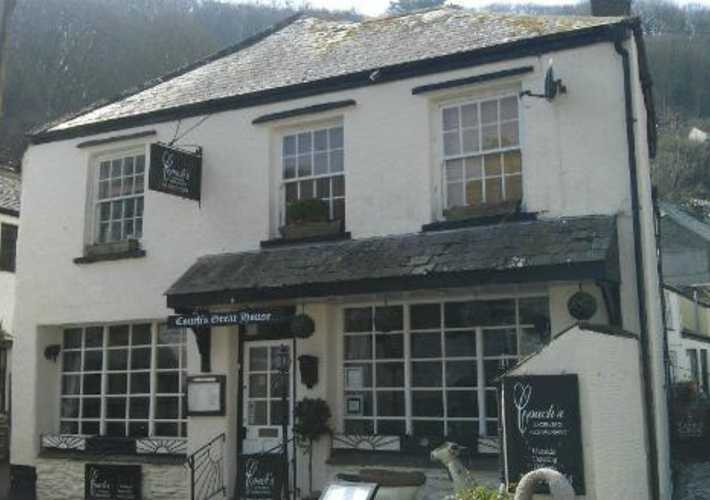 Couch's Great House first opened in 2004 and is a popular eatery in the town. It is driven by Richard McGeown, the Executive Head Chef, who draws on his experience in the past working under some of the most famous chefs in the industry such as Raymond Blanc, Marco Pierre White and Gordon Ramsay. It should be noted while it's a very friendly place to eat, children over seven are not allowed and neither are dogs.
Some of the tasty delights on offer includes starters such as pan-fried squid, freshly sourced from neighbouring Looe and served with ginger aioli, water chestnuts and a soy vinaigrette or local goat's cheese baked and served with a dressed salad and some fresh tomato chutney. Main courses include some truly exquisite ingredients such as pan-roasted cod with roasted black garlic, flaked almond, fondant potato and pea puree and, fillet of beef with a wild mushroom velouté, wilted spinach and dauphinoise potato.
There are a wide variety of sweets such as a banana and hazelnut Tatin with Chantilly cream and a softened blue creamy cheese served with damsel charcoal crackers, drizzled honey and truffled salted pecans.
Nelson's Restaurant has existed since 1986 and is a great place for breakfast, lunch or takeaways. All the food is cooked on the premises and is homemade using traditional Italian ingredients sourced from the local Borough Market. If fried scampi and calamari, Parma ham and melon, penne Arrabiata, risotto primavera or a good old-fashioned funghi pizza sounds like your type of thing, you should check this place out.
Looe
Looe is also a small civil parish, fishing harbour and village in Cornwall. Though it lies more along the southern-eastern coastline and has a much larger population of around 5,280. Much like Polperro, the town has connections to the coast's smuggler roots.
Looe Caravan Parks
Similarly, to Polperro, there's a lot of great types of accommodation in and around Looe. From hotels and B&Bs to campsites to caravan parks. We've picked out 3 caravan parks.
Looe Caravan Club Site

Looe Caravan Club site is the ideal spot for families to stay at while visiting the town or the area. There's a lot of great things to do around the park and it's ideally placed to offer access to the local towns and beaches. You can even access the Cornwall Coastal Path. There is a plethora of excellent facilities, that you'd expect from a Caravan Club site, including:
Play area
Paddling pool
Tennis
Minigolf
Playground
Electric hook-up
Disabled shower room
Baby changing facilities
Family washroom
Laundry facilities
Toilets
Technically, this is situated between Looe and Polperro, but we placed it with the Looe caravan parks. It's a modern, but very small and quiet caravan park and camping site for families. Unlike many of the others, there are no swimming pools or garish holiday park entertainment features. This is therefore perfect for anyone looking for a more relaxed and tranquil break or just somewhere they can use as a starting point for their holidays.
Caradon Touring Park is another great option. This is a small 3.5-acres site consisting of a lot of flat land, so it's perfect for older family members and couples. It has 73 grass pitches and some that benefit from Integra hardstanding and access to 16A electric hook-up and free Wi-Fi. Despite its small size it has a multitude of great features and amenities, such as:
Toilets
Family and disabled rooms
Free hot showers
Hairdryer
Shaving areas
Laundry room including ironing facilities
Washing-up area
Recycling
Bar and family room
Games Room
Playground
Looe Beaches
Much like Polperro, Looe has some stunning beaches, though it is hard to tell which belong to where. Below we've highlighted some great options if you are staying in Looe.
East Looe Beach
East Looe Beach is a pretty and very traditional bucket-and-spade beach that excellent for everyone, from the little ones that just want to make sand angels and build sandcastles to those who want to take a dip in the crystal-clear waters. Why not go to the oddly shaped Banjo Pier to watch the various fishing boats come back into shore and head back out again or go crabbing along the walls of the harbour.
Seaton Beach
Seaton Beach is best suited to families and has a large café that serves delicious food, and there are toilets and a shop too. It's away from the hustle and bustle of Looe and although there are small pebbles on the beach, there is plenty of sand too.
Looe Restaurants
The restaurants in Looe are more than a rival for those found in Polperro, if you choose to stay there instead. We've highlighted two of the best.
Interestingly, the Old Sail Loft is one of the oldest buildings still standing in Looe and has been preserved in its original form with the loft and cellar dating back at least 450-years ago. It is thought to have been a favoured place for smugglers and other 16th century seafarers and was then known as The Run. Likely because of its smuggling connections. The restaurant that takes up residency there now serves locally caught fish and steak and one of the tastiest dishes is surely the Sail Loft Seafood Platter. It is full of prawns, shells off and on, smoked salmon, mackerel pate, pickled clams, crab, bred and a wedge of lemon.
You can also get mouth water cream tea ice cream served with raspberry and apple crumble, basil-infused pappardelle pasta served with salt n pepper courgette crisps, parmesan, fresh spinach and roasted cherry tomatoes to name but a few dishes.
Smugglers Cott was first built back in 1420 and is based deep in the heart of eastern Looe just 100-yards from the sea. It has been serving food of the highest standard for more than 50-years no and you can get some of the best steak, seafood or a traditional carvery.
Somewhere In Between
The funny thing about Looe and Polperro is that although many people would consider them very separate and distinct villages, they have a lot in common. For one thing, they are both incredibly busy during the peak season, so it might be best considering going at a different time if you want a nice and peaceful holiday. Unless you just stay away from the hordes of people.
They also have a nice walk that connects the two villages, known as the Polperro to Looe Coastal Walk, this walk joins up with the much bigger and expansive South West Coast Path and involves a walk along the coast of around 5-miles with stunning views and landscapes to drink in along the way. It starts in East Looe and ends in Polperro. If you are going to the area and are a fan of walking and exploring local places, we'd recommend you make time to do it.
The Attractions
As both towns are rather small, we thought it would be best to just discuss in general some of the attractions you can access from either town.
The Eden Project
The Eden Project, if your head is been under the sand for the last couple of decades, is arguably one of the most famous draws to the county, apart from the dramatic and stunning scenery. It consists of two massive biomes that are home to Mediterranean landscapes and rainforests. From there you can see up close and personal some of the most curious and fascinating plants from around the world.
Lanhydrock House
This is a former family home that is now used to show you what life used to be like during Victorian times in a stately home.
The Lost Gardens of Heligan
Gorse and brambles were removed to reveal what is believed to be the infamous and outstanding Lost Gardens of Heligan. Here you can find out more about Pleasure Gardens, Victorian productive gardens and experience a sub-tropical paradise.
Camel Creek Adventure Park
Your kids will appreciate heading to Camel Creek Amusement Park, an attraction bursting full of indoor play and rides, such as the Morgawr roller coaster, the sky-high Wave Rider and many other things too.
Summary
So, we did want to see if we could figure out which was best, but really that will depend on your own preference and personal taste. Polperro and Looe offer jaw dropping visual delights with all that Cornish countryside and coastline, some of the finest beaches in the country, delicious food, nice pristine beaches and great caravan parks.
Why then, limit yourself to just visiting one of these towns. Especially when you could stay at one and visit the other, or stay at a more neutral caravan park like Tencreek Holiday Park, that is close enough to both.