At Caravan Helper, most of our posts, since the site was established, have revolved around caravanning in and around the UK. However, we recently published a post about caravan sites in Spain open all year and that pushed us to start not only focus on domestic caravan holidays and related subjects. As well as general posts about travelling abroad, we also wanted to take the opportunity to discuss caravan storage abroad. Now caravan storage is essential to owners, as it gives them a safe place to store their vehicle when it's not in use.
Whether you've read the article about caravan storage in France yet or not, it's not hard to see possible benefits of storing a touring vehicle on a site in Spain. You wouldn't need to tow your vehicle back and forth from the UK each time you wanted to explore Spain. Furthermore, if you plan on visiting both France and Spain, you could choose a storage site that's close to both and use that as a base for all your holidays. With the caravan storage in France post, we also have the caravan storage in Essex and Kent pages and a general post about costs.
In the following post we look at some of the best caravan storage sites in Spain.
Some Caravan Storage Sites in Spain
Caravan INN Costa Brava
Address: C-31, 17473, Girona
Website: https://www.caravaninn.net/en/caravan-storage-costa-brava-spain/
First in our guide is a great one. Located in Costa Brava and the biggest of its kind, Caravan INN is well positioned for easy access to the French border, if you fancy checking out France while exploring Spain. They provide both uncovered and covered storage for your caravan. The covered protection is in the form of a special mesh that protects against hail and provides 50% shadow, keeping your vehicle almost completely out of direct sunlight.
Storage is available and you can access your tourer all year round. The company have been in business since 1987 and are consummate professionals. They operate strict control over who collects vehicles, so it will only be an authorised person or the owner. As well as a place to keep your caravan safe, they will also provide a full service and transfer it to and from any campsite whatsoever in Costa Brava. Caravan INN provides numerous safety features including:
Cameras
24-hour connection to the storage site's alarm company centre and the police department
Manned security service 24/7, 365-days a year
Caravan Storage Spain
Address: Ctra. De Palamos, 9 17113 Sant Climent de Peralta (Girona), Costa-Brava
Website: https://www.campingemporda.com/en/caravan-storage-spain/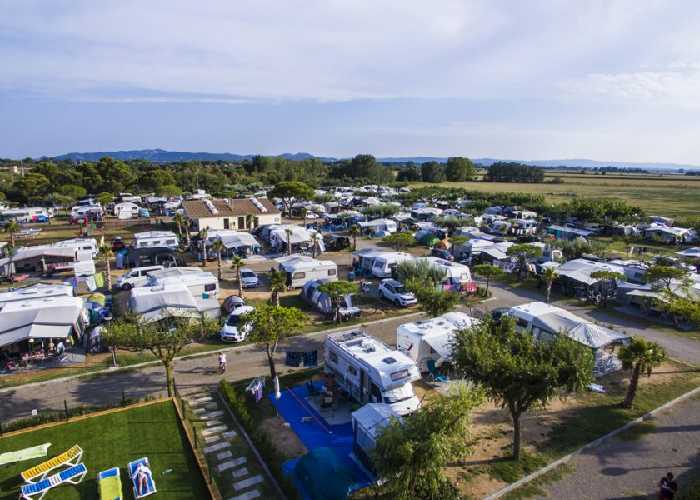 Another Costa Brava caravan storage is Caravan Storage Spain, located within Sant Climent de Peralta. This is roughly 20km from the popular Camping Emporda site and is also appropriately close to the airport at Girona. The standard price for storage does not include transportation from one site to and other or to the storage, however it is available for a premium.
The site is a modern facility with various effective security features, such as:
Video surveillance
Guard dogs
Owner lives on facility
Eurodog Storage
Address: Rincon Del Hinojal, No. 23 y 24, Cortijo La Torre, 29650, Mijas Costa, Malaga
Website: http://www.eurodog.es/storage.php
As the name suggests, Eurodog is a little more than just a caravan storage company. They are a family-run business that provide caravan storage, boarding for cats and dogs and the rental of small workshops and or storage unites.
Their caravan storage consists of a wide and expansive agricultural warehouse that they now have converted into 6 different storage units. Each unit has access to:
Water supply
Electric lighting
The size of these units can be from 110 square metres at the biggest to 65 square metres at its smallest. Accessing the storage units is easy via a traditional up and over door, while there's also a smaller-sized pedestrian door too, incorporated into the design.
Whether you are looking to use the site for a long or short time, you will always get great rates.
The security features for each unit includes:
Roller bolted pedestrian access and bolted folding door
Security lighting fixtures
6-foot fence around the perimeter
24-hours a day CCTV running constantly, with heat and motion detection as well as night vision
Owners live on site, so it's almost always manned
Parking Caravan Costa Brava
Address: Carretera NII-a, km 8.8 17600 Figueres, Girona
Website: http://parkingcaravancostabrava.com/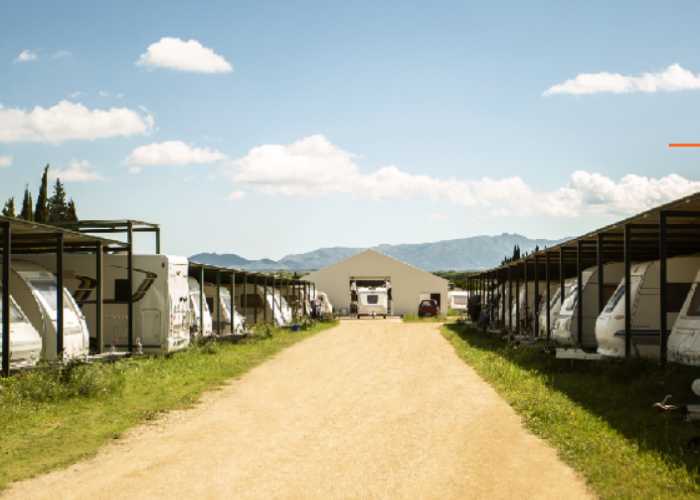 Parking Caravan Costa Brava is considered by many to be 'the friendliest caravan parking service throughout Costa Brava'. It is found just on the outskirts of the town known as Figueres. Run by Suzanne and Barend, a lovely couple always waiting with a cup of coffee, this is a great facility with a lot of great reviews from past and existing customers.
As well as the choice of covered and uncovered storage units, you also get the benefit of a huge array of special features and services, upon request and booking, including:
Cleaning and laundry
Waxing
Coating
Technical vehicle inspection and servicing
Gas service, to prepare gas cylinders for you
Full refrigerator with fruit, beer and some other nice stuff
Bicycle storage
CaravanCare & Parking San Martin
Address: Camí del Mas de Sabater, 43330 Riudoms, Tarragon
Website: https://www.caravancare.es/en/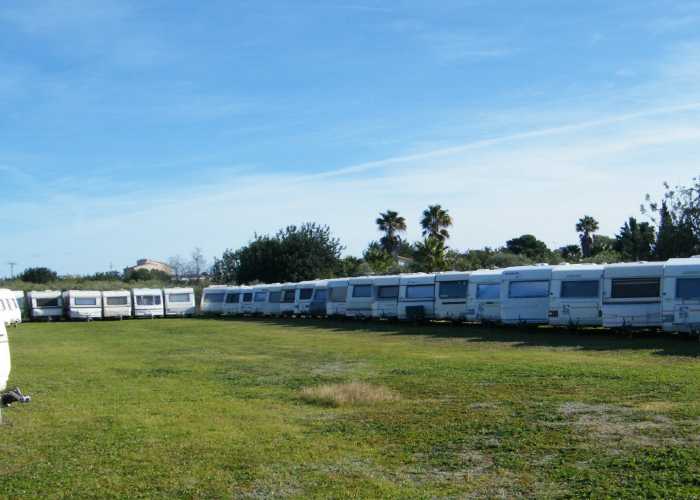 CaravanCare & Parking in San Martin is a small family-run business that specialises not just in storage of caravans, but the maintenance, cleaning and transportation of them. Their site is situated in the beautiful Costa Dorada area close to Tarragona. They have been in business for more than a decade now and are known as a reliable and safe place to store caravans.
Open air storage for your caravan is priced based on the length and includes the following benefits:
Tyre inspection and service, adjusting their pressure
Visual inspection of lights, cleaning any grease, dirt and dust
There are the options to store your caravan with them for a long period or even a shorter period of time, like when you want to visit Spain in both the springtime and late summer or similar.
In addition to the above, you also get the benefit, upon request:
Maintenance and technical safety inspection
Maintenance of the batteries service
Repairs and replacements to various things including tyres, lighting, corner steadies, jockey wheels, 12-volts alternators, toilets, faucets, vents in roof, lights on roof
Cleaning of the interior
Full valet and wax service
Transportation from and to campsites around the area of Tarragona.
Safety Features of the CaravanCare & Parking facilities in San Martin, include:
Fully fenced
Pack of guard dogs
Owners live on site
Full access control
Needless to say, whatever of the above storage spaces in Spain for your caravan that you choose, you will undoubtedly have a memorable experience. We highlighted them for a reason.