If you have invested in a caravan or motorhome, you will probably want to consider storage for your vehicle. Why can't I just store it on my drive, I hear you say. However, it is worth noting that 57% of caravan thefts take place from a person's drive. If you live in Billericay, Braintree, Stondon Massey or Colchester in Essex then you have options to store your caravan or motorhome safely and securely off your drive.
With a massive 15 different caravan storage sites in Essex, whether you live in Southend or Seven Kings, you will find a storage site that is both close to you and perfect for your caravan. Really there is no excuse to leave your caravan on the drive, free up that space for family and friends and keep your caravan safe and secure this winter, knowing you will have peace of mind.
Before we begin if you are after a rough idea of what caravan storage costs, then check out this article.
Best Caravan Storage in Essex
Hanns Caravan Storage Essex
Address: Little Parndon Lodge, Little Parndon, Harlow, Essex, CM20 2HR
Hann's caravan storage in Essex has 120 pitches for caravans plus 20 twin axle caravan pitches. Awarded the CaSSOA gold standard, it has everything you would hope for in a caravan storage site and in fact the security measures go beyond the gold standard, affording Essex caravan owners a truly bespoke caravan storage solution.
Security measures feature:
Security dogs
CCTV
Security lighting
Warden on site
Secure protection around the perimeter of the site
Tyre pressure check
Valet service
Caravan servicing
Ardleigh Camping and Caravanning Park
Address: Dead Lane, Colchester, CO7 7RH
Website: https://www.ardleighcaravanandcampingpark.co.uk/
Ardleigh Camping and Caravanning is a friendly organisation with customer service a high priority. Expect to speak to an extremely pleasant person in charge of a caravan storage Essex site with many features.
Hardstanding
CCTV
Secure perimeter fences
Warden on site
Single access point – secure
Parking for some twin axle caravans – please discuss as some larger caravans may be too big
Ardleigh Camping and Caravanning also provide storage for boats and cars.
Assured Accommodation
Address: Old Chase Farm, Danbury, Essex, CM3 4LP
In the picturesque village of Danbury, you will find Assured Accommodation, a caravan storage site that is sure to be a great choice for caravanners in Purleigh, Maldon or further afield. It is a welcoming caravan storage site with the following security features:
Access control
CCTV
Warden on site
Gravel hard standing
Bentley Leisure Services
Address: Dines Farm, Flag Hill, Colchester, CO7 8RF
Bentley Leisure Services offer many security features which makes it a very safe way to store your caravan. Whether you live in Colchester or further away, this site has some great features that you may want to take advantage of.
Valet service – don't worry about having to park your caravan, take advantage of this service
CCTV
Hardstanding
Secure protection around the perimeter of the site
Caravan servicing
Maintenance service
Blackbarn Farm
Address: Lower Burnham Road, Latchingdon, Chelmsford, CM3 6HF
Brandy Hole Moorings
Address: Kingsman's Farm Road, Hullbridge, Hockley, Essex, SS5 6QB
Website: http://www.brandyholemoorings.co.uk/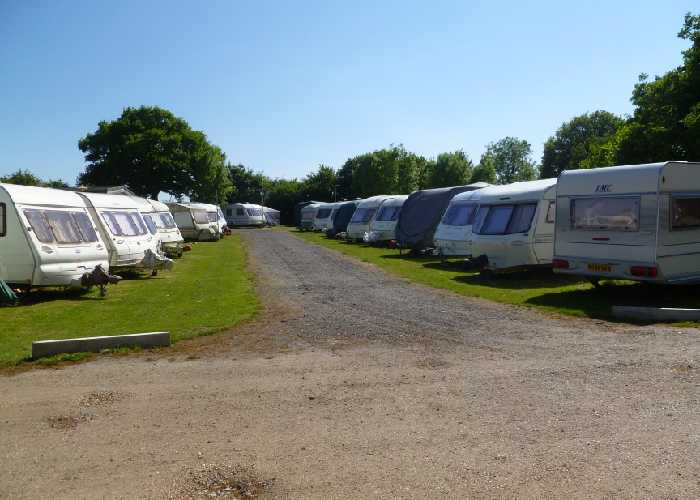 Carastore (Essex)
Address: Pork Lane, Great Holland, Nr Frinton-on-sea, Essex, CO13 0ES
Close to Hamford Water National Nature reserve lies this lovely caravan storage Essex site chock full of features and close to the beach. Drop off your caravan and enjoy a day mooching around Frinton, close to Clacton on sea and Walton on the Naze. Features include:
Access Control – one way in and one way out means the site is secure
Grass standing
Perimeter is protected
Security warden
Fire Extinguisher on-site
Vermin control
Dunton Park
Address: Lower Dunton Road, Dunton, Nr. Brentwood, Essex, CM13 3SX
Website: http://www.duntonpark.co.uk/
Dunton Park is a residential park with homes for residents to live in year-round, and it also has caravan storage facilities too. The beautiful park is held to a very high standard and the caravan storage site also boasts the CaSSOA silver award. It boasts 24 access for all members.
GSS
Address: Nightingale Hall Farm, Earls Colne, Colchester, Essex, CO6 2NR
Stables Self Storage
Address: Elmshaws Farm, Tye Common Road,  Little Burstead, Billericay, Essex, CM12 9SB
Website: https://stableselfstorage.com/
In the beautiful town of Billericay, this is a great facility to store your caravan. It's an outdoor storage site and it has 24hr CCTV throughout. It stores not only caravans but also motorbikes and other vehicles. Caravanners from Basildon and Pitsea will be pleased to note this caravan storage site.
Slamseys
Address: Blackley Lane, Great Notley, Braintree, Essex, CM77 7QW
Website: http://www.slamseys.co.uk/
Our next venue is not too much further away in Braintree. At Slamseys there is a storage compound for storing caravans. The perimeter is formed from mud banks with a single entry and exit point. The entrance is controlled by personalised key fobs. Each caravan has its own designated parking space on hard standing and plenty of space around each caravan. Caravanners from Saffron Waldon, Essex and Bury-St-Edmunds, Suffolk will want to investigate this storage facility.
It's worth noting there is not the facility to store motorhomes or twin axle caravans, or commercial vehicles. Boats and horse trailers are no problem.
Guardian Secure Storage Ltd.
Address: 121A London Road, Marks Tey, Colchester, Essex, CO6 1EB
Website: www.guardiansecurestorage.co.uk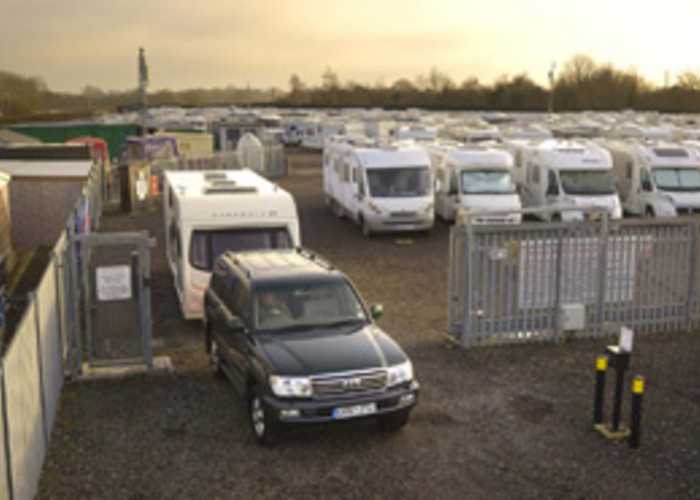 This CaSSOA award winning site holds the gold standard, the highest available award for storage site security. Rightly so, when you consider the amazing precautions and security measures taken to ensure your caravan is kept as safe and secure as possible. It also holds the secure by design police award, so you know your caravan will be taken care of here.
Extensive security measures include:
A 6 feet steel palisade fence around the perimeter of the compound
CCTV camera with 24hr, 7 days per week coverage
Infrared perimeter alarms, enabling heat detecting video recording of any criminal attempts
Personal key fobs so only caravan owners can operate the auto gates
Security lighting
Resident security guard on site
This isn't all that this super security storage site offers. There are some amazing facilities on this site including:
Every caravan is set on hard standing
Full use of twin wash pads with roof cleaning platforms, at no charge
Water, electric airline (for tyres), pressure washer and cleaning equipment all available at no charge
Drinking water
Fire extinguishers and hose reels
On-site shop selling caravans accessories including gas bottles
Foul and grey water disposal facilities
Vermin control
Workshop for servicing and MOT of caravans and motorhomes, as well as repairs.
CaSSOA stands for Caravan Storage Site Owners' Association and it has been in operation since 1999. It has 600 sites which have been awarded either bronze silver and gold levels of security for storage of caravans. Each site is personally checked and continues to be monitored so standards are kept up. So great is their reputation, caravans which are stored at a CaSSOA site can get their insurance premiums reduced by a whopping 25%. If you want to go to bed knowing your caravan is as snug as a bug in a rug, then this is the place to store it.
Stondon Storage
Address: Willow Tree Farm, Chivers Road, Stondon Massey, Essex, CM15 0LJ
Website: http://www.stondonstorage.co.uk/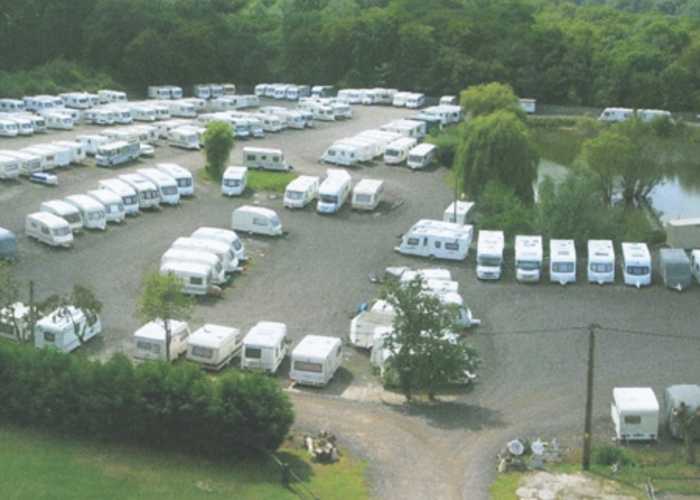 Stondon Storage provides storage for caravans, boats, horseboxes, and motorhomes. Consisting of a large compound of hard standing, it has space for many caravans and is very secure. The owner lives on the land and there are guard dogs in place. The compound is surrounded by woodland, with one entrance and exit. Stondon Storage offers storage of anything with wheels and if you need more space then please contact them for further information.
Waldegraves Holiday Park
Address: Mersea Island, Colchester, Essex, CO5 8SE
Website: https://www.waldegraves.co.uk/caravan-storage-in-essex-waldegraves/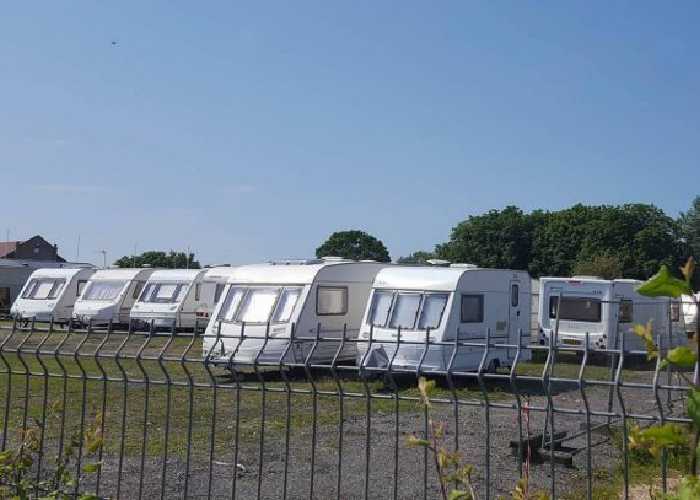 Waldegraves provides caravan storage on grass or hard standing. There is space in between each caravan so they can be inspected or maintained. Waldegraves offers boat, vehicle storage, and jet ski storage. You can pay for the year or pay for just the offseason.
Barnfield Caravan Storage
Address: Black Notley, Braintree CM77 8JT
Website: https://www.barnfieldcaravans.co.uk/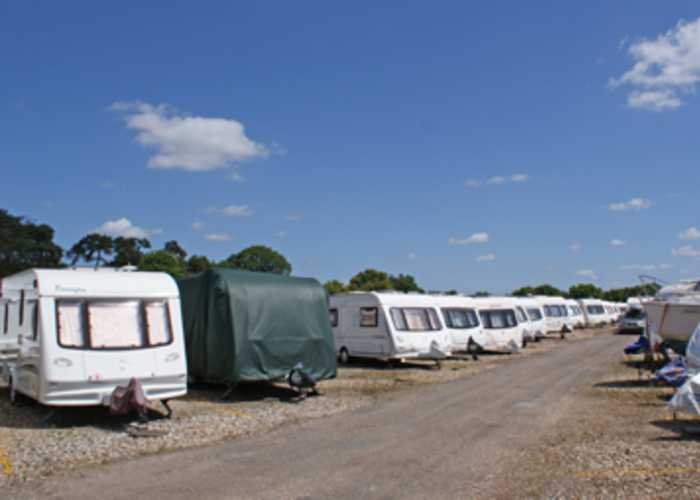 Barnfield caravan storage is set in Braintree, in Essex. It is a top-quality caravan storage site with the gold award from CaSSOA, the association of caravan storage sites, which only hand out their awards to the most secure caravan storage sites. CaSSOA gives out either bronze, silver or gold awards and Barnfield Caravan Storage hold the gold award.
Another reassuring award that Barnfield Caravan Storage is rightly proud to hold is the secured by design award. The site conforms to the Association of Chief Police Constables requirements. As one of the first caravan parks to receive the award, Barnfield can confirm that the initiative reduces burglary by half, and also reduces criminal damage.
These are just a few of the security measures you can expect:
Detailed access logs
24hr CCTV
Floodlighting
An automated gate system
Owner and staff living on site
Alarm system
Security pass for all customers which allows you access any time of the day or night, any day of the year. Barnfield also provides storage for horse boxes, trailers, static homes, boats, and motorhomes.
Barnfield caravan storage also offers these facilities for the customers on their storage site:
A dedicated plot per caravan, clearly marked
All plots are hard standing
Plots are well sized
Washing facilities for your caravan or motorhome at no charge
Well-lit even through the night
There are toilet facilities
Your tyres are safe – air is available
Whatever sort of caravan storage Essex site you choose, you can be sure that everyone will do their best to provide you with what you need, a safe place for your caravan.
Are you after storage somewhere else? Why not check out our caravan storage options in Kent.