As caravans and motorhomes constitute a big investment, it makes sense you'd want to protect that investment. You may wonder why you can't just park it up on your driveway, especially if you have the space. Well, you could. Of course, you could. But it's worth keeping in mind that more than half of the caravans stolen in the country are stolen from right under the owner's noses in their driveway. Do you live in Canterbury, Birchington, St Mary in the Marsh, Rochester or somewhere else in the beautiful county of Kent? You could benefit from one of the nine highly reputable caravan storage facilities we have found in the area.
With so many options to choose from, most approved by the Caravan Storage Site Owner's Association or CaSSOA, means it will be easy to find the right storage facility for you and your caravan. If you'd like to find out more about what you an expect to pay for caravans storage, please take a look at this post.
Caravan Storage in Kent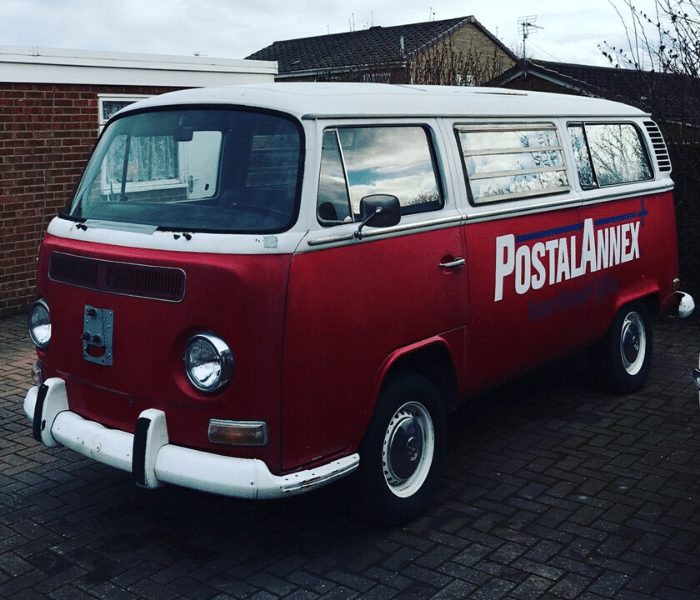 Down Barton Farm Caravan and Motorhome Storage
St. Nicholas-at-Wade, Birchington, Kent, CT7 0QQ
http://www.downbartonfarm.co.uk/secure-caravan-storage-kent.php
Down Barton Farm is hidden away in the tiny and quiet St. Nicholas-at-Wade. They offer 30 hardstanding storage spots around their 2-acre site. It's easy to find, around 15-miles outside the port of Dover. So, it's perfect if you take you tourer across to the continent regularly. The owners are very friendly, so you will always feel welcome there.
The security and special features offered at this storage facility include:
Wide-turning areas
24-hour security lighting
Access all hours
Locked-access gates, meaning you benefit from lower insurance rates
CCTV Cameras
Water available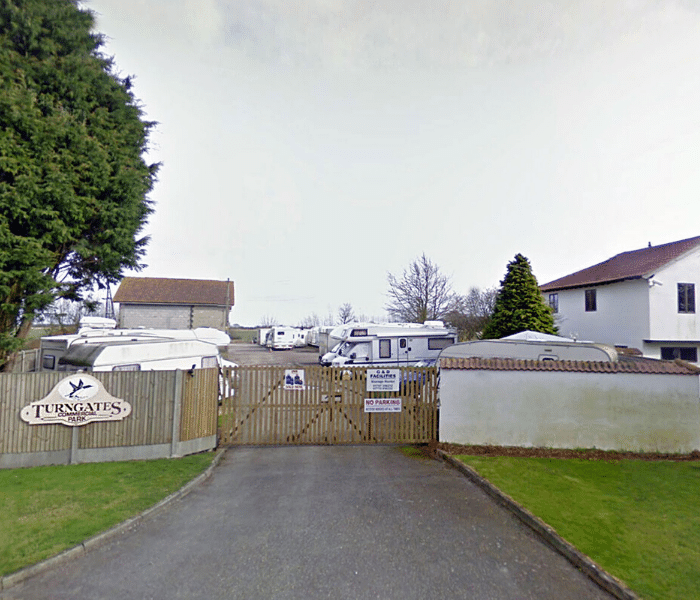 G & D Facilities Caravan and Motorhome Storage
Turngates Commercial Park, St. Mary's Road, St. Mary in the Marsh, Kent, TN29 0BT
http://www.gdfacilities.co.uk/
G & D Facilities are a secure caravan and motorhome storage facility that can be easily accessed from most of the villages and towns in Kent. They have received a Gold Award from CaSSOA and offer hardstanding pitches of all levels.
The security and special features offered at this facility includes:
Security lighting
Owners live on site
Secure gates and perimeter fencing
24/7 coverage
Numerous CCTV cameras
Full caravan servicing by Guy Ashby Caravan Services, professionals that have been in the business for more than 10 years.
Medway Bridge Marina Caravan Storage
Manor Ln, Rochester ME1 3HS
http://www.medwaybridgemarina.co.uk/caravan-storage/
In the coastal town of Rochester, Medway Bridge Marina offers caravan storage from gold award members of CaSSOA, so you know you are going to get a highly secure place to keep your tourer when it's not in use. There is space for 90 motorhomes or caravans and is open 7-days a week and is only closed over Christmas and New Year. You can access the facility between 9am and 5pm, Monday through to Saturday and 10am and 4pm on a Sunday.
The security and special features offered by this storage facility include:
Permanent padlocking
Controlled entrance via password at marina office
Key access to storage compound
Tourers are logged in and out for a detailed record
Wash bay
Electric point
Chemical toilet disposal point
Calor gas supplier
Café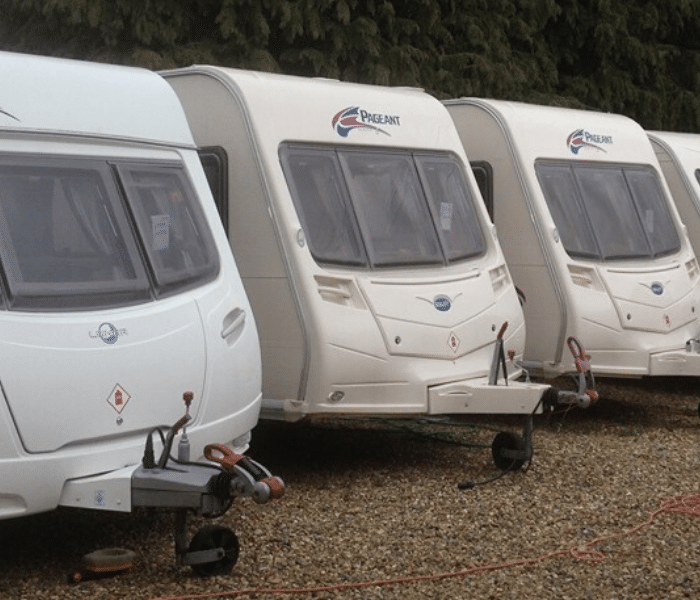 Kingswood Caravans and The Finches Caravan and Camping Park Caravan Storage
Rowan House Farm, Gravelly Bottom Rd, Kingswood, Maidstone ME17 3NU
https://www.kingswood-caravans.co.uk/caravan-storage/
At Kingswood Caravans and The Finches Caravan and Camping Park there is a secure storage facility you can use to keep your caravan during those times when you won't be using it. This is based in a very easy to reach location and has a fully dedicated team that has the experience and knowhow to give you an excellent service.
To find out more about the special features and security measures they have in place, you'd need to contact them.
Jade Farms Caravan/Trailer/Motorhome Storage
Arable Farms, Alland Grange Lane, Ramsgate, Kent, CT12 5BX
http://www.jadefarms.com/CARAVAN-TRAILER-MOTORHOME-STORAGE
Jade Farms is a farming complex that has been in operation for over 300 years and offers storage facilities for trailers, boats, motorhomes and caravans.
The security and special features this facility offers include:
Full CCTV camera coverage
Gated chain link
Excellent access from local areas
As not a lot of details are provided on their website, it is best to give them a call directly to find out more information.
The Hop Farm Site Caravan Winter Storage
Maidstone Road, Paddock Wood, Kent, TN12 6PY
https://thehopfarm.co.uk/stay/winter-storage
The Hop Farm and its connected campsite is one of the most iconic landmarks in all of Kent. It features the biggest collection in the world of oast houses from the Victorian Era and used to be a huge supplier of hops to the capital's breweries during the 19th and 20th centuries. Here families from around the South East and, in some cases, even further, used to work through the summer helping with the harvest and preparation of the hops so they were ready for transportation.
Now, it's an exciting and interesting day out for the whole family and there's even a campsite. Alongside all this you can store your caravan there for the winter from September to March, at an amazing rate.
To find out more about the special facilities they offer and security measures they have in place, you would need to contact them directly, as the website is sparse for information.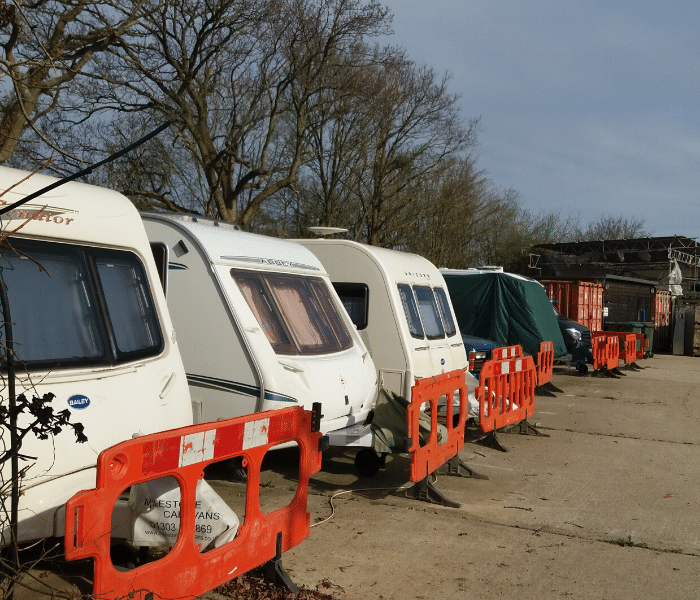 KJ Storage, Caravan Storage and Containers
Bethersden Business Centre, Bethersden, Kent. TN26 3JL
KJ Storage is a small and family-run site for storing caravans and includes containers too. They are currently the holder, as of last year, of a silver award from CaSSOA and have hardstanding pitches.
Some of the main security and special features of this facility includes:
CCTV
24-hour access
Two-padlocked gates
Water available for washing down
Electric point for minor repairs and pressure washers (not for electric hook-up)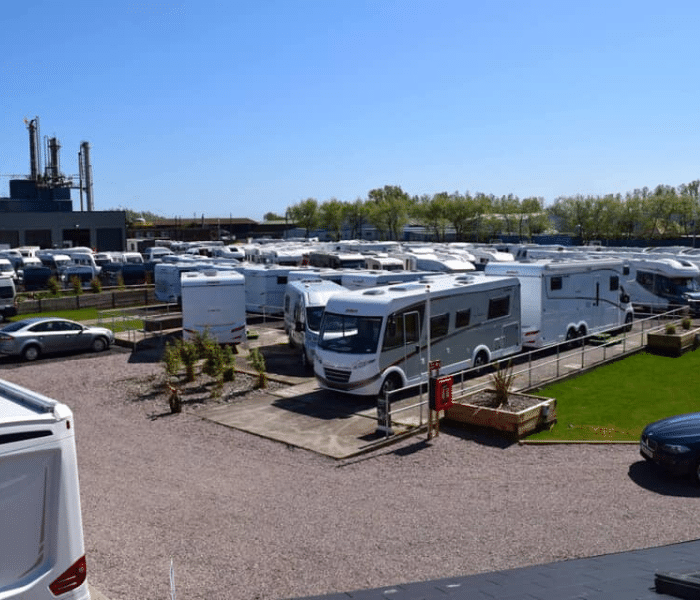 JC Leisure Caravan Storage
Lifestyle Park, Harbour Road, Rye, East Sussex, TN31 7TE
https://www.jcleisure.co.uk/storage/
JC Leisure's Lifestyle Park is technically located in East Sussex, but as its only about 50-minutes away from the edge of Kent, it was worth including in our Kent caravan storage page. There you have access to large hardstanding pitches that offer a lot of room for each vehicle, whether it's a motorhome, caravan or even a boat. You can also store trailers and cars there too, if necessary.
The main security and special features offered by this facility includes:
24-hour security
Permitted access only between specific times (8.30am to 5pm, Monday to Saturday and 10am to 4pm on Sunday)
Clearly, if you are looking for caravan storage in Kent, there are plenty of great options to choose from.