Have you recently become the owner of a shiny new caravan? Are you a Leeds resident looking forward to leaving the humdrum of everyday life for adventures up and down the country? We don't blame you for the excitement, as we know how exciting it can be to have the open road of possibilities ahead of you. However, given the amount of money you likely had to invest in your caravan, have given much thought to where it is going to be parked up when you are not using it?
Most people tend to think it will be fine and safe leaving it in their driveway or even in the on-road parking space in front of their property. However, statistics suggest otherwise. The main places where most caravan thefts occur are from motorway services (presumably when weary travellers are off getting refuelled with a full English etc.) and from outside their home. That is why we recommend you avail yourself in dedicated storage for caravans. Leeds has several sites offering this service. If you are concerned about the price, check out this guide. If not, continue reading.
Caravan Storage in Leeds
Leeds Caravan Storage
Website: http://www.leedscaravanstorage.co.uk/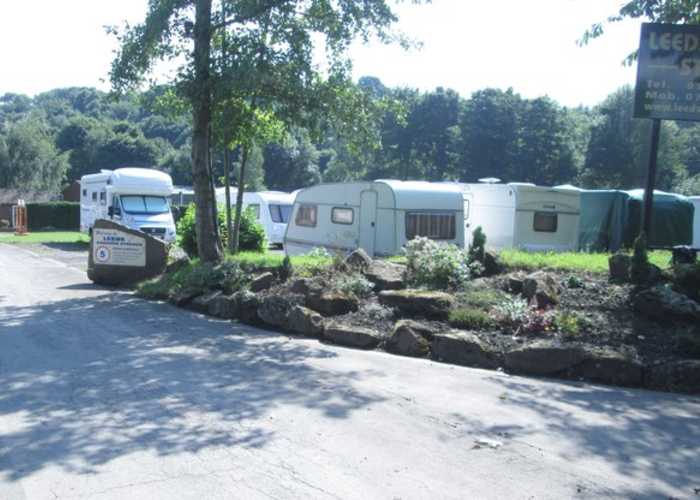 Considered to be one of the best caravan storage centres in Yorkshire, Leeds Caravan Storage is worth considering. It has received the Gold Award from CaSSOA, can be accessed easily from the motorway and has more than 400 pitches.
Your pride and joy will be safe on their premises as they have regular patrols, 24/7 recorded CCTV and perimeter security and a member of the security team is always on-site. The site only offers 12-hour access to the vehicles stored there and that access is only possible via one, electrically monitored gate.
Thorpe Lane Caravan Storage
Address: 83 Thorpe Lane, Leeds, LS10 4QD
Website: https://caravanstorageleeds.com/
Although the company has not always been in the caravanning business, it has been a family-run business since it was established in 1958 at 83 Thorpe Lane, where it has been based for all that time. Even in those early days it served the local community and evolved from being a coal sales and transportation business into a vehicle dismantler and storage business.
The company have gone to great lengths to construct a storage site that meets the industry requirements and standards. As part of their security efforts to protect your tourer, they have a key entry gate, alarms, floodlighting, automated gate system and 24/7 CCTV. Although there are several different access points to the site, these are protected and secured by CCTV, alarms and security guards around the clock.
Castleford Caravan Storage
Address: Hunt Street, Whitwood Mere, Castleford, West Yorkshire, WF10 1NS
Website: http://www.castlefordcaravanstorage.co.uk/
Castleford Caravan Storage is a caravan storage company based in the West Yorkshire town of Castleford, not far outside of Leeds. They have been in business for more than 15 years and are fully committed to offering a secure, professional and cost-effective storage service to a network of customers that is growing every year.
You get the benefit of having your own numbered bay at the storage site, a bay that is very easy to access, compared to other sites where the vehicles always seem to be locked in. They have more than 300 pitches, so there is plenty of space. The site has also been given the Gold Award by CaSSOA, the Caravan Storage Site Owners Association. In terms of security, the site is only accessible via the use of a key card and they have CCTV monitoring setup and recording 24-hours a day, 7-days a week.
Yorkshire Caravan Storage
Address: Swillington Park, Leeds, LS26
Website: https://ratherbefishing.co.uk/storage.html
Yorkshire Caravan Storage is the last business of its kind we want to discuss in this guide. Based in Swillington Park, it is ideally located to offer an easily accessible and safe place to park and pitch your caravan up. You can reach it from the M62 and M1 within minutes. All pitch bays are hardstanding, so there is no need to worry about leaving your caravan on a muddy field for weeks and even months. Access to the site is offered 7 days a week, during the daytime.
The site is incredibly secure. Not only are the owners on-site, but the entire compound is fully alarmed and backed up with 24-hour recorded CCTV. As well as caravans, they offer storage space for all kinds of leisure vehicles including motorhomes, trailers, boats, vans and cars.
Final Thoughts
If you are looking for caravan storage in Leeds area, any of the sites mentioned above should offer all you need and more. We have handpicked and singled these out for the quality of their facilities, the fact they offer great services and are fully committed to looking after the leisure vehicles under their care.
Perhaps you are interested in caravan storage elsewhere. Caravan Helper can help you in that regard too, with guides to many different areas throughout the country. Places such as York, Cornwall, South Wales and Suffolk to name just a few.
Want to find a place to store your tourer abroad so you have a starting spot for any holiday you are planning in Spain, France or other parts of continental Europe, we also have guides for those.
As most caravan storage facilities featured on our site offer the best value and most comprehensive range of services, it will come down more to personal preference than anything else which you choose. We feel confident in the selection we have provided, or we wouldn't have highlighted them.