At Caravan Helper, we come across the question noted in the heading. To answer the question what size gas bottle you need for your touring caravan, you will need to think about what appliances you use that need gas and how much gas you need for your caravan in general. Nobody really works out exactly how much gas they use every day, but most users find they use 0.8 and 1.5kg of gas every day. When the weather is warmer in the summer you will use less gas than you usually do in colder times, say during the Winter, and you will also require less gas if you are using an electric hook-up, or use electricity for some of the heating, cooking, and refrigeration.
To decide which size gas bottle you need, think about the size of your caravan and how many appliances you need. A single 6kg propane cylinder will be enough for a cooker, a space heater, a fridge, and a water heater and will give about 0.8kg of gas per hour. You might need a bigger bottle if you are using all those appliances, a grill, and four gas rings at the same time. The size of your caravan should also be taken into account. Bigger caravans will require more gas.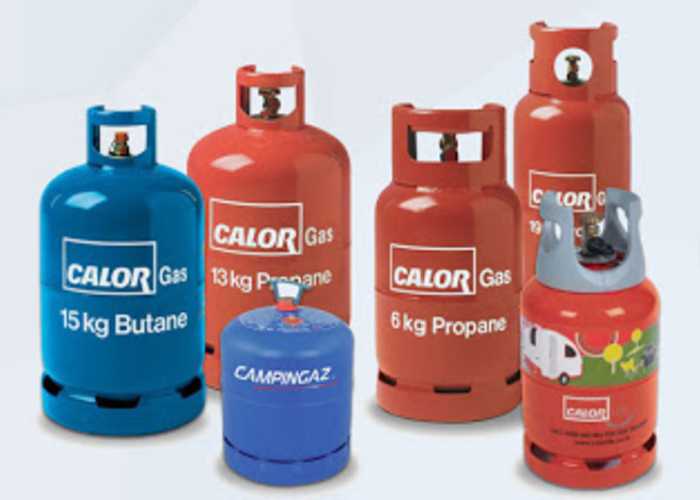 Let's take a look
How Much Does a Bottle Cost?
The price of a gas bottle will vary with different companies and sizes, Cylinders that are from Flogas are generally cheaper than ones from Calor. Calor is a very popular brand. For a 6-kilogram propane cylinder from Calor, you will be paying out £62.84. Butane is cheaper than propane, too. For more information, you can look at the Calor website.
Flogas, as we already stated, are cheaper than Calor. For a 6kg propane cylinder, you will be paying out £22.75 for a bottle, which is significantly cheaper than the option from Calor. For more information, you can look at the website for Flogas.  Costs to fill up your cylinder may vary. From Gaslow it costs 60p per litre to fill up a tank. 4.6 litres, it will cost £2.76 to refill a bottle, a medium bottle of 6kg will cost £6.90, and a large cylinder will cost a total of £12.60 to fill it up completely. 
What About Spares?
A spare bottle might be a good idea for emergencies. Your gas is likely to run out at annoyingly inconvenient times, so a spare bottle would be useful in that situation. Also, if your bottle breaks, a spare will be a great temporary replacement. Most caravan owners tend to bring a larger cylinder, and a smaller spare. Nose weight will have to be taken into consideration, too. Two 6-kilogram cylinders will bring the nose weight of the caravan up to 28 kilograms, which is a lot. However, a larger bottle and a smaller bottle combined will not bring the nose weight too high.
To store your spare, you should use a place near a gas drop vent away from the general living area. It should be stored upright, in a padded and concealed area to make sure that you are safe.
Refills
Some caravan sites offer refills, but not all. You would need to check on the website to see if they do. At some caravan sites, you can plug directly into the mains, but again, you would need to check with the site. If you can't find anything on the website, you can always contact the site with their contact information.
Conclusion
In conclusion, you should make sure that have a large enough cylinder for your needs. You will have to take the size of your caravan into consideration, as well as how much gas you will use. A spare might be a good idea, but make sure it is smaller than the main cylinder, so the nose weight is not increased too much. Check with the caravan site to see if they offer refills and if you can use their gas mains.
We hope that this article has been informative and has helped you in deciding how much gas to bring on your caravan trip. While you are here at Caravan Helper, there are plenty of other articles covering interesting topics that you check out such our one here on caravan gas bottle brackets.