16 AMP to 2x 16 AMP Sockets 240V 2 Way Orange Power Splitter Generator...
coldshine 2 Way Splitter 16A Electric Mains Hook Up Lead Adaptor Caravans...
16 AMP to 2x 16 AMP Sockets 240V 2 Way H07RN-F Rubber Power Splitter 16A...
16 AMP to 2x 16 AMP Sockets 240V 2 Way Orange Power Splitter Generator...
coldshine 2 Way Splitter 16A Electric Mains Hook Up Lead Adaptor Caravans...
16 AMP to 2x 16 AMP Sockets 240V 2 Way H07RN-F Rubber Power Splitter 16A...
One of the benefits of modern caravans and camp sites is the availability of electric power. Most well-equipped caravan sites will have electric hook-up available, and all caravans these days – as well as motorhomes – have powered items that need an electrical supply. So, if you want to cook, have heat and light – and of course music – you need that electrical hook-up supply!
But why would you need a two-way splitter? Are they worth buying and what do people use them for? It's possible that you are camping with a van and a motorhome, or perhaps you have two caravans on adjoining pitches. Or, you might be parked up at the marina, and need power for both your motorhome and your boat. The easiest way to utilise the power available is to invest in a two-way splitter. This way, you can use the power in more than one place at one time, giving you added convenience.
There are quite a few of these two way splitters on the market, and while they are very similar, we thought we'd give you details of a few that we reckon are worth looking at, and that might make your caravanning and camping trips a bit easier!
A selection of Splitters
1. Event Distribution Power Splitter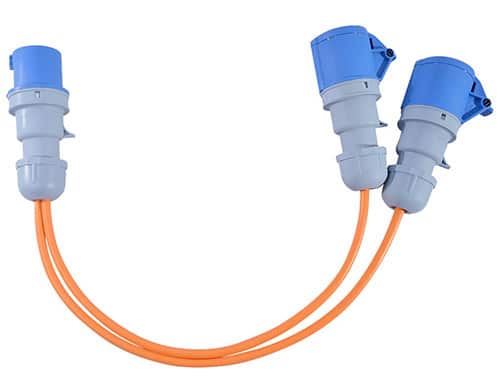 As we're sure you can imagine, there's not going to be a lot different between these items, as they are designed and manufacturer for a specific purpose. This example is a 240volt model – as you would expect offering 16 amps to 2 x 16 amps split, made from durable material and featuring high-visibility cable which is always a bonus when we're talking about laying electrical cables on campsites.
The sockets are IP44 rated – that means they'll be ok left out in the rain, but don't go immersing them in water – and feature 1.3mm 3-core flex cable. This splitter can be used indoors or outdoors, is 60cm in length, and comes with PAT certification valid for one year from purchase. When we took a look at what buyers have been saying about them, the response was almost entirely positive with no real negative comments, and at the price – you'll find them for around £15 – they are decent value.
Key Features:
16A to 2x16A
240v
IP44 rated for outdoor use
600mm cable
Sensible price
Good customer satisfaction
2. Coldshine 2-Way Splitter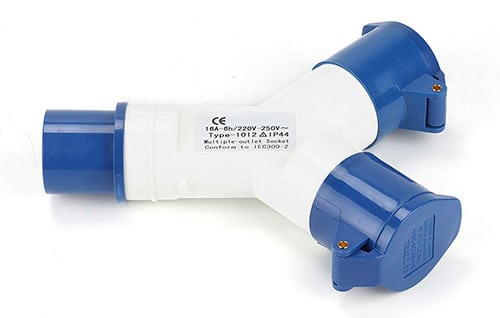 This device differs from the above in design terms. Whereas the previous model had a 600mm cable with a single hook-up connector at one end, and two at the other, this is a single solid item, with no cable in between. As a result, it is very compact and practical, although it does mean you need cable to run all the way from the vehicle to the splitter at the hook-up point. It's the usual 16amp to 2x 16amp, and it's a neat little device at a surprisingly cheap price.
This model may in fact be more suitable for use in a marina as it is made from polypropylene and has no cables within, plus it is very small at just 18×20.5cm. It is advised by some users to check the space in the battery box or wherever it connects, as being an all-in-one unit it takes up more space than some. However, it's nearer £5 than £10 to buy, and consumers love it, so it's certainly worth you having a look.
Key Features:
All in one design
16A to 2x16A
Solid polypropylene
Very cheap
3. Event Distribution 16A Splitter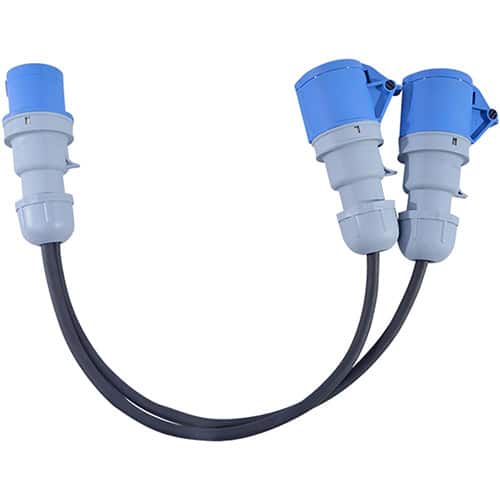 The only difference between this one and the other from Event Distribution are the colour – this is blue – and the fact that this one has a rubber housing for the cable. Also, this one is just 500mm whereas the other was 600mm. It should be said that this one is primarily designed for stage use, the rubber is there for further insulation, but there's no reason you shouldn't use it on a caravan site.
It's a similar price to the other model, at a but more than £15, and it comes with PAT certification for a year from purchase, so it's worth looking at. In truth, we prefer the brighter orange colour of the other one for campsite use.
Key Features:
Rubber housing
16A to 2 x 16A
500mm length
PAT tested
4. ST Anton 2 way Compact Power Splitter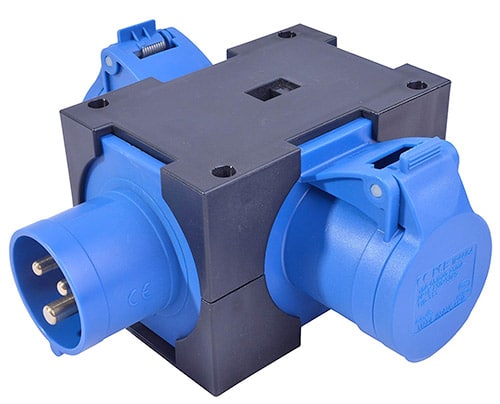 This one actually comes from Event Distribution – they have the market cornered for stuff like this – and is a clever all-in-one design in which all three hook-up connectors are mounted on a compact square shock-resistant polyamide box. This does mean the cabling has to come from the electrical point and to the van and other vehicle, so you will need to supply all the cabling for that.
While this is a quality item and gives you the standard 16A to 2x16A power split, we question why you would buy it for use with a motorhome or caravan, as it's more than twice the price of each of the versions with cables. It is, however, a good device that does the job, so check it out if you want something compact – but make sure it fits in your power box.
Key Features:
High quality material
16A to 2x 16A
All-in-one design
Costlier than the others
Which is For You?
If you are looking for an affordable, reliable two-way hook-up splitter for motorhome, caravan or boat use, we reckon the first one on the list – the basic Event Distribution Power Splitter – is the one for you, especially as it is simple, it has the high-visibility orange cabling, and it does the job that you need it for. It's not expensive, customers like it, and you will too, so get one now and keep it for when you need to connect two items to one power source – it makes sense!