Defender


Towing Cover



Rhino Guard


Caravan Cover



Specialised


Caravan Cover
LEDs
2 LEDs
Yes
Yes
Fitting
Mark free buckle system
Mark free buckle system
T-Fit System
What size caravan?
Will only fit vans with 2 working awning channels
From 7ft 1 inch (215cm) to maximum 8ft 2 inch (250cm)
2 awning channels up to 2.5 m wide
Buy now on Amazon
Buy now on Amazon
Buy now on Amazon
So, you've bought your new caravan or taken your existing model out of storage and have followed our caravan cleaners tips and advice and it's looking pretty amazing. The last thing you want is to hit the road and get to your destination and pitch up with your motor mover only to discover your sparkly pride and joy is covered in dead bugs and dirt among other things.
Although that is a fairly extreme example, it is exactly what happens on the road when you are towing a caravan.
You have probably seen other caravans on the road with a cover just over the front, and have wondered why?  We know they look a little strange, but they are tried and tested forms of protection for caravans and help avoid those things mentioned above from happening.
Best Caravan Front Towing Covers
Defender Caravan Universal Caravan Front Towing Cover, Dark Grey
Defender are a very reputable brand of caravan accessories and this caravan towing cover is no exception. It will provide sufficient protection against reflections, bugs, dirt, stone chips and all other kinds of debris.
Thanks to its mark-free, buckle system and the double-stitched straps, it will fit your caravan very securely.
In addition, the material used is an enhanced 4-ply and as such very breathable, but thick material that helps offers the maximum protection against impacts.
People say it is easy to fit, and features 4 reflective strips and 2 LEDs for improved visibility, but it is important to note that this caravan travel  cover has only been designed to fit a caravan model with 2 operational awning channels.
Rhino Guard Caravan Towing Cover Protector Universal, Light Grey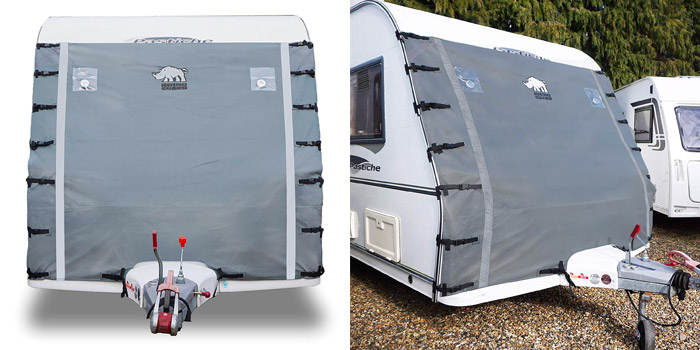 The next caravan towing cover on our list is from Rhino Guard and is an affordably priced solution for keeping your caravan clean on the road. As is standard with most products these days, it is made from durable 4-ply material that is not only protective but also breathable.
It features a scratch-resistant buckle system and the re-inforced stiched seams ensure that it will not tear easily and will cope with repeated uses.
Another common feature that is present in these Rhino Guard covers is the 4 reflective strips and LEDs for enhanced visibility, even in poor conditions.
UK Wholesale Caravan Universal Front Towing Cover, Dark Grey
If you are looking for a reasonably priced solution to ensuring your caravan stays in relatively pristine condition, you should consider this cover. As you'd expect it is made from fully breathable, but by no means lightweight fabric.
Along with the usual features such as anti-scratch buckling, re-inforced stitched seams and fully adjustable and secure strapping, it comes with a handy storage bag for no extra cost.
This means when it is time to pack it away you don't have to wrestle too much with it. There are also LED lights on the design to increase the visibility of your caravan.
Leisure Depot Premium Caravan Towing Cover 2.5 metres Universal Fit
With a slightly more expensive price point than others on the list, the Leisure Deopt has a lot to live up to really. However, the good news is that it seems to live up to the expectations. This caravan towing cover comes equipped with a strap and buckle system consisting of 8 straps on each side of it with buckles and covers for those buckles to keep them protected from the elements.
It is important to note that this caravan travel cover is only suited to caravans with a width of up to and including 2.5 metres.
As you've probably come to expect now by reading through a few, it features waterproof and UV protective qualities and is 100% breathable. To help with
Specialised Covers TPL1 Motor-home Universal Towing Protection Cover
If you have a caravan that has 2 fully operational awning channels of up to 2.5 metres wide, then this great universal towing protection cover from Specialised Covers might suit you. It is made from uv-resistant, waterproof durable and impact absorbing but breathable material and features lining made from a non-abrasive fleece material.
Thanks to the all-in-one design and the easy to use T-Fit system, people say that fitting is quick and easy and there is the standard addition of push-operated and easy to remove LED lights. These are ideal for increasing your level of visibility both at day and at night.
What Exactly Do Caravan Front Towing Covers Do?
If you read our post on caravan covers, in which we covered the various types you can invest in, you will know that we briefly discussed caravan front towing covers. However, while many people would consider purchasing a storage-type cover; many do not see the point of towing varieties.
We feel differently though and consider towing covers for caravans to be vitally important accessories along with caravan towing mirrors. As well as protecting your caravan from the various dirt, muck, grime, stone chips, dead insects and water damage that can damage or at the very least dirty up the front of your caravan, they are even useful for preventing exhaust fumes from your tow car form tainting that brilliant white finish.
Another helpful function of caravan front window covers is that they reduce the glare that is often caused by the reflection of bright lights from other cars, such as read fog lights as it hits your caravan's bodywork or windows.
So, all in all, you should consider these covers to not just be a protective measure for your caravan itself but also for you and other drivers on the road.
If you have ever looked at caravan front towing cover protectors online, you will know only too well that there are a wide range of items available.
To help you make a bit more sense of that, we will talk you through our choices of the best on the market right now. and we will also look at some tips and considerations you need to take when using this kind of cover.
Now that you have had a look at some of the best caravan towing covers, lets take a look at some tips on how to use them.
Top Tips For Using Caravan Towing Covers
While it is not legal as such, you should always ensure that your towing cover for the caravan cover does not obstruct road lights. However, this is not always a problem as most manufacturers design them so reflectors are still visible.
These covers are generally very easy to pack away, because they are essentially nothing more than large sheets of waterproof material. All you have to do is shake off any water that may be on the surface and fold away.
Ensure that the interior liner you choose is not going to soak water up. It may be worth listening to the advice of Protec, who knows a thing or two, and choose a cover with a white underside, to avoid any colour transference from the cover to the paintwork.
Keep in mind that these caravan front covers are only for use when you are towing and not for then your caravan is in storage, pitched up or otherwise stationary.
You should clean your caravan before using a cover. This is to prevent any bits of dirt and grit from rubbing against your paintwork or windows as the cover moves during your journeys.
If you need a caravan travel cover for your towing hitch so that it does not go rusty, then we have covered those here or check out caravan tyre grips which are an overlooked essential.