If you live in Southampton, you might be wondering if you need to put your caravan in storage? Well, caravan thefts are on the rise. In 2014 caravan thefts were up by 29%, and in 2016 they were up 36%, so the evidence points to the benefits of storing your caravan in a reputable storage facility when you are not using it.
After all, you spent a fair amount of money on your 'van. You probably spend time and money on its upkeep too. It's important to you to be able to go about in your caravan, enjoying the countryside and having fun breaks with your family. When something is as important to you as your holiday, then it is worth protecting.
Peace of mind, how much is that worth to you? We go to great lengths to get peace of mind. That's why we have insurance for the important things in life, our homes, our pets, and our own life – we insure everything. When your caravan is stored correctly in a secure facility, then you have peace of mind that your home from home is safe and well and will be ready for you when you choose to use it.
Storage facilities in Southampton.
Hill Farm Camping and Caravanning Park
Address: Branches Lane, Sherfield English, Hants, SO51 6FH
Website: www.hillfarmpark.com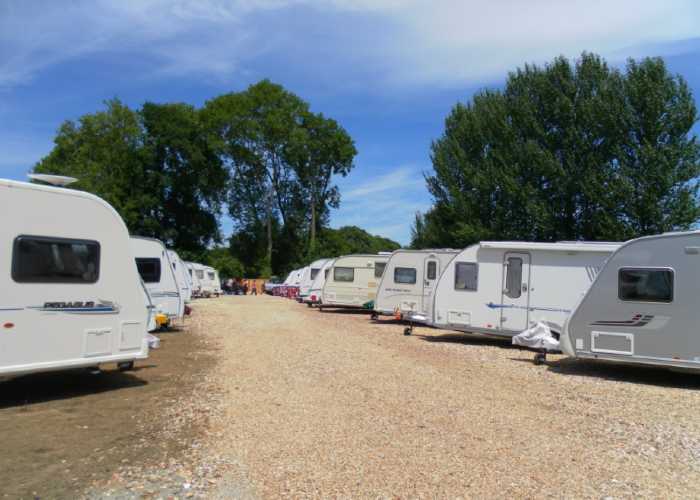 Hill Farm provides caravan storage along with all its other great services.
On-site storage
CCTV on the entrance and exit
Barrier operated from the office
Number place recognition
Access available every day except Christmas Day, Boxing Day and New Year's Day
Vans collected with 24-hour notice
If you are staying at Hill Farm Park, then the staff will be happy to move your caravan onto the pitch provided.
Wynford Caravan Storage
Address: Wynford Industrial Park, Belbins, Romsey SO51 0PW
As a family-run business, the staff at Wynford Caravan Storage provide a friendly service, with everyone working together to make sure the 'vans are kept safe and secure. It has excellent road links and is easily accessible from Southampton and Winchester, as well as Andover and Salisbury.
The pitches are hard standing and there are no overhanging trees which could not just enable thieves but cause issues from bird droppings.
Line marked pitches also have moveable jockey stones (paving slabs) so you can put them where needed.
You will also find:
Hard standing
Individually marked pitches
Security fence
Earth bunding all around the fence
Access with a key card 24/7
Cameras all around the storage area
There is one gate into and out of the compound. It consists of two parts, one gate opens, and you drive in. There is a second gate in front of you which only opens when the first gate closes. This means no 'tailgating' – undesirable people getting into the storage facility to steal caravans – and it keeps the compound particularly secure.
Roddington Forge
Address: Allington Lane, West End, Southampton SO30 3HZ
Website: www.roddingtonforge.co.uk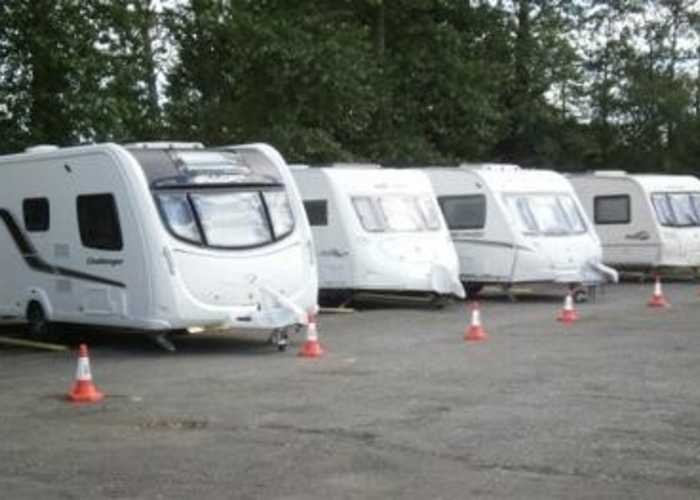 Roddington Forge is a wedding and function venue that has a section given over to the storage of caravans. It also has:
Hard standing
Two security gates
Security lighting
Pest control
Access by keyholders only
CCTV
This site has been awarded the CaSSOA award at a silver level, which will help your insurance costs.
Lucky-lite Caravan Storage
Address: Lucky-lite Caravan Storage, Catherington Lane, Waterlooville, Hampshire PO8 0AQ
Website: https://www.luckylite.co.uk
Lucky-lite claims to be the biggest caravan storage in the South, with over 600 spaces for vehicles of all sizes, it's probably true.
The on-site facilities include:
Chemical toilet point for emptying
Drinking water points
Grey water point for emptying
240v power outlet (10 amp only)
Trolleys for moving your luggage
Customer toilets
Caravan wash-down area
Free Wi-Fi
Lucky-Lite also provides several levels of service throughout the year. It is worth noting that for the basic services, your caravan will have to stay in the storage between November and Easter, and if you require it there is an extra fee of £20.00. Arrangements will have to be made with the warden to get your caravan out.
You can check on the website for the different levels of service which range to bronze up to platinum. The higher the level of service the more expensive it becomes but then you can arrange a plan for your budget. As with most caravan storage venues they are closed over the Christmas period so if you do want to go away at that time, be sure to let them know in advance.
It's worth noting that both motorhomes and boats are welcome at Lucky-lite Caravan Storage.
Conclusion
It's great to see that there is a wide range of services for caravan storage in Southampton. Whatever your budget or your requirements there is something for every caravan owner. Fortunately, everyone can have their caravan stored safely and securely.
When you have your caravan on the street or your drive there are so many concerns, vandalism and theft being the main ones. Of course, if you keep your caravan on the drive and then take it away, any observant thief can tell you are on holiday, which is a risk to your home as well.
It's much better than to take your caravan to its home from home – held safely in storage until you next want to use it!
If you're interested in other places offering caravan storage throughout the country, check out our guides to facilities in Essex, Hampshire, York, Stoke on Trent, and Yorkshire to name a few.