So, you've just spent your hard-earned cash on a shiny new caravan. Have you given much thought to where you are going to store it when you are not using it? On your driveway or outside your home? While that may seem like a safe place to keep it, because after all, you keep your car there all the time and that's not been stolen, the statistics are not very positive for storing on your property. In fact, more than half of the caravan thefts that occur in the UK happen right under the owner's homes when they are stored on or around their property. With that in mind, you may want to check out a more reliable and secure method of caravan storage in Northamptonshire.
Fortunately, if you live in Kettering, Corby, Daventry, Rothwell, Towcester, Rushden or anywhere else throughout the historic county of Northamptonshire, there are six storage facilities for caravans. If you are concerned about the price of these kinds of facilities, you can check out our post here before looking for a suitable site near you from our guide below.
Caravan Storage in Northamptonshire
Ravensoake Caravan Storage
Address: Ravensoake Storage, 315 Bedford Road, Rushden NN10 0SQ
Website: http://www.ravensoakecaravanstorage.co.uk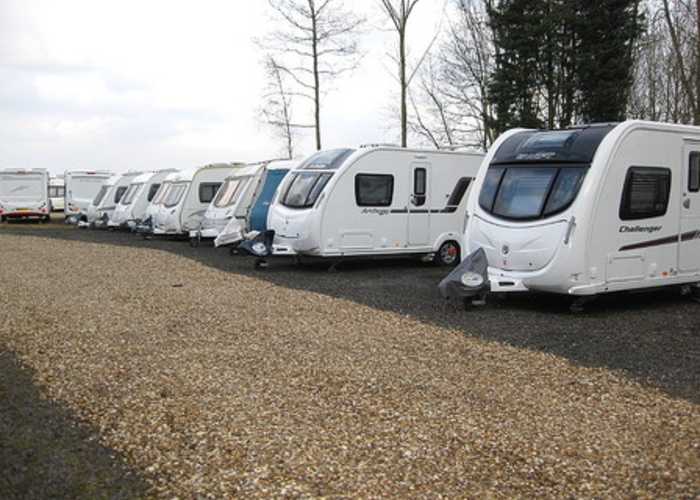 A family-run and owned operation, Ravensoake Caravan Storage specialises in all kinds of leisure and utility vehicle storage for caravans, motorhomes, boats, containers and trailers. They have been in business for around 12 years and brings a very personalised touch to the caravan storage. Without notifying the owners you can access your stored tourer. They have both grass and hardstanding storage areas for caravans.
The site is a very secure and safe place to keep your touring caravan and includes the following features:
Owners live on site
Regular manned patrols of storage areas
CCTV protection
Electric gate
Controlled access via swipe card system
Secondary entrance gate
Secured perimeters
Water points
2-acres of paddock space for testing your reversing skills and awnings
Calor gas available to purchase
Caravan servicing from an NCC approved engineer available
Caravan valeting service available
Whilton Caravan Storage
Address: Whilton Caravan Storage, Whilton Marina, Whilton Locks, Daventry, Northamptonshire NN11 2NH Website: https://whiltoncaravanstorage.co.uk/caravan-storage-near-daventry/
Whilton Caravan Storage is a secure site for storing your caravan or motorhome based at Whilton Locks as part of Whilton Marina, close to the Northamptonshire town of Daventry. They have a CaSSOA Gold Standard Award. There are more than 500 hard standing spaces for touring vehicles, and it has been in operation since back in 1996. Its central location is perfect and gives you access to the wider Northamptonshire area.
The special features and security features available at this site include:
2 security checkpoints, at the storage compound entrance and the marina office
Perimeter secured on all four sides by ditch, stream, railway and canal making it accessible only by car
Security guard lives at the compound providing the storage facility with 24/7 security
Wash down area for cleaning your pride and joy
240v electric hook up points (only for cleaning purposes)
24/7 access, apart from Christmas Eve at 1pm to 2nd January
Northants Caravan Storage
Address: Northants Caravan Storage, 240 Sywell Road, Mears Ashby, Northamptonshire NN6 0FL
Website: http://northantscaravanstorage.co.uk/
Available at a very out of sight location, Northants Caravan Storage offers affordable and secure Northamptonshire caravan storage. It's well placed and can be easily accessed, situated close to Sywell Aerodrome.
For more information, you need to contact the business directly. Some of the security and safety features offered at the site includes:
CCTV monitoring
Secluded location
Towcester Caravan & Motorhome Storage
Address: Towcester Storage, Northamptonshire
Website: http://www.towcesterstorage.co.uk/
Towcester Storage is a family-owned and run business providing secure and safe storage for both caravans and motorhomes. It is well-positioned within minutes of the A5, A43, M40 and M1. Each tourer is given a hard-standing plot that offers generous space to move around. It has been rewarded the CaSSOA Gold Award.
The special features and security and safety measures in place at this site, includes:
Easy access to your tourer without much notice all year round
Secured access via special fob system during opening times
Secured perimeter
24-hour high security systems
2 security checkpoints at the entrance and exit to the site
The storage facility not only offers space for caravans and motorhomes, but also boats, trailers and most other leisure vehicles.
Podington Caravan Storage
Address: Podington Caravan Storage, Airfield Road, Podington, Northants NN29 7XA
Website: http://www.podingtoncaravans.co.uk
Podington Caravan Storage is located just on the border where Bedfordshire and Northamptonshire meet, close to the Santa Pod Raceway and this offers affordable and secure storage for single axle and twin axle caravans. It is based away from the main road and out of sight and the storage area is either grass that's reinforced with mesh or concrete.
The security and special features offered at this storage facility includes:
Access to compressed air, electricity and water for free
Access whenever you want to your caravan with prior agreement with facility owners
Floodlighting
34 CCTV camera monitoring
Hedge around the perimeter
8-metre wide ditch around the perimeter
Security barriers locked at all times
Secondary gates locked at all times
Locked automatic gates
Cromwell Caravan Storage
Address: Cromwell Caravan Storage, Welford Road, Sibbertoft, Market Harborough, Leicestershire LE16 9UJ
Website: https://www.cromwellcaravanstorage.co.uk/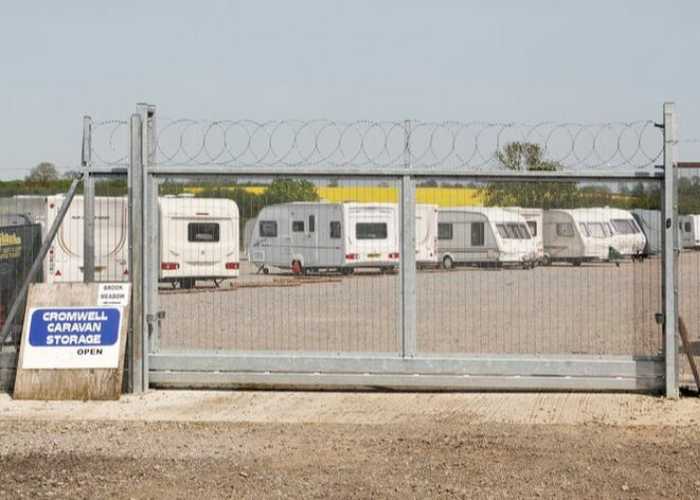 CaSSOA Gold award rated facility for storing caravans, Cromwell Caravan Storage is a family-owned and run business and has been in operation over 12 years. It is based 6 miles away from the A14, M6 and M1. The team behind it, Jasper and Mary Hart, are the same team behind Brook Meadow, based 200-metres away where there is a rurally located campsite with fishing lake. The site is a working farm. Each pitch is a hardstanding.
Special features and security measures in place at this caravan storage site includes:
Owner lives on site
Office manned 24/7, 365-days a year
24-hour CCTV monitoring
24-hour security gate with key fob access
Fencing meets prison specification
Intruder alarms
Perimeter bunding and ditch
Recorded movements of caravans
If you are looking for Northamptonshire caravan storage sites, then the guide above is what you need. However, if you are looking for caravan storage facilities elsewhere, check out one of our other guides to counties and towns throughout the country, including Essex, Kent, Dorset and even Stoke on Trent to name a few.