SAS Heavy Duty Leg Locks Four pack
Purpleline Fullstop Torpedo Caravan Leg Lock
Maypole Stronghold 5491B Caravan Leg Lock
SAS Heavy Duty Leg Locks Four pack
Purpleline Fullstop Torpedo Caravan Leg Lock
Maypole Stronghold 5491B Caravan Leg Lock
Some caravanners, especially those new to the caravan scene, may find the number of caravan security products and caravan accessories on the market quite overwhelming!
From security posts, trackers, to alarms, stronghold hitch locks, and wheel clamps, if you aren't entirely familiar with the concept of caravan security, this can seem quite a daunting and indeed scary process.
However, leg locks are perhaps the more simplistic of security measures for your caravan and quite explanatory. Designed as a quick preventive measure, all you need do is insert these products into the caravan's legs (leg winders available here) as they stand in the down position – and then just lock them!
You will be the only one with the keys to undo these, so they can't be easily removed, and they ultimately act as a deterrent to those thinking of towing your caravan away with no hassle.
As we always suggest here at Caravan Helper, no security measure is foolproof, but unscrupulous individuals will have to work harder to steal a caravan with any form of security measure on – as opposed to one without, so these products are certainly worth that small investment.
However, we always advise that these are are considered as a supplementary security measure, rather than being used solely on their own as your only means of security measures.
Here are four of the best adequately priced products currently available to purchase on Amazon.
Best Caravan Leg Locks


Beginning with the most expensive on the list, SAS may top the price range here, but this will get you not only one, but a set of four heavy duty yellow leg locks.
With the prestigious award of Amazon's Choice for Caravan Leg Locks, this pack allows you to lock the front or rear steadies when they are in the down position.
Designed to fit 20mm corner steady units, this package is offered as a set of two keys alike.
Heavy duty in construction, these can be fitted within a matter of seconds and are extremely easy to install.
Manufactured to BS ISO standards, these are also insurance approved for continued peace of mind.
Complete in a smart plastic carry case and with an ability to purchase spare hex keys if needed, SAS stress that you must have access to your corner steady nuts on the van to fit these specific type. This means ensuring that they aren't shielded by the caravan's body or by a collar.
Customers opting for the SAS Heavy Duty Leg Locks find them to be a great design, thoroughly robust in construction, and straightforward to fit. The storage box is also much appreciated.


Full Stop Security's Purpleline Torpedo Leg Lock is an exclusive product which aims to give all caravanners an extra layer of security when it comes to safeguarding their caravan.
Claimed to be a straightforward model which can be fitted in next to no time, this leg lock is designed to be robust and secure while remaining highly visible, with its bright orange colour possible for potential thieves to see from afar!
This model works by locking the corners of the van in a downwards position, therefore immobilizing the caravan. Two unique keys are supplied, making sure if you do happen to misplace one, you'll have a spare to hand.
Full Stop Security offer this as perfect for any type of caravan, meaning all caravanners can access this ten-level high-security barrel lock at a reasonable cost.
Customers purchasing the Purpleline Torpedo Leg Lock consider this a five-star model which is easy to fit and does the job very well indeed! The brightness of the colour of this leg lock is also considered a great idea!
Insurance approved as well as aiming for ensuring peace of mind when purchasing, this product is a more stronghold of leg locks and is constructed using the most robust corrosion-proof steel.
This particular caravan leg lock as a patented lock design. It works by securing the caravan corner steady in the down position, therefore immobilising the caravan and preventing it from being towed away easily.
This low-cost security product is supplied with both a hexagonal driver and an Allen key, as well as three additional keys.
Customers of the Stronghold Caravan Leg Lock find this an excellent product which is a lot less hassle free than applying a wheel clamp, especially each time when stopping at a service area!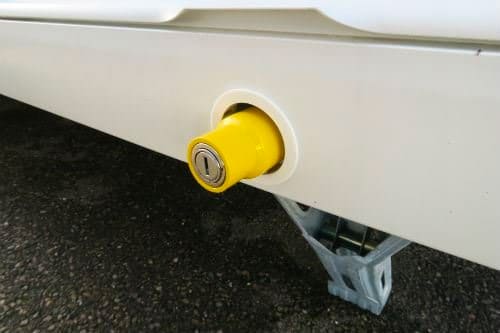 Finally, the cheapest of the bunch here is Milenco's Leg Nut Locks are a great starting point for those looking at trying these products. However, it's thoroughly recommended these particular locks are used in conjunction with Milenco's other security measures – such as their wheel clamp and Hitchlocks.
That said, for this price they are a good introduction for many caravanners, showing how quick and straightforward products such as these are to fit. These specific corner study nut locks are designed to fit onto the caravan's corner steadies to lock the legs into the down position, therefore immobilising your van.
Milenco claims these locks are manufactured to the highest standard, and they certainly stand out as a more visible anti-theft device with their bright yellow colouring!
Supplied with two keys, these locks are basic in design but work effectively to ensure an additional security layer to your van. Because of their extremely low price, these are therefore the perfect additions to another type of caravan security measure, thereby allowing you work on increasing your security efforts.
Customers purchasing the Milenco Leg Nut Locks find them adequately priced and constructed but do suggest they're bought as an additional security measure, complementing some other form of a security device in the meantime.
Final Thoughts
As you can see from these products, leg locks are a cheap and easy product to install within a short space of time, making sure your caravan has some form of security measure at least.
Though it's thoroughly recommended by industry experts that these alone will not always be sufficient enough to deter a potential thief, they do at least work to offer you some peace of mind, perhaps working better for those times when you pull up to service stations or stop temporarily.
Furthermore, at such great prices, if you can look at combining these products with one of two other security features, you ultimately work to secure your caravan as much as possible, hopefully encouraging thieves to look elsewhere in the process!
If you want to combine these locks with other ways of securing your van, take a look at our caravan security article, which offers some practical advice and further information on securing your mobile home as best as you can.
Don't forget to look out for models that are insurance approved!
If you need more security, then we would recommend storing your caravan in a specialist caravan storage facility.