Welcome to Caravan Helper's guide to the caravan breakers and caravan dismantlers located up and down the UK. Caravan breakers, like the similar businesses that exist for cars, are great establishments for finding parts and components for tourers. So, whether you are planning repairs and maintenance work on your existing vehicle. Or if there's a difficult to find piece for an older model or you want to even have a go at building your own touring vehicle. Caravan scrap yards, as they are also referred to, are the best place to find all you need.
In the following guide we give you a complete breakdown of the different breakers up and down the country, grouped together first by country, then by the different regions. Find one in your local area or consider travelling further afield to get anything from used gas locker boxes, grab handles, tow bars, tow/reverse mirrors, hammock bunks, wheel trims, fly screens, wheel spats, cool boxes, tables, cupboard doors, water tanks and aqua rolls.
On the other side of things, you can also sell your unwanted or old caravans or specific parts and components. Many of them will even collect your vehicle for free. So, whether you are looking to source parts and components or looking to offload your tourers, you should use this guide to find a local breaker yard that has a wide range of caravan manufacturers.
Caravan Breakers England
There are plenty of great caravan salvage yards in England, where you can get all the parts, components and accessories you need. To help you navigate easily through the huge selection available, though, we've divided the country and its breakers by their respective regions. So, you can easily scroll to where you are in the country and find a breaker near you. You will find caravan breakers listed here in
North West
Midlands
Yorkshire
North East
South West
South East
Caravan Breakers North West
In this section you will find the best breakers in the north west, including Liverpool caravan breakers, caravan breakers Manchester and caravan breakers Lancashire.
DDS Supplies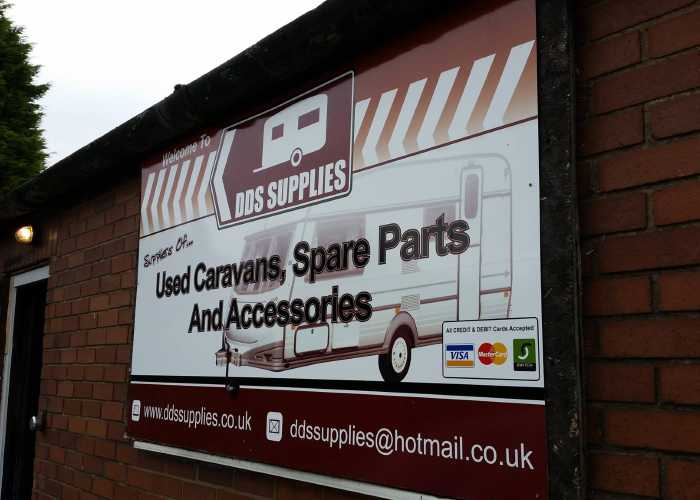 Caravan Breakers Duchess Street Ind Est Shaw Oldham OL2 7UT
Tel Office: 01706 847776, Mobile: 07940 556088
Paul@ddscaravansupplies.co.uk, Dave@webuyanycaravan.info
http://ddssupplies.yolasite.com/
DDS Caravan Supplies are a highly regarded company in the not just the north western used caravan parts sector, but throughout the country and even beyond the UK too. They promise to only stock the highest quality caravan spares and parts and will even deliver internationally, upon special request.
To ensure they always have enough stock, they are always breaking caravans and don't limit the amount they do in a year. The main services they offer aside from breaking includes buying any old caravans. Yes, that includes damp and damaged caravans too, as these are their speciality. If you are looking for a specific part, you can check out their eBay store to see if it's already in stock or contact them directly.
Kellett's Caravan Spares
Warehouse, Webb Street, St. Helens, Merseyside, WA9 3EE
Tel: 07516 176474 Tony
kellettscaravanspares@googlemail.com
https://sites.google.com/site/kellettscaravanspares/home
Kellett's Caravan Spares was first opened back in 1992 and are still going strong, serving the local area of St Helens and throughout the country too. Their comprehensive range of services includes everything from the sale of used caravans to caravan spares and just about anything else you can think of.
The second-hand caravan parts they offer are carefully dismantled from the original tourer or vehicle. They are then cleaned properly, repaired (if required) and tested before being stored away.
Interestingly, many of their parts are not just suitable for caravans, but also converted horseboxes and motorhomes, as well as boats too. Some of the most popular products they offer includes caravan windows, chassis, appliances such as ovens, water heaters and fridges.
You can trust that they are always working within the letter of the law as their activities and meet the regulations outlined by the Environment Agency for caravan breakers.
Caravan Breakers Midlands
In this section we've gathered information about the best caravan breakers in the midlands. You will find details about both caravan breakers Birmingham and caravan breakers Nottingham.
KTG Caravans & Campers Salvage, Spares, Recycling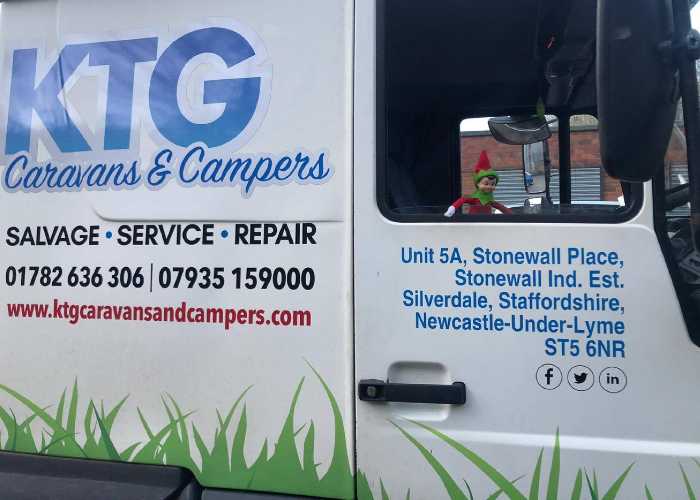 Unit 5a, Stonewall Industrial Estate, Stonewall Pl, Silverdale, Newcastle-Under-Lyme, Staffordshire, ST5 6NR
Tel: 01782 636306 Mob: 07935 159000
enquiries@ktgcaravansandcampers.com
http://ktgcaravansandcampers.com/contact-us
KTG Caravans & Campers was first established in 2010 as the family-run business it remains today, backed by the Princes Trust and providing the very best in touring caravans and spare [parts to caravan and campervan owners throughout the West Midlands. Due to the success of the business and its constantly expanding reputation operating in the private sector, they have developed good working relationships with some of the country's prominent insurance companies as their official Caravan Salvage Agent.
They are partners in the British Vehicle Salvage Federation, known as BVSF for short and they meet all the requirements and standards for working within the insurance sector. They are also officially registered to the Environment Agency.
KTG will take any caravans, campervans and motorhomes whatsoever, regardless of whether they've failed MOTs, damaged or suffering from damp and recycle them, stripping them back for parts. The parts are then fully tested out and then sold with an exclusive 3-month warranty.
Although based close to Stoke-on-Trent and serving the midlands, postal service of parts is available to any address in the country.
Premier Towing Centre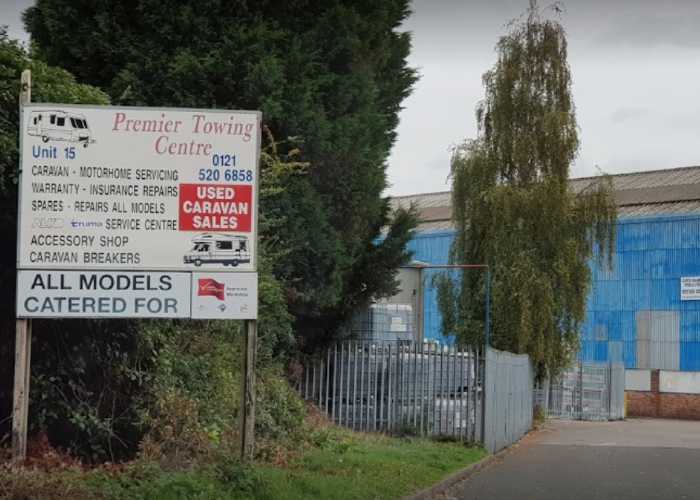 Unit 15 Whitehall Ind Park, Whitehall Rd, Tipton, West Midlands, DY4 7JY
Tel: 0121 520 6858
https://www.premiertowingcentre.co.uk/
Premier Towing Centre is a very warm and welcoming family business that has more than 90 years' worth of experience in the touring vehicle sector. Based in the West Midlands, their team has the knowledge and expertise to handle a wide range of enquiries and they offer a comprehensive array of services includes things like body work, and damp repairs, alongside servicing and insurance claims.
All good stuff. Most importantly is the fact that they not only handle caravan breaking, but also sell new and used caravan parts. A real solid allrounder of a company.
Caravan Breakers Yorkshire
Moving further up the company, there are various options if you're looking for a high standard of caravan scrap yards in the north. You will find there are York caravan breakers, Leeds caravan breakers, Sheffield caravan breakers and various caravan breakers in both North Yorkshire and South Yorkshire.
Feoffee Caravan Storage
Feoffee Lane, Nr Barmby Moor, Pocklington, York, YO42 1PG
Tel: 07762777391
Another old company, Feoffee Caravans began when David Wright attended an Agricultural Sale during the 90s and was spellbound by two caravans in need of some love, care and a full refurbishing. He bought one and has built Feoffee Caravans from that initial purchase.
Although they used to sell used caravans, they've stopped that service replacing it out with caravan and motorhome storage instead. Additionally, handle the high-quality caravan breaker service.
This results in Feoffee Caravans having a multitude of great second-hand caravan parts and accessories including the likes of windows, fires, fridges, upholstery and ovens.
Yorkshire Caravan Salvage
Tel: 07973 270722 (Phil)
http://www.eycaravansalvage.com/
Yorkshire Caravan Salvage were once known as East Yorkshire Caravan Salvage and has been in business for more than 12 years working closely with all the country's biggest and most important insurance companies. They are based at a point between Selby and Goole just off the M62 at junction 36. They strictly follow the National Salvage Code of Conduct.
New and Used Caravan Parts Castleford
Lock Lane, Castleford, WF10 2JZ
Tel: 01977 604 656
01977604656caravanparts@live.co.uk
http://www.caravanpartscastleford.co.uk/
Based in Castleford, New and Used Caravan Parts is the place to go to find one of the best maintained and affordable selection of caravan spare parts. Whether you are interested in high quality and reliable brand-new parts suitable for your tourer make and model or are happy to use excellent used parts, you can find them here.
They serve Castleford, Thorne, Pontefract, Selby, Wakefield and Leeds and have numerous years' worth of experience in the industry.
Caravan Breakers South North East
In this section you will find the small number of highly respected caravan breakers based in and serving Newcastle, Sunderland and Durham.
AutoXtra
3 Pembridge, Oxclose Village, Washington, NE38 0LG
Tel: 07986 601 903, 0191 416 1301
First established in 1994, AutoXtra is another family-run business. However, they didn't initially start in the caravan parts industry. Rather, they were operating as a high-quality supplier of second-hand cars, sourced and inspected by the team directly. Their vehicles all came from guaranteed sources whether it was from main agent part exchanges or financial company repossessions.
Over the years though, they have taken the business in many different directions within the car and automotive sector. After the family was involved in a caravan accident, that's what pushed them into the caravan replacement parts business. Although they are not strictly speaking caravan breakers, they can supply a wide range of caravan parts.
This includes caravan panels constructed in GRP for moulds that will fit around 3000 different caravan models. Whether its for the shower trays, gas locker lids, rear and front panels or even the wheel arches. Additionally, they can also provide replacement Perspex windows in both single and double-glazed forms. You will even find it easy enough to match the colour.
As if that wasn't all, they have an extensive range of tow bars available at an extremely affordable price for all makes and models and these can even be delivered to your home or the address of your choice. They come complete with tow balls, single form pre-wired electrics and full and easy to follow instructions for fitting them.
Caravan Breakers South West
In this section of our guide to caravan breakers, you will find caravan scrap yards based in the south west and serving, Bristol, Cornwall, Devon, Dorset, Isles of Scilly, Somerset, Wiltshire and Gloucestershire.
Charles & Son
Unit 21, Newtown, Poole, Dorset, BH12 3LL
Tel: 01202 73772 (Steve Orchard)
At Charles & Son, although they don't handle caravan breaking directly, they do stock spare parts for various caravans, including models from the following manufacturers – Holdsworth, Swift, Herald, Eldiss, Compass and Autohomes. Whether you are looking for refurbished pieces, seats, toilets, windows, fridges, cushions, you name it you will find it here. They serve Wiltshire, Somerset, Poole, Hampshire, Dorset, Devon and Cornwall and handle repairs, conversions and work on behalf of insurance companies in an official and approved manner.
Autotech Leisure Services Caravan Sales & Dismantling
Linden Lea, Wimborne Road, Lytchett Matravers, Poole, Dorset, BH16 6HQ
Tel: 01202 622 195, Mob: 07976 256 514
Although their website is still under construction, if you are looking for replacement parts or spares for caravans made between 1980 and 2010, Autotech Services is another great place to look in the South West.
Caravan Breakers South East
In this section of our guide to the caravan breakers operating in England, we focus on the south east Here you will find companies within and serving Berkshire, Buckinghamshire, Hampshire, Isle of Wight, Kent, Oxfordshire, surrey and Sussex.
Caravan Dismantlers Steve's Caravan Parts
Crawley, West Sussex
Tel: 01293 885 623 Mob: 07813 085 578
stevecaravanparts@caravandismantlers.com, collection@caravandismantlers.com
http://www.caravandismantlers.com/
Based in West Sussex and run by Steve Godsmark and Stephen Hornsby, Caravan Dismantlers and Steve's Caravan Parts have more than 15 years' worth of experience in the industry and are slowly growing company. As well as the collection of unwanted and old caravans in and around the south west of the country, they also offer second-hand parts that have been dismantled carefully directly form their original vehicle and then fully tested before being stored in covered stock spaces. They hold parts and accessories from a wide range of caravan manufacturers including Whale, BPW, Knott, Alko, Domestic, Trauma, Thetford and Carver and many more. The kind of parts and accessories they sell are wide and varied and includes chassis in various sizes, fridges and more.
They have an eBay store you can check out, but you can email them with details of what you need collected or the spare parts you are looking for if you need caravan breakers near me.
If used caravan parts are not for you, then you can find your nearest local caravan shop here.