If you are on the hunt for a caravan, you may be already aware that there is a multitude of touring caravan manufacturers based both here in the UK and throughout the world. Rather than have you go googling, the team here at Caravan Helper wanted to do what we do best and help you.
So, we've put together a rough guide to all the current manufacturers of touring caravans. There are some listed here that are no longer in business, or have been bought by another, larger company. We have listed these because you may still come across their tourers on the second-hand caravan market.
Below, therefore, you will find all the most important details, such as the name of the caravan manufacturer, where they are based, and the URL for their website. You can then use this information to find out more about buying caravans, ordering brochures or anything else you would like to know.
To help make it easier for you to navigate and get to the specific information you need, we have categorised the touring caravan manufacturers in the list by the country they are based in.
It's important to note that Caravan Helper are merely providing the details below as a resource only and are not associated or affiliated to any individual manufacturer. At the time of writing, the information was accurate, so if you come across any issues or mistakes, please get in contact with us and we will correct it.
Touring Caravans Manufacturers UK
Bailey
http://www.bailey-caravans.co.uk/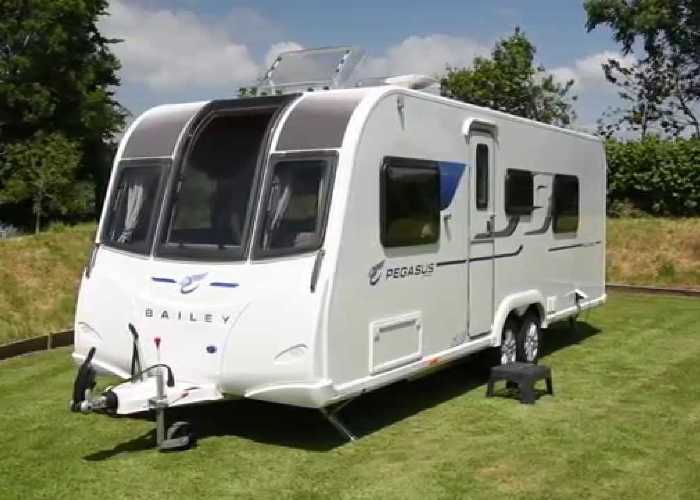 Bailey of Bristol is one of the best-known, and oldest, touring caravan manufacturers in the UK. The company began in 1948 with Martin Bailey starting out as a very small operation. Bailey was once a sheet metal worker at Bristol Aircraft Company, but once he started in caravans, there was no going back.
Since then, Bailey have made some of the best caravans. The 2016 range was especially noteworthy with its six-year bodyshell integrity guarantee. Notable models include the Bailey Pursuit, the Bailey Pegasus and the Bailey Unicorn.
Carlight (now closed)
Carlight caravans were manufactured between 1932 and 2002. In that time, it was owned by the very same family that founded it and they made all their caravans from the same premises at Church Lane in Sleaford, Lancashire.
The company was started when a camper enthusiast and auctioneer in the town, Robert 'Bob' Earl built his own trailer-tent and following that asked a wheelwright in the town to make him a lightweight caravan. As this generated lots of interest, Earl decided to move forwarded and manufacturer more. In its time, Carlight was considered the Rolls Royce of the caravan industry.
Coachman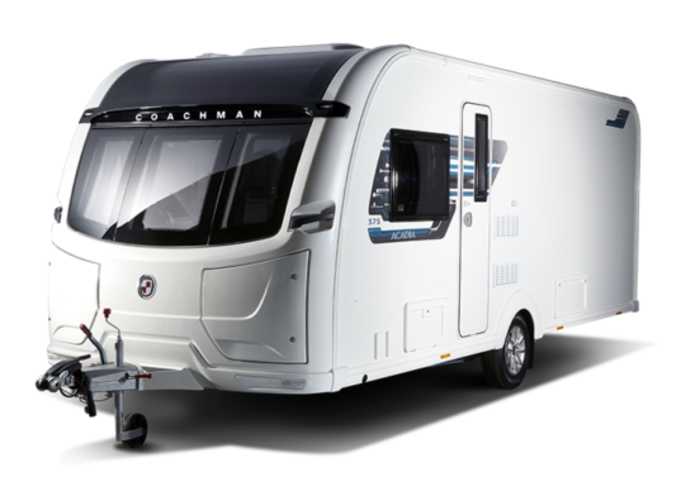 Coachman Caravans have a reputation for designing and building high-quality and very well-constructed touring caravans from the earliest days of the company right down to the present day. Coachman started life in 1986 when former directors for ABI, George Kemp and Jim Hobbs created it. However, The Explorer Group acquired the company in 1997, only for Jim and his team to repurchase it in 2001.
Still built in the UK, at Sutton Fields Industrial Estate, some notable Coachman ranges include Vision, Pastiche, VIP and Laser.
Elddis
The first prototype Elddis Caravans were made in 1964 and ever since then the company has had a successful run that covers more than 5 decades. All their caravans, including the vehicles of their sister brand Buccaneer Caravans' are made at their modern production factory in Consett, County Durham.
Over the years, it has had various incarnations. The biggest changes came from 1998 when The Explorer Group took it into a larger company that also included Compass and the Buccaneer. Eventually though, when the company, then called the Explorer Group decided to stop mass-producing models and switched to making a more standardised range of products, it took the Elddis branding and completely renamed the business, as it was the longstanding and most renowned brands.
Buccaneer
http://www.elddis.co.uk/touring-caravans/buccaneer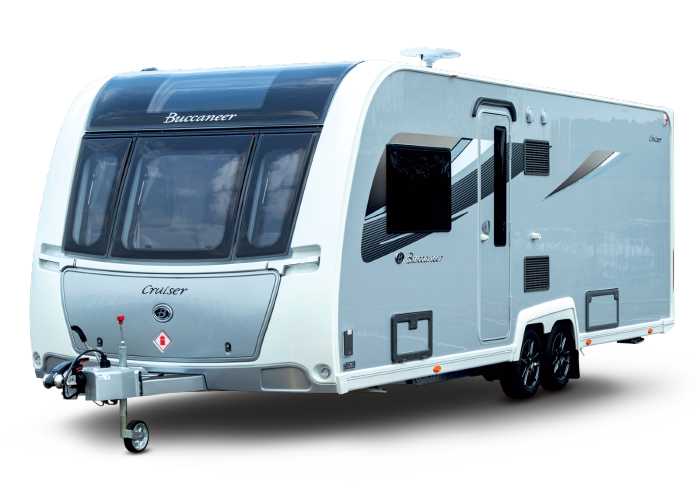 Operating as a sister brand to Elddis and under the larger umbrella company, Buccaneer are well known for high-end caravans. Some of the noted models include the Clipper, Cutter, Caravel and Cruiser.
Compass
http://www.elddis.co.uk/contact-us/range-brochure-request?compass
Now part of the Elddis group of caravan manufacturers, Compass is a very historic brand that was first established by Siddle Cook back in 1979. He was the man responsible for the Elddis company name. It was in 1998 that Compass joined the Explorer Group. However, this range of caravans was discontinued in 2009 and was rebranded with the rest under the Elddis name. That was almost the end of this classic range of British caravans, but in 2013, they were relaunched with a range using the SoLID Construction that Elddis pioneered.
The Compass Casita, Compass Camino and Compass Capiro are all highly respected and much-loved ranges.
The English Caravan Company 
http://www.theenglishcaravancompany.com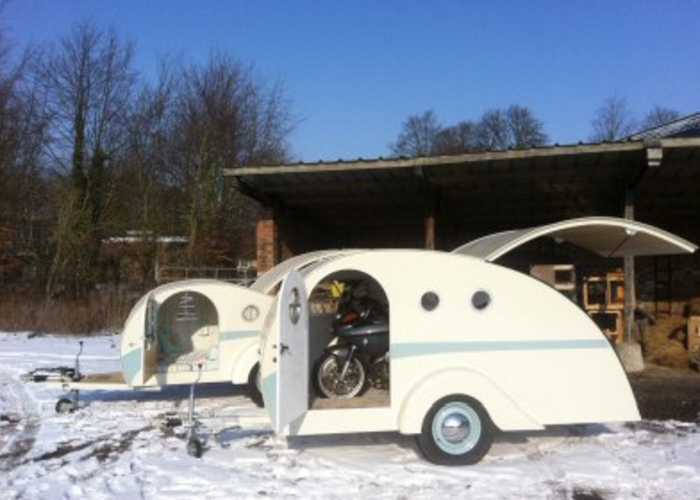 The English Caravan Company is run by Lyn and Richard, who have a total of 40 years' worth of experience between them working and building using a wide range of materials including fabrics, plastics, metal and timber. They specialise in brand-new teardrop-style caravans and they have four different models available. The Number Four, The Tourer, the Toyhauler and The Classic Teardrop. All their vehicles are produced right here in the UK
Eterniti Caravans
Eterniti Caravans are a relatively new company, releasing their first range of touring caravans in 2012. These stood out from the crowd thanks to some truly innovative features such as slide-out sections that were electrically powered. They offer more interior space and headroom than even some of the most popular caravan brands and models on the market.
All their vehicles are built on site at their large and modern production facility on the picturesque Widnes Waterfront in Cheshire. The company benefits from financial backing from the owner/managing director Phil Daniels other company Eterniti Steels.
The two ranges offered by Eterniti Caravans are the Genesis and Chronicle tourers.
Sadly though, their success was short-lived when the company entered administration in 2014 on March 27th.
Fifth Wheel Company
Fifth Wheel Company take the inspiration for their touring caravans from so-called fifth wheel trailers in the US. The fifth wheel in the name refers to the nose-end hitching device that can be used to attach the tourer to the back of a utility vehicle or flat-bed truck for towing purposes. The company started by importing US fifth wheel-style tourers from the United States during the latter half of the 90s. They then would convert them to meet safety standards in Europe so they could be sold on the UK market.
However, thanks to the success and interest in these unique-looking caravans, they decided to go into production and designed and built their own, that they have continued to do since 2002.
The most notable Fifth Wheel Company-made tourer is the Inos range of leisure vehicles.
Freedom Caravans
http://www.freedomcaravans.com/
Freedom Caravans are specially made in Poland but then sold to the UK market from their headquarters in Stafford. They are known for their very light construction that makes them especially easy to tow. Ideal for singletons and those who are less-able-bodied who want to enjoy the freedom of caravanning. See what we did there?
The Freedom Jetstream, Freedom Sunseeker Prima, Freedom Microlite Discovery and Freedom Jetstream Twin Sport are the models available from the company.
Gobur Caravans
http://www.goburcaravans.co.uk/
Gobur Caravans are specialists in the production of folding caravans, always with the aim of designing space-saving touring caravans that do not compromise on luxury but are easier to store. Based in Norfolk, they first experimented in the 70s and their most easily recognised vehicle is the Carousel range of tourers.
Rather than selling their touring caravans at other dealerships, you can buy directly from their retail division, also in Norfolk. These are different from the average folding caravan as they do not have a canvas top, but instead a hardtop and are made from one piece of fibreglass roof, with tough insulated walls and a vinyl ceiling that make them easier to transition from traditional caravans.
Along with the Gobur Carousel, the other two ranges offered by the company are the Clubman and the Slimline models.
Lunar Caravans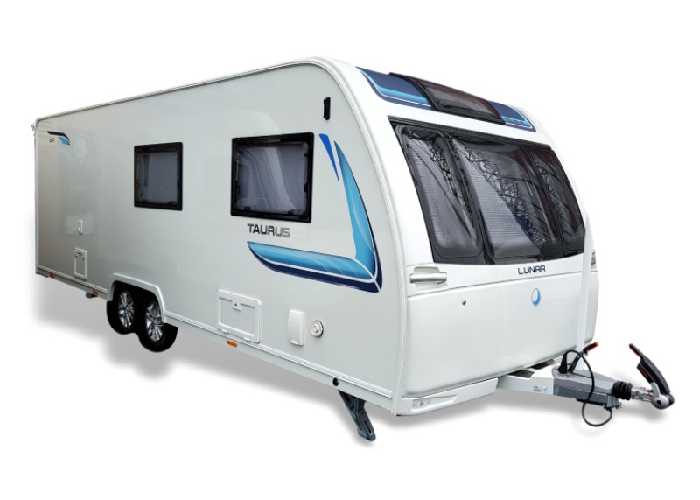 Lunar Caravans, like many of the best and most famous touring caravan manufacturers in the country and around the world, began with two friends and a very small premises. Brian Talbot and Ken Wilcock had already worked together for a long time in the caravanning business, since as far back as the 60s, both serving as apprenticeships with Knowsley Caravans of Wigan. Although the company was famous for its well-built and affordable tourers, the pair wanted to go it alone.
It was in 1969 that they produced their first caravan based on the parts they had crafted on a kitchen table. They took inspiration from the optimism of the era of the moon landing and that's how they came to the Lunar name. The first model created had a similar theme with the name of Saturn and was competitive with others on the market in terms of its lightweight construction and bargain price.
Since then, the company has become synonymous with the design of comfortable and compact tourers that do not cost an arm and a leg to purchase. They have constantly looked at and followed through on innovating the technology they utilise to ensure that every new model is lighter than the last.
Although it spent some time out of British hands, the company survived the downturn in sales that many companies suffered during the 80s and a buyout for the ownership from a foreign company.
The Lunar Ariva/Quasar, Lunar Stellar/Lexon and Lunar Clubman/Delta are the ranges you should be looking at.
Swift
If there is one other British touring caravan manufacturer that's more popular and even more renowned than Bailey of Bristol, it's Swift. Swift Group recently, well in 2014, celebrated its 50th/Golden anniversary. Established in 1964 by one Ken Smith, Swift just started with the single brand of Swift touring caravans that followed the very distinctive tri-front window design. What made these especially unique was that all the windows could be opened, a rare treat for the time.
When the touring caravan manufacturers Cosalt plc went out of business, Swift bought up their Abbey brand, and then bought the other British classic, Sprite, followed by Ace, in 1994 and 2001 respectively. Although it's worth noting that Swift Group have stopped producing the Ace and Abbey brands.
Originally, they were based along Hedon Road in Kingston-Upon-Hull but moved to the Dunswell Lane headquarters close to Cottingham in the 70s. By far the most recognised and popular caravan ranges offered by the company are the Swift Challenger, Swift Conqueror, Swift Elegance, Sterling Eccles, Sterling Elite and Sterling Continental.
Ace/Abbey
https://www.swiftgroup.co.uk/caravans
Abbey and Ace were acquired by Swift during the 90s but were recently discontinued when Swift Group wanted to simplify their offerings. However, they are worth noting because you will find models available from both brands on the used and second-hand caravan markets.
Teardrop Trailers
http://teardroptrailers.co.uk/
Teardrop Trailers have been in operation in the UK since 2005 and offer lightweight and compact touring caravans for those impulsive weekend getaways. Their words, not ours. Though, it's true. One of the reasons why they are so light, with the lightest weighing around 293kg, is due to their fibreglass construction. The benefit of using fibreglass is that it also improves the waterproofing.
There are three models available, the Turtle 1500, Turtle 1200 and Cargo. The great thing about these tourers is that they can be towed by some equally compact vehicles, such as VW Beetles and Honda Civics.
Vanmaster
http://www.vanmastercaravans.co.uk
Vanmaster have been designing and building luxury and innovative touring caravans for over 20 years now and there are no signs of them losing popularity. Made with the perfect combination of form, function, style and quality, their tourers meet and exceed the industry standards and are hand built. In fact, they take more than 800-hours to make from start to finish. The wood used in their construction offers an elegance and beauty that will never go out of fashion.
They are also known for their robust GRP made from a single piece, roofing structures that is one of the most effective in terms of protecting against and eliminating water ingress. The main ranges available are the V480 and V520 2-berths, V580 2 to 4-berths and V60 2 to 4-berths.
Touring Caravan Manufacturers France
Caravelair Caravans
https://www.caravelair-caravans.com/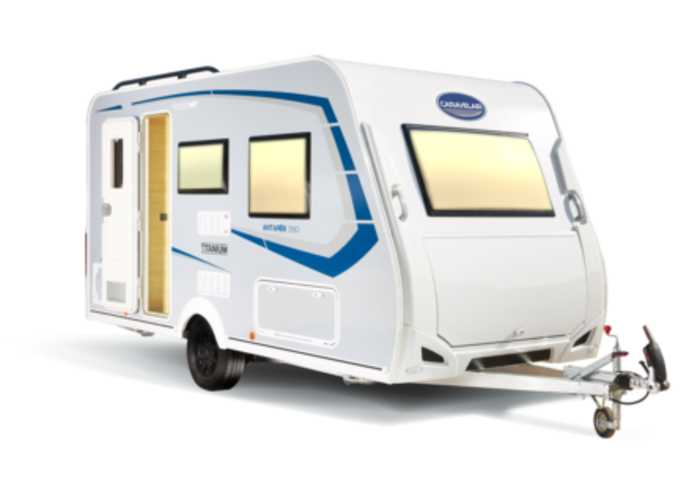 Caravelair Caravans was established by Sud Aviation in 1962 when they decided to diversify what they were designing and building. They started creating motorhomes and caravans alongside the Caravelle planes they already were responsible for. Based in Trignac in Loire-Atlantique, from the get-go, their caravans were known for originality and creativity and over the more than 50 years that have passed since then, they have remained the number 1 in the French market.
Now based at Trigano VDL, who owns the company now, in the Rhone Valley. They no longer make caravans in the UK, but the Antares range of caravans from the company are specially made for the UK market.
Trigano VDL
Rather than there being caravans designed under the Trigano branding, the company now owns the above Caravelair and the below Sterckeman, two of the most popular and successful French caravan manufacturers.
Sterckeman Caravans
https://www.sterckeman-caravans.com/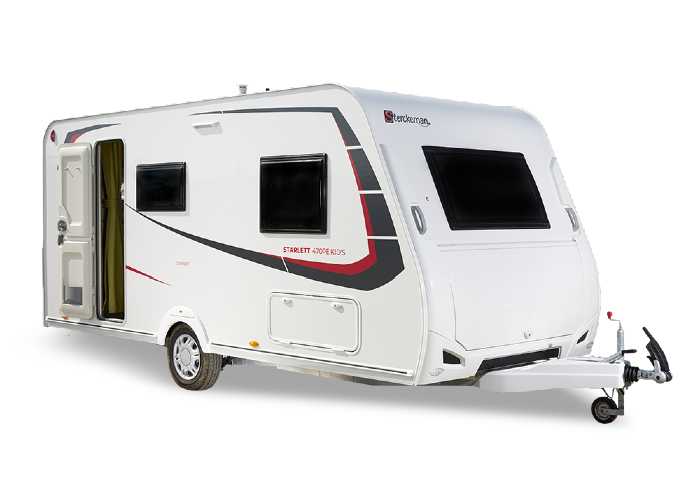 Another brand that operates now under the Trigano umbrella alongside Caravelair, Sterckeman have been making caravans for over 70 years and alongside Caravelair are the most successful French touring caravan manufacturer. They are known for their vehicles being budget-friendly, fully equipped with a contemporary look and feel.
You can either choose the Starlett, a caravan that offers customisable equipment or Alize Trend, a caravan with high-end interior.
Touring Caravan Manufacturers Germany
Burstner
With a long history in carpentry, interior fittings and furnishings before then, Burstner moved into the mobile home market. At that point, the company was now run by Gerhart Burstner, the son of Jakob Burstner, the owner. The company are still based in the Neumuhl area of Kehl, Germany. The most popular and best-selling caravan range Burstner is responsible for is undoubtedly the Premio. Famous for its fold-down bed and affordable price tag.
Eriba
With Hymer, the extremely popular and well-known German motorhome brand is where Eriba's story really begins. Based in Bad Waldsee and started by two very talented engineers just tinkering with ideas, Hymer, with Hymercar and most importantly Eriba have been making mobile tourers for more than 60 years.
The first Eriba (which gets its name from one of the company's original founders Erich Bachem) was built by Bachem and co-owner Erwin Hymer in 1957. Know as the Troll. This made way for the Nova, and over the years, that's had several facelifts and improvements. It, however, remains the classic style icon it was from the very beginning.
Fendt Caravan
https://www.fendt-caravan.com/en/overview.html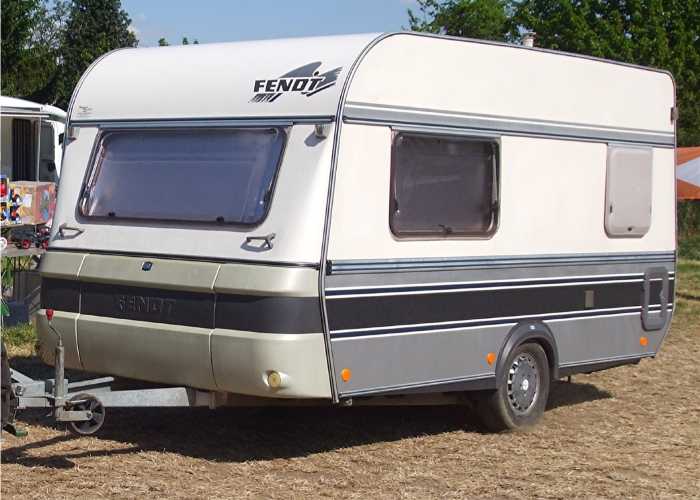 Fendt Caravan is another successful German touring caravan manufacturer who was first founded in 1922, based in Mertingen. During the 1990s the caravan manufacturing company was sold to the AGCO Corporation and is now part of the large Hobby-Wohnwagenwerk group. Popular caravan ranges in the past from the company include the Saphir. However, the ranges that you will find most easily in the UK are the Palace and Le Vogue tourers.
Hobby Caravans
https://www.hobby-caravan.de/en/caravans/overview/
Hobby Caravans are another highly reputable German touring caravan manufacturer, who are now part of the bigger Hobby-Wohnwagenwerk group, that Fendt Caravan are part of as well. The Hobby Caravans side of the bigger company though, began more than 50 years ago and the founders wanted to make mobile travelling more relaxing and comfortable. Their success is down to the four core ingredients they still to this day incorporate into every new tourer – real passion, modern design, innovative technology and trendsetting inventions.
They are known for creating caravans that are functional, from high quality materials featuring spacious living areas and top-range equipment as standard. Popular models from the company include the De Luxe and Excellent, for lavish luxury, while the Ontour is a more basic range, keeping to the style and functionality associated with the brand,
There are no Hobby caravan factories in the UK, as all their models are made by over 1,200 employees working at their Fockbek caravan factory in Rensburg, Schleswig-Holstein.
Knaus Caravans
https://www.knaus.com/en-uk/caravans/
Knaus is also based in Germany and has over been active in the industry for more than 50 years. In terms of caravans it all began with the Schwalbennest, a very light, comfortable and compact touring caravan. That was in 1961. This is very much the flagship caravan model of the company and received an update in 2011 in celebration of its anniversary. Although they are now part of the larger Knaus Tabbert group, they are still producing innovative and market leading caravans, such as the DESEO that uses FibreFrame tech.
Tabbert Caravans
https://www.knaustabbert.de/en/
Knaus Tabbert is one of the biggest and most prestigious caravan manufacturers in continental Europe. All its models are built in Nagyoroszi, Schlusselfeld, Mottgers and Jandelsbrunn in Hungary. The company now comprises of Knaus, Weinsberg, T@B and Morello too. Notably, the organisation even has their own successful rental service called Rent and Travel that enables you to try out caravanning without the full commitment of owning a vehicle.
The thing that typifies Tabbert vehicles is the craftsmanship involved the exceptional quality and precise attention to the finer details. One of the most popular models is the Tabbert Puccini.
T@B is also a part of Knaus Tabbert and make a teardrop-esque caravan with a very retro head-turner of a look.
Touring Caravan Manufacturers Italy
Wingamm Caravans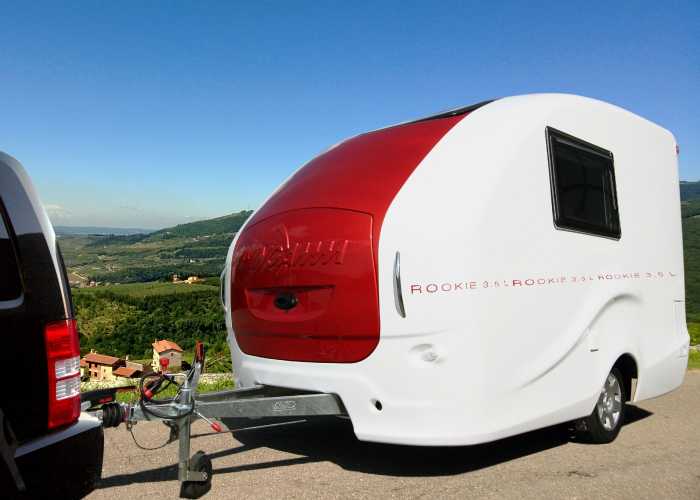 Wingamm is a renowned Italian touring caravan manufacturer who have more than 40 years' worth of experience under their belts. Encompassing all aspects from design, technology and engineering to the patents and production.
Their Rookie range of caravans are all lightweight and compact, apart from the Rookie L which is a much bigger 4-berth tourer. They all benefit, like any of the vehicles produced by the company, from the patented monocoque-style bodyshell. All their vehicles are made in Valpolicella, that sits just 15km away from the pristine and beautiful Lake Garda in northern Italy.
Touring Caravan Manufacturers The Netherlands
Chateau Caravans
https://www.chateaucaravans.nl
Chateau Caravans was first established in 1973 by Alfred MH Sprankenis. Over the years, the company has since experienced numerous achievements and a lot of success. It's made several acquisitions over the years, including Lunar Caravans in the UK and then the big acquisition of Kip Caravans.
Although there have been many iconic vehicles over the years, like the Chateau Calista, many of these have been replaced or updated since Kip Caravan has been involved. While changes have been made to the fronts, the 3 windows look has remained and Kip have brought in the hammered sidewall cladding, but even that still has the typic striping associated with Chateau tourers.
Kip Caravans
Kip Caravans have been made in their exclusive factory in AG Bellstraat in the city of Hogeveen in The Netherlands. They have been based there since 1961 and although some the parts they use are taken from some of the best suppliers around the world and are of the highest quality possible, there are other parts of their tourers that are made in the factory itself. This includes the walls, roofs and floors on the vacuum press and adhesive line, and they are then passed onto their assembly line.
They now operate as part of Chateau Caravans.
Touring Caravan Manufacturers Slovenia
Adria Mobil
Adria-Mobil is a company based and operating in Novo, Slovenia, who make high quality caravans. Because of their dedication to a unique style, amazing comfort and high-quality materials and finishes, they have become one of the biggest and more reputable touring caravan manufacturers in Europe.
They were first founded in 1954, when it was an offshoot of the car maker Industrija Motornih Vozil. The company went independent in 1990 and it has since become one of the 6 most successful leisure vehicle producers in the continent.
Although none of their vehicles are made outside of Slovenia, they do make four ranges with the UK specification in mind, the Altea, Action, Adiva and Adora.
Touring Caravan Manufacturers USA
Airstream (website is down)
Originally created by one Wally Bryan in the US in 1929, Airstream have been responsible for some truly iconic and unique caravans and trailers in their 75 and more years in operation. The Silver Bullet is perhaps the most famous of all the Airstream models and although there was a time when you could only get Airstream tourers in the US, they have since expanded their operations, due undoubtedly to their popularity, to outside the US and even in Europe.
They are still hand built in a factory in Ohio, fully engineered for life and can take between 400 and 450-hours to completely build. In fact, there is a massive 70% of Airstreams that were build in 1932 that are still on the road and being used today.