Dream Lighting LED Ceiling Lights 12v Caravan Interior Lighting Motorhome...
Dream Lighting 12v Caravan Interior Lights LED Strip Cabinet Lighting...
MICTUNING 12-80V 3.5W 72 LED Interior Led Light,Car Camper Bar,Kitchen...
Dream Lighting LED Ceiling Lights 12v Caravan Interior Lighting Motorhome...
Dream Lighting 12v Caravan Interior Lights LED Strip Cabinet Lighting...
MICTUNING 12-80V 3.5W 72 LED Interior Led Light,Car Camper Bar,Kitchen...
Changing your caravan lights to LED bulbs is how you save on the electricity use of your caravan for the next season. Using less electricity in your caravan means lower running costs and more freedom in choosing campsites. With some careful planning, your caravan might be able to run on the leisure battery alone.
Ready to switch to more sustainable lighting in your caravan? This is what you need to know about changing the interior lights of your caravan to LED bulbs.
Best LED Lights for Your Caravan Interior
Need some help finding the right LED light for your caravan interior? Here is a list of the top interior lights for caravans. These are not the best LED light bulbs but rather the best LED lighting fixtures for inside your caravan.
This list sticks to the simpler LED light options that are quick to install in your caravan. It does not include any smart lighting systems or LED screw in bulbs. However, with a little extra work you can incorporate these lights into a sophisticated caravan interior lighting system.
1. Dream Lighting LED Ceiling Pancake Light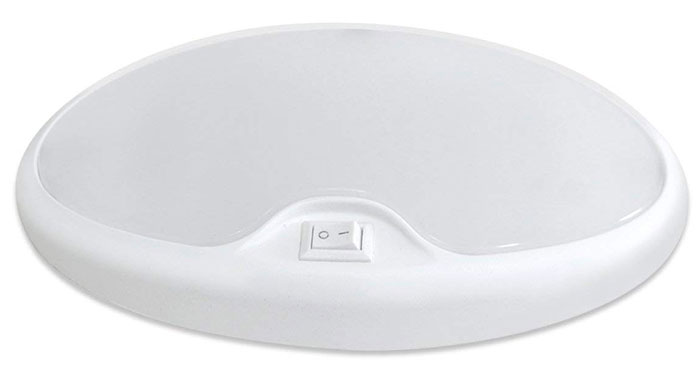 | | |
| --- | --- |
| Type of Light | SMD LED |
| Wattage | 3 watts |
| Voltage | 12 volts |
| Brightness | 210 lumen |
The Dream Lighting LED ceiling lights are a versatile design for your caravan interior. The milky white exterior give a comfortable bright light of 210 lumens. This is a good brightness for LED ceiling lights or on the wall near the caravan table. The design is similar to LED down slight bulbs.
These lights are easy to install. Simply connect the wires where your old lighting fixture was. Make sure to install according to the correct polarity, otherwise the lights won't work. The lighting fixture itself is attached to a surface with two small screws. You have the choice to add more screws but the design is lightweight enough that two screws are sufficient.
Each pancake light has its own on/off switch. This gives you more flexibility in the caravan lighting. The individual switch also makes installing these lights easier. You don't have to change the wiring inside our caravan completely to convert to these LED lights.
2. Dream Lighting Caravan Interior LED Strip Light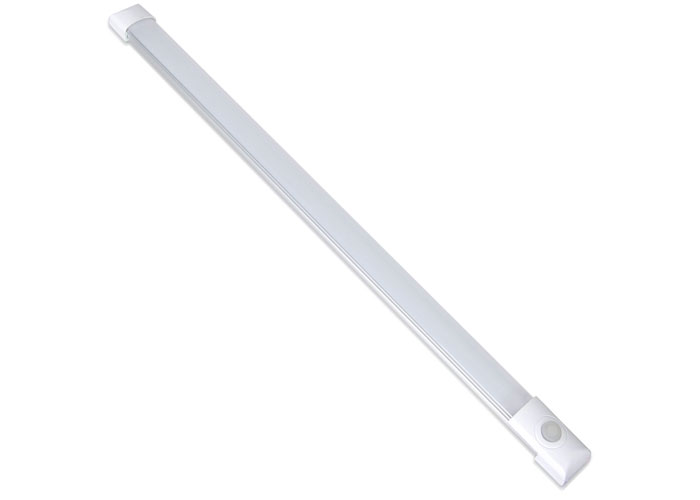 | | |
| --- | --- |
| Type of Light | LED |
| Wattage | 2.6 and 5.1 watts |
| Voltage | 12 volts |
| Brightness | 150 and 300 lumen |
Another great caravan light by Dream Lighting is their LED strip. It is the companion piece to Dream Lighting Pancake Light. Use these LED strip lights as cabinet lighting or ceiling lights.
These bright lights are durable and energy efficient with a brightness of up to 300 lumens at only 5.1 watts. You only need a few to illuminate a large space thanks to their 120° lighting angle. On top of that, these LED strip lights are a lifetime investment. The lights last up to 50,000 hours meaning that you are very unlikely to have to replace them again in your caravan.
Whether LED lights are dimmable is a common question. Though not technically dimmable, the Dream Lighting strip light has two brightness settings. If the 300 lumens is too bright for you, then you can set the light to half this brightness. This gives you the added benefit of being even more energy-efficient at only 2.6 watts.
3. MICTUNING 72 LEDs Light Bar 2 Pack

| | |
| --- | --- |
| Type of Light | LED strip light |
| Wattage | 3.5 watts |
| Voltage | 12 volts |
| Brightness | 500 lumen |
The MICTUNING interior light bar is the brightest LED light on this list. Each strip contains 72 individual light emitting diodes which emit a very bright 500 lumen. Each purchase comes with two strip lights so you are saving space and cost in your caravan lighting by installing this MICTUNING product.
The greater brightness does not come at the cost of higher electricity use. Each strip light only uses a tiny 3.5 watts. Compared to other options on this list, the MICTUNING LED strip lights give you more brightness with the same running costs. Each bar also has its own on/off switch so you have better control over the lighting in the caravan.
There are two ways to attach this 13.5 inch LED strip light to your caravan interior. Either fix the bar to a surface using the brackets or go the quick and easy route by using the adhesive tape, instead.
4. MFPower SMD 5630 LED Car Strip Light

| | |
| --- | --- |
| Type of Light | SMD 5630 LED strip light |
| Wattage | 3 watts |
| Voltage | 12 volts |
| Brightness | 500 lumen |
At the same brightness as the MICTUNING striplight comes the MFPower strip light that uses 30 individual SMD 5630 LEDs. The MFPower model is longer than the previous option at nearly 16 inches. The included wiring is also longer than the MICTUNING model.
One important difference is that the MFPower strip lights don't have individual on/off switches. This means that you need to connect these lights to a central switch in your caravan. Creating a full lighting system might take more time if you go for this option.
5. MASO 2 Pack Warm Light LED Caravan Interior Spotlights

| | |
| --- | --- |
| Type of Light | LED |
| Wattage | 3 watts |
| Voltage | 12 volts |
| Brightness | 150 lumen |
The sleek design of these MASO LED interior spotlights give your caravan a modern upgrade. The lights are made of aluminium with a smooth and durable brushed nickel finish. Each lighting fixture is attached to the caravan wall or ceiling with two small screws. There are short wires attached to the bottom to connect to your caravan's wiring.
Aside from being very good looking, these MASO LED spotlights are also versatile. Each light comes with its own on/off switch so that you can choose which lights you want to use. This lowers your electricity costs, too. The swivelling head also makes these lights very functional. You can use them as a reading light, a caravan roof light or an extra light in the kitchen area.
Each lamp produces a warm white light at 3500 kelvins. Though it is less bright than the Dream Lighting ceiling lights, at 150 lumen the MASO spotlights still produce a comfortable ambient and task light.
6. AMBOTHER 30 LED Interior Lights with 10 LED Modules

| | |
| --- | --- |
| Type of Light | SMD 5630 LED strip light |
| Wattage | 15 watts |
| Voltage | 12 volts |
| Brightness | N.a. |
If you are looking for a single lighting fixture for your entire caravan then look no further than this series of LED lights by AMBOTHER. Spread over 90 inches are ten LED modules containing three individual LED each. In addition to that length comes another 196 inches of wiring to connect the lights to your caravan's electrical system.
The LEDs emit a light temperature that is equivalent to daylight at 6000 kelvins. The lights also have a waterproof value of IP65 making them one of the most sturdy options. The modules are extremely quick to install thanks to the double sided self-adhesive tape. Choose the AMBOTHER 10 LED module design if you want the most unique interior caravan lights.
Why You Should Switch to LED Lighting in Caravans
The big advantage of LED bulbs is that they give the same brightness at lower wattage. LED bulbs only use a fraction of the energy that halogen bulbs or CFLs require. This means that by switching to LED lighting your caravan is more energy-efficient.
An energy efficient caravan has two benefits. The first one being lower running costs because less electricity is used. The second benefit is that you can run more on the same battery.
Not all campsites have an electricity outlet for you to plug into. Do you often find yourself at such places? Or is going off the grid the reason why you go caravanning? The extreme energy efficiency of LED bulbs gives you light, even when you cannot plug your caravan into an outlet. It is common for an LED light to function on only one tenth of the wattage of other lighting. If you monitor the electricity use inside your caravan you might be able to run the lights on the leisure battery alone.
Another advantage of LED lighting fixtures is that the diodes do not get hot. This makes LED lights safer as you don't risk burning your hand by accident.
Disadvantages of LED Lights in Caravan
There are two things to think about before converting your caravan lighting into LEDs. The first is the initial cost. Yes, once the LED lights are installed your running costs are significantly lower compared to other lighting types. However, the purchasing price of most LED lights is higher compared to many fluorescent lighting, halogen lights etc.
In return for the initial investment, you get a light bulb with a longer lifespan. 30,000 hours is a common expected lifespan for LED lights. 50,000 hours or even more is also possible with many LED products. This is a much longer lifespan compared to other lighting technologies with an average of 15,000 hours.
So, the initial higher investment is balanced out by its lifespan. Consider how much you would spend on replacing regular light bulbs compared to the price of a similar LED design.
The second disadvantage is the time it takes to convert the lighting inside your caravan. Depending on the current electrical system inside your caravan, this can be a quick job or requires a couple of hours. Fortunately, most 12 volt LED bulbs are a quick replacement for other lighting in your caravan. Some LED conversion kits are even a simple plug-and-go system.
What You Need to Know to Convert to LED Lighting in Your Caravan
The first thing to note is the type and size of holder of your current lighting fixture. For the quickest bulb replacement, find an LED light with the same holder as your current lights.
You can check the type of holder by referencing the manual guides of your caravan. If you no longer have the original copy then you can search for the manual online. The other option is to show your current lighting as an example to your nearest electrical shop. Let the staff inform you on the holder type and which LED lights are an equivalent.
Consider the size of the lighting fixture, as well. Choosing an LED lighting fixture of the same holder size prevents you having to cut holes in your caravan's roof, walls or cabinets. The fewer steps you need to take to install a light, the better.
Another vital specification is the voltage. Most caravans run on a 12 volt system for the lighting. Stick to the same when converting to LEDs. This saves you a lot of hassle in the installation process.
Also, check whether you need to do any soldering. Is the new LED light really a plug-and-go or will you need to do some rewiring? In some cases, the caravan's wires and lighting fixture wires need to be soldered together to work. This isn't a big job for someone good at DIY. Still, it doesn't hurt to ask your local electrical shop for advice.
A final decision to make is how bright you want the lights to be. Most standard caravan lighting is around 100 lumen. Turn on the lights inside your caravan and consider whether you prefer brighter or dimmer lights. Also, decide whether you want a brighter white light or a warmer yellow light. Depending on the task of the light, your preferences might differ.
Can All Caravan Interior Lights Be Changed to LED Lights?
In most cases, the answer is yes. If you have the skills and patience to convert the wiring in your caravan to work with LED bulbs then it is definitely possible. However, if you do not have the time or skills to do too much wiring, it is still possible. There are many easy-to-install LED conversion kits available online.
Scroll down for an overview of our favourite LED lights for caravans. There are many different light bulb types to meet your specific needs.