A caravan generator can offer all caravan owners power to those most essential of items when staying somewhere off-grid, or perhaps when at a site which doesn't provide much in the way of power sources.
However, many people simply like to travel with a generator as their back up option, should they, for example, have many appliances they wish to use which need that little bit more power, such as hairdryers, AC units, and even washing machines!
While there is no such thing as silent generator operation, there's nothing worse when caravanning than running a generator that is so noisy you can't hear yourself think! Worst still, if your generator is one of those louder of models, you'll soon fall out of favour with your caravanning neighbours who won't thank you for that constant drone that comes from your pitch!
The solution here is to look for a caravan generator which aims to reduce that noise level. Here are five of the more quieter models available to purchase
Best Silent Caravan Generators (As silent as can be)
Briggs & Stratton Petrol Generator
One of the most expensive on the list, the Briggs & Stratton petrol generator claims to be ultra-quiet in action due to its use of sound dampening mechanics.
This is a PowerSmart item from the P2200 series offering so many features, many which you probably wouldn't expect from a petrol generator!
This ultra-efficient and quieter of models works on delivering the exact amount of power you need to charge your essential appliances in your caravan.
Safe to use with nearly all standard items such as TV's, mobile phones and laptops, this smart generator will provide less than 3% total harmonic distortion, which makes it perfect for the most popular of electrical items caravanners use on a regular basis.
With around eight hours of continuous operation available at just a 25% load, this model has a 3.8-litre fuel tank and produces 2200 starting watts, with 1700 running watts through its more compact design.
Complete with a 12V battery charging socket, two household 230V sockets and a USB charger plug, this single control panel product ensures your devices don't overcharge but ultimately provides a durable solution to all caravanners in the process.
Customers purchasing the Briggs & Stratton petrol generator find this to be a robust product which you can have up and running in quick time. However, not only is it preferred for its lightweight properties but more so for its ability to work quietly when on site.
Bohmer-AG Petrol Generator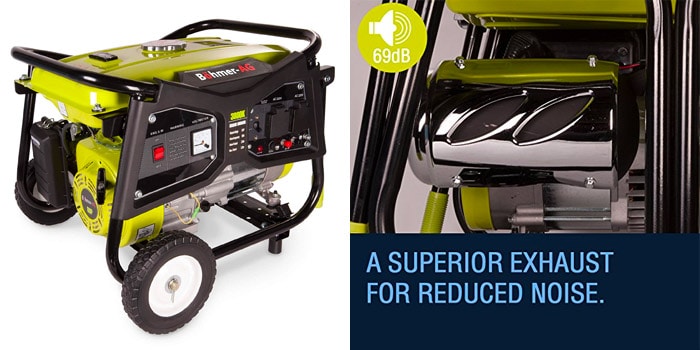 Bohmer sells a portable generator which they believe offers more power overall when compared to the many aluminium generators found on the market, just because this one is copper wound.
This WX3800K version has a maximum 300W output, 220C rated voltage, 0.6 litres of oil capacity, and a fuel tank capacity of 15 litres.
Thoroughly stable in construction and simple to use, this generator works at continually reducing sound pollution as much as possible. It does this through its superior exhaust while its rubber suspensions aim to minimise any unnecessary vibrations.
Complete with rugged wheels to glide with ease over even the toughest of terrains, this powerful motor with easy recoil start comes with a 24-month warranty covering UK stock, spares, accessories, and even technical support.
Powered by an OHV eight horsepower engine, this generator also has a crucial automatic low safety shut down feature for added peace of mind.
Customers purchasing the Bohmer-AG petrol generator state that this is one powerful and thoroughly sturdy model which fulfils everything it claims it can do and more.
Trueshopping Petrol Generator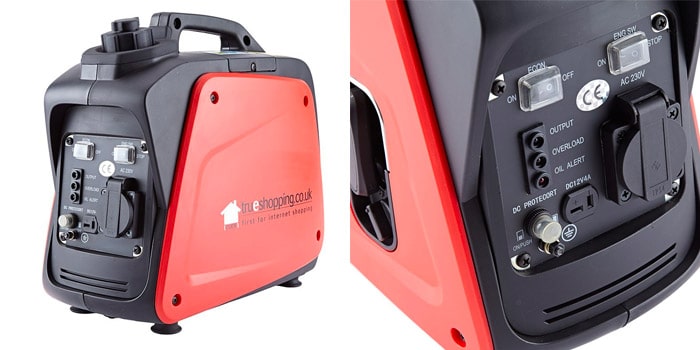 The Trueshopping petrol generator claims to be 100% compatible with those sensitive electronics that the company believe more caravan owners are regularly taking on their travel with them these days.
This 800W and 240V portable inverter generator demands a lower fuel consumption and is said to be a quieter machine when in use.
With a 2.1-litre fuel tank and a recoil starting system, this model has a power overload cut off fitted to it to ensure that should it overload, it is thoroughly protected in the process.
The Trueshopping petrol generator also comes complete with a 12V lead, screwdriver and detailed instruction manual to ensure ease of getting started.
With some great reviews from customers purchasing the Trueshopping petrol generator, it is seen as an adequately sized product which is also lightweight in design. Said to be reasonably quiet in operation, it's also considered one of the simpler of generators to start up the first time.
Wolf Petrol Generator


Wolf sell what they consider a larger than average petrol generator with their WPG1200 model which uses state of the art inverter generator technology in its construction.
With a maximum 1200W and 230V output, this three-litre fuel generator is a lightweight model which offers an automatic voltage regulation but is also kitted out with fitted thermal overload protection.
This particular model has what the company referred to as an econo design – which is an idle switch for when there is no power being drawn from the generator. This coupled with lower fuel consumption is what Wolf believes makes it a virtually indestructible generator in everyday use!
Claimed to be ideal for all types of electronics, the noise emission from this model remains ultra-quiet, a trait that Wolf proudly attaches to all their generators regardless of their overall size.
Customers choosing the Wolf petrol generator find this a more compact but well-designed model which does make sure that the noise level is kept to a minimum when in use. It's also considered a rather sturdy product which offers a more simplistic layout of controls for additional ease.
Stanley Petrol Generator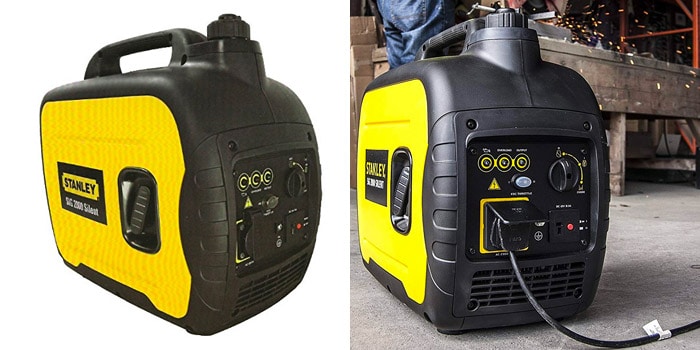 Stanley offers caravanners a petrol generator which is plentiful on features and fuel tank size but smaller on the amount of noise it produces.
This 2000-watt low noise generator is their Silent Generator model which has an 80CC engine and a four-litre tank, working to offer continuous running use of around 4.2 hours. This is known as a suitcase generator model because of the size and shape.
With an integrated switch for choke, fuel and engine control, this model relies on multiple frequency inverter generator technologies which Stanley claim is highly reliable throughout.
To ensure lower oil consumption, this generator has a unique gas circulation system with its smart throttle working to reduce fuel consumption. Likewise, this intelligent throttle is also designed to reduce overall noise, as is the big volume muffler.
With a handle and base which are both made with anti-slip properties, this is a hugely efficient petrol generator which aims to make it simplistic and more economical for all caravan owners.
Customers purchasing the Stanley petrol generator find it the easier of generators to set up and begin using straight away. Its sleek appearance and lightweight design are also highly rated by those looking for something practical and straightforward from their generator.
Final Thoughts on Quiet Caravan Generators
An alternative to caravan generators is using solar panels on your caravan. With the cost of many well-known brands of solar power panels is considerably cheaper than some of the generator products on the market, and the many environmental aspects obvious, it's undoubtedly worth weighing up your options here before making that final decision.
However, if you're still not yet won over by this alternative power source, you may prefer to use an inverter generator for your caravan or merely want to continue to travel with a caravan generator as a backup plan in case you do not have access to an electric hook up or for when you need something more powerful than just a leisure battery. Whatever your preference, these models are indeed some of the more user-friendly and silent generator models which will work on delivering power to your van – but ultimately run a lot smoother in the process!