Car Cigarette Lighter Extension Cable, CHGeek 12V 24V Adapter Plug Socket...
HowiseAcc 12V 24V 5M/16.5ft Extension Cable for Car Cigarette Lighter...
Hama 116028 6m Extension Cable for Vehicle Cigarette Sockets, Black
Car Cigarette Lighter Extension Cable, CHGeek 12V 24V Adapter Plug Socket...
HowiseAcc 12V 24V 5M/16.5ft Extension Cable for Car Cigarette Lighter...
Hama 116028 6m Extension Cable for Vehicle Cigarette Sockets, Black
When you first started to get interested in caravanning, you might not have known that caravans have a 12v socket in them. Why would you need a cigarette lighter in a caravan anyway?  The answer isn't about smoking or not smoking at all. Lots of really very nifty appliances work with a 12v socket, and this is why there is one in your caravan.
Now, although you have a socket, you might not have it exactly where it needs to be. Years ago, there were caravan televisions that ran off a 12v socket, so they tend to be placed where the manufacturers thought the television should go. But you might need your 12v socket for something different, something that needs to be in say……. the kitchen?
That is why you need a 12v extension lead. They come in different lengths so you can use them for different things. Some people use them in their cars, to run rear dash-cams. But mostly they are useful in your caravan to help you live better! You can use them to boil kettles, to run laptops or iPhones or other electrical units.
Your tyre inflator might not reach to your caravan tyres so a 12v extension lead will do the trick. If you have a CPAP machine that needs to be powered through the night you can use an extension lead. The list goes on and on.
So, let's get into the list of great extension leads and think about the possible uses for each one.
12v Extension Leads (Some Choices)
1. Car Cigarette Lighter Extension Cable

This looks like a robust sustainable lead, inside the plastic covering is the wire is 17 AWG and it will flex happily over 400 times. The flex length is 12 foot or 3.6 metres, which is long enough to easily go from the front to the back of the car, as well as from one side of most caravans to the other.
This car cigarette lighter extension cable has a built in 10A fuse which prevents over-current and short circuiting. Brilliant because that stops it making whatever it is charging crash and often, die.
These are great for cool boxes that need a charge to keep food cool or warm. It adds a bit more space than that provided in the fridge. You can plug your extension lead in and keep the cool box in the kitchen.
2. HowiseAcc 12V 24V 5M/16.5ft Extension Cable for Car Cigarette Lighter Socket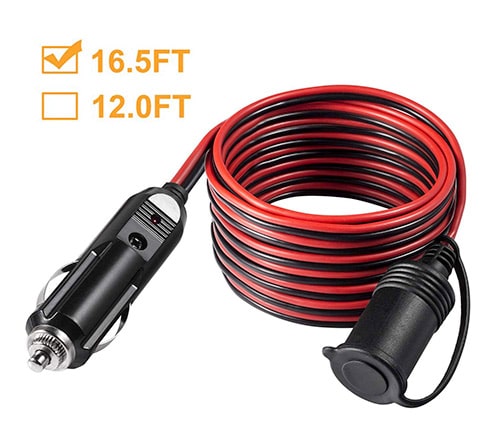 This is a monster length extension lead at 5 metres or 16.5 ft. The lead will be very handy for checking the tyre pressure of the caravan tyres. It means your tyre inflator can be used on all the tyres you are dealing with.
On the male side, it has a light to indicate the extension cable is working and on the female side, there is a dustproof waterproof cap to protect it. You will find that it is robust, and the manufacturers put their money where their mouth is because it has a 365-day guarantee.
Sometimes when we use extension leads the power drops, because of the conductivity (or not) of the lead but customers are very pleased with this lead.
3. Hama 116028 6m Extension Cable for Vehicle Cigarette Socket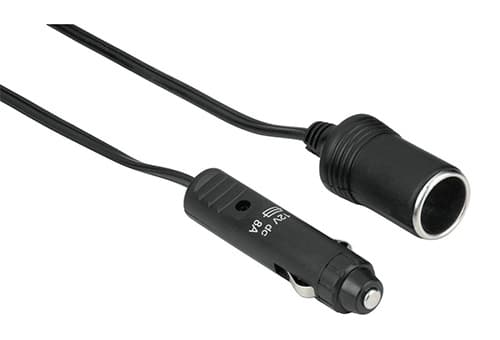 When I first saw this extension cable my first thought was that the female end doesn't have a cap, however, this product has a great rating and lots of people are very happy with it.
It has a fuse in it to protect from short circuiting, and it's a great length. The manufacturer suggests it would be perfect for plugging into your car and playing music out of the back of your car, not sure that other caravanners would appreciate that but it's an idea.
Another thing many customers loved about this was being able to use an inflator with an air awning. Air awnings are a fabulous idea and when they can be inflated easily it gets even better. I am sure that if you had anything else that needed inflating this would help you do the job.
4. Amacam Car Charger Adapter 5M Cable

Another cable. This one is five metres long, no cap on the female end (that's the innie bit for the biologically challenged). In the questions, some people seemed to think there might be a USB on the end of this lead, but it is simply an extension lead. It ends with a cigarette or cigar lighter. Not a USB port.
Another issue with this lead is that there are some issues about the wattage. The cable cannot go past 5A (amps?) so if you have something different to that, the cable won't have the power to carry the electric charge.
Many customers have fitted it to their dashcam which has produced fine results, although it fits slightly tighter than original cable, this makes it feel more secure. When the cable is in securely it feels more like it is going to go the distance.
Whatever you use your 12v cable for, there is no doubt it is a great little addition to your caravanning kit. Whether you are in a car or a caravan there are bound to be used for these 12v cable extensions, so they are definitely worth getting. Perhaps even worth getting one for the car and one for the caravan so that you know you can use your devices wherever you go.