Having the best caravan TV in your caravan is a great way to keep up to date with your favourite soaps and series as you travel, as well as offering some downtime when relaxing after an energetic day exploring the area beyond your pitch!
With lots of us wanting access to more than just a few TV channels that a basic TV with a caravan aerial offers, most caravan TVs now offer Netflix and various other Apps as standard. We have also put together a guide on how to setup a caravan TV to get the best signal.
Below are some of the best TV for a caravan and accompanying brackets currently retailing on Amazon.
Best Caravan TVs (Our Top Picks)
Cello 20" LED HD Caravan TV / Freeview / DVD / USB


This 20" HD ready TV comes with Freeview access, a USB port, and an integrated slot-in DVD player. Aimed at those caravanners concerned about getting the right amount of voltage from their appliances, this model is ultra-low in power consumption, using just 12 Volts.
Alongside offering you the latest Cello model, this TV allows you to keep up-to-date with all your favourites using the Freeview option, or play a DVD of your choice when preferred.
Customers purchasing this model find it easy to set up and tune when in the van, with it offering an adequate picture and decent sound quality. This is one of the best choices for the best 12v television for a caravan.
Cello 20" Ultra Slim LED Caravan TV / Freeview / DVD / USB


Another 20" Cello make, but this time an ultra-slim version, this model offers MPEG4 technology. This means you can access the USB playback and record features, a built-in DVD player, Freeview channels and HDMI connections.
Supplied with a 12v and 24v DC power supply, this TV is duel voltage allowing it to be used in the caravan with ease while ensuring it doesn't drain the battery or encounter power surges in the process.
Customers purchasing this TV find it lightweight, and straightforward to set up. Best of all, it's considered a great buy for its additional USB access.
Manta 22" HDR LED Caravan TV / Freeview / USB PVR / Mixed DivX Player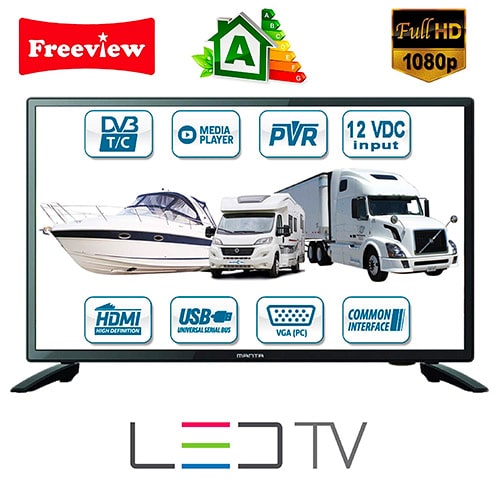 Manta's 22" TV is an all-inclusive model featuring high definition, Freeview, a USB PVR function and the ability to watch various video formats, view pictures and listen to music on!
With an AC adapter included for 220v mains and a 12v DC input lead included, this is an excellent energy efficient class A choice for caravanners looking to run their TV efficiently.
What's more, this model's LED screen technology offers an impressive picture quality every time.
Customers purchasing this TV highly rate its overall quality and ability to work perfectly in the caravan.
Cello 24" Smart LED Caravan TV / WI-FI / HD Freeview
Cellos' 24" Television is perhaps one of the costlier of choices on the list, but as an Android Smart model with WI-FI and HD Freeview, this certainly offers you much more choice.
With Netflix, YouTube and many social media platforms accessible from this product, this dual voltage 12/24v choice also has two HDMI ports so you can connect a host of other additional hardware to it. This allows you to play a games console, attach a HD satellite receiver or a Blu-Ray player.
Customers love the QuickStart tuning process of this lightweight TV, alongside the brilliant picture and sound quality of this model. You might need a wifi booster to make full use of the smart TV features.
Finlux 22" HD Caravan TV/DVD Combo


Finlux's sleek 22" TV offers full HD as well as DVD access. It also allows you to record through its USB access point.
Fully efficient energy wise at class A, this 12v model is perfect for playing in caravans.
With DTS TruSurround ensuing all-around sound, all standard digital channels are available through this model. However, if you're looking for HD channels, you will need an external HD tuner.
Customers purchasing this TV find it an excellent little model which offers not only good pictures but good sound quality as well. This is definitely one of the best tv/dvd for a caravan.
Cello 16" HD LED Caravan TV / DVD Player / Freeview


Cello's 16" TV offering is an energy A class model which offers a built-in DVD player, a USB port for recording and playing files, built-in Freeview and a HDMI output for any external devices and consoles.
HD ready with a great looking widescreen, this is an excellent choice of TV for the caravan as it aims to lower the overall power consumption over the space of a year. Though initially designed for use within the home, you can use it perfectly fine in the caravan via an optional 12v adapter.
Customers purchasing this TV find it a great buy with plenty of features and excellent picture quality. We think this is the best small TV for a caravan.
August 9" Portable TV LCD / Freeview / Multi-Media Player


Alternatively, if you don't want to install a TV in your caravan, won't be regularly using it, or perhaps need a smaller more compact TV for the bedroom, the August 9" portable model may be a better choice for you.
This comes complete with an accessory pack, meaning you can have it up and running instantly. Offering an external antenna, an A/V cable, and main power adaptor, this small but stylish TV provides state of the art technology while allowing you to access Freeview channels.
Customers like this model for its reduced size, especially when travelling in the caravan.
Best TV Size for Caravan
When choosing the best television for your caravan one important aspect that you need to consider is the size. As is the case with most things you invest in for your caravan, you'll need to sacrifice a little and compromise on the size. Afterall, you want something that's not too big, but also not too small or you won't be able to enjoy your favourite shows.
Therefore, it would be best to aim to get one that is between 20 and 24-inches (though as you'll see from this page, there's many great ones available even smaller) and weighs between 1.6 and 4.5kg.
Best 19-inch TV For Caravan – Cello 12V 19" Traveller Satellite LED TV
If you're after something that's a bit smaller than a 20 or 22-inch TV but can't bear to go for something as small as a 16", you might find this Cello 12V 19" satellite LED TV to be more to your liking. Featuring full HD, a DVD player, along with a terrestrial and satellite tuner – this is a great little box of fun.
At 3kg, it's a little heavier than some of the others on the market, but the trade-off on the weight means that you benefit from a screen with an aspect ratio of 16:9 and display resolution of up to 720p.
What's more, this Cello TV, in addition to the DVD player and TV tuners that come integrated into its design, there's also an HDMI port and USB 2:0 port. That means when you've had enough of standard TV and exhausted your mobile DVD collection, there's still the option of watching DVDs, playing video games on your favourite games console or using a device to access your streaming services through your TV.
All in all, for a relatively small television, this Cello 19" model has a whole lot to offer you in terms of providing you entertainment on those rainy days and when the sun goes down at night.
12v Freeview Box
As already noted, it's best to invest in a caravan television that already has Freeview and other options installed into it. You can see that there's plenty of options out there. If, though, you really want to buy a 12v Freeview box separate to the television you already have, for whatever reason, you will struggle to find any. We were only actually able to find one…
Edision Freesat TV Lite with 12.6V Car Charger
From a company called Edision, this Free to Air Freesat box is ideal if you are looking for a separate high-definition satellite receiver to pair with your caravan television. It comes with a remote control and 12.6v car or camper charger so can be easily plugged in wherever you are. It provides you with a resolution of up to 1080P and is compatible with both Standard and HD. You can have as many as 4000 radio and television channels programmed at the touch of a button.
Some of the channels pre-programmed into the box include:
Channel 4 HD ITV HD, ITV 2 to 4, BBC 1, 2 and 4 HD, plus CBBC HD, CBeebies HD and CITV to name but a few.
Caravan TV Bracket                                  
This tilt and swivel TV wall mounted bracket is ultra slim in design. Accommodating up to 15kg in weight, it's aimed at flat screens, plasma, OLED, curved, 3D, LED and LCD TVs, extending 50mm to 367mm.
This anti-shake and anti-theft bracket has a unique locking facility you can lock flat to the wall when on the move. Including a tilt and degree feature and a 360-degree cable management feature, it accommodates up to 15kg in weight.
Vision Plus TV Bracket Up To 23"        
This quick release bracket offers an easy on and off method for connecting and removing your LCD TV and accommodates a maximum of 15kg weight in total.
This anti-theft quick release bracket extends 88mm to 408mm has a double arm with tilt and swivel head and a spring-loaded lockable catch.
Electrosmart TV Bracket 13 to 23"     
This under cabinet ceiling bracket mount can tilt and rotate to accommodate LCD and LED monitors measuring 50x50mm, 75x75mm and 100x100mm VESA sizes.
Final Thoughts on The Best Caravan TVs
These TVs are the best caravan television models which look great both in the home and caravan combined! They all provide outstanding picture and sound quality, with each one offering specific features dependant on what it is you are looking to watch and access when using a TV in your van. Always check out caravan TV reviews on other sites, so that you get a wider opinion of them or ask other caravanners on your website what they use.
With a wide range of brackets that can be fitted within minutes, and an ability to access more features than ever before, watching TV in your caravan has never been more accessible or enjoyable!
After some more appliances for your caravan, then why not check out some of the following: