Though it seems to be getting easier to find many campsites that offer wi-fi facilities, unfortunately when you arrive at some of them you may find yourself still unable to pick up a decent signal.
As so many of our devices are reliant on a good internet connection, it pays to shop around for a good wifi booster for the caravan which you can transport and set up quickly at the other end.
Whether you want to catch up on Netflix on your caravan smart TV, stream all your music via your tablet, or perhaps you just want to connect your smartphone to the wi-fi to save your precious data in the meantime, a good wi-fi connection is crucial for many caravanners.
Additionally, wifi can also be a lifesaver! You might find yourself needing to check for weather updates and traffic reports before heading out for the day or when going home, or you may just want to get a better idea of where you are anchored up.
Though some caravan sites are starting to supply the demand for caravanners who like to find wi-fi included in the places they stay at, many sites are still bad with their wi-fi connection, leaving you thoroughly frustrated in the meantime.
These are five of the best caravan wifi boosters for caravan sites, which may provide a good alternative for those times when you struggle to get a decent connection from your campsites wi-fi alone.
Caravan WiFi Boosters
Kuma WIFIKIT – Wireless WiFi Package for Caravans and Motorhomes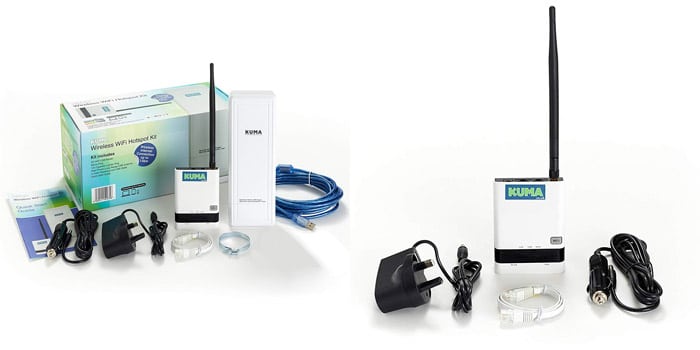 Top of the price range, Kuma offers an extensive WIFIKIT which they call the Internet Hotspot Package.
With the idea of boosting and sharing the wifi with all your devices at your caravan site, this is the perfect companion for caravan intended connections or motorhome wifi.
Claiming to be compatible with every device which is wifi enabled, the Kuma WIFIKIT allows you to connect items such as laptops, tablets, smartphones and iPads and all at the same time as one another.
This all-inclusive kit comes complete with:
3Gg WiFi USB Router
Mains Plug
12v Cigarette Lighter Plug
High-Power Long-Range USB Antenna
5m Weatherproof USB Cable
Quick Start Guide
Set up is considered straightforward and just requires you to place the antenna outside your caravan, aiming it at the campsite's wifi signal. Then, just connect the repeater to the antenna using the USB cable, and you can have all your devices instantly connected to the site's wireless internet connection.
Customers purchasing the Kuma WIFIKIT claim it's a great kit and well worth the additional cost to get a high-quality signal, even in those most remote of places.
Motorhome WiFi Booster Antenna for Caravan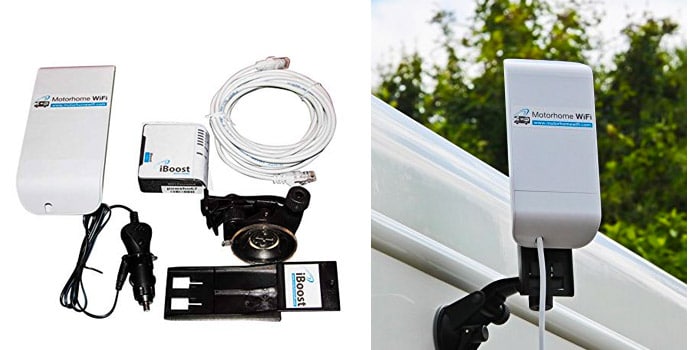 Priced similarly to the Kuma WIFIKIT is the Motorhome WiFi's Campsite and Caravan Booster, which they call an iboost Directional System.
This extensive and complete all in one package is an external active wifi antenna which is suction mounted for practicality.
With its internal router powered by a 12v cigarette socket, this product allows you to connect to all remote hotspots, such as the campsite and BT Fon for example.
Simplistic to use, you don't have to download or install anything to get started, and the package works with all tablets, laptops, iPads, and iPhones. You can, therefore, share just the one connection between all your devices.
The router included here also allows you to connect up to two wired devices as well, using the two network connections available on the back of it.
Customers find the Motorhome WiFi product the most simplistic of items to install in the caravan alongside the best at getting almost perfect signal results each time. Though high in cost, it's claimed the results more than makeup for this.
Solwise Router WiFi Booster for Caravans and Motorhomes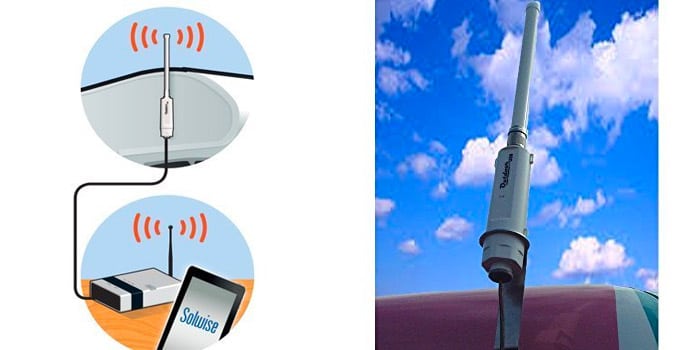 Solwise offers a WiFi booster kit that is intended to provide all caravanners the ability to get a much-deserved signal when travelling away from home.
Designed predominantly with iPads, tablets, and smartphones at the fore, Solwise understands that more and more of us travel with these items than we do with laptops. Therefore, such smart devices like this don't always have a USB port, and this is what their product aims to resolve by recreating a mini-spot in your van.
Everything you need to get you started is included in this kit:
A WL-PATRIOT-USB, which includes a 5dB antenna
Two Cable Ties
A 5m USB Lead
Some Waterproof tape
A WL-USBWIFIRPT with a 5dB antenna,
A Power supply with both UK and EU adapters,
A 50cm Flat Ethernet Cable
A Car Lighter Adapter
Customers claim the Solwise Router WiFi Booster really does work well when used in the caravan and can accommodate a selection of devices at the one time, often meaning there's no need to pay double in campsite charges if there's more than one of you using a device.
Solwise Outdoor USB With Antenna for Caravans and Motorhomes
Sticking with the Solwise brand, but at a reduced price, their Outdoor USB with Antenna is a simplistic solution when pulling up to a site and attaching your wifi connection with ease to the top or side of your van.
The idea of this model is to provide a convenient scan facility which searches through all the available networks for you to get the best wifi connection, saving those preferred ones in the process.
This high-powered antenna has a 5m USB connection cable and supports WPS using software and auto-installation, and is complete with diagnostic utilities.
Customers purchasing this basic of antennas find that it does the job of picking up a good enough signal from the nearby wi-fi sources and is perhaps one of the easier of all products to get up and running, working straight out of the box.
Kuma WiFi Antenna and Booster Power USB for Caravan Laptops and PCs


If the Kuma WIFIKIT is slightly out of your intended price range, or you just don't want to spend more than thirty pounds on such a product, Kuma offers a much cheaper antenna and booster which is aimed at improving the wifi connection on your laptop and PC.
Working at allowing you wi-fi connection up to 1.5km away, this simple USB wi-fi antenna and booster is a powerful addition to your travels.
Compatible with Windows versions 7, 8 and 10, it comes complete with a 5m USB cable, a Jubilee clip and quick and easy instructions.
The easy setup guide offers a fast seven-step process to getting you up and running in next to no time.
Customers who purchase this model report an increased signal strength which in some cases has taken customers from no signal at all to full signal, as soon as it's installed. Installation is also considered easy and perfect for a less hassle set-up in a caravan.
Final Thoughts on WiFi Connections
With so many more caravanners looking for the addition of wi-fi at each site they travel to, hopefully, in the years to come, more and more camping sites will begin to see the value of providing adequate provisions regarding wi-fi connections.
Until then, a wi-fi booster for the caravan is an excellent item to take with you on your travels and therefore worth that additional expense, ensuring that your connection isn't continuously interrupted just because the site's signal is not at its best.
Furthermore, with the ability to use these discussed models above at every site you stop at, they really are an accessory worth investing in for further peace of mind.
We hope we have helped you pick the best wifi booster for your caravan so that you can get the internet for your caravan where ever you are.