You may have noticed an increase in the number of people opting for caravan solar panels. Once considered more of a homeowner's choice, more and more caravanners are looking at the advantages of solar charging and whether it really is worth the extra investment.
For many years, solar panels have had a reputation of being grossly overpriced, however retailers are becoming aware of a growing need to look for alternative power sources – and nowhere is this more obvious than in the caravanning community.
Caravan roof mounted solar panels are a fantastic solution for when you stay at a site which has no electric hookups and don't want to use a generator. Alternatively, if you decide to stop somewhere spontaneous or go off grid, perhaps boiling the kettle in the middle of nowhere, you can do this by using your solar panels.
However, you may just be looking to become eco-friendlier in your choice of energy sources and want to find out whether placing solar panels on your caravan would be a viable solution for you.
Below is a fantastic selection of six different types of caravan solar panels currently retailing on Amazon. The great news is that not only are they simple enough for you to install by yourself on the caravan, but with prices starting from quite cheap, the concept of finding an alternative power source has never been easier!
Best Solar Panels for Caravans (Roof Mounted)
Photonic 80W Solar Panel for Caravans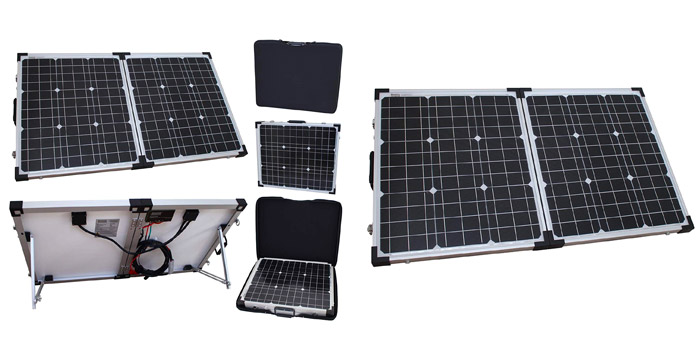 This is Photonic's universal folding solar kit which they believe offers everything you need to charge your caravan's 12V battery.
With the idea of unfolding it and connecting the accompanying crocodile clips to your battery terminal, this model is great for those who aren't keen on installing these panels to their caravan, preferring something which can be packed away when not in use.
This particular product is said to be more efficient and offer better performance due to its monocrystalline German solar cells, which work even in the lower light and shade.
With an automatic solar charge controller which protects the battery from overcharging, stopping the backflow of current into your caravan solar panel, this is fully waterproof and suitable for all types of weather conditions.
Customers purchasing the Photonic solar panel like that it comes complete in a sturdy storage case and that it does the job it claims to do, even on the drearier of days.
Monocrystalline 100W Solar Panel for Caravans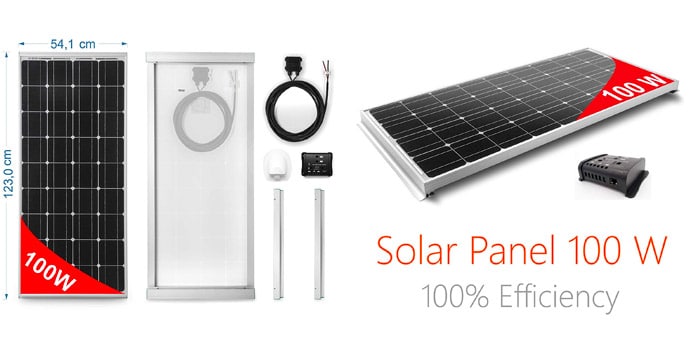 At forty pounds cheaper than the Photonic is the Monocrystalline solar panel, which is once again a complete kit including installation accessories and a 10A charge controller as standard.
Direct Importer claim this panel can be installed in the quickest time ever as the kit comes pre-assembled.
This is a high-performance 100W solar panel and is aimed at caravans, working to offer high yield even in the most adverse of weather conditions.
The set itself contains a 10A charger controller which is for two batteries, alongside aluminium brackets, a cable pass, and a 6M anti-UV cable.
A superior product, this is a more quality caravan solar panel which offers certificated rated power.
Customers who buy the Monocrystalline model find this a great panel which is of good quality, easy to fit and gets you up and running in very little time.
Eco-Worthy 100W Solar Panel for Caravans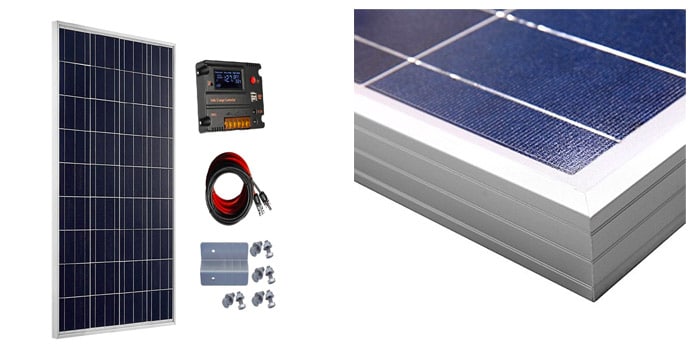 Eco-Worthy sells their highest priced of three solar panel kits on this list. This particular one is a high-efficiency solar panel offering 100W, which gives a fantastic performance during the harshest of weather cycles.
It comes complete with a 20A solar charge controller for using off-grid on a 12V battery system.
This is claimed to be the more simplistic of models to use and works perfectly with all caravans.
Installation should be smooth and straightforward, and there is even a pre-drilled hole with the Z style brackets, designed for added ease.
With a fantastic five-year warranty attached, covering workmanship and material, this model also boasts a 25-year warranty for transferable power output.
Customers of the Eco-Worthy panel have some great feedback on its ability to work well. The installation is said to be quick, and the blue LED display is also favoured by many!
Photonic Universe 100W Solar Panel for Caravans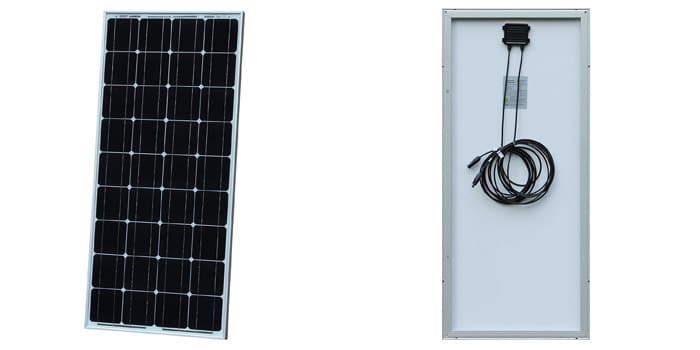 Photonic once again provide a second solar panel offering, but this time it's a rather simple design compared to its more expensive counterpart.
Consisting of just the caravan solar panel and an attached 5 meters of special solar cable, this model will need an additional solar charge controller or regulator to charge your battery.
However, it's still a highly efficient solar panel which works to offer exceptional performance every time.
With sealed aluminium, the frame is waterproof and indeed tough enough to withstand a variety of weather conditions, with the aim of providing you with many years of power.
Customers purchasing this Photonic panel rarely have any complaints with it, believing it does a great job and is a durable and, more importantly, reliable product.
Fitting Solar Panels to Caravan Roof
Investing in any of the solar panels listed above will help you to save money benefitting from the power of the sun. Once you've got a good idea of the actual solar panel you would like to buy though, you need to think about how you might go about fitting solar panels to caravan roof.
However, if you don't want to unexpectedly void your caravan insurance, it's always sensible to check with your insurer whether fitting a solar panel would do that or not. It may even be that it needs to be installed by tradesmen who work for or are approved by the manufacturer of your caravan.
If it does not affect your insurance though and you don't have to go with a specific firm, you are left with two options. You can either install the solar panels yourself or hire a professional solar panel installer to do it for you.
Know that installation will cost you somewhere in the region of £120 and £250 and will take around two to three hours to complete.
If you are going to be brave and want to try it yourself, check out the following link.
Connecting Solar Panels to Caravan Battery
Obviously, the next part of installing your solar panel once it has been fitted to the roof is connecting it to your caravan battery. Unless you are only getting a relatively small solar panel, it's possible that you could overcharge the battery in your caravan, which can obviously damage it. That is why you need to invest in either a regulator or charge controller. This will also prevent the battery from overheating.
You need to make sure that the regulator features a blocking diode which stops the power running back to your solar panels at night time. Even if you are only using a small solar panel and it doesn't require a regulator, you should still invest in a blocking diode. As we recommended with fitting it to the roof, we also recommend that you seek the help of a professional to connect the solar panels up safely to your battery.
If you are still interested in learning how to set up solar panels for caravan, we have found an informative video that shows briefly how to connect your solar panelling to your battery.
Final Thoughts on Solar Panels
Hopefully, this list has proved that solar panels for caravans don't have to be out of reach, price wise! We noticed that a lot of people are searching for portable caravan solar panels, but once you have mounted these solar panels to your roof, there is no reason to have them portable as you will not be carrying them around with you.
With all these products the simpler of solar panels to install, they all show how straightforward obtaining power from an alternative source is, even when travelling around the country and away from the home.
Though some of these models selected are great for unfolding and placing next to your caravan, it's always a good idea to think about permanently installing your chosen caravan solar panel onto your caravan for continued security and, of course, continued solar power!