At Caravan Helper, we love to give gifts as much as, or even more so than, we love to receive them. It's quite likely you are the same.
Maybe you stick to the traditional times of the year to send gifts, for those special occasions. It could be that you prefer to give gifts more off-the-cuff and when they are least expected. Regardless, there is a real joy to giving gifts? Choosing something specifically with the other person in mind.
It doesn't really matter sometimes who it actually is that you are buying for, you just want to see and hear their reaction and no that you did well. Even those that individuals that are difficult to buy for, either because they have just about everything they could want or need, or because they just have strange and unusual tastes. Part of the fun in finding gifts for those people in your life is that it's a challenge.
We understand though that not everyone loves that kind of challenge. One thing's for sure, if you are looking to buy a gift for a caravanner and are trying to think outside the box, we may be able to help.
In the following post, we have put together a great list of gifts that are perfect for the caravanners in your life. Maybe you are a caravanner yourself and it's for your partner or a friend, either way, we hope our list at the very least gives you some inspiration and makes you smile. Some of these gifts range from being quite straight forward and very practical to some more unusual and quirky items. We did say they were perfect for caravanners, didn't we?
Gifts For Caravanners (Some Great Choices)
1. Puckator Ted Smith Ceramic Caravan Salt & Pepper Set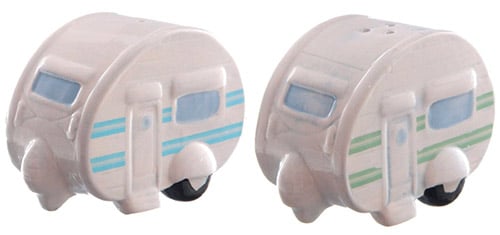 These are really fun. To some people, they may look a little tacky, but we love them. Ted Smith is the in-house designer for Puckator these really cute salt and pepper pots in the shape of traditional caravans. They are made from 100% ceramic and have been given a high gloss glaze as a finish to really bring out the design sharply and vibrantly.
Whether you buy these as an at-home or on the road accessory for their caravan, we don't know many caravanners who wouldn't love these. The only real downside that you need to be aware of is that they can't be used in the microwave or dishwasher. But, really…who is actually putting salt and pepper pots in microwaves and although it means they will have to be washed by hand…it's a small price to pay really for such a cracking set.
2. The Cotton Bag Store Very Important Caravan Stuff XL Laundry/Storage Sack 50cm x 75cm


This is what we meant by fun and practical. From the Cotton Bag Store, we saw this and knew we had to feature it in this post. It's basically a 100% natural cotton storage sack that can be used for storing things or as a laundry bag, depending on what you need it for most.
At 50cm by 75cm it has a reasonable volume and with drawstrings on either side is very easy to open and close as necessary. It is machine-washable and you can iron it on the reverse.
However, as great as those qualities and features are, one of the main reasons why we highlighted it is the fact that on the front it has the words 'Very Important Caravan Stuff' with a silhouette image of a caravan. We also thought it was kind of funny that in the title of the listing on a certain online retailer where this is available that they felt it necessary to state that it was 'supplied empty'.
Needless to say, when you go caravanning you can never have enough bags and storage solutions. This is a nice colourful one with undeniably charming silliness.
3. StarGifts Direct Funny Caravanner's Delight Tea Towel 100% Cotton


If you have the chance, we guarantee you will enjoy reading the little poem that features on our next item, this funny and practical tea towel. The hilarious bit of wordplay all about caravanning is penned by Helen Piddock-Jones and very much encapsulates the upsides and downsides of touring.
Tea towels are one of those versatile items that, although they are designed to dry dishes, are used in various ways – particularly when you are in the middle of a Cheshire caravan park and need a dry cloth for something. Made from 100% cotton, it is machine washable and measures at approximately 47cm by 76cm. It really ticks all the boxes and tickles us and along with the hilarious poem, there is also a nicely drawn image of a caravan and camping site and a lot of the things that all caravanners are familiar with.
4. Smiley Signs Get A Life…Get A Caravan Wall/Door Sign


Our next item is also extremely funny, though a lot less practical than the other gifts featured before it. Basically, it's a wall or door sign that has the cheeky statement 'Get A Life…Get A Caravan'. The sign measures 21cm by 10cm and is made from PVC and come with its own yellow cord for hanging it attached.
5. Funky NE Ltd Evolution of a Caravan Owner Baseball T-Shirt 100% Cotton


Again, another funny item, but this one is incredibly practical because it's a t-shirt. The tee is emblazoned with one of those ' evolutions of man' style images, but instead of showing a gradual change from ape to man, it shoes ape to man and caravan. It's made from 100% cotton and machine washable.
There are four different colours avail and it comes in many sizes, so it shouldn't be too hard finding the right combination in tones and fit.
There you have it folks. We know it was not the most expansive or exhaustive gift, but we do hope it has given you some ideas of what you could get as a gift for the caravanner in your life. Even if you don't pick one of the items we have listed above, you now have a good idea of what is out there.