There are lots of great gifts you can treat yourself or someone you love if caravans are your thing. There are caravan mugs and caravan stickers, which we've discussed in previous posts. In this post, therefore, we want to discuss another gift that shows a deep love for caravanning but is also extremely practical as well. As all the products we are going to discuss are funny caravan t-shirts.
T-shirts are one piece of clothing that everyone seems to wear, young or old, male or female. They are great as a casual option and work well with a pair of jeans or even a skirt. We don't think you can really go wrong when you buy t-shirts as gifts.
Novelty t-shirts are always a great gift, especially for people who don't take themselves too seriously. Something we could say is true of many caravanners. You kinda have to have a good sense of humour, don't you? Given the things that can often go wrong when you try to plan a beautiful and memorable holiday in the countryside or at the seaside. Especially when factors outside of your control like the weather etc., don't let things go quite according to plan.
So, if you love a good pun or slogan on a t-shirt (or know someone who does) and like the idea of buying women's and men's caravan t-shirts for you and others in your life, then read on as we highlight some of the best and funniest options available on the market right now.
Recommended Caravan T Shirts
1. If The Caravan is Rockin 

The first in our list is the rather cheeky, but hilarious t-shirt with the slogan "If the caravan's rocking don't come knockin'" printed across the front. We all know what suggests, don't we? If you are unsure, we're not going to fill in the gaps. What else can we say about this t-shirt? It's made from 97% cotton with a little polyester, so has a very soft and comforting feel. It has been designed with a traditional crew collar with short sleeves and is available in 11 different colours and 5 different sizes.
2. What Happens In The Caravan Stays In The Caravan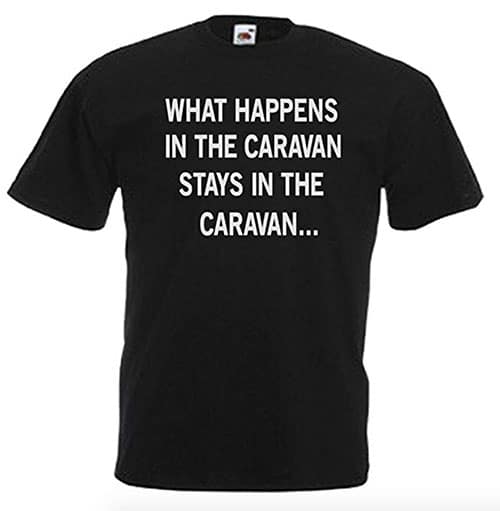 Another from shaniztoons, and another funny if a little rude and suggestive t-shirt, this next one has the chuckle-worthy "What Happens In The Caravan Stays In The Caravan…" printed on the front. Like the t-shirt above, this is made from a 97% cotton and 3% polyester mix and has a very soft and appealing feel to it. Although it is available in 5 different sizes, it is at present only available in black. We think this is perfect for any caravanning gent or gal in your life who has a feisty attitude and a good sense of humour. Might not be one that you'd buy for your nan, though…
3. Weekend Forecast Caravanning With A Chance of Drinking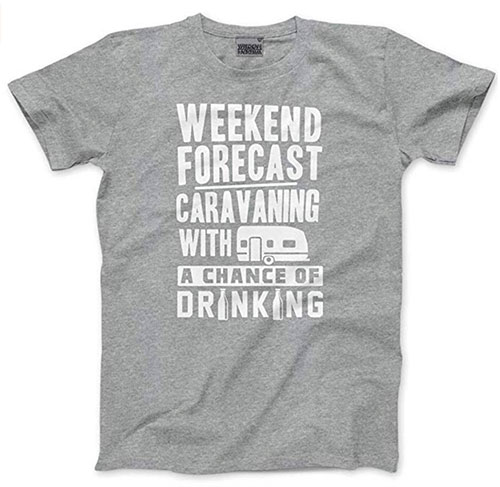 Next, from HotScamp, we have another funny, though less suggestive and rude slogan t-shirt. Made from cotton, with a high-quality look and feel, this features the comical slogan "Weekend Forecast Caravanning with a Chance of Drinking" We love the nice details like the caravan image and the bottles replacing the I's in the word drinking. There are a lot of options available for this particular t-shirt, with the choice of 10 colours and 7 different sizes, so it shouldn't be too hard finding one that will suit you or the person you are buying it for.
4. Gin Lovers Happy Camper Life T-Shirt

What is it about the good old fashioned and traditional British caravan holiday and drinking? Not that we are not a fan ourselves, but seriously! Joking aside, this is a fun t-shirt to get anyone who loves caravanning and is a fan of tasty British gin. Available in two different fit styles, men and women, as well as 5 different colours and 6 different sizes, this particular t-shirt is made from a nice blend of cotton and polyester (the percentage and ratio is different depending on the colour you choose) and features some bunting and the slogan "It's always Gin O'clock in the Van" with a picture of a retro caravan image below, with lots of flowers decorating it.
5. Motorhome And Caravan: I'm a Simple Woman: Camper Flip Flops Dog Paw T-Shirt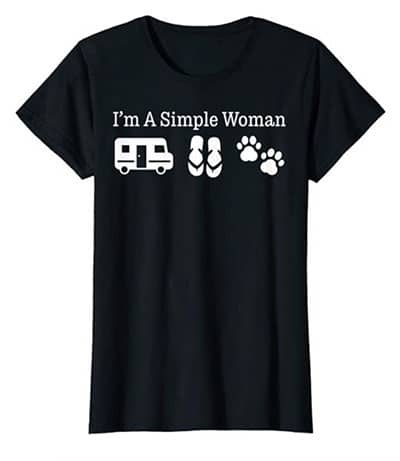 For the lady in your life who loves the simple things in life, such as caravanning and walking her dog, this t-shirt is perfect. Along with the cute and to the point slogan of "I'm a Simple Woman" statement, it includes fun images of a campervan-style tourer, flip-flops, and dog paws. As is the case with all the t-shirts we've featured on this page, it is made from a high-quality blend of cotton and polyester (the ratio of which depends on the colour you choose) Obviously, it is designed for women so there is only one style of fit to choose from, but there are 5 very smart colours to choose from and 6 sizes, so that most people won't miss out.
6. HotScamp Eat Sleep Caravan Men's T-Shirt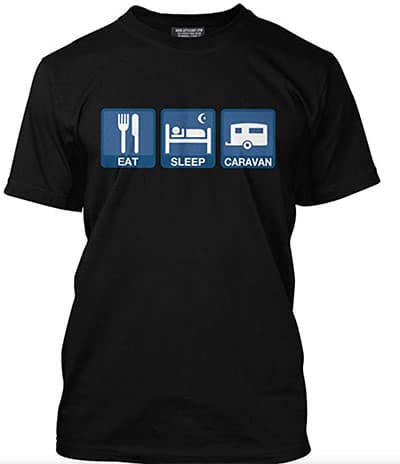 Finally, on our list, last but not least we have this stylish men's caravan t-shirt. With the slogan "Eat, Sleep, Caravan" and pictures of cutlery, a man on a bed sleeping and a caravan above the words, this is a very subtle and smart way of showing your love of tourers. It is made from high-quality cotton for a great fit and is available in 5 different sizes. The one downside we felt with this shirt was that it is only available in black and therefore it would be nice if you had some choices. Besides that, though, this is a great buy.
So, next time you are struggling to buy a gift for a caravan lover in your life that's both fun and practical, remember this guide to some of the funniest and greatest caravan t-shirts available. You will not be disappointed.