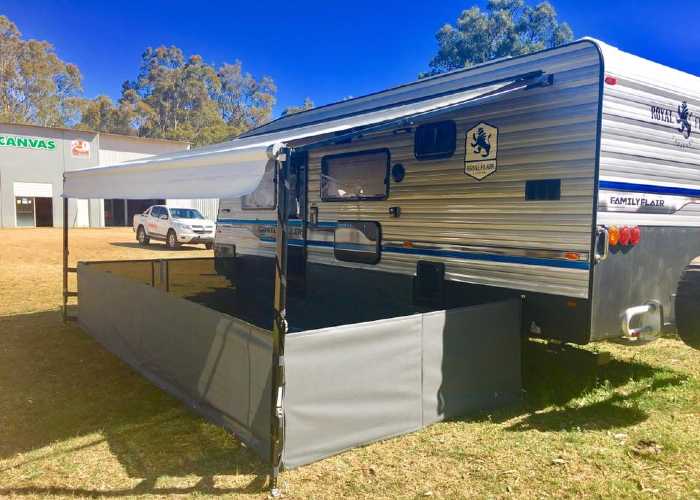 If you enjoy taking your four-legged friend with you when caravanning, you'll no doubt be frequenting those sites which are dog-friendly. You'll also more than likely be aware of caravanning etiquette that advises when you're on-site with your dog, you keep them under control.
However, this doesn't just mean making sure you keep them on a lead around the site, but also providing a solution that ensures they don't roam freely when you're relaxing in your caravan and want to leave the door open.
It's always worth remembering that not all neighbouring caravanners are going to love your dog as much as you do! Thus, it's up to you as both a responsible dog owner and indeed a decent caravanner to ensure your canine companion doesn't annoy others at any point of your stay.
In addition to being a good caravan neighbour, you'll now find that more site owners are toughening up on their rules when it comes to customers accompanying dogs. Therefore at many sites now, you'll have no choice but to make immediate arrangements for your dog when outside of the van.
For many years, the basic dog stake was the most common of ways to keep your dog in the near vicinity. But, as many of us seem to recall here at Caravan Helper, these stakes weren't always fool proof – or rather dog proof!
Many a time we watched as the dog would tangle themselves up so bad, they had to be released. Worst still, those smarter and more determined of dogs were able to break free of such flimsy constraints, making a quick run for freedom.
Yet, having your dog in a safe, secure and indeed happier enclosure all-around isn't only good for your dog's sanity, but also works wonders for your own peace of mind. Therefore, specific caravan dog enclosures provide the perfect solution each time you pitch up to a caravanning site.
Constructing Your Own Caravan Dog Enclosure
If you're looking for safe ideas to implement as ideal solutions to keep your dog in a secure enclosure, you could try:
Portable Play Pens
Available as wire pens or fabric tent-like pens, these are perhaps more suitable for smaller dogs as they offer just enough room for them to stretch their legs in while preventing them from being able to jump over the sides. Cheap to purchase and easy to assemble, these can be placed on the grass outside the caravan.
Dog Crates
Though these are preferable for many when travelling, dog crates could offer a temporary outdoor solution to keep your dog in for a short time at least. They may be more suitable as an enclosure for say half an hour for little dogs, but bigger dogs will struggle here. Just make sure that your dog is never kept in a dog crate for long periods.
Temporary Fences
If you don't mind taking some netting and a couple of metal or wooden stakes with you every time you travel in the van, then this may be a good solution. Many caravanners like this idea, as it allows you to determine the area you can offer your dog, plus your dog can see through the netting.
Windbreaks
These are perhaps an ideal solution for all concerned and once you've purchased them you can not only use them as an enclosure for your dog but then take them to the beach with you afterward!
Thought this may mean an initial layout, windbreaks are a fantastic way to secure your dog. They can also offer your dog more freedom as you can arrange them to your liking and use as many as you prefer.
Using Jormax Windbreaks as Caravan Dog Enclosures
If the idea of using a windbreaker as a dog enclosure appeals to you, one of the best brands that we recommend here is Kampa.
Amongst some of the best enclosure solutions, though they may initially seem a more significant outlay price-wise, what they offer in return is ongoing peace of mind and exceptional freedom for your dog to roam safely. They're also bound to please both the site owners and other caravanners alike!
Kampa Rally Enclosure Windbreak
This Kampa Rally is the model that has caught our eye here at Caravan Helper. Simple to attach to your awning or around the caravan itself, this, like all the Kampa windbreak/pet enclosure models, has a standard sizing of 1.25 metres, which is four feet in height.
These models also ensure there are no trip hazards as they're designed to be used with guy ropes. Coming complete with robust aluminium poles that have a hardened tip, they also provide the necessary top bracing bars – and all provide their own waterproof bag to finish.
This model has received some fantastic reviews with many complimenting how sturdy the entire enclosure remains due to its top and bottom rails. Better still, it also looks fabulous when it's set up. Furthermore, because it complements many an awning and indeed caravan in its neutral colours, it means you don't have to put up with unsightly mesh or poles right outside of your van ever again.
Final Thoughts on Caravan Dog Enclosures
We discussed in a previous article the importance of being a responsible dog owner every time you pitch up on any site. We've also briefly touched upon caravan etiquette when it comes to dog ownership.
The idea here is not to preach, instead ensure that everyone on the site, as well as yourself, gets to enjoy their time away from home.
It's a subject which we believe needs to be addressed by all dog owners. Even if a site claims to be entirely dog-friendly, you'll rarely be able to simply allow your dog to just roam around of its own free will.
As well as having to make arrangements for where your dog can safely move around on-site, you'll also need to be mindful not just of those who don't like dogs, but most importantly any children present on site.
Therefore, to ensure a happy holiday all round, as well as keeping others and of course your dog safe and secure throughout your break, why not see what a good caravan dog enclosure could do for you the next time you head out to your pitch?