For many of us caravanners, the idea of getting away from it all is what we first got into caravanning for! This means being able to pitch up to those sites that can offer the ultimate in peace and relaxation.
A break from the toil and grind of everyday living, the concept of an adults only caravan site is, therefore, the dream goal! A slice of heaven with a child-free policy, these sites are vastly growing in popularity not just because of their 18 years plus entry but also their ability to offer the most peaceful and idyllic of settings with beneficial coastal locations to match.
Regardless of whether you are parents or grandparents, there are just some weeks you want to be able to enjoy the immediate environment and facilities without having to encounter the younger generation. This is especially so when it comes to those plentiful of school holidays, with the average school-aged child getting around 13 weeks of holiday each school year.
Fear not, for here are five adult only caravan sites available to visit in Norfolk.
Our Choices
Address: Erpingham, Norfolk
Deer's Mead is an adult only caravan and camping park based just outside of the small village of Erpingham.
Situated just six miles off the coast, it is within easy reach of the Norfolk Broads and Erpingham. Better still, this park received significant refurbishment, reopening in 2014.
Well known for its rural and most tranquil of characteristics, the company believe this is sophisticated touring for adults!
The park combines a relaxing environment for all adults to enjoy, alongside having the ability to access all the most recent of upgrades. Here, you can utilise fully serviced super pitches and take advantage of:
Free Wi-Fi
A choice of larger pitch sizes of 10m by 10m on grass or hard standing
A supply of drinking water and adequate waste disposal drains
A predominately level and sheltered park
A TV aerial socket
16 Amp Electricity supply
This is an undeniably stunning rural place which has the benefit of being a smaller park, offering just 35 pitches in total. Open from March to October, it's dog-friendly and even has locked overnight gates to ensure your safety.
Furthermore, once you've experienced this five-star park and its nearby quieter roads and footpaths, you can then head out to access many more places of interest. Here you are near:
Plentiful local North Norfolk beaches
An array of Farmers markets
Seal trips
Woodland walks
National Trust Parks
Barleywood Shepherd's Hut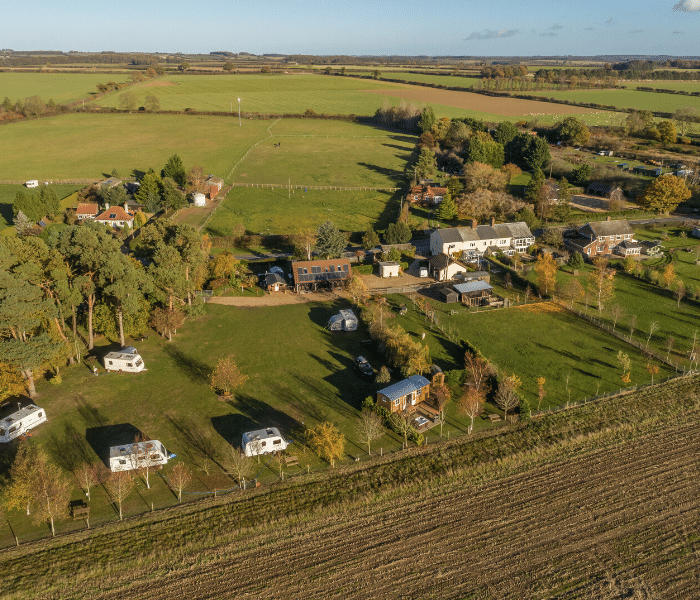 Address: Fakenham, Norfolk
Barleywood Shepherd's Hut is an adult and members-only caravan club site situated just near the North Norfolk coast.
Located within 43 splendid miles of unspoiled and breath-taking beaches, this is an immaculate site which is open all year round.
Allowing all caravanners the option to bring their four-legged pets with them, there are a wide selection of dog walks available nearby. Better still it's set to an acre backdrop of secluded meadow which even has its own wooded area.
Ideal for those looking for a mostly peaceful and quiet stay, there is only five grass touring pitches in total here, with hard standing available for winter. However, this assures throughout one of the most tranquil stays possible!
Included here are:
Electric hook-ups
Drinking water
C. Disposal
A luxury 24ft shepherds hut (with all-inclusive facilities available as standard)
Access to a fishing site
Internet access
A Shop
Here you are also nearby for places such as:
Markets
Restaurants
Plentiful Pubs
Halls
National Trust places of interests
The Hawk and Owl Trust
Sandringham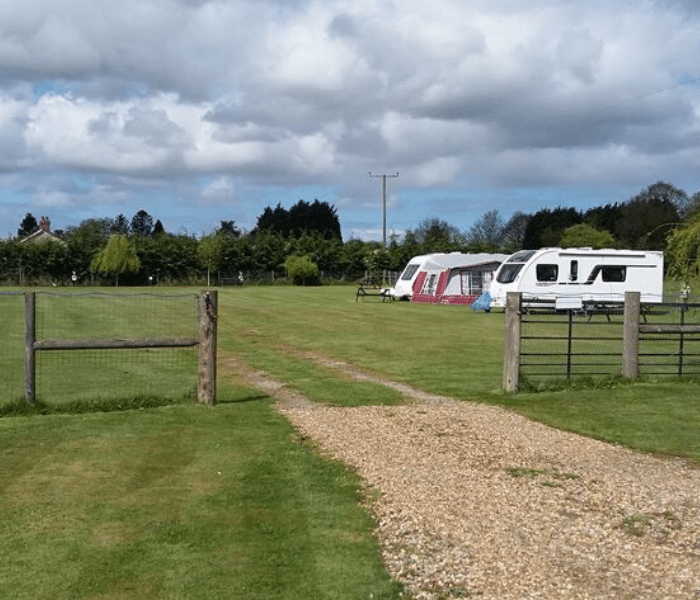 Address: Fakenham, Norfolk
Creak Meadows is an adult only base set within striking distance of the North Norfolk Coast. This is a member only caravan site.
Entirely surrounded by the countryside, this is also just a ten-minute drive away from the market town of Burnham and all its surrounding activities.
Open all year round, this site also allows caravanners to bring their pets with them.
Ideal for those who love the idea of time spent in peace and quiet, there are five fantastic but straightforward grassy pitches to choose from here.
On this site you can access:
Electricity
Internet access
C. Disposal
Drinking water
Golf and fishing activities
A Shop
Laundry, toilet and shower facilities
Furthermore, when venturing out of the site, you can easily access places such as:
Fakenham Racecourse
Burnham Market and shops
Fishing in South Creake
Sailing at Brancaster
Brancaster Beach
Norfolk Broads
Various halls and Sandringham Estate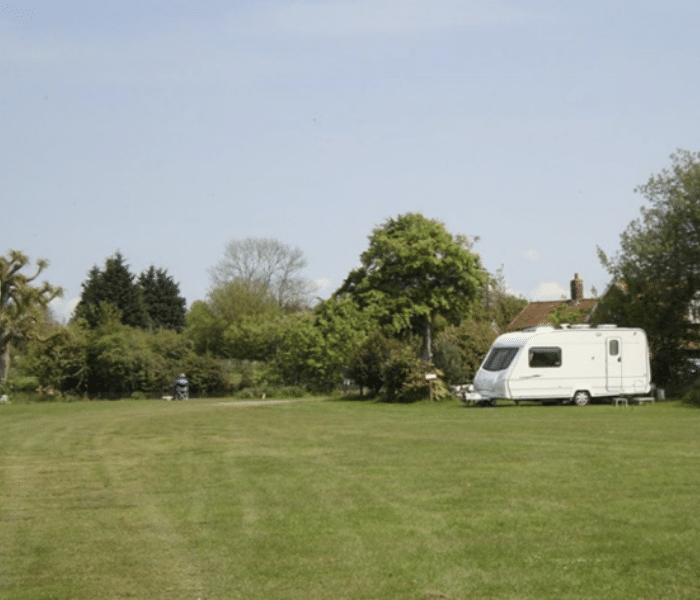 Address: Hingham, Norfolk
Rectory Farm is a caravan, camping and fishing site based in Hingham. This is an adult only site which perfectly accommodates couples all throughout twelve months of the year.
A site designed to offer relief from the hustle and bustle of everyday life, this site provides the ultimate in relaxation.
Set in a fantastic eight-plus acre of grassland and with fishing lakes as well, this is ideal for those looking for peace!
With pets allowed on site here, you can also access various footpaths around the site, with the very helpful owners lending you OS maps if needed! You can also opt to borrow a couple of the free bikes available on the site or choose to bring your own to further explore the beauty of Norfolk.
With both electric and non-electric grassy pitches to select from, there are many facilities available here, including:
A heated facility block including showers, sinks, toilets and washing up facilities, freezers, fridges, microwaves, tumble dryers and irons!
Two well-stocked fishing lakes
Internet access
Drinking water
C. Disposal
Fires allowed
As well as these great benefits there is a local pub nearby for you to visit throughout your stay. Also, you can take advantage of:
The marketplace of Hingham
Wymondham
Local golf clubs
Local pool hires
Sports and leisure centres
Bars
Address: Shipdham, Norfolk
Five miles south of Dereham, Spring Farm campsite is an adult only site which is designed to offer a quieter and more eco-friendly of places for all adults looking for the simple life when caravanning!
This is a nature lover's paradise with an abundance of birdsong to greet you every morning, the incredible sound of hooting owls to send you off to sleep each night, and a wealth of local wildlife to appreciate throughout your stay.
Best of all, this is the area of Norfolk where you can take advantage of minimal light pollution. Therefore you can enjoy the night sky and star gaze to your heart's content here on those clearer of nights.
Open from March to October of every year, the amount of pitches available here is vast and includes six non-electric grassy pitches, four electric grassy pitches, a non-electric hardstanding pitch, and an electric hardstanding pitch.
Here you can also access a variety of features for this site including:
Drinking water
C Disposals
Free fishing facilities
Fires allowed
With Dereham and Watton town just a few miles away, plentiful leisure facilities are accessible here. There are also miles of bridleways and country lanes on your doorstep.
Furthermore, just a few short steps outside of the campsite will bring you face to face with hares and roe deer.
If you are after something a bit different, why not leave your caravan at home and rent somewhere unique.