Airbnb is an exciting place to find, often, great bargains on places to stay just about anywhere around the world. Among the many types of properties and spare rooms you can rent through Airbnb, there are a multitude of caravans. In the following post we dive in and look at 51 of the best.
1. Self-Contained French School Bus, Pershore, Gt Comberton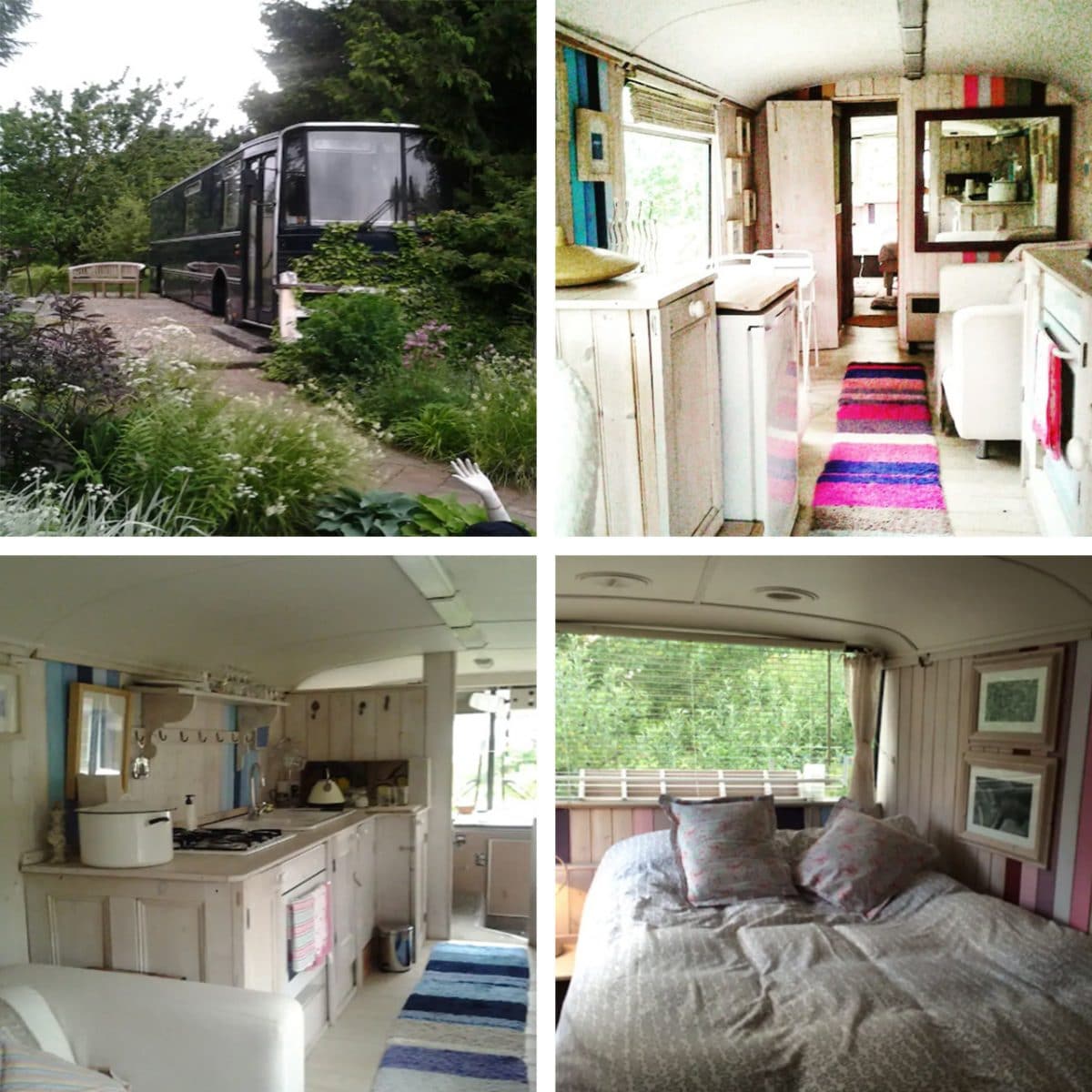 Located within a privately-owned fruit orchard, this old French School Bus has been converted into a 2 guest, 1 bedroom and 1-bathroom caravan-style accommodation. It's perfect for exploring the local area in The Cotswolds and features the mod-cons you'd expect, while feeling a lot bigger than you'd think.
2. Steam Rocket, Williton, Somerset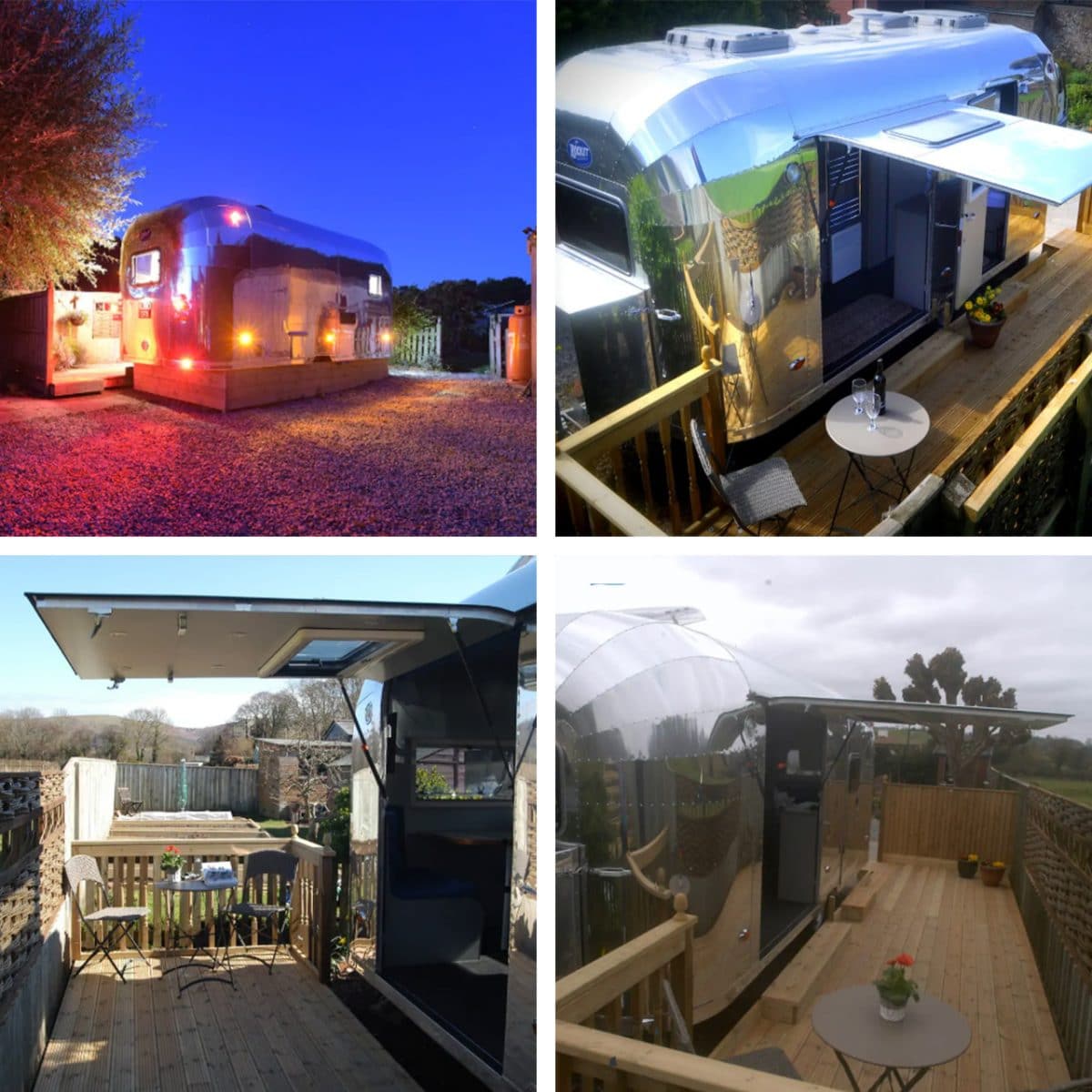 Next is the so-called Steam Rocket, which is a very shiny aluminium, retro-style caravan that benefits from a unique sidewall that lifts up and outwards to make the space feel more open. This caravan is designed to sleep two comfortably in one bedroom and has a bathroom too. There's a heater, a shower, wash basin and ceramic toilet.
3. Gloria The Vintage Caravan, Isle of Wight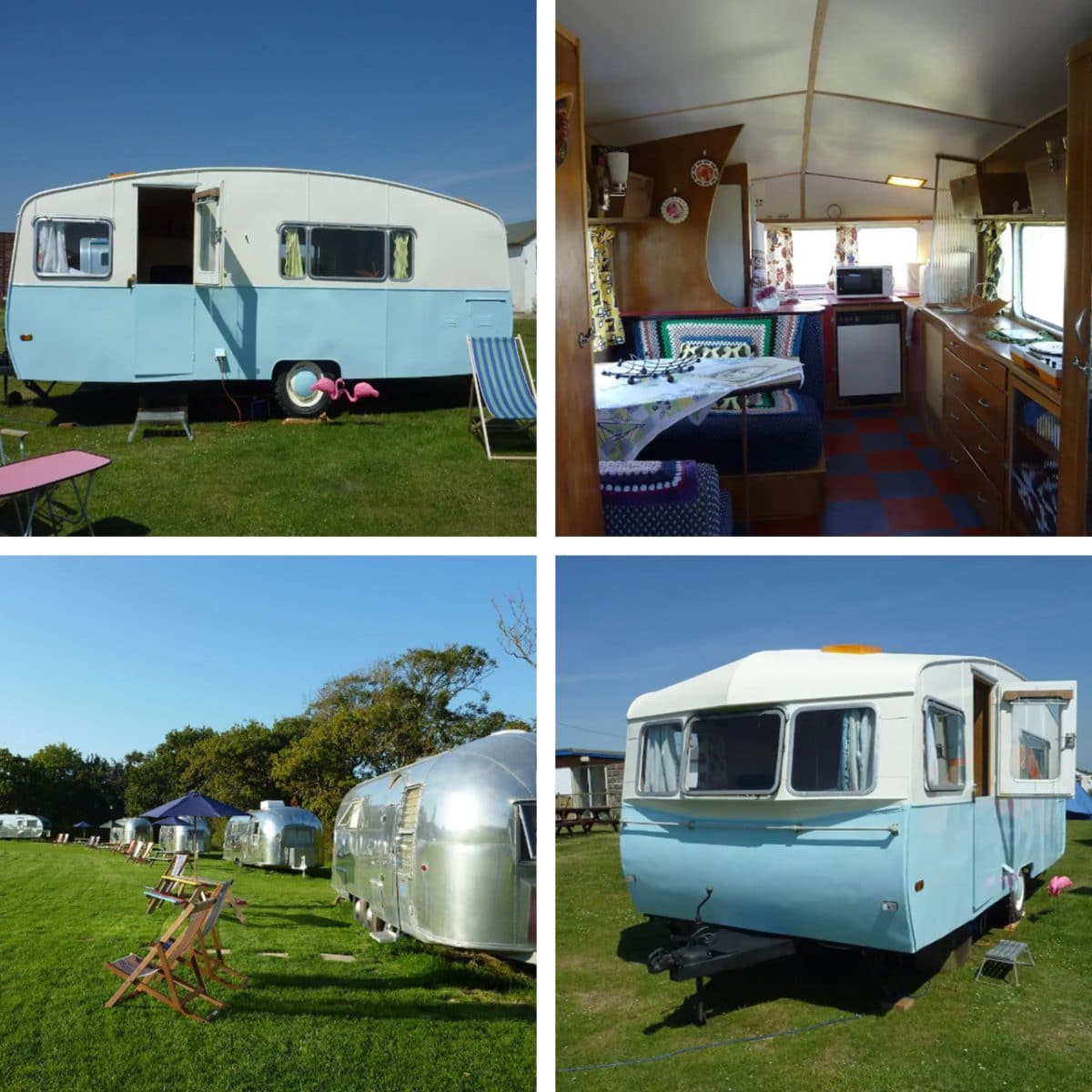 Gloria is a rare throwback treat set on an Airstream trailer site in among the beautiful countryside of the Isle of Wight. What Gloria lacks in modern amenities, she makes up for in charm and a very affordable rate. It may only have a half-bath, but it can comfortably fit two people and there's two beds too.
4. Luxury New Caravan 2-Acres Private Garden, Dumfries and Galloway
A slightly bigger offering, this is a 2016 caravan with full electrics, heating and water. It has a total of 6 beds, 1 bedroom, a bathroom and enough space for 4 guests. It has a lot of seating areas and space to move around so you'll never feel too cramped.
5. Land Rover Hot Tub & Bluebird Penthouse, High Bickington, Devon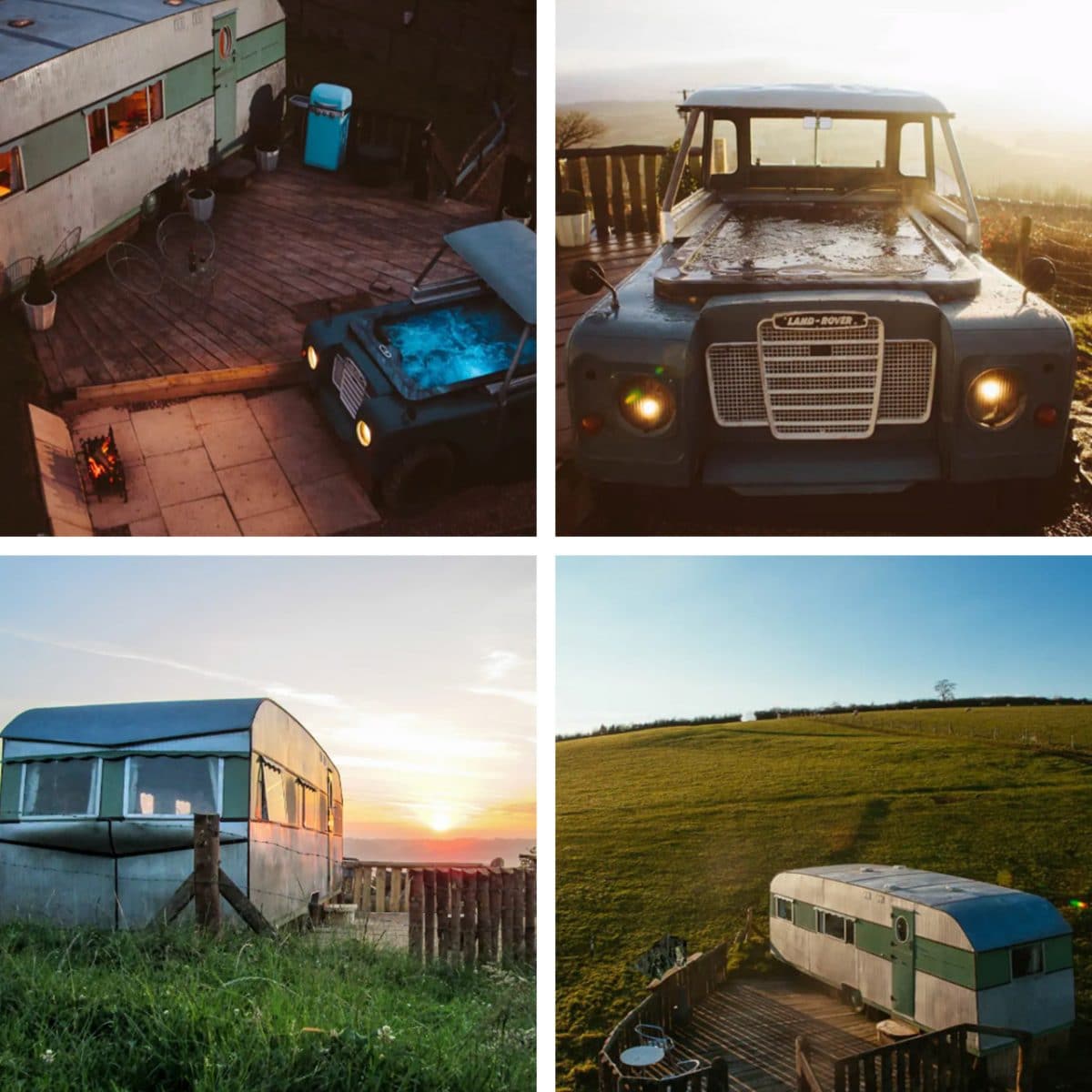 How about something a little luxurious and quirky? Ever been in a hot tub that's also a Land Rover. At this Bluebird Penthouse camper, you can. It has delightful 1950's style interior and space enough for two. There's a double bed, BBQ, outdoor seating, central heating, shower, bath and just too much to mention.
6. Cosy Vintage American Caravan, Churchinford, Somerset
An imported vintage Airfloat from America, this is a 1957 vintage camper that has been restored very tastefully restored. It's very big and can accommodate 6 guests in total. This is in a private garden with a dining table and fire pit for BBQs. There's a large bedroom, and a sofa bed and two bathrooms.
7. Glamping, Willows Road, Borneskitaig, Skye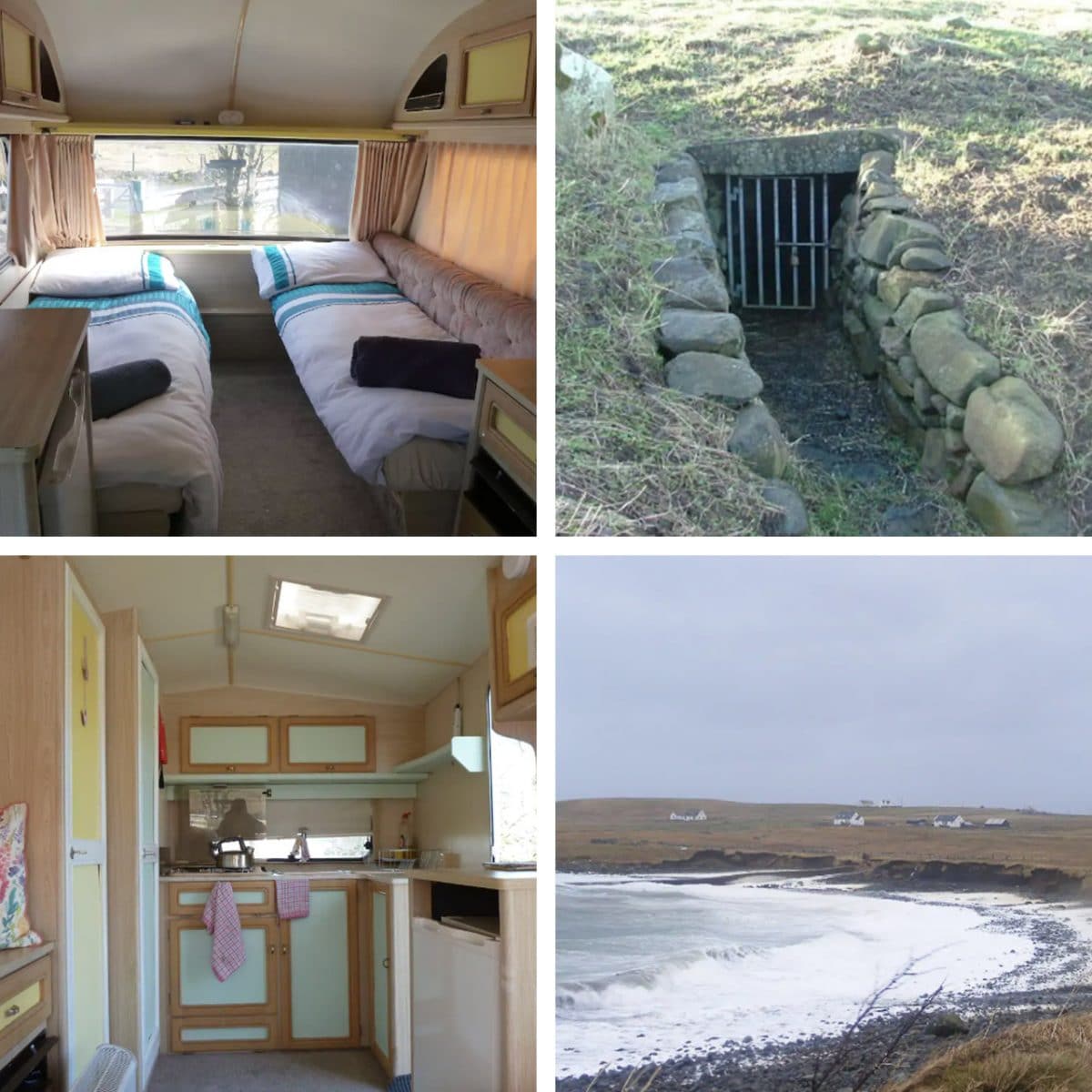 Another back to basics offering, this glamping caravan offers very limited leg room and height, but it still has enough room for two people and two beds. The toilet and shower facilities are provided in the owner's home. Well-located to give you access to the lovely Northern Skye countryside.
8. Tin Can Cottage, Coombe Farm, Goodleigh, Devon
The Tin Can Cottage is a Tradewind Airstream caravan from 1959 that's been restored and redecorated impeccably. Best suited to a couple or a couple with a small child in tow, it's got 1 bathroom, 2 beds and a plethora of modern conveniences. Although self-catering, the hosts are on hand if you need anything.
9. Bramble – The Retro Caravan, Penrith
The Bramble is a retro caravan from the 70s that has been refurbished and features 1 double bed and enough room for 2. It has a kitchen and the very basic heating and other items like towels etc. Although it's not full of features, it is quaint, relaxing and in a nice part of Penrith.
10. Caravan at the Edge of the World, Kilmuir, Skye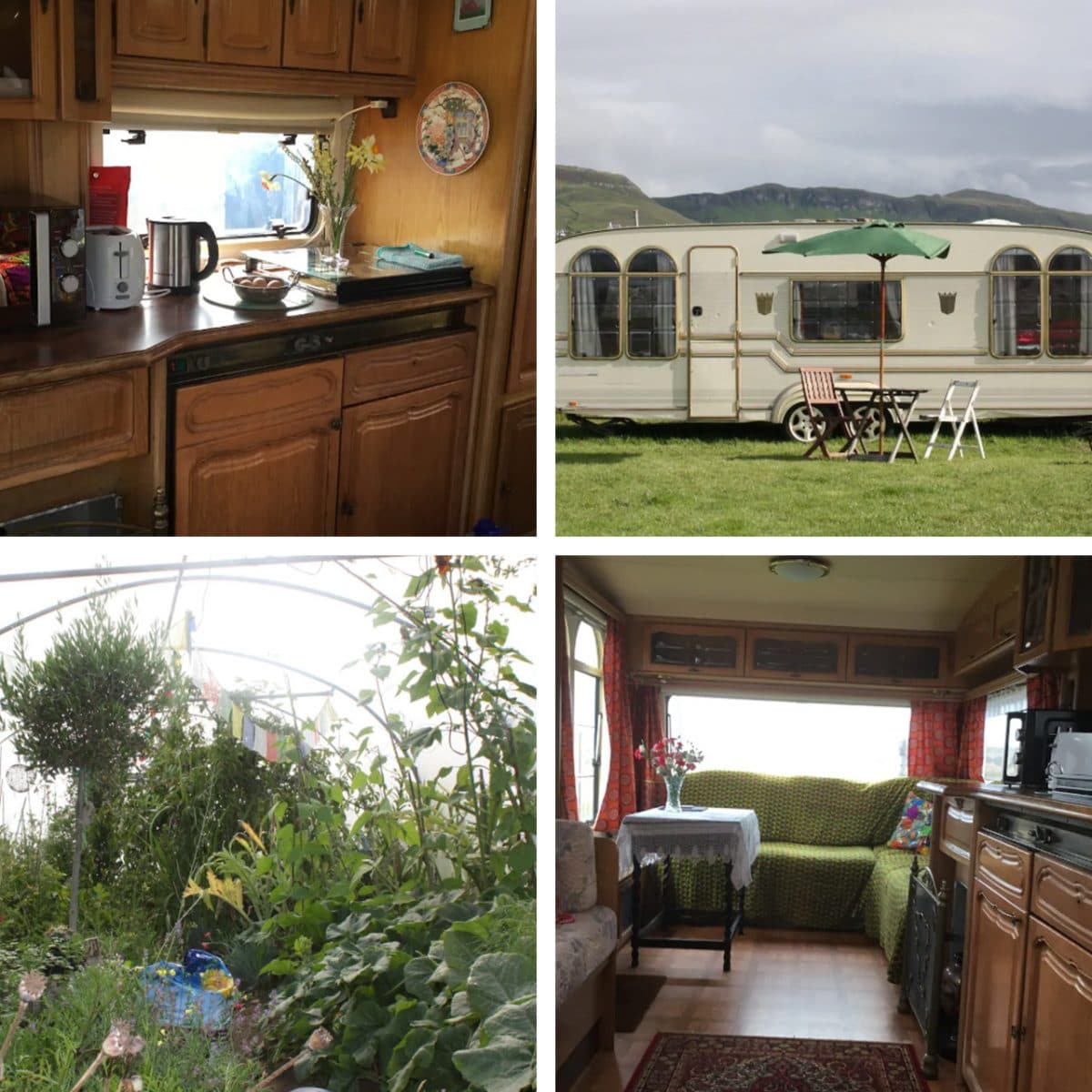 The owner of the quirky Caravan at the Edge of the World wasn't lying with such a dramatic title. It's located in Kilmuir on the northern tip of the idyllic and remote Isle of Skye. The caravan itself is very traditional traveller's style and therefore does not have a toilet on the inside There are two beds though and space for 4.
11. The Caravan Cwtch, Swansea
Why not stay on a Welsh sheep farm at an eco-friendly campsite in the Caravan Cwtch. This is an upcycled caravan that's been converted into a perfectly cosy space with a nice double bed and warming wood burning stove. What really makes this stand out is the tranquil and jaw-dropping location.
12. Glamping with Llamas in Melisa Christina, Wisbech, Cambridgeshire
Glamping with Llamas in the south of England, surely not! Well, yes at Melisa Christina, a 2-berth caravan that's sat overlooking llamas' paddocks. You get the benefit of a double bed fit for 2 and with lots of excellent features, it's a great place to have a holiday.
13. Cosy Caravan, Staffordshire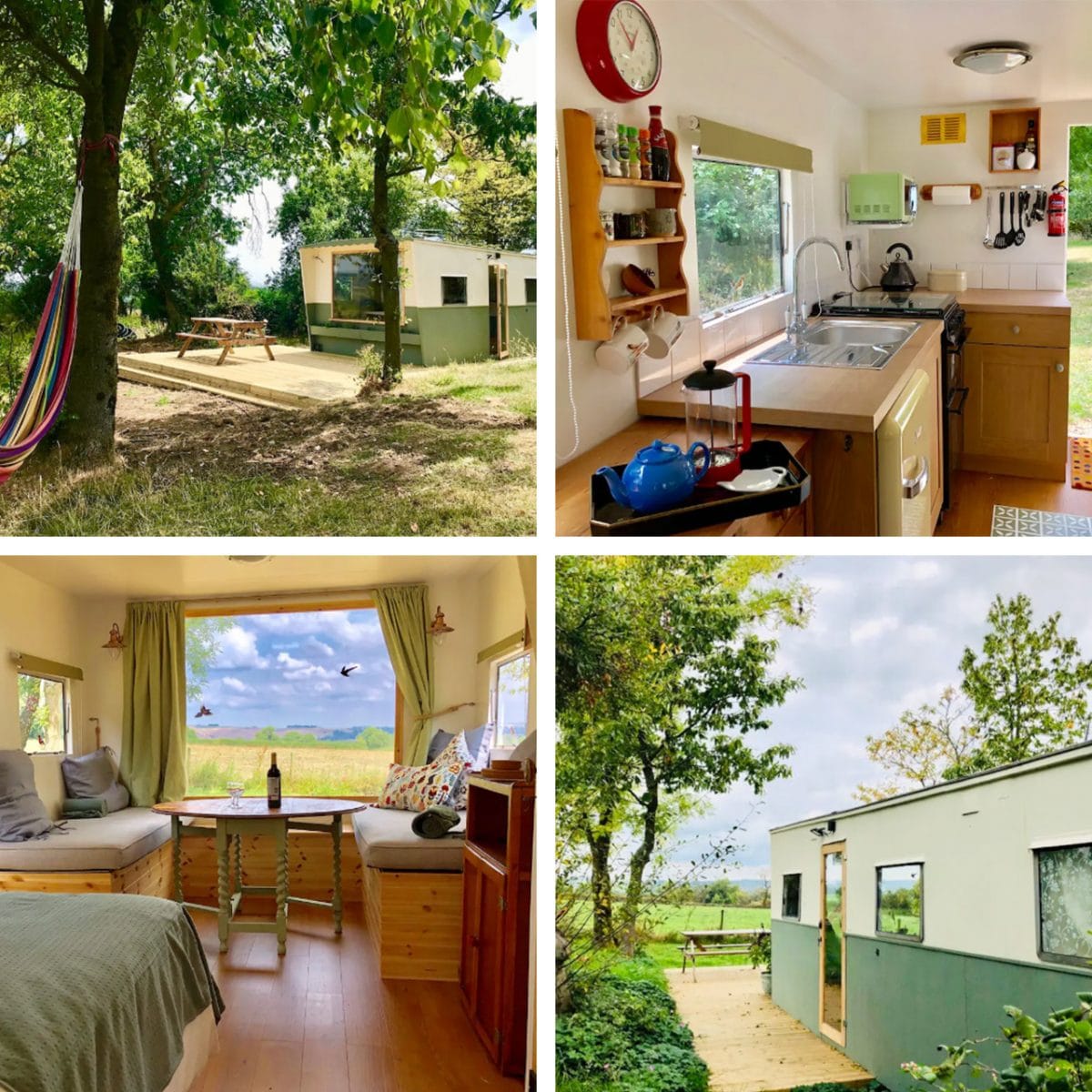 The cosy caravan in question here is a loving upcycled 1961 Bluebird Senator. It's been transformed into a Scandinavian-style holiday retreat with some amazing views of the Peak District. Designed for a total of 4 guests, there's three beds and a bathroom. Ideal for a small family or a romantic getaway.
14. The Quantock Vintage Caravan, Taunton, Somerset
This is an old one, with an authentic 1930s look and feel to the Quantock Vintage Caravan. Bedding is in the form of a small, but comfortable double and although there's no fridge, you do get a cool bag and ice packs and a 2-ring hob. Set in a peaceful and pristine part of Taunton, Somerset.
15. Airstream Motorhome, Black Torrington, Devon
We've highlighted another big one in the form of this beautiful Airstream Motorhome in Black Torrington deep within Devon. It features a total of 3 beds and has been designed to offer enough space for 6. With a stunning 1950s-style interior, hot water, washing and cooking facilities, this is a great getaway caravan.
16. Wee Caravan, Kildonan, Isle of Arran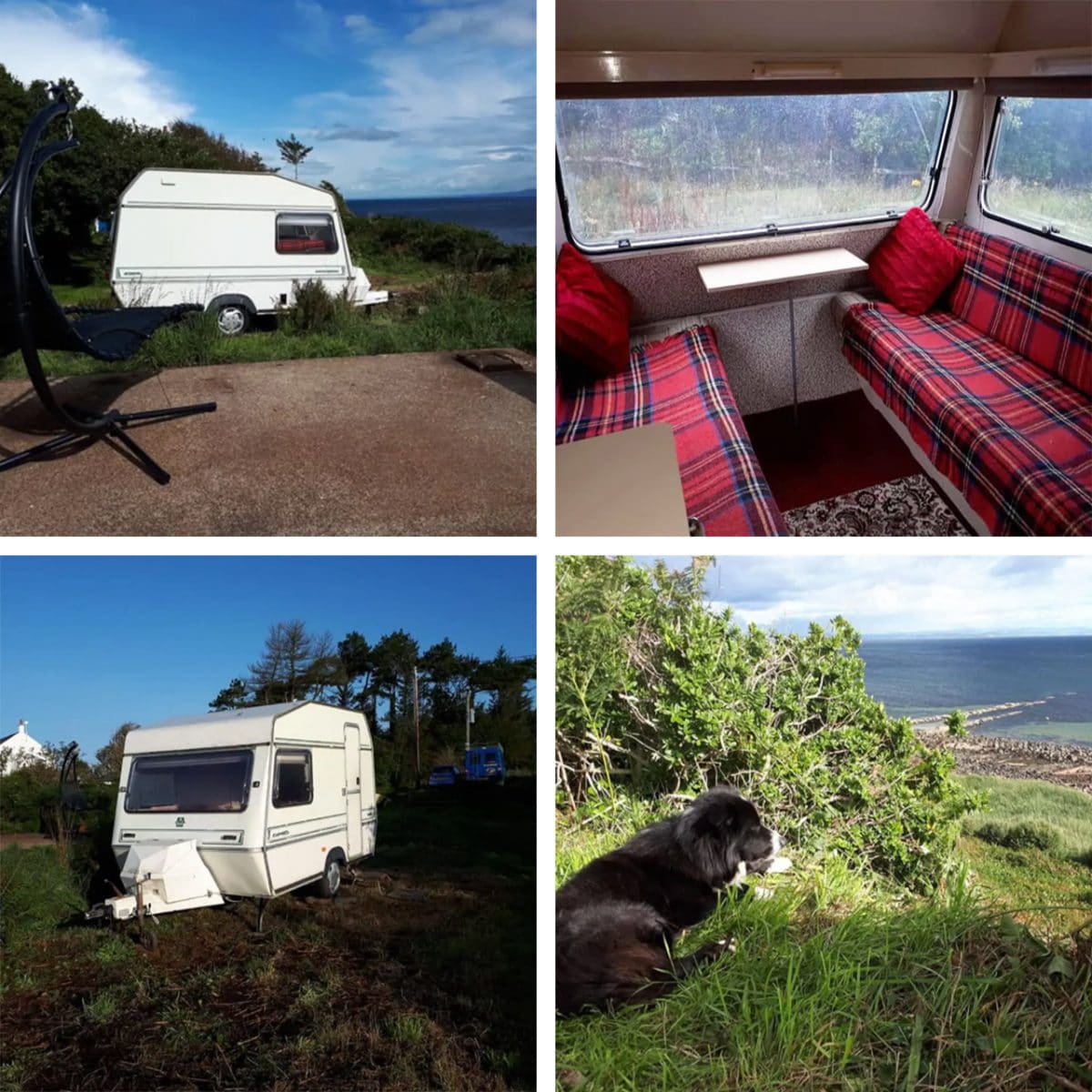 The Wee Caravan is an old-fashioned model from 1984 located in the stunning Kildonan on the Isle of Arran. Although there's no shower, you can access one at the local campsite. With just space for two people, this is ideal for a romantic getaway when you want to get back to basics in a beautiful place.
17. Glamping with Llamas in Nayeli, Wisbech, Cambridgeshire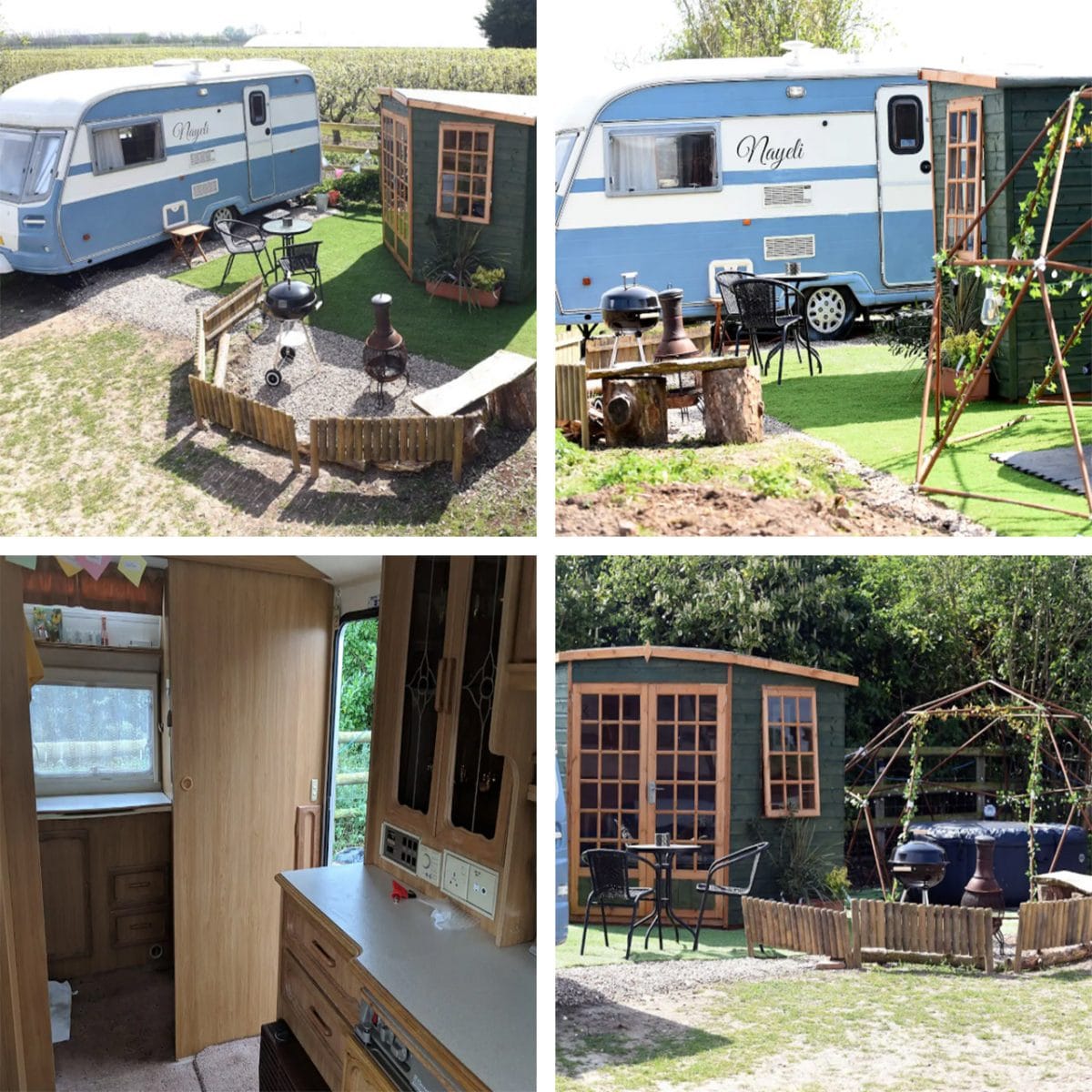 Another Glamping with Llamas caravan option is the Nayeli. The name when translated from Peruvian means 'I Love You' and a lot of love has gone into its design. It's a 2-berth camper with a kitchenette, bathroom facilities, central heating and a double bed. There's even a hot tub you can use. And Llamas.
18. Poppy Airstream, Mithian Downs, Cornwall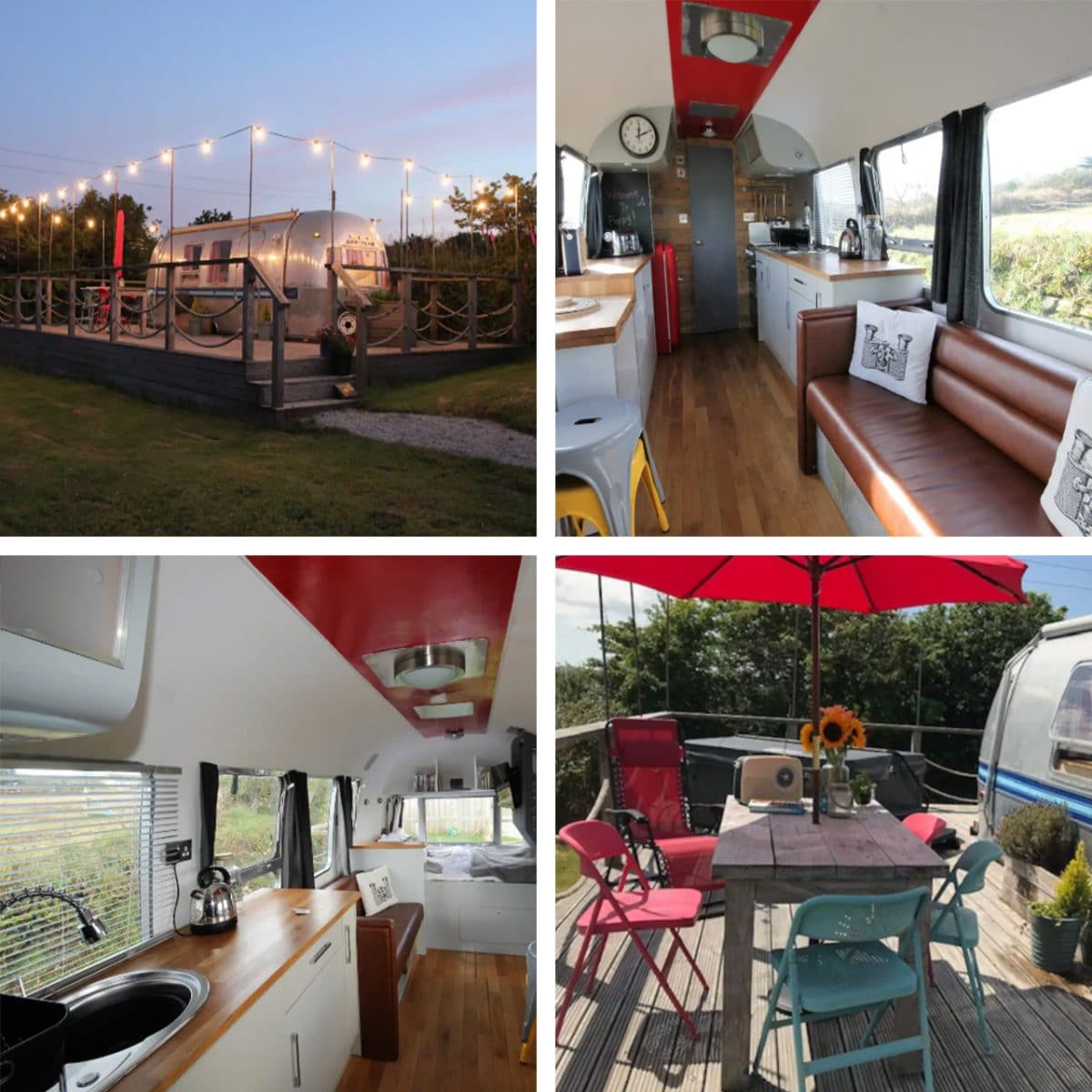 An Airstream situated in the heart of some amazing Cornish countryside is the Poppy Airstream in Mithian Downs. It comes with a hot tub you can use, a double bed and lots of great amenities including a kitchen, seating, dining area and flushing toilets. Having unadulterated access to all that beautiful scenery and landscape makes it truly special.
19. Glamping on a Scottish Farm, Highlands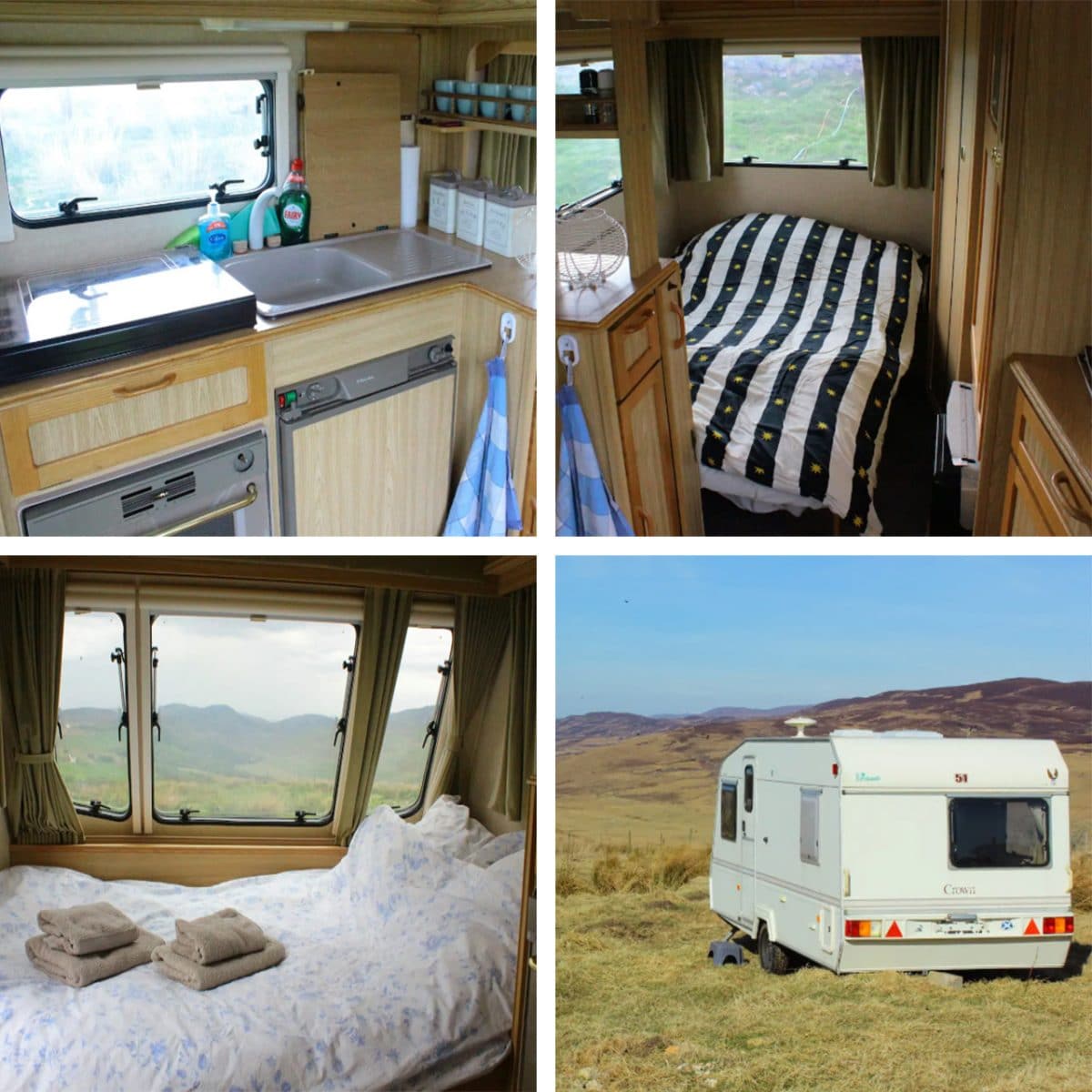 Ever fancied staying on an old-fashioned Highland croft? With this great glamping offer you can. Located in the heart of the highlands, this is the best place to spend some time away from it all. With enough room for 4 guests, there's one main double bed and a sofa bed, as well as features you'd need.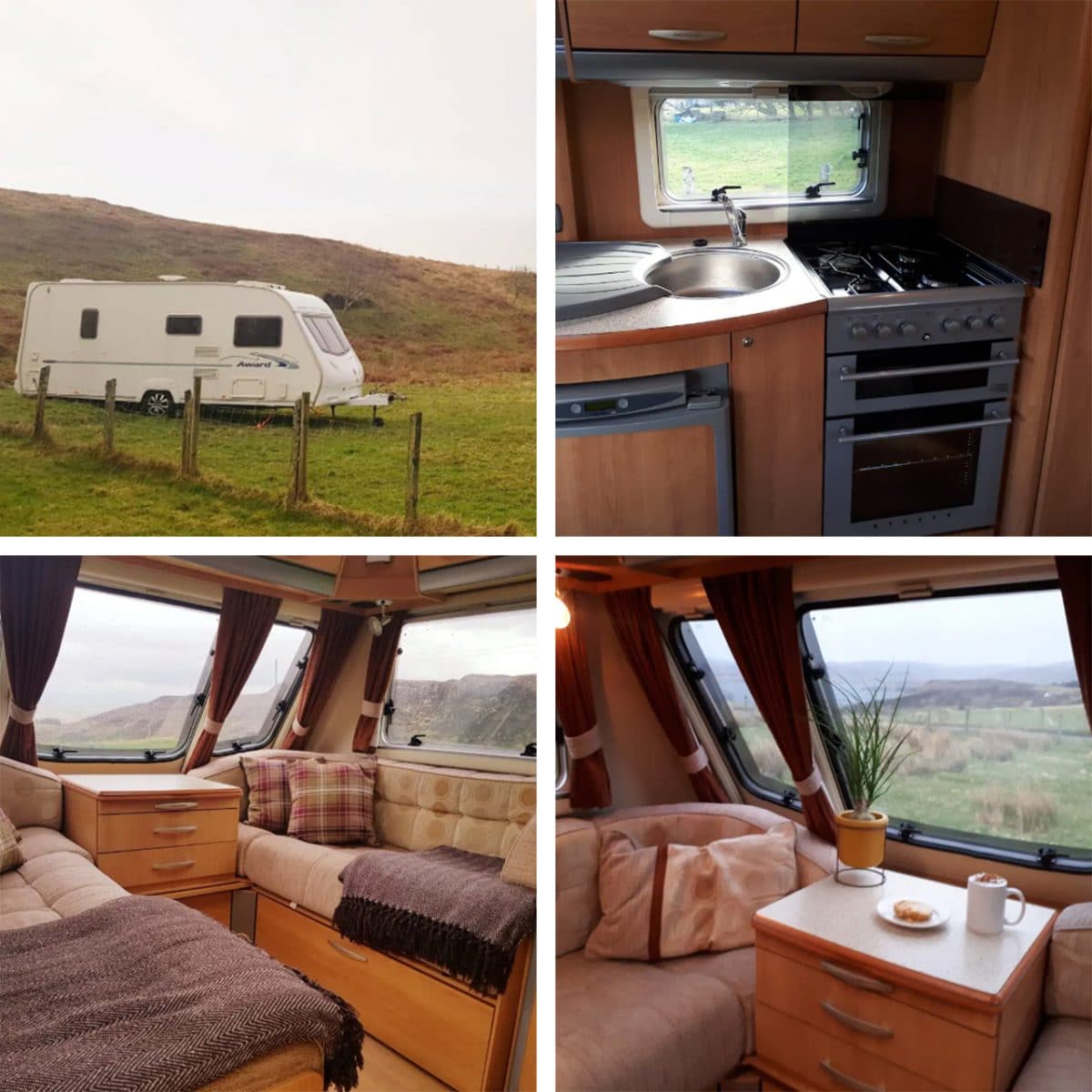 Although it's tucked away in the middle of nowhere, the FISK caravan offered here is well-stocked and full of modern features and a modern design. There's a double bed and two sofas that each convert into either a double or two singles. It's best for a family or couple, rather than two couples sharing.
21. Ardnarff, Strome Ferry, West Highlands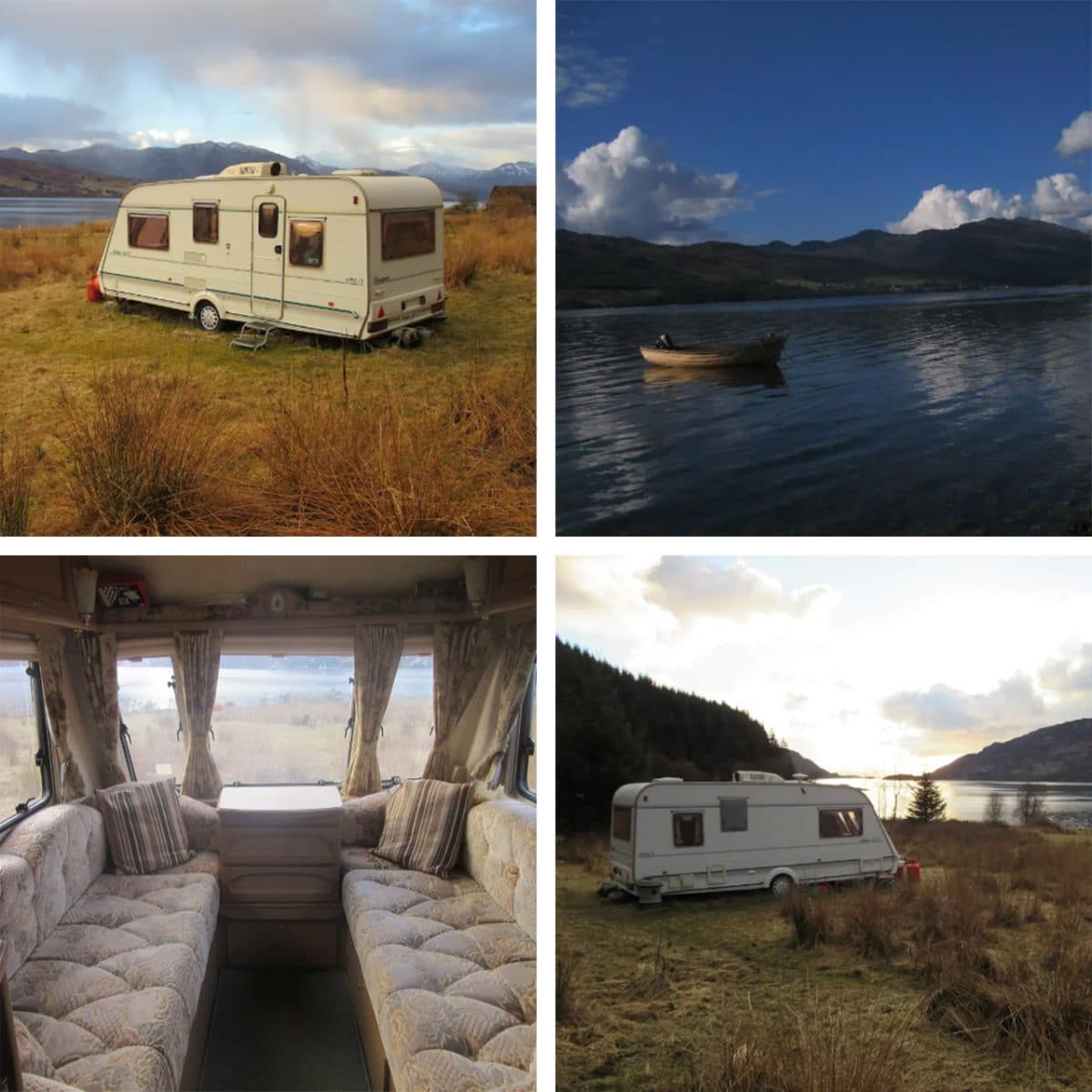 Look at this awesome 4-berth caravan with enough space for 3 adults or 2 adults and 2 children, that's situated on a private off-grid location. It's right down near the pebble beach of Loch Carron and is a very simple, but fully equipped caravan. Although there's a small washroom and cassette toilet, there's no shower.
Wildernest is a 26-foot Airstream Overlander that was originally manufactured back in 1964. It has been lovingly and painstakingly restored and now takes up residency in the Aeron Valley's coastal hills. With 2 beds, one a new double and room for 2 guests, this is a delightful holiday spot.
23. Cosy Caravan, Conwy, Cymru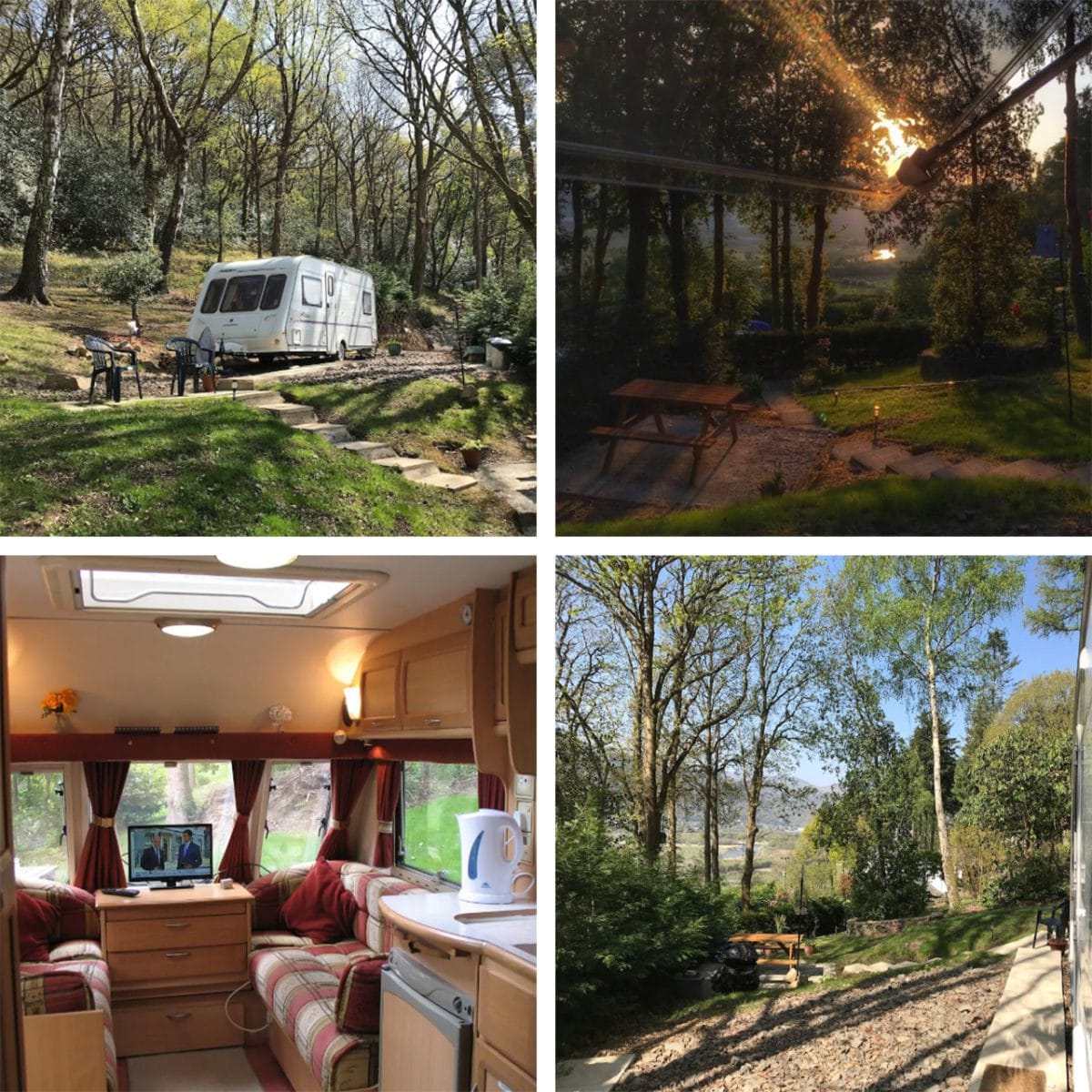 Based in a wooded glade on the owner's property, this caravan is a comfortable and pretty getaway spot. It's got a full kitchen, with cold and hot running water, gas, a shower and Wi-Fi, as well as so much more. You are close enough to explore the Conwy valley in all its glory. You and a friend or partner.
24. Vintage Safari Caravan, Machynlleth, Powys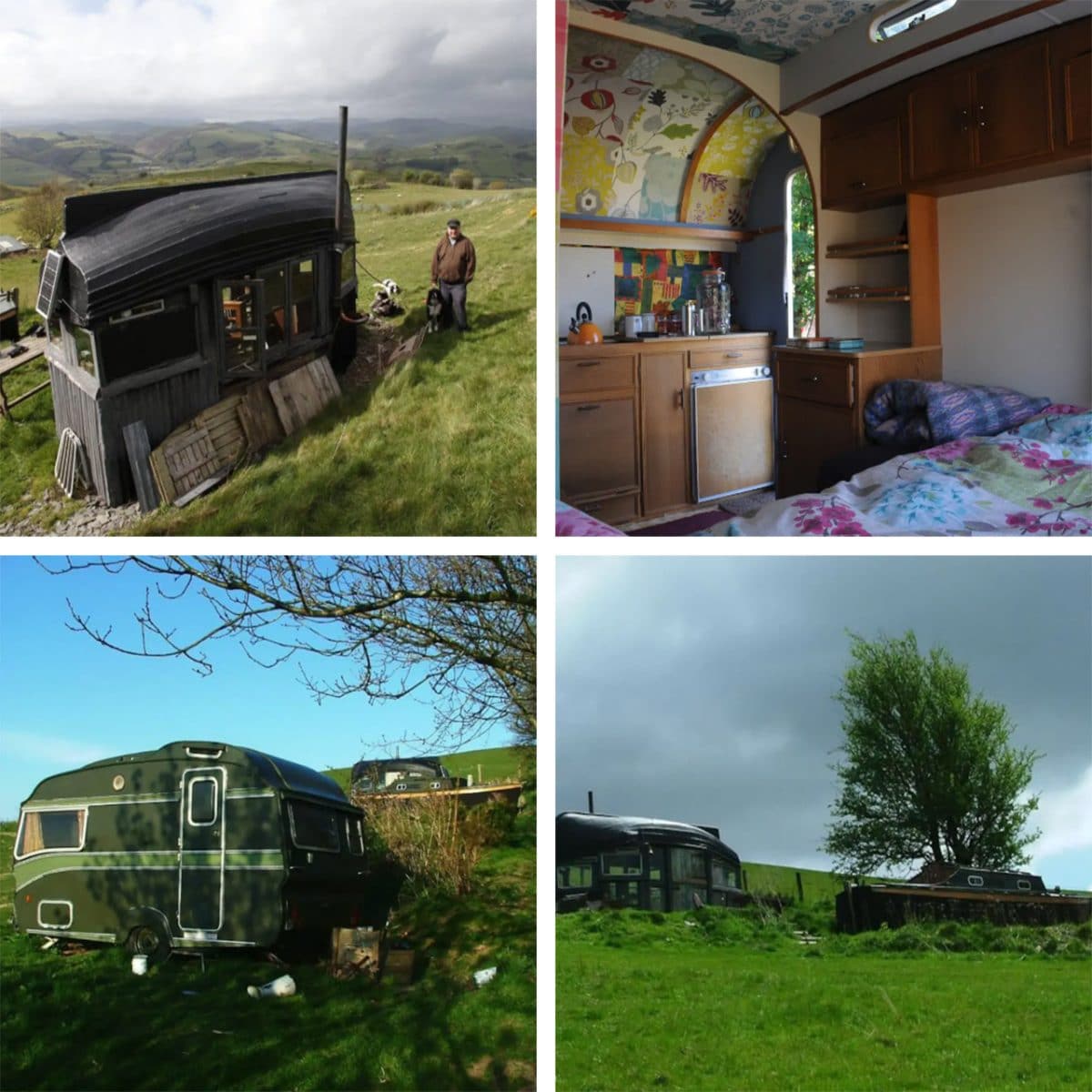 Based within the UNESCO Biosphere Reserve at Dyfi, overlooking the spellbinding Cambrian Mountains is this vintage safari caravan. Although it does not offer a whole lot of space, it is, nevertheless, a cool caravan to spend some quality time with your significant other. If you don't mind taking a walk to the toilet and shower.
25. Glamping Retro American Airstream, Falmouth, Cornwall
Our next choice for a great caravan through Airbnb is this delightful 1967 Airstream that's placed between Truro and Falmouth in Cornwall inside a piece of land with 5-acres featuring ancient woods, a stream and 3 ponds. With some animals on the property and room enough for 4 with 2 double beds, this is awesome.
26. Skyelark Caravan, Kilmuir, Isle of Skye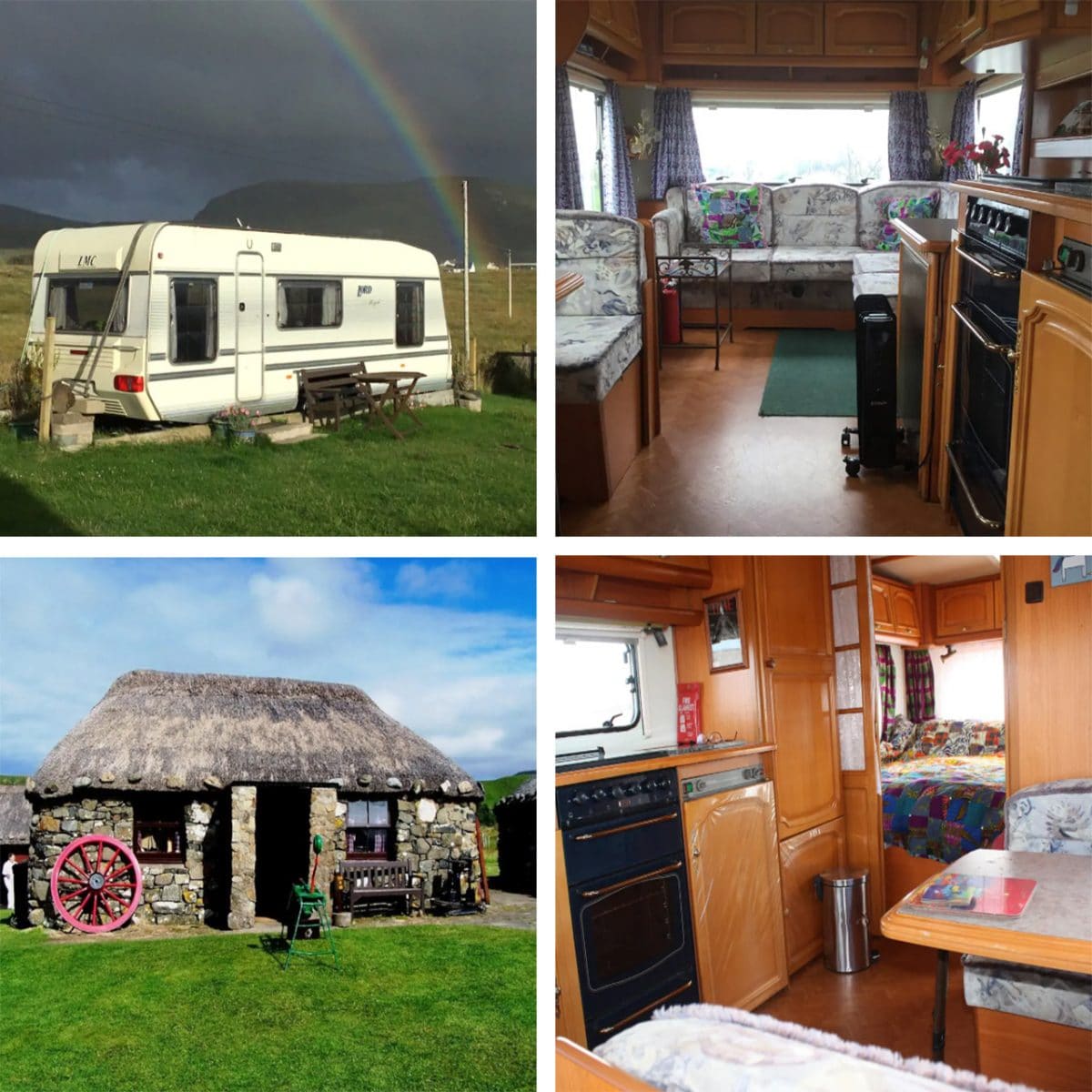 Another classically designed traveller's caravan with no toilet on the interior on the picturesque Isle of Skye in Kilmuir is the Skyelark Caravan. There's the use of a shower at the owner's home and you get a kettle, oven and grill along with 1 double bed and a sofa bed, so you could in theory have 2 or 2 adults with a child.
27. Vintage Caravan in a Quarry, Ashbrittle, Somerset
For those of you in search of somewhere nice to stay in Somerset, consider this small, simple but incredibly cosy touring caravan from the 1970d. Based alongside a dramatic, but unused slate quarry and a wooded river valley, this is a delight. Breakfast is served from the adjoined bakery. Be warned though, it's basic with no electricity or a shower in the caravan. Ideal for 2.
28. Spacious Restored Argosy Airstream, Gunnislake, Cornwall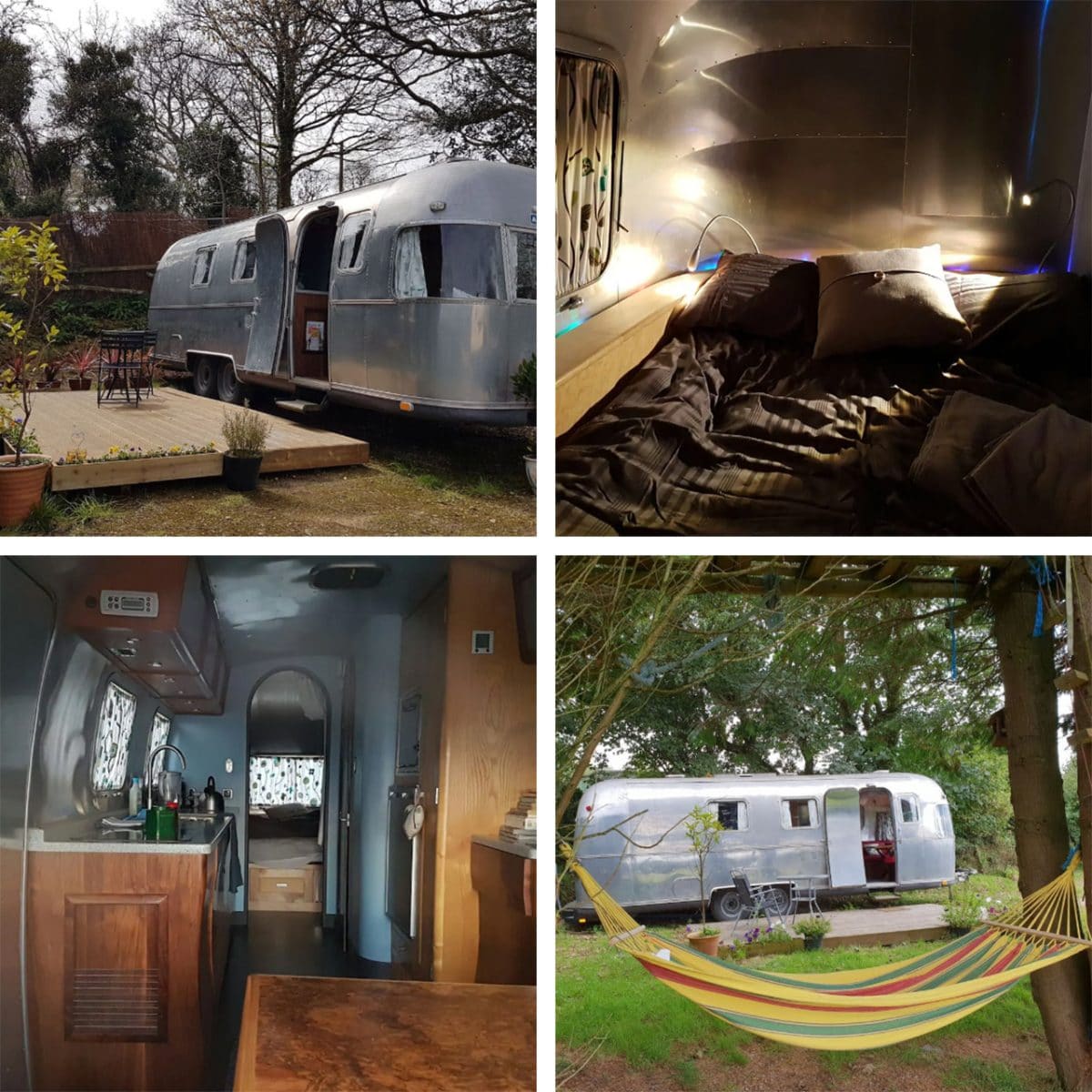 Here we have a spacious and quirky restored Argosy Airstream from 1974. The interior has been made specially to give a luxurious feel. With a wet room, central heating, kitchen, dining space and designer bedroom, it's very impressive. There's 1 double be, so it's perfect for 2.
29. Equestrian Vintage Caravanning, Four Roads, Carmarthenshire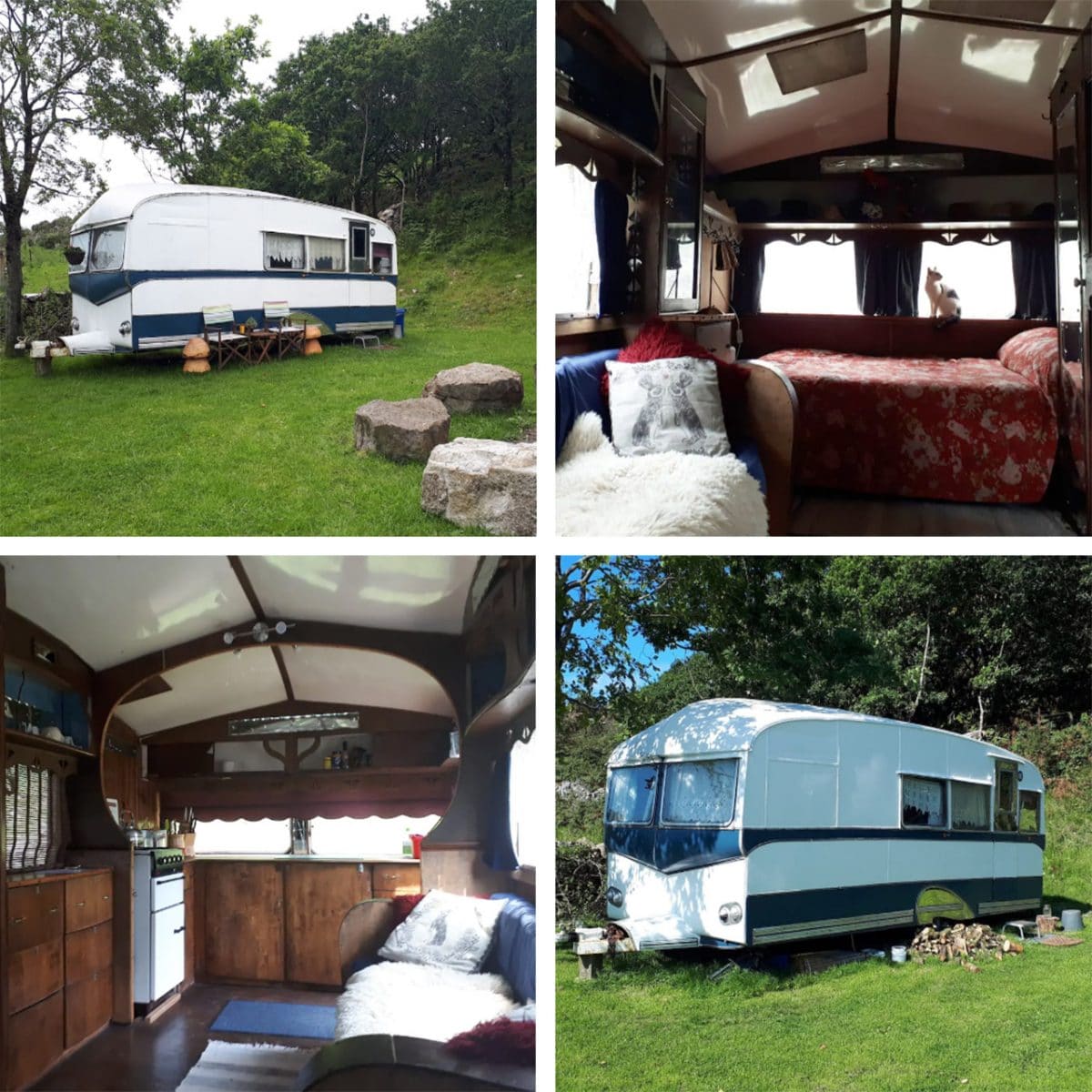 Set on a very private and secluded smallholding of 5-acres, is this awesome caravan. All the properties are vintage and have heating, electric, gas cookers and access to a shower and toilet. There's space for 2 people in 1 double bed. Although it's not superbly kitted-out, it has a simplistic charm.
30. Supersize Caravan Glamping, North Curry, Somerset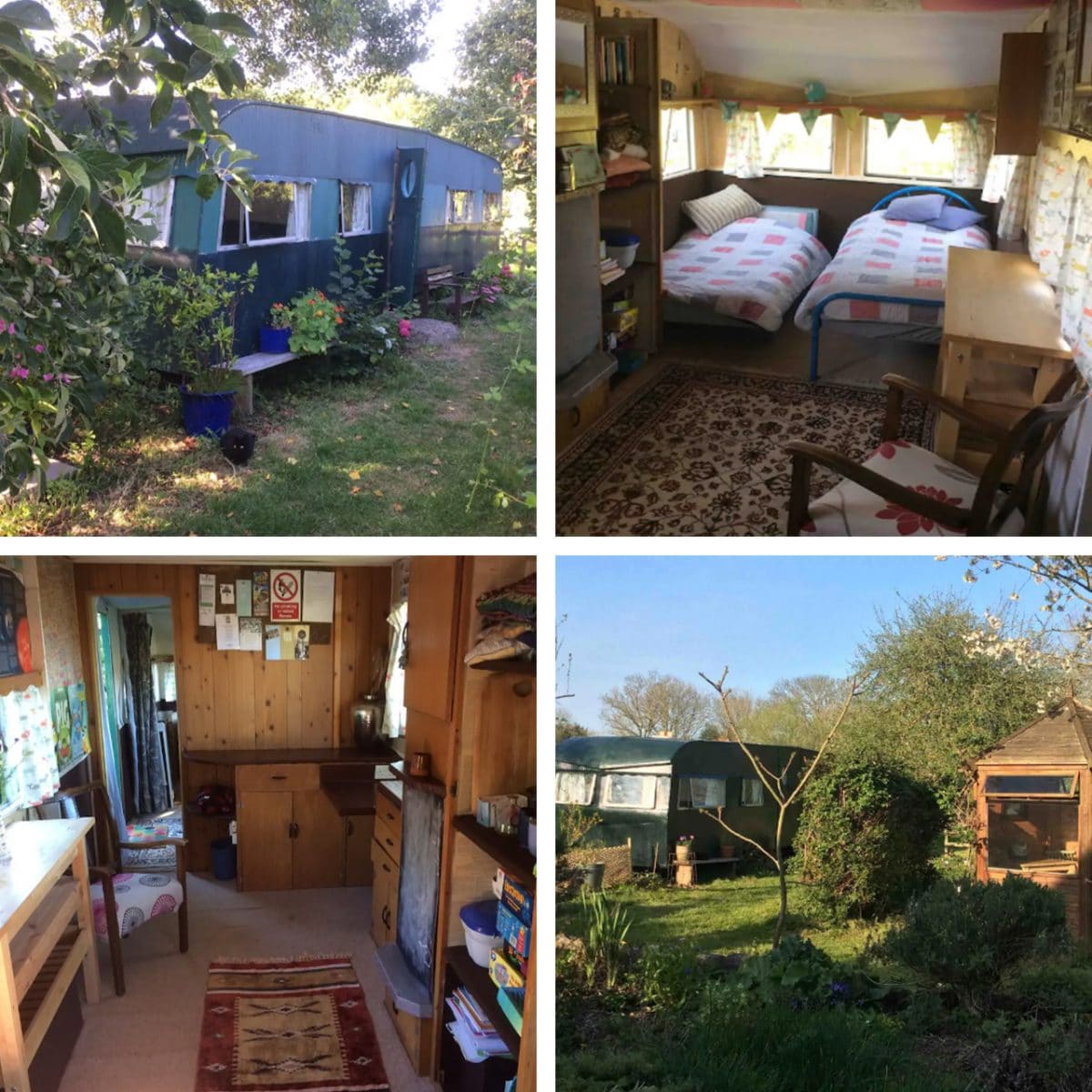 Looking to enjoy a glamorous camping experience in Somerset? Check out this large and spacious offering in North Curry. There are 4 beds in total, 1 double and 3 singles, ensuring there's enough space for as many as 5. If you're used to luxury items on-hand immediately, this may be a shock though.
31. Beautiful Little Caravan, Herne Bay, Kent
Looking for a nostalgic trip to a simpler time? Look at this awesome and pretty, if very little caravan offered in Herne Bay, Kent. Located at the end of the owner's garden, it provides you with a double bed, BBQ, chairs, table and a gas grill/cooker. There's no electricity, beside from the battery-powered lighting and shower and toilets are available in the owner's house.
32. Glamping Caravan, Stoke-on-Trent, Peak District
With this caravan you have the option of during wintertime, it being placed on a hardstanding pitch and during summer on a wild meadow. The caravan itself has a simple charm, with a double bed and space for 2 guests, it's a delightful way to spend a romantic break at the Peak District.
33. Airstream Ana, Whichford, Warwickshire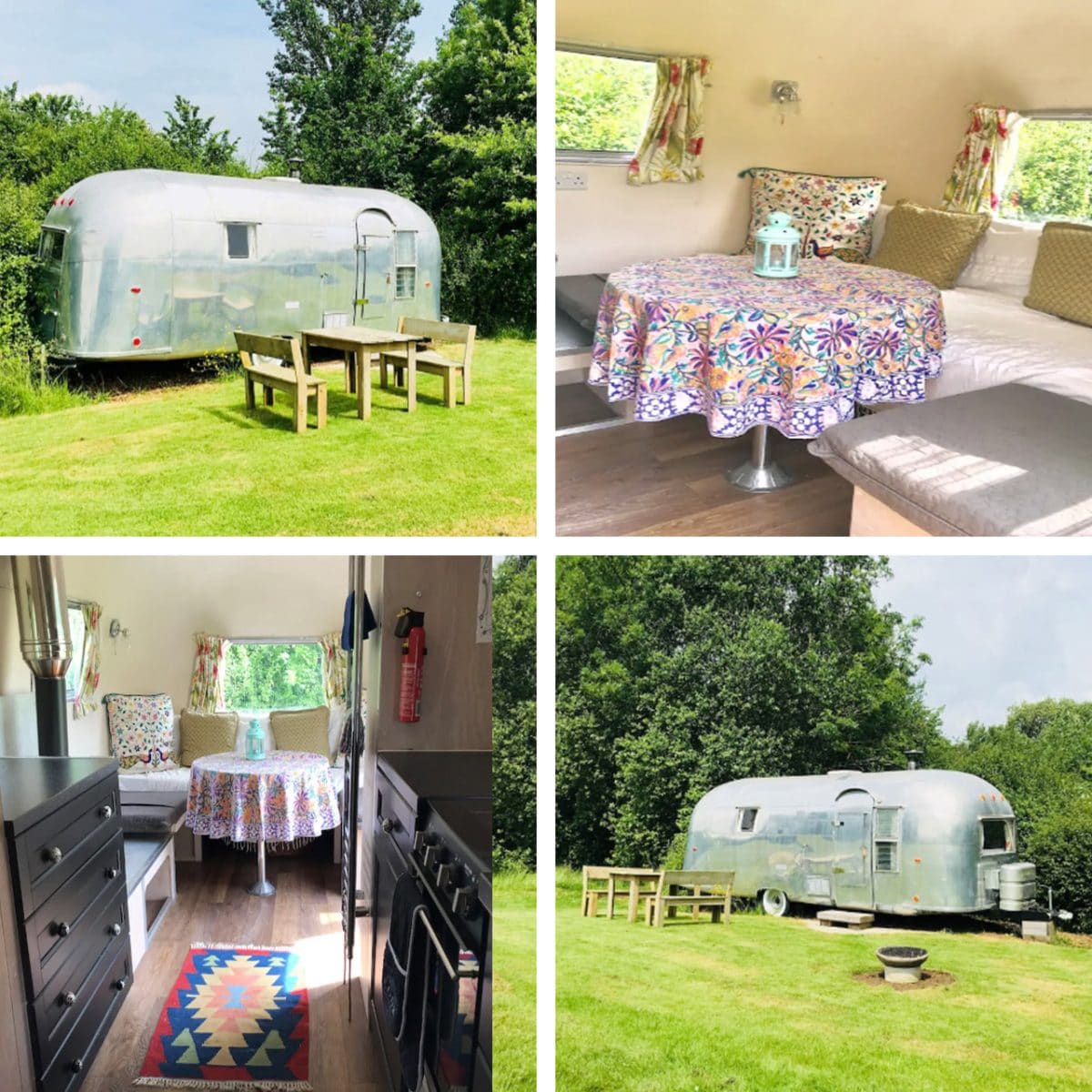 Cute name for a cute caravan, Airstream Ana is based at a peaceful and beautiful campsite and has a central heating and the benefit of a wood burner. It's a 1969's Silver Bullet refurbished and rebuilt and has enough space for 2 guests and offers you access to the glorious countryside in Warwickshire.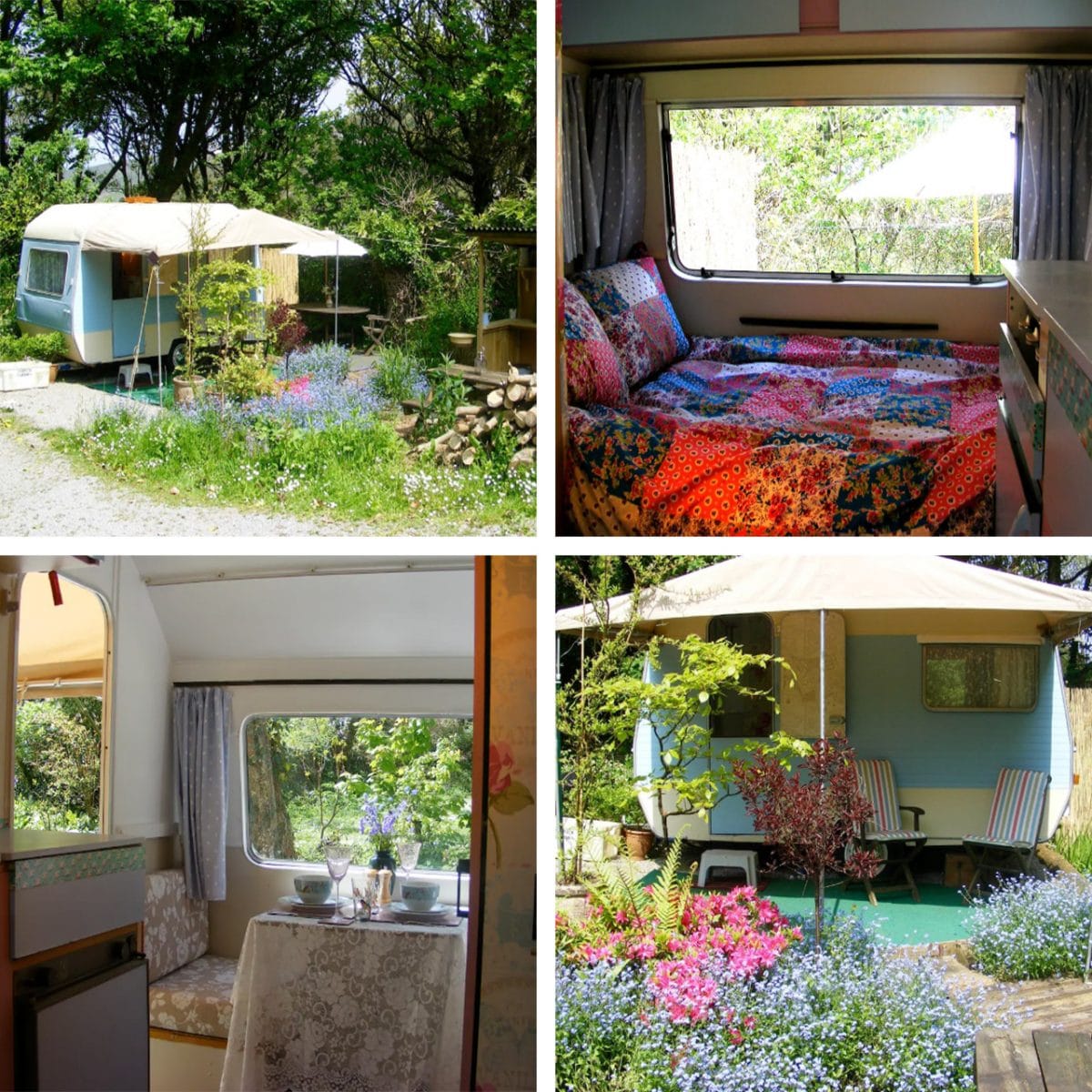 Tilly The Vintage Caravan is next, and boy is she a cute little thing. She's a 2-berth tourer so able to accommodate 2 people, with one double sofa bed and although there's no toilet or shower, there are these facilities up near the owner's home. Located in a beautiful part of Cornwall, this is a great choice for couples!
35. Moonshine Canalside Trailer Home, Manchester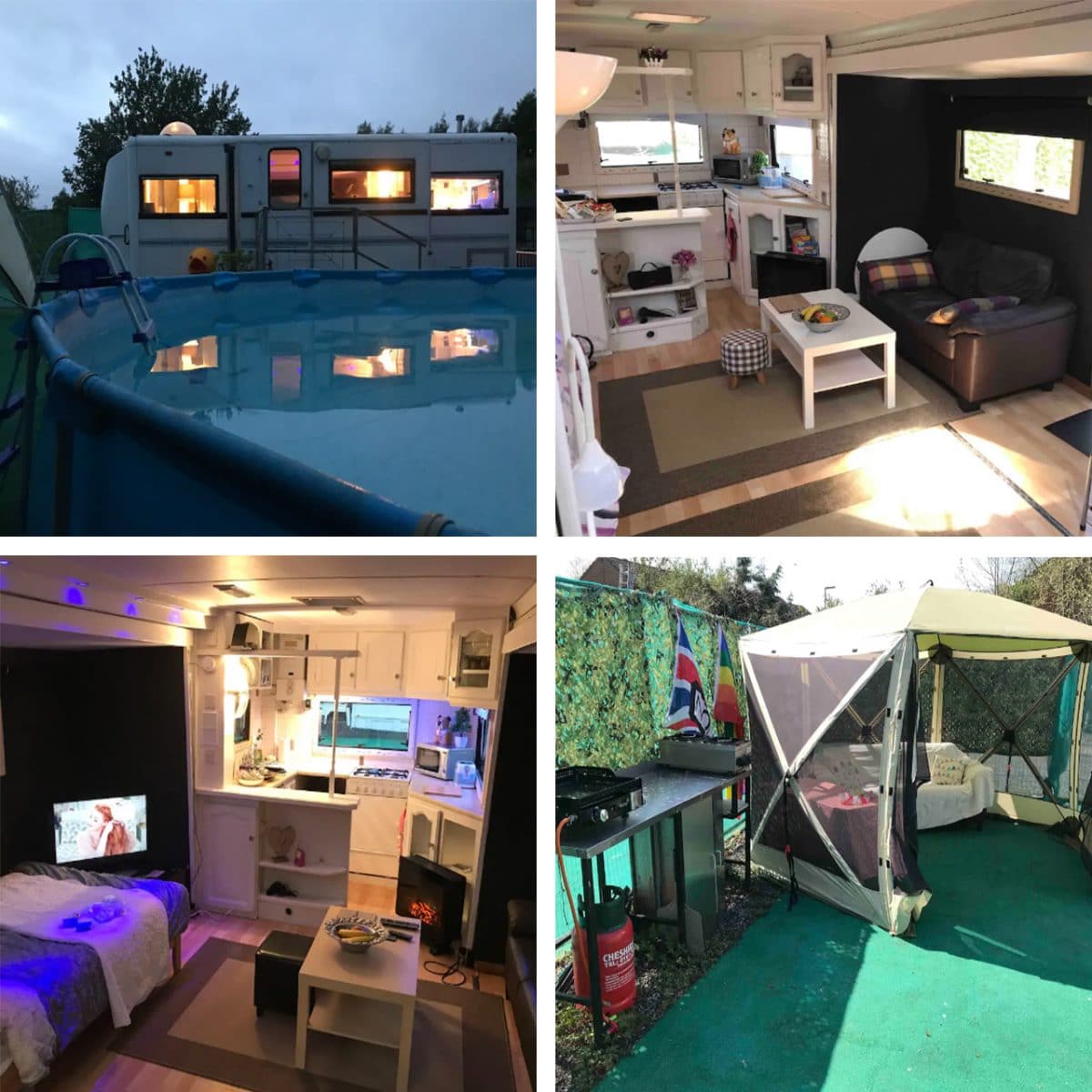 Moonshine is delightfully referred to as a 'UK take on an American-style trailer trash retreat' and has been compared to Fawlty Towers meeting Scrapyard Challenge. It's an open-plan mobile home that sits by an old mill that's a listed building. You'll find that it's comfortable enough for two.
36. Debby The Vintage Caravan, Isle of Wight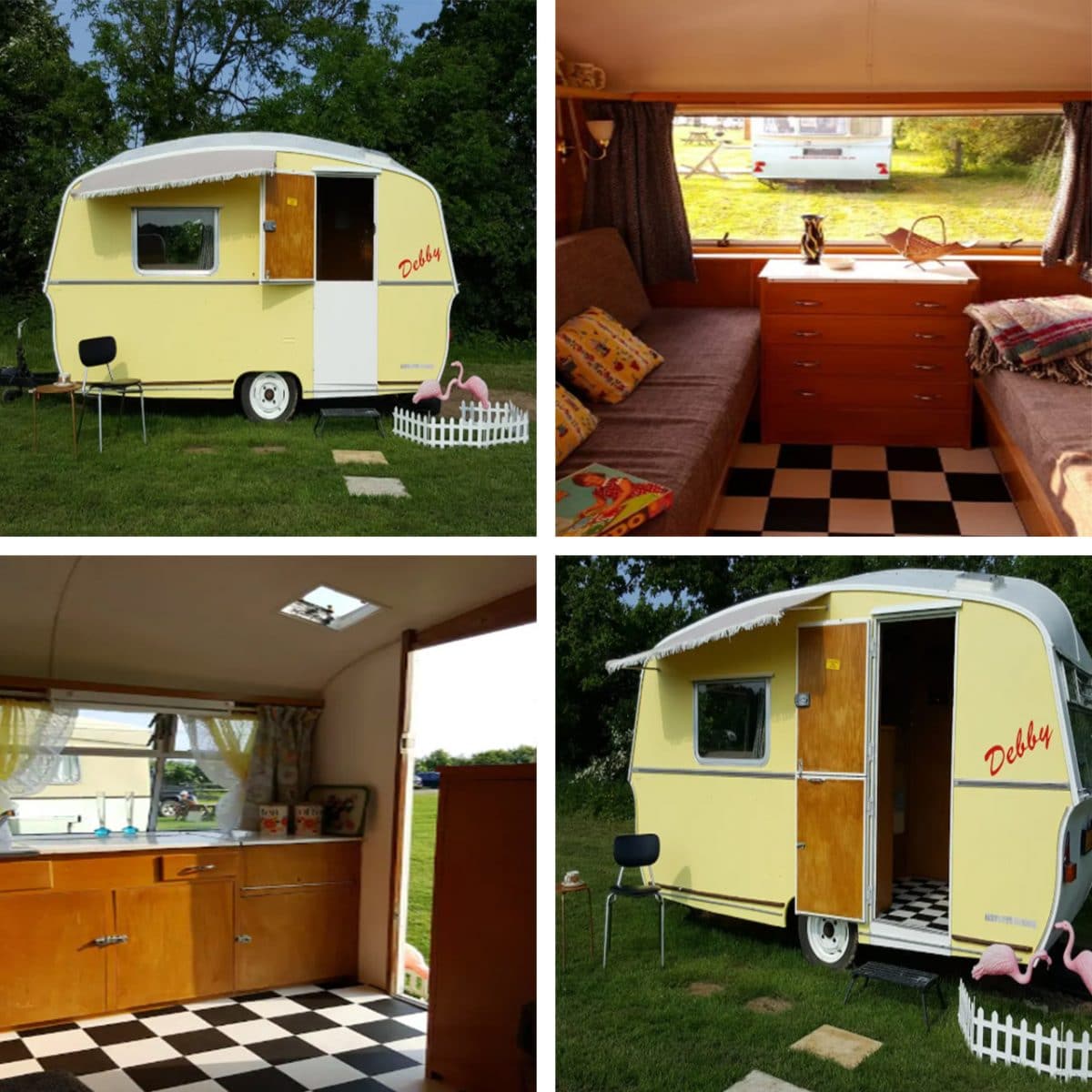 Little Debby, the vintage is an old 1960s British caravan and is a lot more lo-fi than Airstreams. Still lovable though. This sits alongside Gloria, mentioned previously in this guide and has been refurbished to an impeccable standard. Suitable for two, there is two single beds and it makes for a great place to stay while visiting the Isle of Wight.
37. Vintage Vacations Airstream B&B, Isle of Wight
Yet another quirky and lovingly refurbished accommodation at the same place as Gloria and Debby mentioned previously. This is 22-feet of Airstream beauty and suitable for 2 people, with a double bed and lots of other great amenities.
38. Jinny Vintage, Strontian, West Highlands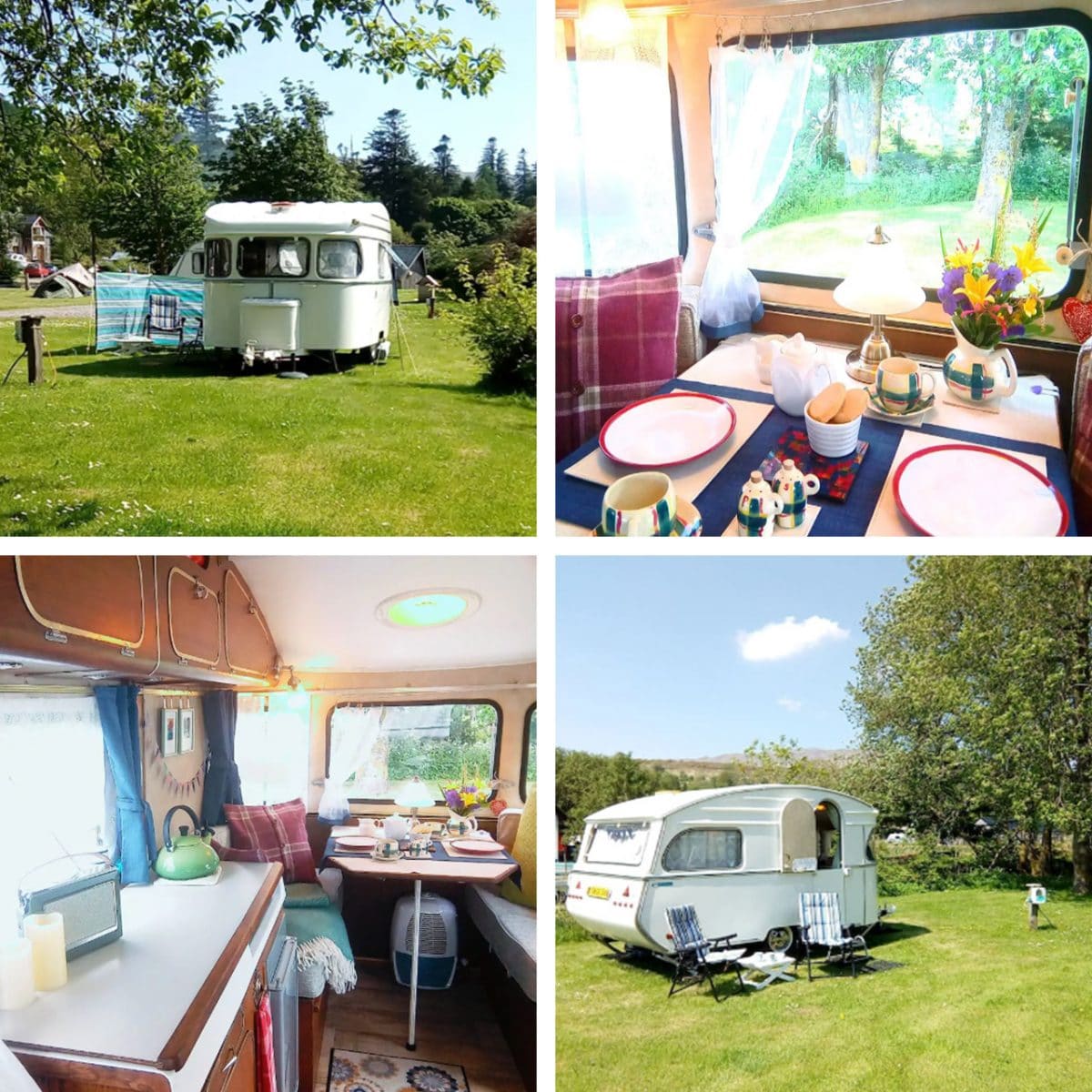 The attractive Jinny is a very rare 60s caravan that has been restored to a professional standard with all the comfort of a modern vehicle and dwelling with the old-world charm of brass and wood on the interior. You get a standard double bed, fit for 2 and as it's based on the Sunart Campsite, you've got a beautifully quiet and tranquil area to stay in.
39. Airstream at Dinham Farm Campsite, Saint Minver, Cornwall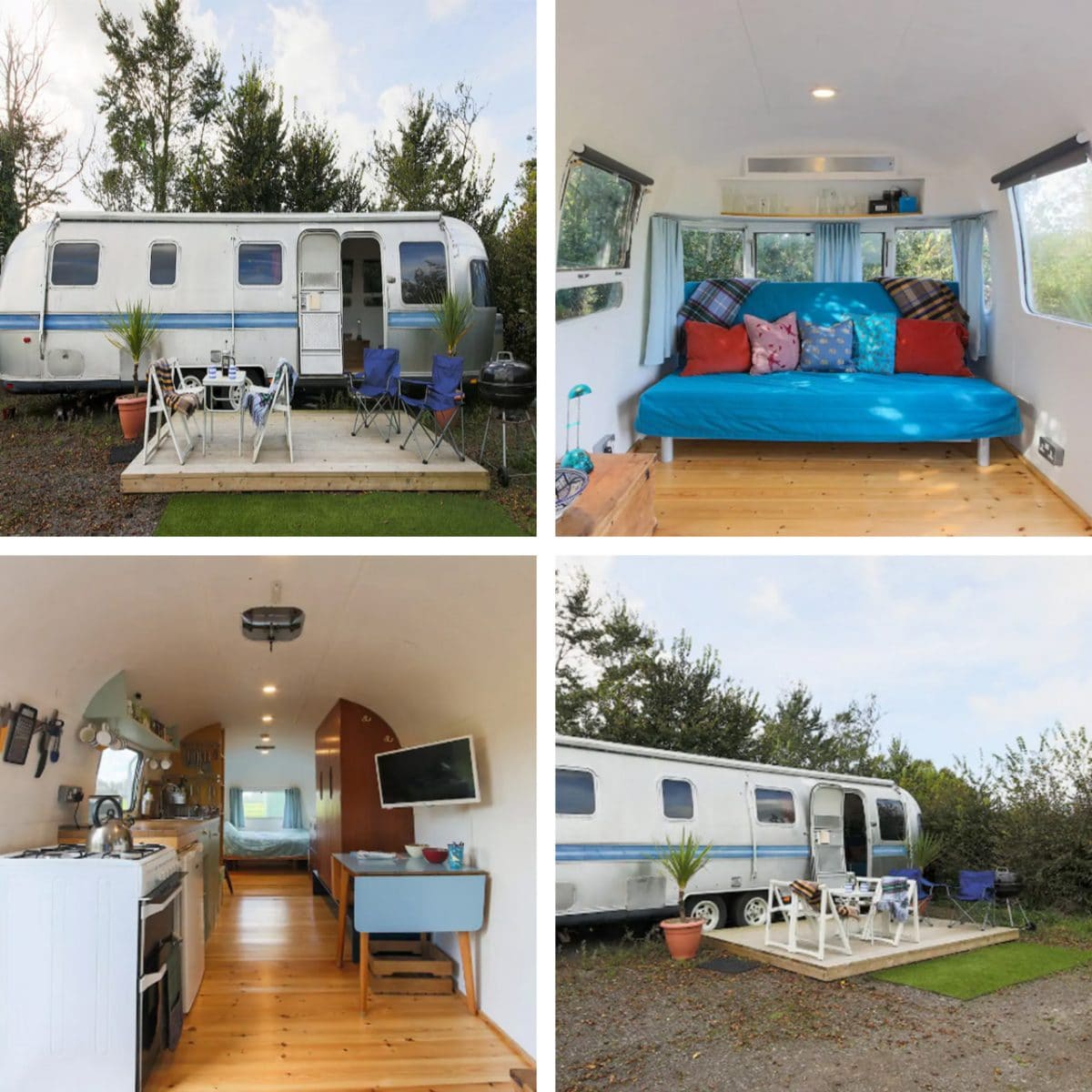 The owner refitted this fabulous airstream himself and as well as room for 3, you get 2 beds, one a sofa bed and one a double bed in the bedroom and access to the shower block and toilet at the campsite it's located on. The kitchen is fully equipped and has cold and hot running water.
40. Vintage Airstream, Isle of Wight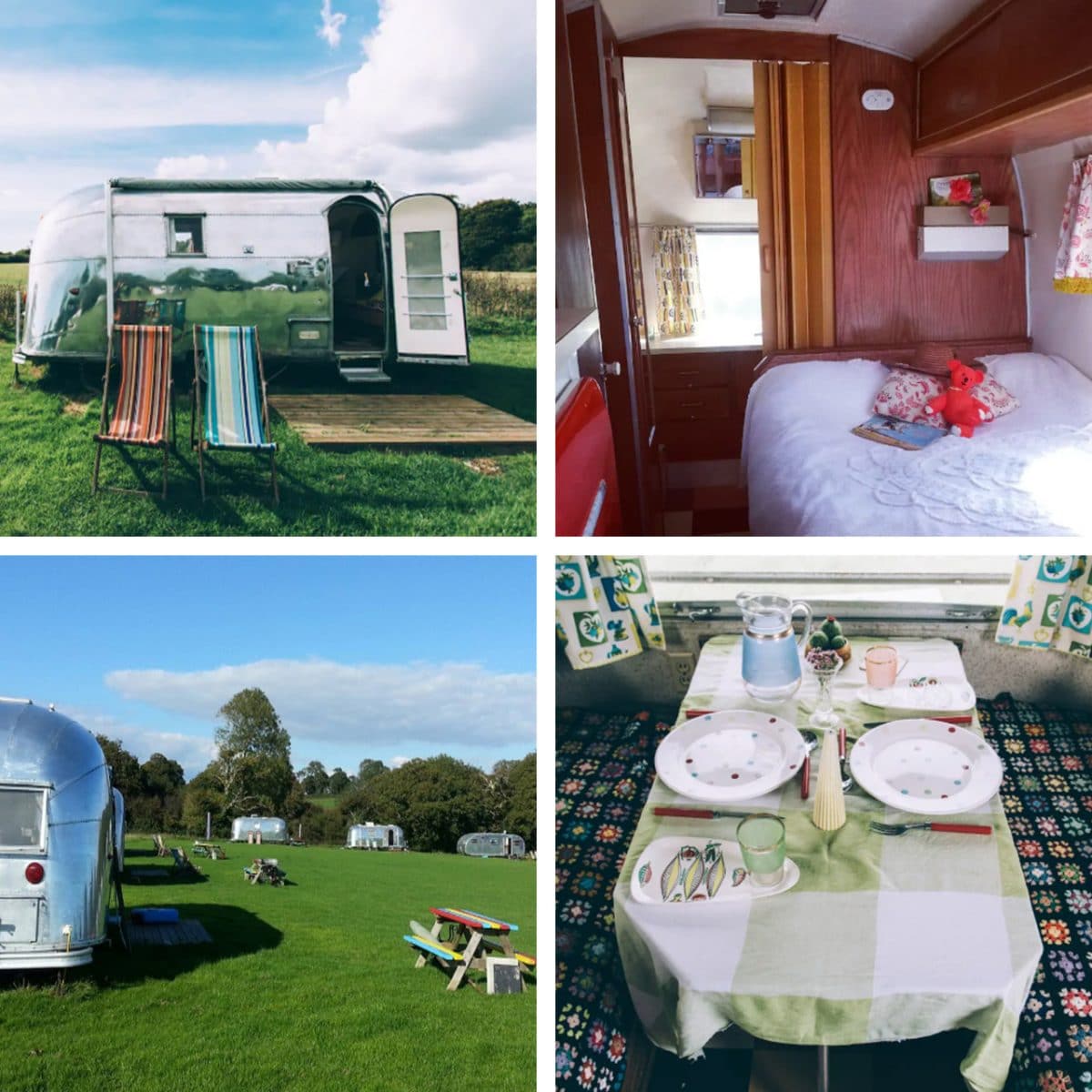 In this guide we've featured many Airstream and vintage British caravans at the same park in Isle of Wight. This is another great example, suitable for 2 with a variety of great amenities, as well as some you can get the benefit from on site.
41. Vintage Caravan Daphne, Nr Newlyn, Penzance, Cornwall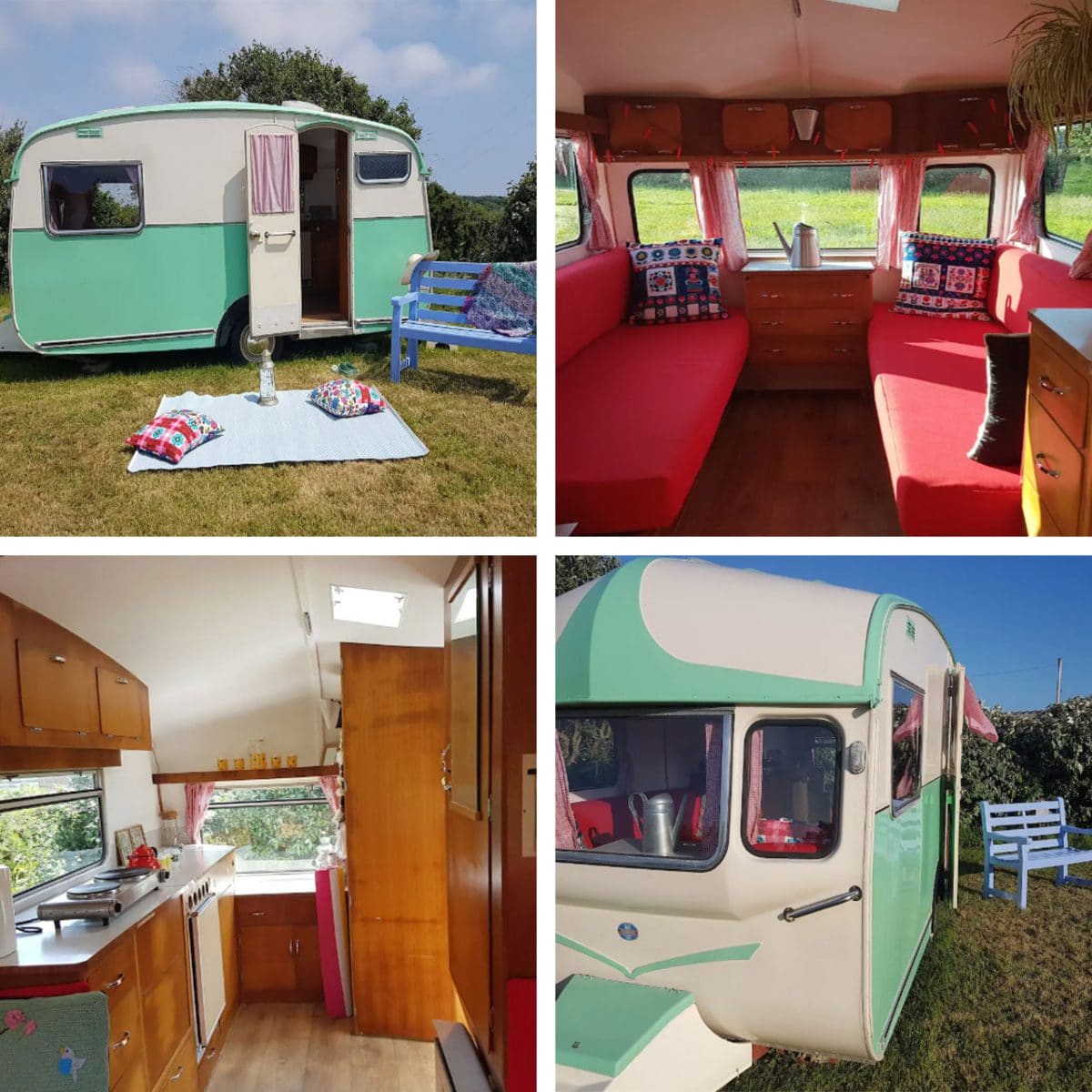 A true classic, Daphne is an attractive Castleton caravan from the 60s that's been given a high-quality refurb with a real folky, retro and incredibly quirky feel. Based in a quiet and secluded spot near Newlyn in Penzance, you can see the Ding Dong tin mine and Chun Castle from Daphne. There's space for 2 guests and 2 beds.
42. Audrey the Caravan, Upper Dicker, Hailsham, East Sussex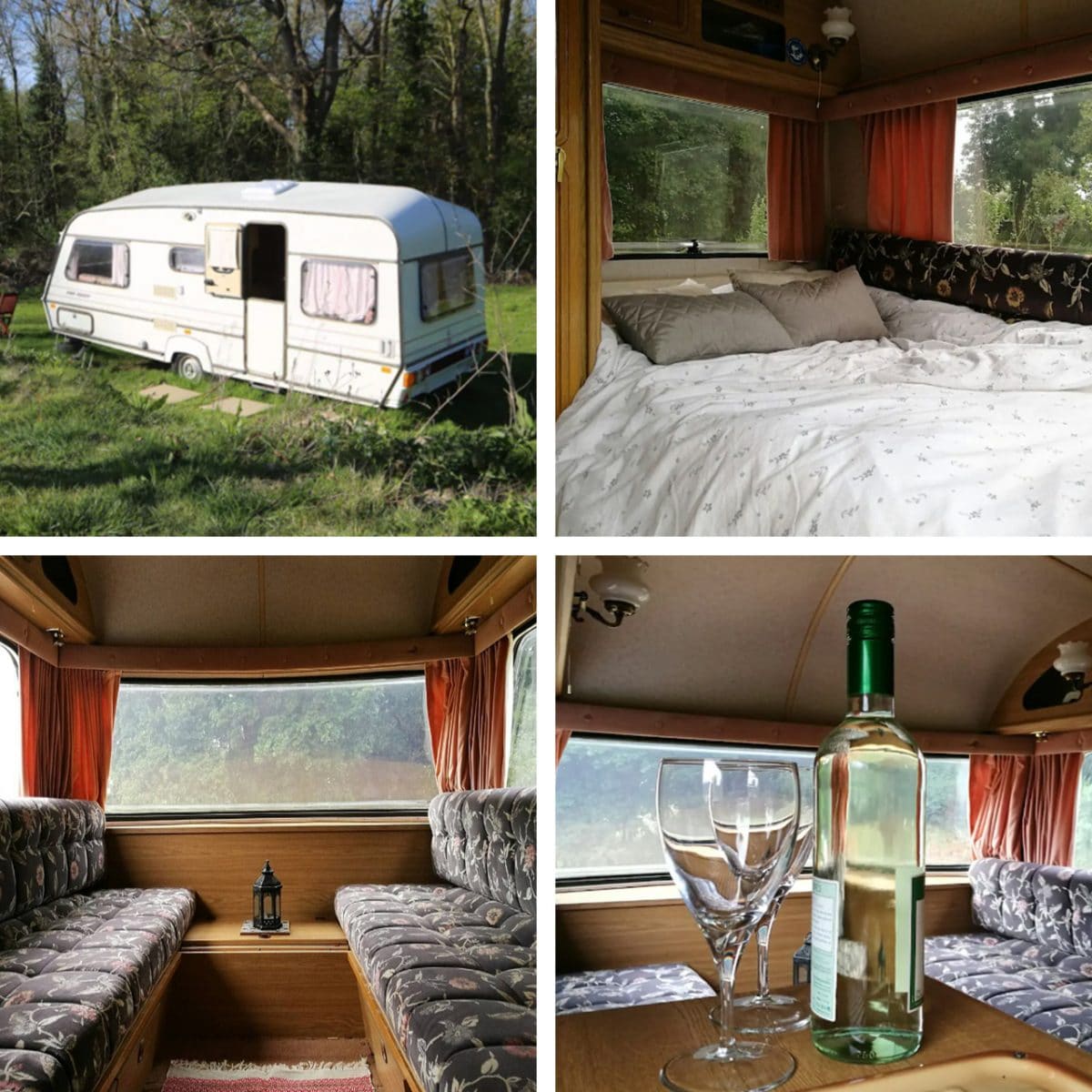 Located in a beautiful spot in Hailsham in East Sussex, Audrey the Caravan sits close to an excellent village sop with great breakfasts on offer and a nice local. There are also pristine beaches too. The caravan itself is great for 3 people and has 2 beds, a double and a single.
43. Caravan in Portrush, County Antrim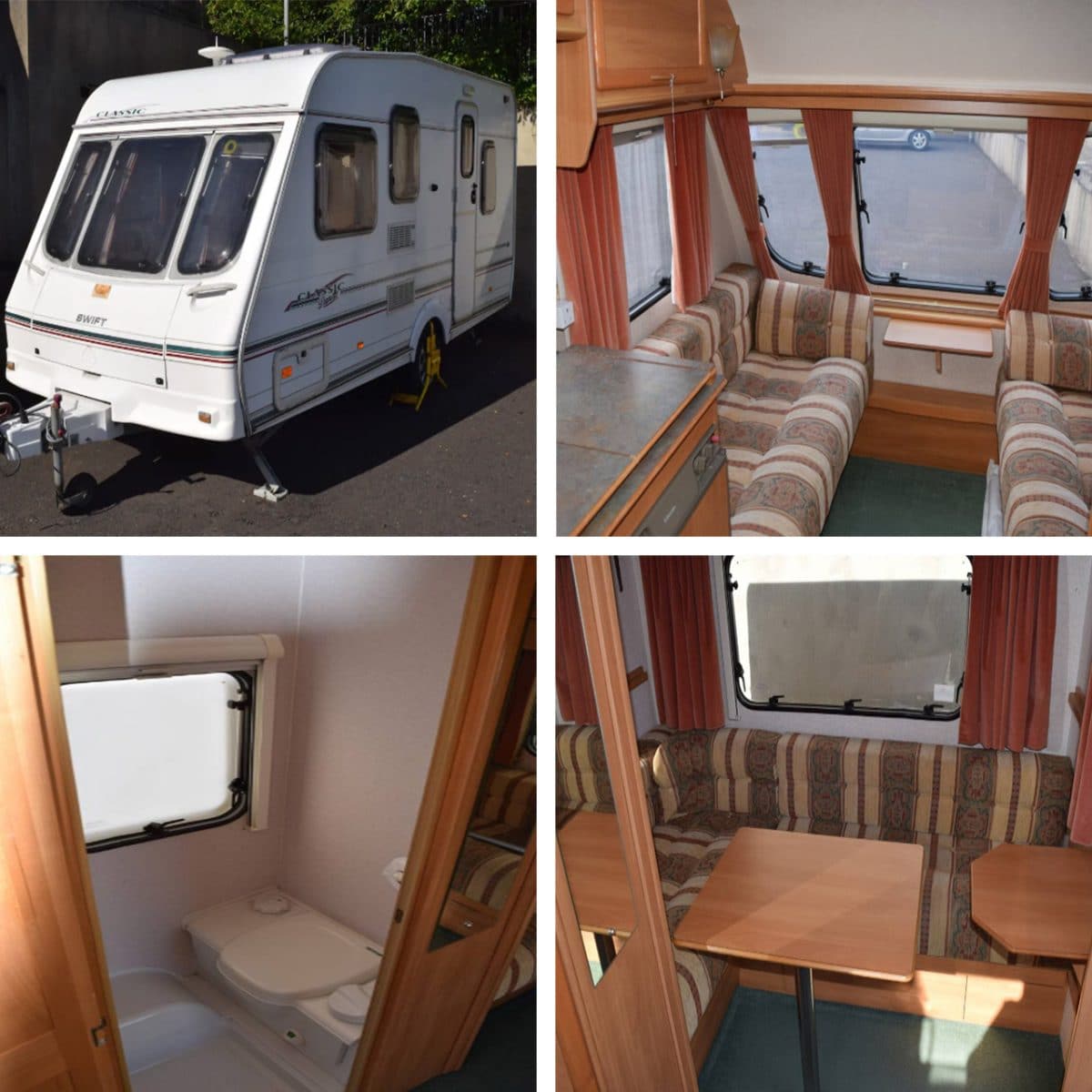 A well-equipped caravan with electricity and 2 small-sized double beds. There is also a small bathroom that has a chemical toilet and although there's no shower, you can use the one in the owner's home next door. As well as the benefit of all those great views, there's also a gas hob and fridge.
44. Barlefield, Barlestone, Hinckley and Bosworth, Leicestershire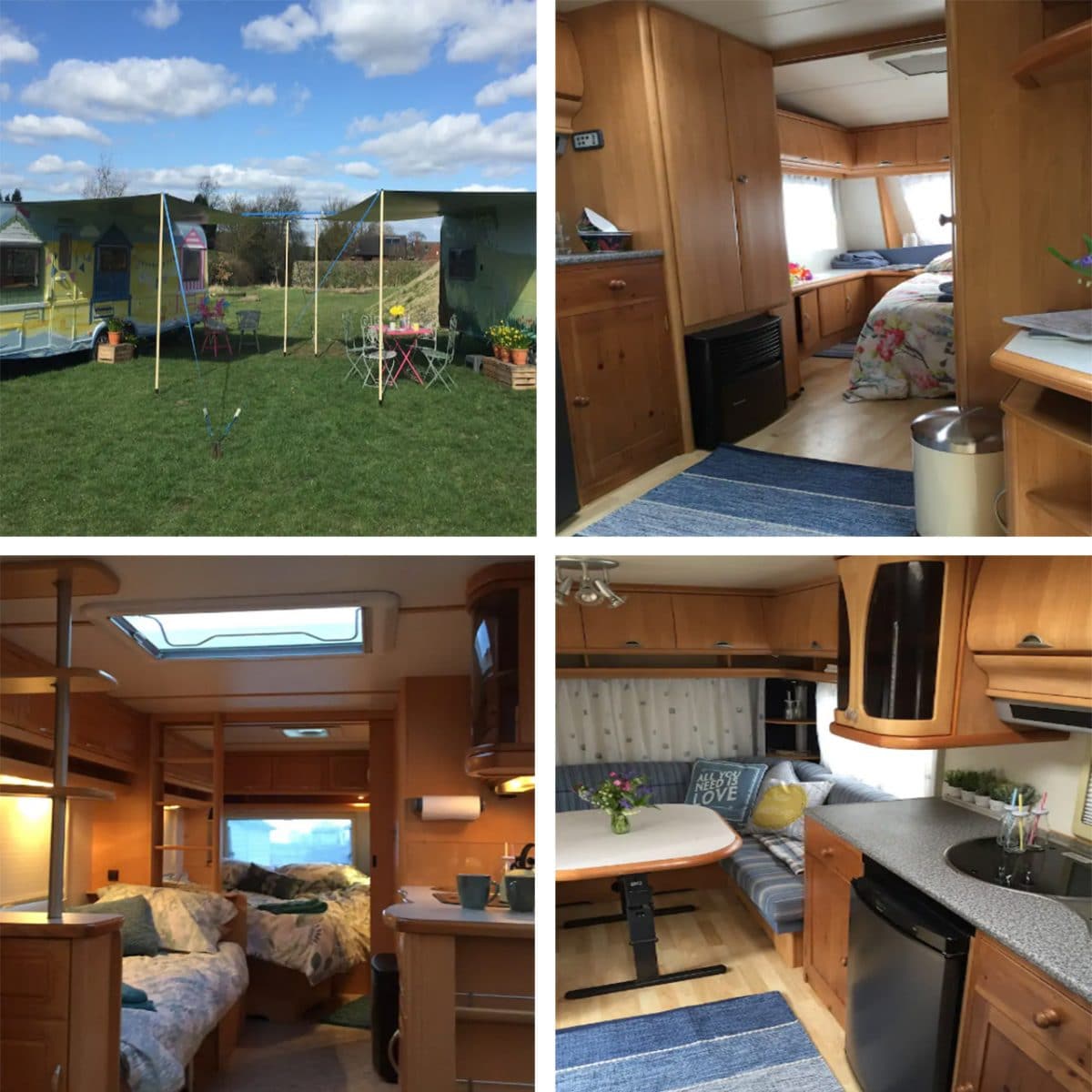 Glamping in Barlefield in Barlestone, Leicestershire sound good to you? Have 8 friends you need to find some accommodation for? This could be just what you need. 2 bedrooms and 5 bedrooms can be found in these refurbished caravans called Fenton and Clara. They feature fully equipped kitchens with large fridges, hobs and sinks.
45. Airstream at Narracott Woods, George Nympton, North Devon
We love how great this original Airstream looks. The owner has done a wonderful job refurbing it and kitting it out with new upholstery, while retaining its original features. It's warm and very cosy and has space for 2 guests and is based in a 5-acre woodland.
46. Vintage Caravan, Newbridge, County Kildare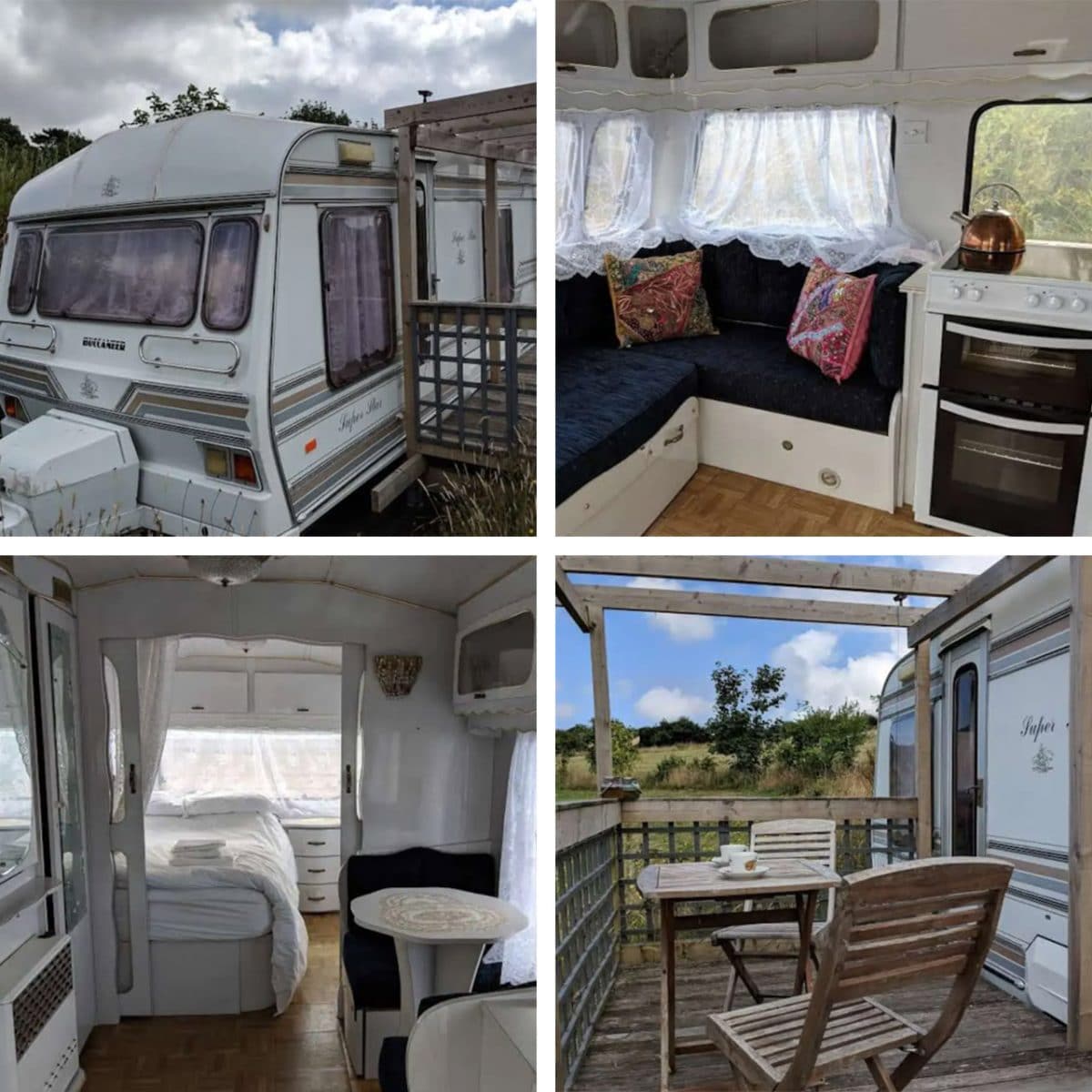 Based in one of the owner's beautiful meadows is this pretty vintage caravan. It's fitted with a double bed and a fully equipped kitchen. Although there's no shower onboard, there's a private shower room. All in all, a great little caravan in a great area in Northern Ireland.
47. Self-Catering Cosy 2-Berth Caravan, Totnes, Devon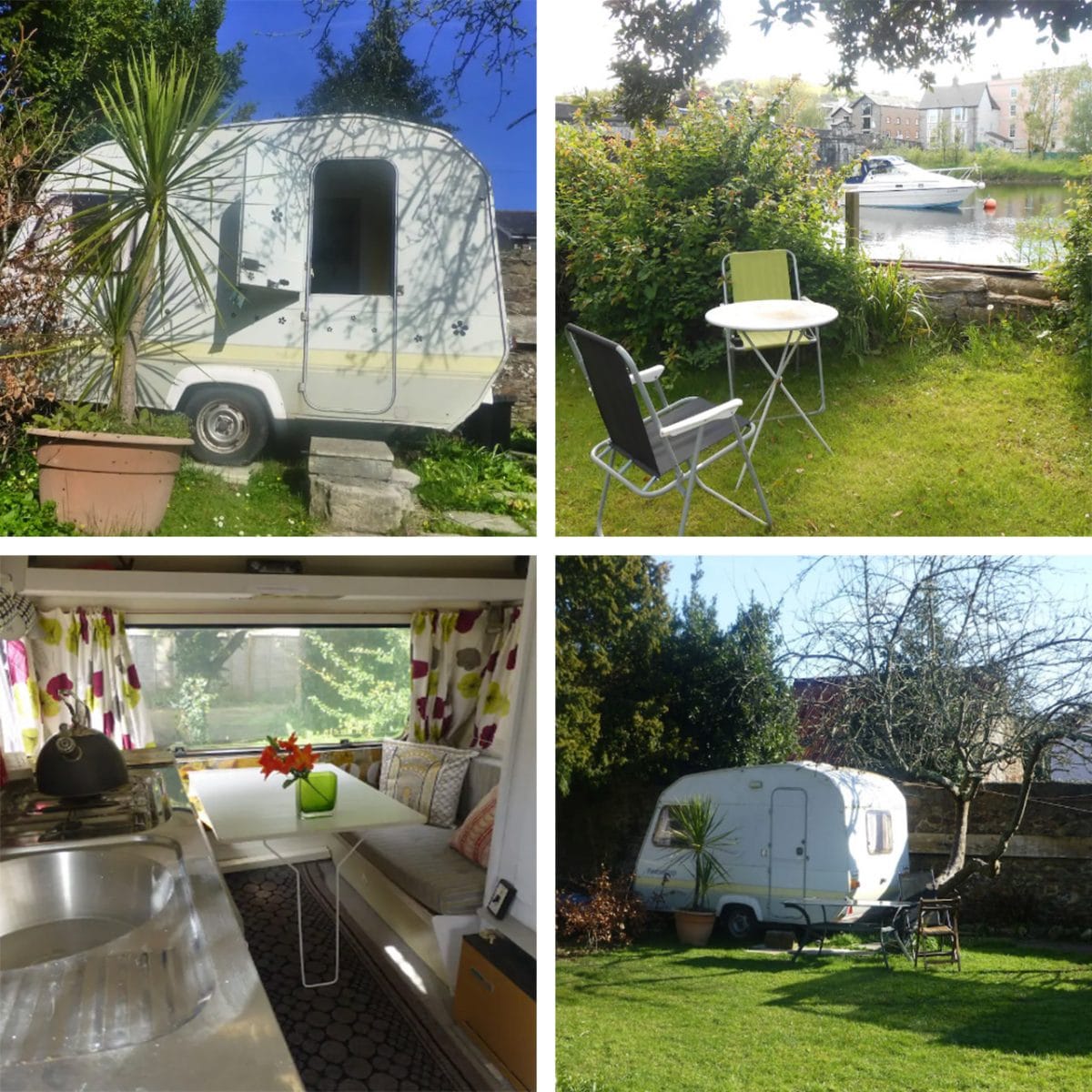 Looking for a very private place to relax? This little delight of a small caravan is based outside Totnes and sleeps 2 people, either a couple or 2 separates. There is also washing facilities, heating, cooking, electricity and parking. There is also access to a shower room and toilet.
48. Ashdown Forest Glamping Caravan Holiday, High Hurstwood, Uckfield, East Sussex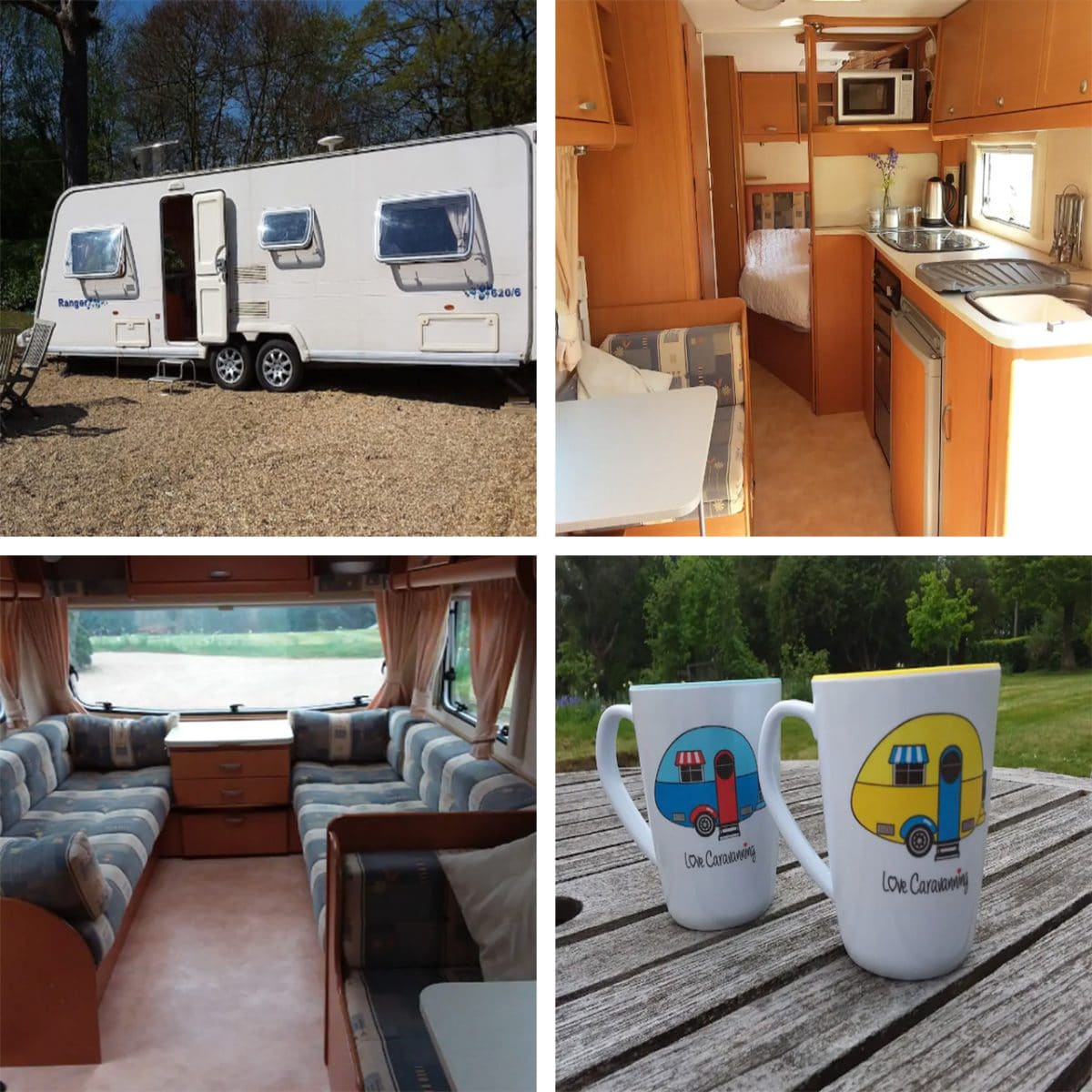 Looking for an East Sussex caravan without the hassle of towing or pitching up? Consider this great one in High Hurstwood, very close to Ashdown Forest. Though there is no toilet in the caravan, there is a private shower room however with a toilet. The great thing is that it can accommodate a total of 6 guests.
49. Retro Caravan, Stoke-on-Trent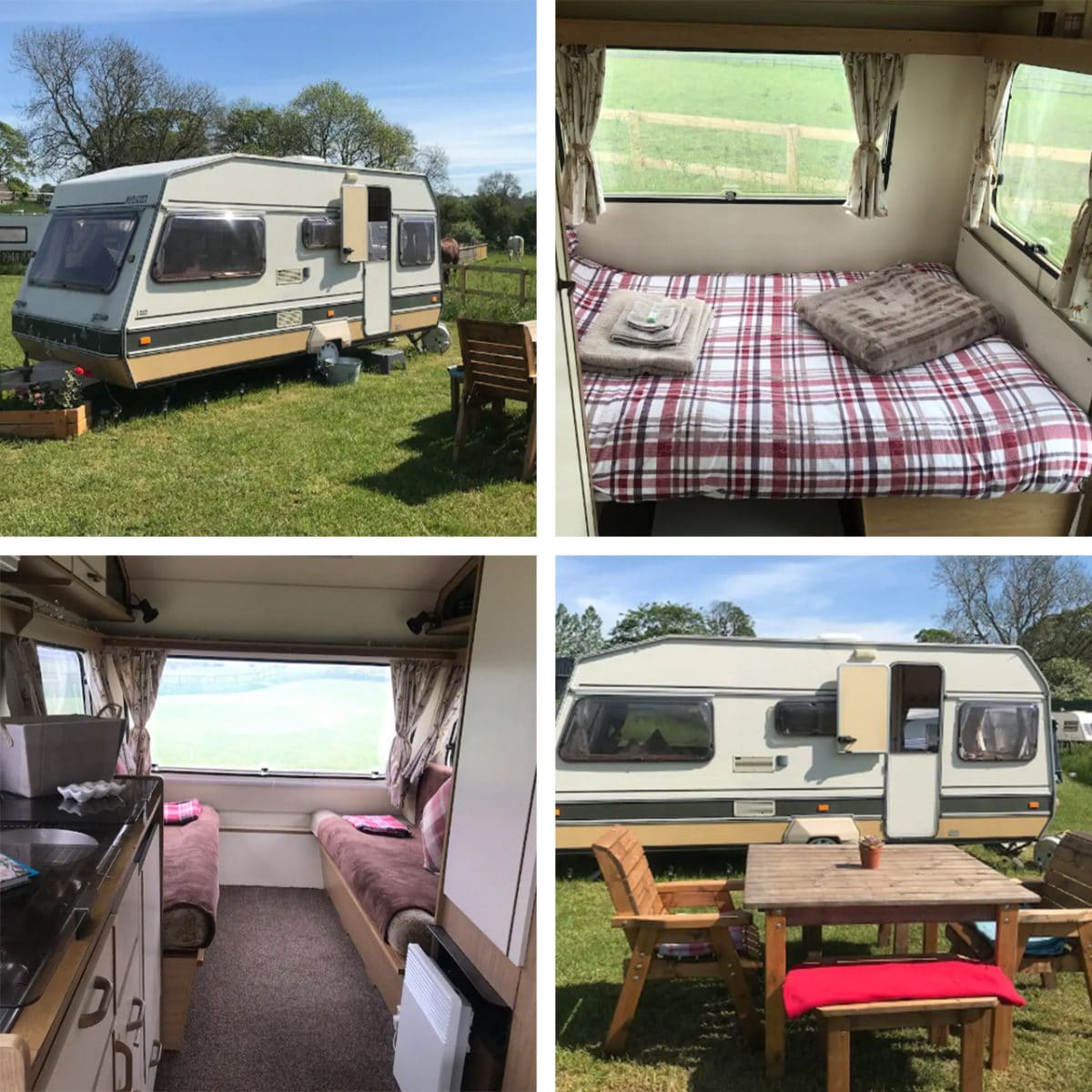 Fancy staying in the attractive and friendly town of Stoke-on-Trent with some friends or your small family? Check out this cosy little caravan with room for 4 to sleep in 2 bedrooms. During the winter, it's based on a hardstanding pitch and on a flowery field by the river during the summer.
50. Luxury New Caravan, Dumfries and Galloway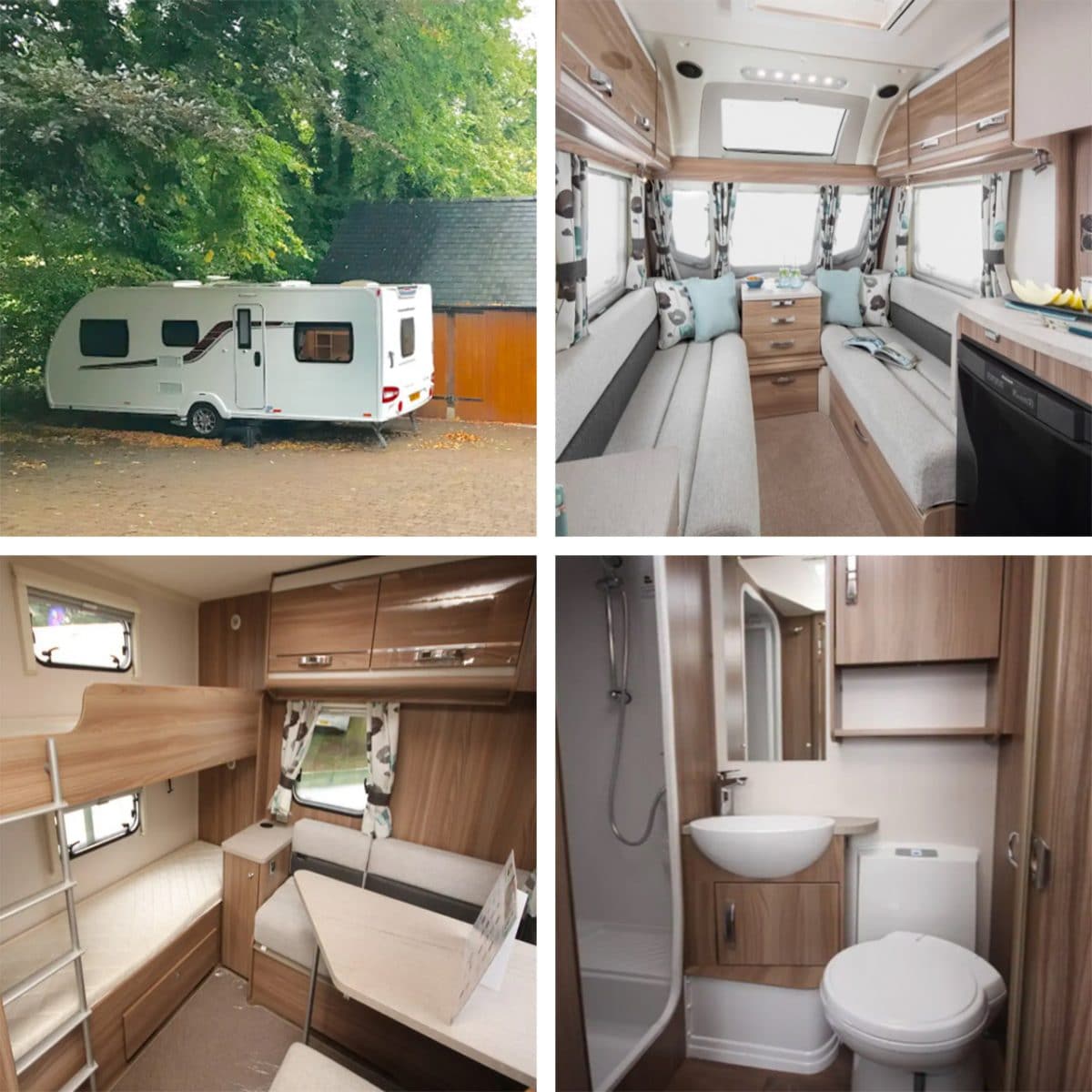 A fun alternative to hotels and traditional B&Bs, this is a great caravan, based in the beautiful Dumfries and Galloway. Very quiet with some picturesque vistas, the caravans benefit from 6 beds and space for 4 guests.
51. Weache Bus, Llandello, Carmarthenshire
Finally, who wouldn't want to stay in a big old-fashioned red double decker bus? This one has been converted into a 6-berth caravan with a dining area, oven, fridge, wood stove. There are 2 bedrooms with 2 doubles or 1 double and 2 singles. There's also a compost loo, shower and WC. The location makes it more special, set inside a nature reserve about 22-acres.
For more unique caravans take a look at these that were converted into tea rooms.