When you take a caravanning holiday, depending on your budget and how kitted out your tourer is, there are obviously a lot of compromises you need to make. For instance, you can't do laundry, wash and dry clothes with quite the same freedom and frequency you might at home.
This is not really a problem if you only take trips of two or three days here and there throughout the year. When you go on a longer holiday or an accident happens, however, it helps to have an idea of how you intend on washing clothes.
This not only causes many people a lot of stress, especially first-time and infrequent caravanners, but puts them off going on caravan holidays that are longer than a weekend or a couple of days. Either that, or they take more clothes than necessary to make sure they don't need to do any laundry.
They think that it is probably going to be this great big palaver. However, it might be a lot easier than you think, especially if you consider the options open to you and come with up with a plan of action.
So, what options do you have, then? Let's look at the most popular.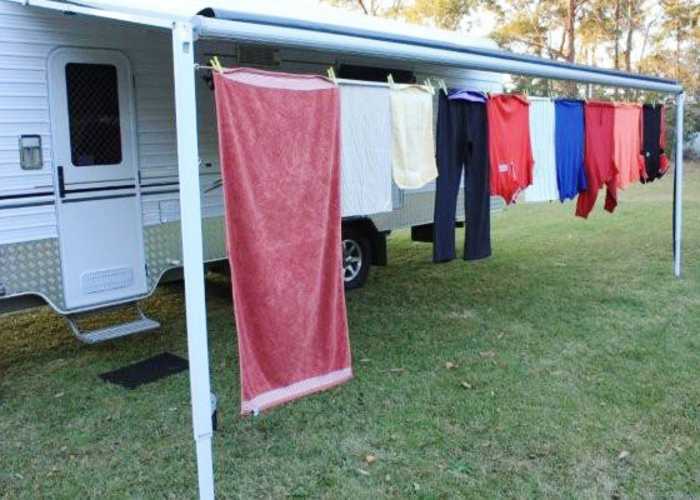 Washing Options
Portable Washing Machine
If you are going on anything longer than a couple of days, you should give serious consideration to investing in a portable washing machine for your caravan.
As they are not nearly as powerful or full of features as their full-size counterparts, they are never going to give you quite the same washing experience. That's not to say they aren't worth it, because we believe they are. They are economical, easier than most people think they are to use and allow you to do the laundry at your vehicle.
No more handwashing, no more walking from your pitch to the on-site launderette. To wash four people's clothes and a dog's favourite blanket that they got all muddied up.
The main thing you need to remember though, when working with a portable washing machine in your caravan is that most models require a connection to the mains.
On-Site Launderette
Now, it did sound like wee poo-pooed this option in our comments above, didn't it? We are not against using the laundry services on a caravan or camping site. If you have a small touring vehicle and value the little space you have, even the smallest portable washing machine is going to steal some of that.
Using the launderette or washing facilities that so many caravan parks have is a great alternative. It also saves you a little on the amount of electricity or gas you use in your tourer. If you only have a small caravan and are only going away as a couple, then there's also the fact you won't have that much washing to do.
However, as noted above, if you've got a lot of laundry to do and your pitch is not close to the launderette, it is never fun trying to navigate piles and piles of dirty washing across a park.
Handwashing
You probably thought your days of handwashing clothes, in the sink or a river, were long gone. Apart from the odd delicates here and there, or if you are the kind of person who listens to the care instructions on women's underwear and lingerie and wash them by hand.
This could be a viable option, though, when caravanning. Particularly if you only have a small volume of clothing you need to get clean. While it may be a bit old-fashioned, the sink in your caravan may be the most cost- and energy-effective way to do the laundry.
If you are at a caravan site that has no laundry facilities and you don't have a portable washing machine, you may have to handwash items anyway.
Besides, it's a good work out for your hands and arms!
What About Drying?
Now that we've covered all the main options for doing your caravan laundry, you might rightly wonder – what about drying?
Well, many caravan sites that offer washing machines, have tumble dryers as well. So, it makes sense that you would just use the dryer in the launderette facilities if you were already using the washing machine.
If you want to avoid that and would like a more convenient option, there are a wide variety of caravan clothes airer and washing lines available. Even if the weather is a bit inclement while you're away, you could still make good use of your awning and dry clothes in there.
Okay, so it won't be as quick as it would be just sticking it in your tumble dryer at home. Remember though, as we noted at the outset, caravanning involves compromises and sacrifices. In order to benefit from all that freedom, affordability and convenience you get from taking a trip in a caravan, you do need to get used to giving up some of your modern living luxuries.
Conclusion
So, when it comes to the laundry option you choose for your own caravan outfit and holiday, there are clearly benefits of all the suggestions we've given. Is there one that's better than all the rest? One that we would single out.
Not really, because, like much of caravanning, the experience is what you make of it and what you want to get out of it. The way you choose to wash your clothes comes down to your own personal taste and preference.