VonShef 5pc Outdoor Drinks Holder Set - Holds Wine Bottle & 4 Glasses...
Woodside Outdoor Picnic BBQ Barbecue Wine Bottle & 4 x Glass Holder Stake...
Hands Free Wine Glass Holders - Set of 4 | Perfect for Outdoors Picnics &...
VonShef 5pc Outdoor Drinks Holder Set - Holds Wine Bottle & 4 Glasses...
Woodside Outdoor Picnic BBQ Barbecue Wine Bottle & 4 x Glass Holder Stake...
Hands Free Wine Glass Holders - Set of 4 | Perfect for Outdoors Picnics &...
We've already covered caravan wine and spirit bottle holders. Therefore, we thought it was probably a good idea to do a companion piece covering the different caravan wine glass holder options there are out there. If caravanning and wine go together like cheese and tomato, snakes and ladders and Ant and Dec, then bottles of wine and glasses go together. That means, bringing it all full circle that caravanning, bottles of wine and wine glasses all go together.
Instead of just placing your wine bottles and glasses on the ground when you are out and about and not close to your caravan, we may have found the solution you need with this next selection of products,
We've gathered together our favourite wine glass holders. Most of these follow the same kind of concept but have minute differences that are worth highlighting.
Caravan Wine Glass Holders (Some Choices)
1. VonShef Outdoor Drinks Set

First up we have an ingenious 5-piece kit from the kitchen accessories masters VonShef. With this kit you get a holder for 4 wine glasses and a bottle of the good stuff. These are basically made from a reasonable quality metal and have been given a sleek black matte finish.
Unlike the bottle holders mentioned in our other article, you'll notice this, and indeed the others listed here, are designed with spending time in the great outdoors in mind. You simply push the base of the holders into any soft ground and there you go – you've got the perfect solution to alfresco dining and drinking.
2. Frames by Post Wimbledon Wine and Glasses Holder

Undoubtedly taking inspiration from one of the biggest events and venues in the tennis world with their green colour, these metallic wine bottle and glass holders are a great way to keep your drinks off the ground. The attractively designed accessory provides space for one bottle in the middle and four around it. You can even place unused glasses upside down and the in-use glasses the right way up.
3. Woodside Outdoor Picnic BBQ Wine Bottle and 4 Glass Holder Stake Set

Very similar to the VonShef product, this Woodside outdoor wine bottle and glass holder stake set is another affordable and durable option. We love the way the wine bottle holder coils around the body, while there's just one twist around the glasses. A smart matte black finish gives them a very classy and refined look.
4. Drinkstuff Hands-Free Wine Glass Holder – Set of 4

A less classy and more fun and vibrant option, the drinkstuff hands-free wine glass holders set comes with 4 holders made from colourful plastic. Given their price, they're another great investment. It will just depend on whether you'd prefer a metal-made or plastic-made product.
5. LEMO Handmade Outdoor Wooden Wine Glass Holder Phone Dock/Speaker

For the last two products, we've managed to find a couple of quirky and incredibly practical solutions for alfresco dining outside your caravan or somewhere in the middle nowhere. Made 100% by hand using high-end wood, this two-wine glass holder follows the same design principle of a stake base for pressing into the ground.
The major difference, besides the lack of space for a wine bottle, is the fact that as well as the two wine glasses, there is space for a smartphone. How very civilised and modern! You no longer need to keep your phone on the ground and can use it as an MP3 player to play your favourite songs while enjoying a sip of wine.
The stake is not made from wood, instead being constructed from high-end aluminium, so you know it will last a long time and won't fall easily.
6. INNO STAGE Foldable and Portable Wine and Snack Table with Metallic Legs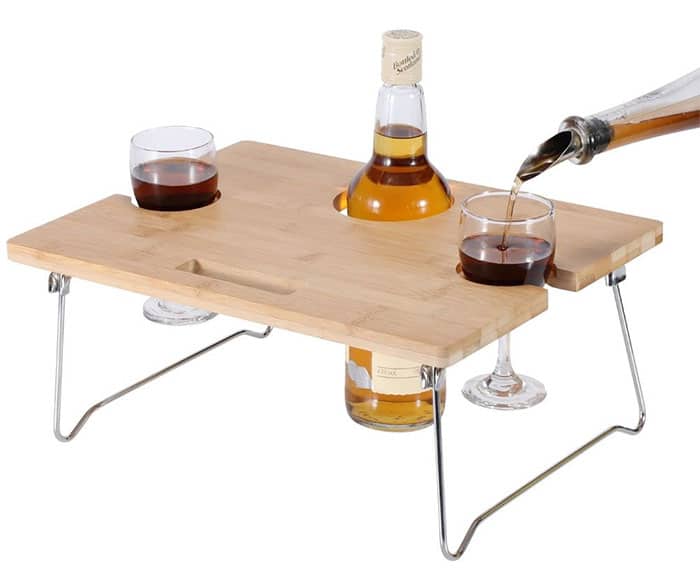 Another alternative design we started discussing, the INNO STAGE wine glass holder caravan accessory resembles a little wooden table. Well, that's what we think anyway! Made from 100% natural bamboo, a material highly regarded for its appealing rich grain and durability. The legs for this table are made from chrome-plated metal and fold out to help elevate your wine bottle and glasses off the ground, and then fold away to make this great product even more compact.
As we've noted in various posts, but more specifically in our caravan wine bottle holder piece, there's something magical about heading out to explore the world and taking your favourite bottle of wine or spirits to relax at the end of a long day of adventure.
Now you can do it in style while keeping your bottles and glasses off the ground, awesome!