HANGERWORLD 6 Black 40cm Plastic Foldable Travel All Purpose Clothes...
Pearl space-saving hangers.Space Saving Hangers Set Narrow Lightweight Set...
AWNING HANGER MULTI HOOK (K6)
HANGERWORLD 6 Black 40cm Plastic Foldable Travel All Purpose Clothes...
Pearl space-saving hangers.Space Saving Hangers Set Narrow Lightweight Set...
AWNING HANGER MULTI HOOK (K6)
You're busy packing for your long awaited holibobs, all day you've been feverishly ironing t-shirts, shirts, blouses, skirts, trousers, jeans, dresses and shorts (you're ever hopeful the good old British weather will hold). You've got everything ready, and now you just need a few caravan coat hangers to slip your garments onto in order to keep them crease-free and carefully stored in your compact and bijou caravan wardrobe.
Now, we aren't portraying caravan coat hangers as items that are going to be make it onto your "highly important holiday/caravan things you simply must not forget to take." Ok, so they might not be deemed a caravanning essential, but without those caravan coat hangers just how are you going to hang up that new linen shirt? Hmmm?
Let's agree they are not remotely exciting, but heck, they are very useful, and shall we tell you about something that could possibly be even more useful? Clip on caravan coat hangers. These bad boys enable you to clip your other coat hangers onto them (so you can hang e.g. five hangers from one hook), thus enabling you to vertically store your garments and taking up even less space. Clip on caravan coat hangers also prevent your hangers moving around and falling off the rail – after all you don't want to open the wardrobe door to find all of your newly ironed clothes in a creased-up heap on the floor.
See, now we've got your attention! Any product that proves itself useful in the world of caravanning is surely worthy of exploration, and with that let us take a meander at some of the best caravan coat hangers and clip on caravan coat hangers on the market:
Caravan Coat Hangers (Our Selections)
Described as the "perfect travel accessory" for use in the car, home, and caravan, this pack of 6 black foldable travel all-purpose clothes hangers are brought to you by British brand HANGERWORLD (with a name like that we're assuming they know a thing or two about caravan coat hangers).
These hangers are good quality, and innovative in design – they fold, and they are lightweight, compact and easy to carry. These HANGERWORLD hangers can be used to hang up all manner of garments – from blouses to t-shirts and jackets (though heavy jackets might prove to be a little too weighty). There are handy notches in the hangers, so you can hang garments by their loops and straps (we know some tops and dresses tend to slip off, so this is useful for hanging those). Each hanger is 40cm (16") wide and when you fold it up it's a mere 8cm x 13.5cm (3.1" x 5.3"). The top part of the hanger is fixed (the hook doesn't swivel), so you can't turn it to hang over a door for instance, but we can't see that being an issue, when it comes to caravanning it's surely better to have your clothes stored neatly away in your wardrobe.
We like:
Clever design and good value for money.
We don't like:
Maybe a swivelling hook would be useful?
This set of 10 space saving hangers are brought to you by a company called Pearl. The hangers are very narrow and thin, which means they will take up much less space in your wardrobe. The hangers come complete with indentations (great for hanging skirts) and there's also a handy trouser bar, so you can fold trousers and long dresses over.
The Pearl hangers are clip on caravan coat hangers – rather unique in the fact that they have a central hook on the front, this means you can click your hangers together and suspend them vertically – thus saving even more space! Another great feature is the non-slip velvet surface, which encourages your clothes to stay put rather than slide off. Size wise each hanger is 380 x 215 x 6.3 mm and weighs just 55g.  Just to offer you a comparison, standard wooden hangers are wide, and usually take up 12 to 20mm per item, whereas this hanger is a mere 6.3mm thick!
We like:
The clever vertical click together space-saving feature.
We don't like:
Not the cheapest hanger on the block!
This clothes hanger looks different to the others and is a useful alternative. It's great for popping in the awning to hang up wet coats, damp towels and items such as dog leads. The hanger comprises of five hooks – and they are relatively strong – so you should be able to hang up what you like. The good thing about having a couple of these hangers in your awning is that you won't be clogging your caravan up with more stuff!
We like:
The perfect hanger for sticking your soggy coat on in the awning.
We don't like:
Colour varies – so no being picky, you get what you get!
4. Quest Caravan Motorhome Home Pack of 8 Non-slip Clothes Hangers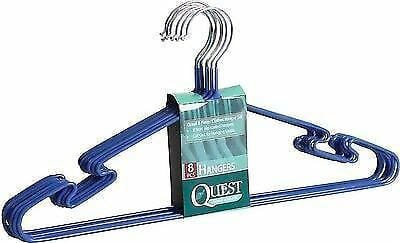 A set of 8 clothes hangers manufactured by Quest. These caravan coat hangers are blue in colour and made of plastic. They have a non-slip coating which helps your garments to cling to the hanger rather than slide off. There are also notches cut in which are useful for hanging garments with loops.
We like:
Non-slip is good, we don't want our painstakingly ironed garments sliding off thank you very much.
We don't like:
Why only blue? Then again it doesn't really matter does it? They will be squirrel-ed away in your wardrobe.
5. 5 x Bundle Hook and Hang Clothes Hangers
Billed as ideal for boats and caravans, the hook and hang clothes hangers come in a bundle of five and have been designed to save as much space as possible (always a good thing when you're short on room). These clip on caravan coat hangers allow you to hang a number of hangers onto the hooks (which can then be stored vertically) saving lots of space in your wardrobe.
We like:
Great design for hanging lots of hangers together to save space.
We don't like:
Bit pricier than some products.
Which Caravan Coat Hangers Are for Me?
Not a question you will be losing sleepover, but checking out what's on offer has shown us there's more than one way to hang your clothes. What's it going to be? Caravan coat hangers? Clip-on caravan coat hangers? Decisions, decisions…
We like the design ideas and features we've come across. From slim and narrow caravan coat hangers that are designed to take up far less space, to non-slip hangers with indentations or notches for items with loops and thin straps. The clip on caravan coat hangers are particularly clever – the design allows you to hang a number of hangers from one hook, then you can drop the hangers down and store your garments vertically. This is a super way to save space, and perfect if you're not a fan of packing light! We also like the fact that clip on caravan coat hangers keep your hangers secure, preventing them from slipping around on the rail as you negotiate those motorways and winding country roads.
We must also mention our other product, the five-hook design that's ideal for your awning, we like the fact that some thought has been given to what we can do with those wet jackets etc. It's a simple idea and design, but anything that allows you to keep wet or bulky items out of the caravan works for us.
Each design has its merits, why not take a look for yourself? We wish you happy caravan coat hanger shopping!