Ring Automotive RC7811 Premium Awning Lamp, White
Maypole N82961 Awning Light with Halogen Bulb, White
Fiamma LED Awning Light Gutter
Ring Automotive RC7811 Premium Awning Lamp, White
Maypole N82961 Awning Light with Halogen Bulb, White
Fiamma LED Awning Light Gutter
We've covered awnings extensively here at Caravan Helper because they are incredibly useful and help to expand the available space you have in your caravan. In order to get the best out of this space though, there are a number of items you can invest in, such as furniture, airers and even heaters. On this page we want to look at another useful addition to your caravan awning setup, an awning light. We are going to look at four caravan awning lights in particular.
There are some things you should look for when choosing a light for an awning or any other part of your caravan. For one thing, just like when buying anything else that requires electricity, you need to ensure that you choose appliances and, in this case, lighting fixtures, have a low enough voltage that they won't cost you too much money, or even worse, trip the electric hook-up (if you are using one at the caravan site you've pitched up at).
Best Caravan Awning Lights (LED, Halogen)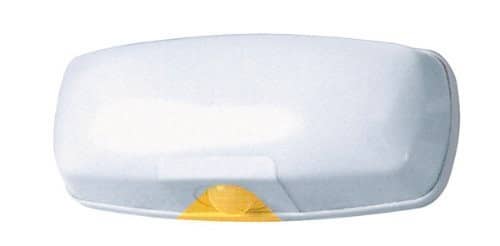 The first awning light we want to talk about is this incredibly affordable 12-volts model from Haba D-Tec. It is an important addition, not just for spending time in the dark of the evening and night in your awning, but also as a security light so you can see where you are going when you are returning to your caravan after being out somewhere.
This particular model is very easy to fit and can also double as a great replacement lighting solution if your caravan has a Ring Ultra light. It only has two wires, a neutral and live and takes two 5-watt halogen bulbs.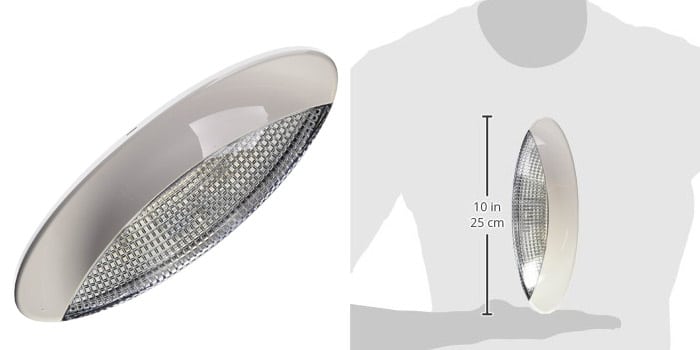 Ring Automotive is a company that has more than 40 years' experience in the automotive industry producing solutions and products for drivers of all kinds of vehicles and within the caravan industry are responsible for the high performing Ultra series of lights.
This Ring Ultra light is a premium quality halogen bulb light that is relatively easy to install and powered by 12-volts. It is fitted with just one bulb and is both weatherproof and waterproof so ideal for outdoor applications.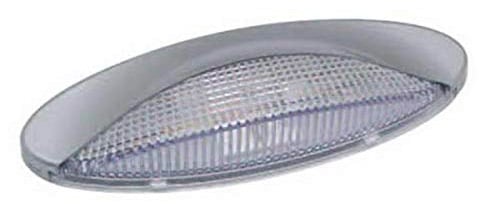 Another great lighting solution is this Ring Automotive Premium lamp which is more or less the same as the one above. The main difference between this one and that one though, is that it is silver.
Ring Automotive and their range of Ring Ultra awning lights have a sterling reputation, making this a worthy investment for your caravan outfit.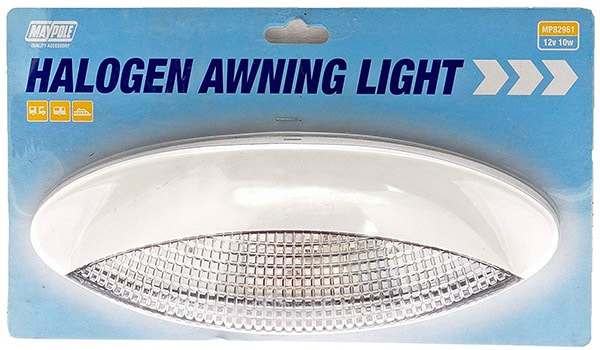 The last awning light on our list is from the hugely successful and reputable caravan and outdoors accessories manufacturer Maypole. This is a great replacement for an existing Ring Ultra light that is normally featured in most caravans. It is also a great product in its own right and the name Maypole makes it a great choice.
Hopefully, we have shown that there are a number of great awning lights available, especially the LED awning lights for caravans. We would highly recommend any of the above as a caravan outside light, particularly if your caravan make and model has a Ring-style light. The last thing you want is tripping up when you are trying to manoeuvre outside your caravan at night, and there is the added bonus of it allowing you to enjoy time outside your caravan with a caravan exterior light.
Another great solution to illuminating your awning setup is to invest in some awning rope lights. These are great because they can be setup just about anywhere and positioned in whatever way suits you and your tourer and awning setup. What's more, when you're not on the road, they make for practical and stunning decorative lights around the house and in your garden.
The first awning rope-style light is an LED strip light from SUBOSI. It consists of 72 mini LED chips and can produce light with a colour temperature between 2700K and 6500K. The lights are attached to a cable measuring 5.5-metres and can be connected in several different ways – to a car battery, car cigarette lighter socket or a separate battery pack.
As it has been certified with a waterproof rating of IP67, it is resistant to moisture, dust and water and features an extendable hook for easy use both inside and out. The hook can be adjusted from 0 to 200mm. Perfect for any small awning.
Next on our list is a great LED lighting solution for awnings from Kampa. Kampa, as regular visitors to Caravan Helper will know, have been featured extensively in the past. They are well-known for designing and manufacturing high-quality and effective equipment, accessories and components that make life on the road and in the great outdoors easier.
This light comprises 30 extra-bright LED bulbs set along the strip. The strip measures 50-centimetres and comes with a 5-metre cable and mains adaptor. What we particularly like about this lighting solution is that it can be controlled at the touch of a button via the remote control. It also benefits from a mood-setting dimmer that allows you to fine tune the level of brightness you have. Affordable and extremely practical.
Last on our list is the awning light from Fiamma. Fiamma are an Italian-based brand that have also been featured numerous times in different posts for different products showcased on Caravan Helper. They have a sterling reputation for ingenious solutions to the problems that go hand in hand with caravanning and camping.
This is an updated version of a classic Fiamma LED Awning light and has been designed this time with a hollow central body and a moulding that resembles a gutter. It is therefore ideal for installing above your caravan door as it helps to prevent too many drips falling and irritating you.
Conclusion
All of the caravan awning lights we have chosen above are low voltage (12v caravan awning lights) for that reason. We have not included any 240v caravan awning lights. We also think it is sensible to weigh up a number of different aspects of a light before buying it.
Cost – Although it should not be the sole consideration you make, the cost should be factored into your decision. You want to find a good quality product for a price that falls within your available budget. If you are going for LED awning lights then these will cost more, but should hopefully last longer.
Manufacturer/Brand – Of course, there are many different manufacturers and brands out there who produce caravanning accessories like awning lights. While we would say that it doesn't necessarily follow that just because something has a known brand name on it, that it is better quality than one without, it is generally a good indicator of that.
Installation – The installation involved in setting up the awning light you choose is another important aspect to consider. If you want to avoid the expensive costs of hiring someone to install the light for you, you need to choose one that is easy enough to install by yourself.