It's reasonable to claim that most people would prefer to buy new rather than used. Wouldn't you agree? But while it might be true, it's just not possible all the time. This is especially true with sizable purchases.
A caravan would definitely come under that heading. And it might make perfect sense to buy a used touring caravan if this is your first time venturing into caravanning.
So, if you determine a used tourer is for you, a question you might like an answer to, is what's the best used touring caravan to buy?
It's a brilliant question to ask, but the answer is not so easy. Everyone has their own ideas of what 'best' really means. You need to have a think about what's important to you. For example, how many people will use it at one time, so you need to know how many berths? What facilities do you need to have in the caravan, and of course what's your budget?
Here are a few choices of used touring caravans for you to think about. 
2-Berth – Bailey Pegasus 462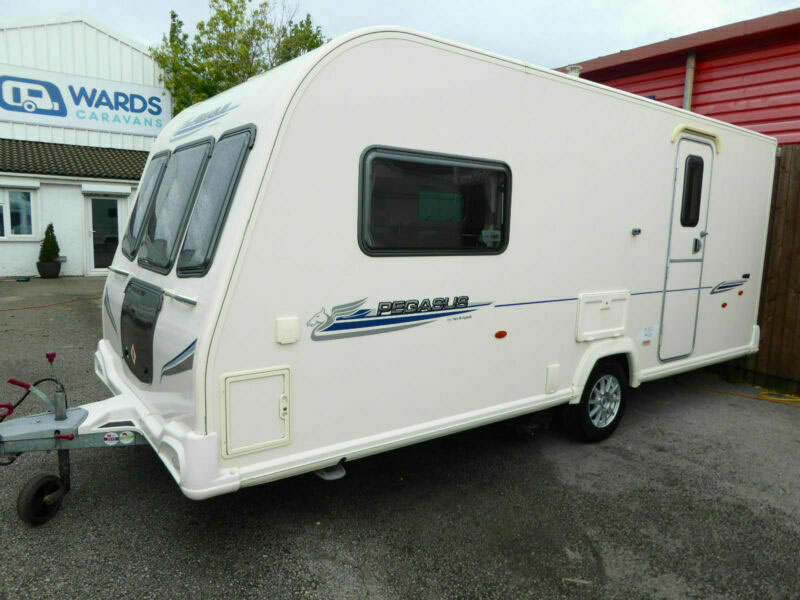 Originally built in 2010, it's a very practical touring caravan. The Bailey's strength and lightness come from its Alu-Tech construction.
Bailey intended this style of construction to reduce external joints and fixing points by 90%. So reducing the number of water access points. Because of this, they offered a 10-year integrity guarantee.
A conventional design sees the washroom at the rear end, a mid-area kitchen and the lounge in the front end.
It's designed for a two-person family but will take an awning, so you can extend the accommodation.
With such excellent amenities, it makes a nice all year round caravan.
Pros.
Alu-Tech construction

Improved insulation

Al-Ko ATC and AKS 3004 hitch stabiliser

Al-Ko chassis

Double-glazed windows throughout

Truma Ultratherm blown air system

LED-lit front and rear grab handles

Walk-in shower cubicle

Thetford C-250 cassette toilet
Cons.
Bed slats may fall off runners

A frosted washroom window would be practical

Narrow wardrobes
4-Berth – Swift Challenger 570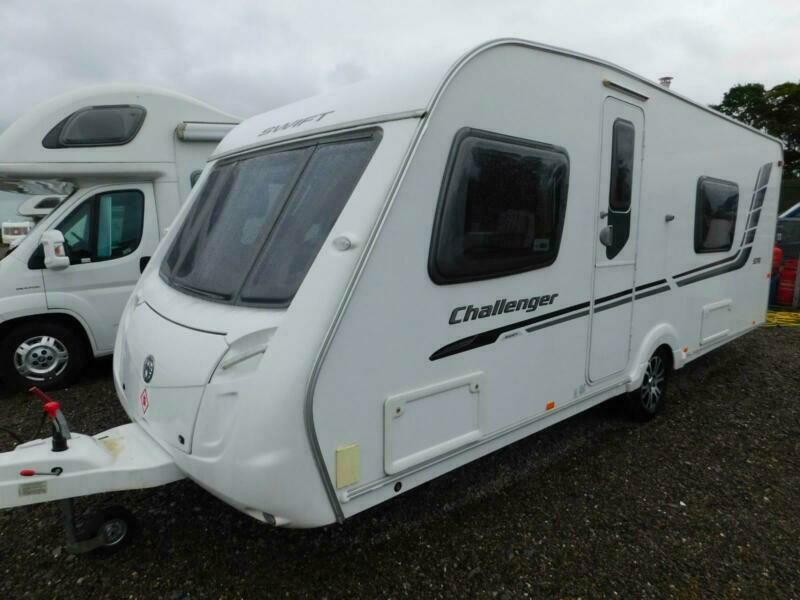 There's a lot going on in the 570, so Swift can make room for a really gorgeous washroom. But space has to come from somewhere and they have taken it from the kitchen area. There's not much cupboard space and there is barely enough kitchen work-tops.
But if you're more likely to use the campsite facilities for cleaning the dishes, probably won't be an issue for you. But Swift put grey granite-look sinks in their vans, which are more practical than stainless steel.
The accommodation comes in the form of two single beds in the front lounge (can also make into a double) and a fixed double bed to the rear. Plenty of storage space onboard, especially under the fixed bed.
The washroom is the jewel of the caravan. Lots of space and a good-sized walk-in shower, with a plastic-lined shower unit and a plain plastic door. A useful size mock granite work surface offers storage space above.
Towing the caravan will be fine if you have a medium to large size car. It doesn't require a four-wheel drive.
Pros.
Several power points

Fixed rear French double bed

Granite effect kitchen sink

The end washroom has a spacious shower cubicle, toilet and a washbasin

Walk-in shower, plastic-lined

Truma ultra blown heating system

Concertina blinds to all windows

AL-KO Secure Wheel Locks

Three gas burner cooker and a mains hotplate
Cons.
Small kitchen space

The blown air system is a little weak
6-Berth – Bailey Senator Series 6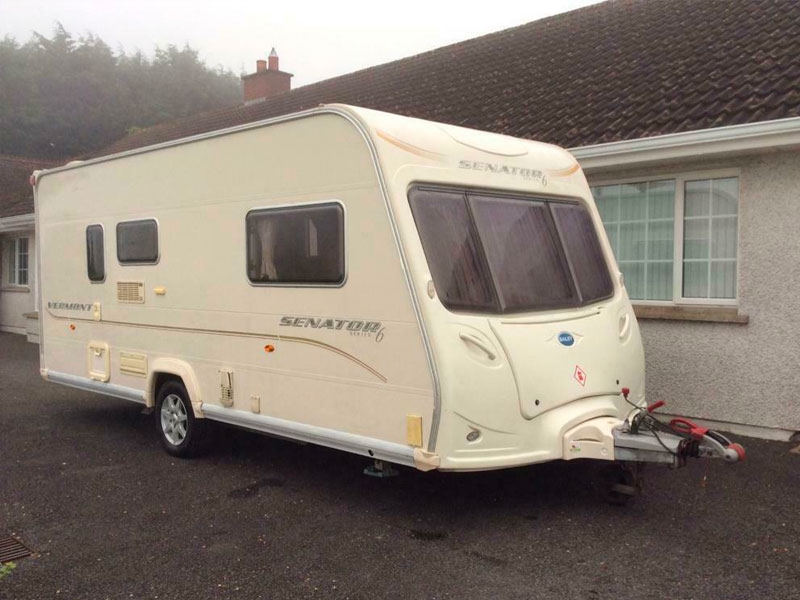 There are several caravans in the Bailey Senator Series, the one we'll be looking at is the largest one – the Carolina.
The Bailey Carolina is a very high specification, 6 berths, large twin axle caravan. It has all the extras you would expect from such a high-spec van. The Carolina is the perfect caravan for the entire family to have a glorious holiday.
The layout is very practical for a family holidaying together. In the caravan's front is a twin or large double bed, the rear of the van has a separate bedroom, with 3 bunk beds. In the bedroom area is a dinette which converts to a single bed. For extra privacy, they can separate the complete unit from the rest of the van by a sliding door.
Moving down to the front of the caravan is a nice size lounge. Storage space comes from some overhead cupboards, and below those is a chest of drawers. You can roll the wooden slats that make the bed out from under the drawers.
There's plenty of room in the lounge area seating for up to 6 adults.
For some welcome extra light, there is a sunroof which supplies not only light but some extra airflow for hot stuffy days and nights.
The kitchen has a nice layout and includes a four ring gas hob, definitely needed if you're catering for a family of six. A separate grill, oven, microwave and fridge freezer complete the kitchen equipment.
The washroom has a Thetford cassette toilet with an electric flush. For convenience, there is a separate shower cubicle with a door. Additional ventilation comes from the roof light.
Pros.
Spinflo four-burner hob unit

Built-in microwave oven

Thetford cassette toilet

Separate shower cubicle

Private end bedroom

6-seat lounge area

Alko Stabiliser

ATC braking system

Omni-vent 3 speed bi-directional kitchen extractor fan
Cons.
Will need a 4×4 vehicle for towing

Washroom could do with being bigger

Rear bedroom facilitates only single beds
Summary
If you're going to buy a used touring caravan, then you need to prepare yourself for some negotiations. Don't accept the first price. In fact, don't accept the first tourer you see. Emotions can get the better of all of us. 
Remember, damp is the devil and if you buy a tourer without checking for this carefully, it could end up costing you a small fortune and may even cost you your caravan.
Buy yourself a damp meter before you go caravan hunting. They cost about £20 but may save you hundreds if not thousands in repair and rebuilding costs.