Whether you have mobility and dexterity issues or just do not want the hassle of having to unfold or pop down manual steps from the door to your caravan, you may have invested in a Thule electric step. You won't be the first and definitely won't be the last.
These steps are ideal because it makes getting in and out of your caravan even easier. Have you ever found it difficult getting into and out of your caravan when you are parked on the ground that is not quite as even as it could be or a little sludgy, sloppy and muddy? Maybe you are tired out after a lot of walking and other activities? These are the situations when electric steps are a must for your caravan.
They are great, that is when they work. If you have come across issues with the electric step not doing what it's supposed to and actually opening out, unfortunately, yours was not an isolated incident. In the following post, we want to help you try and solve this problem by looking at the most common explanations and solutions we've found.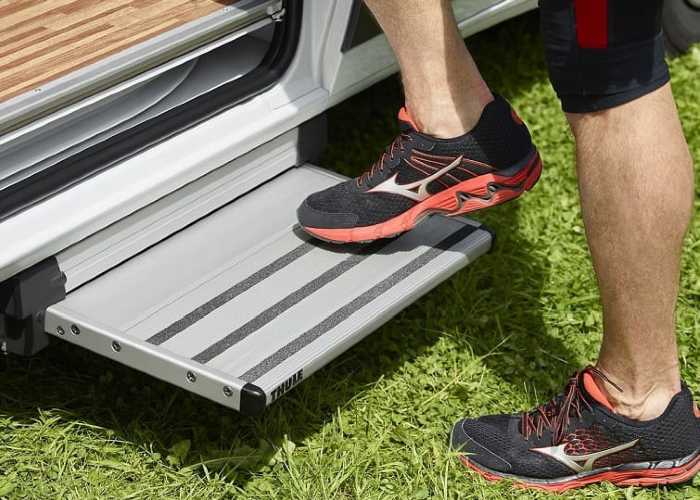 The Step Doesn't Move
One of the most common issues with electric steps like the Thule variety is that it stops moving. So, when you press the up or down button to make it move, the motor starts running and makes a buzzing sound for around 30 seconds before stopping. You may be able to move it around with your hand, so there's not a jam as such.
The issue is thought to be caused by a plastic cog fitted to the motor that drives the step out so you can use it. These parts are known to be of very poor condition. Fortunately, you can buy them on places like eBay for a reasonable price.
Hopefully, that will help solve your issues with electric steps to your caravan. Another suggestion we would offer is that if your electric steps are not working, that it might be that a fuse has shorted. Although this would be easy to tell if anything else is connected up to the same circuit with the same fuse, they would be affected too.
If you can't fix it, you may need to replace it completely, but it's always as well to check out all your options before you pay more money than necessary.