If you are having difficulty sleeping in your caravan, it can severely reduce the enjoyment of your holiday. You might have to deal with pain the next day, or tiredness and fatigue. Fortunately, we do have a solution to this problem. This solution is memory foam toppers. Mattress toppers that are made of memory foam add an extra layer of comfort, reducing joint pain and making it easier to fall asleep on, while also stopping you from feeling lumps and bumps from your bed.
These toppers are also easy to store because of the fact they can be folded up and stored. In this article, we will list the best mattress toppers available online, so you can decide the best option for you. We hope that the information in this article will benefit you so you can improve your life as a caravan owner.
Caravan Memory Foam Mattress Toppers (Some Choices)
The last thing you want while staying on holiday is an uncomfortable bed to sleep on. This can lead to difficulties sleeping, particularly if you have insomnia. Fortunately, this foam mattress is an additional layer of comfort that ensures no lumps and bumps in the bed will bother you. Place this on the top of the bed, and feel less pain, more sleep and better relaxed. Contact the company producing the mattress, Topstyle Collection, for any specific requirements you have. For a superior quality product, at an exceptionally cheap price, you can't go wrong with this memory foam mattress. A good night's sleep is guaranteed when you buy from Topstyle Collection.
1. Visco Therapy Caravan Memory Foam Mattress Topper

Visco Therapy has provided an excellent product with excellent pressure relieving qualities. Smooth and soft, this memory foam topper is perfect for those who have muscle and joint pain or struggle with getting to sleep in normal beds. Caravan, motorhome and truck owners can benefit from this remarkable product. Its two-inch thickness means that bumps and lumps stopping you from sleeping will quickly become a thing of the past. All of this comes at a truly excellent price. Overall, the Visco Therapy Caravan Memory Foam Topper is perfect for guaranteeing a good night's sleep, free from muscle and joint pain.
2. The Bettersleep Company Caravan Quilted Mattress Topper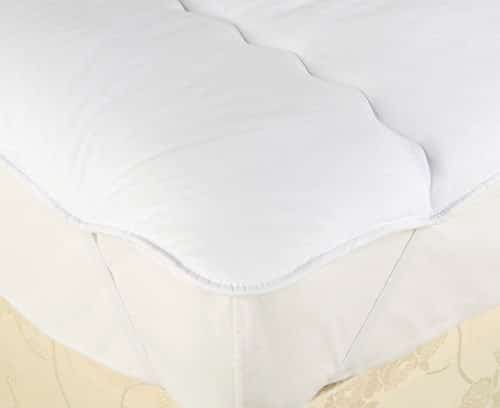 Hollowfibre is what fills this topper, so your sleep is drastically improved while you are staying in your caravan. The mattress topper is stitched with bound edges and elasticated corner straps, ensuring it has high-quality construction. Specifically designed for caravan beds, you know that you are guaranteed comfort and luxury as you rest in your bed with this topping it. Keeping the topper in place is the elastic strips, and the quilted construction ensures that the hollow fibre filling the topper remains as even as possible.
If you want a high-quality constructed, soft, plump mattress topper for your caravan bed, this option from The Bettersleep Company will mean your sleep is as comfortable as possible.
3. Caravan Memory Foam Mattress Topper

Southern Foam's memory foam mattress topper is perfect for allowing you to get some rest despite pain, insomnia or other things that might affect your sleep. Inside the mattress is 40g of UK memory foam, making it perfectly snug, and the mattress itself is two inches thick, ideal for placing on a caravan bed. For convenience, the mattress topper has been roll-packed so you can unpack it and place it on the bed, then it can recover to full size for you to use. Overall, this memory foam mattress topper is guaranteed to allow you to have a better night's sleep, despite any challenges you have getting to sleep.