Well, let me say from the off, there's no such thing as a "typical Caravan". So there can't be a typical caravan cost. For example, are you interested in a touring caravan or a static van?
That's the first decision you must make. Are you happy for it to be in one spot or are you up for touring around the country and possibly taking it more wide-ranging destinations? Don't forget the more you use your caravan, the more your expenses will increase. 
The initial cost of the caravan will be the greatest expense, but it's also a good idea to factor in the ongoing costs.
Let's look so we can give you some idea of the costs and the differences between touring and static caravans. 
How Much Is A Touring Caravan?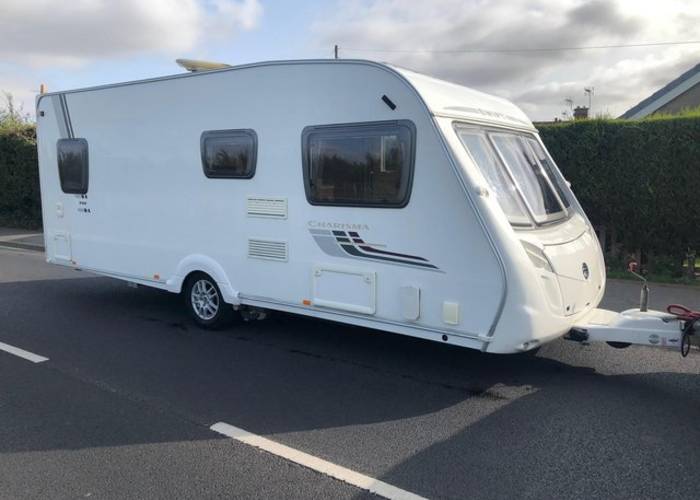 Touring caravans can range in price from £15,000 to over £36,000 for new models. At the cheaper end will be the 2-berth caravans. The prices rise from there, depending on the number of berths you want and the quality of the fixtures and fittings. If you can stretch to the luxury end, though, you can pay well over £30,000.
These prices cover new models, but if you're in the market for used, then you will pay a lot less. For example, £2,000 might buy you a 15-20-year-old model that's well used, but serviceable. In case you're just getting started and want to test the waters. Not everyone takes to caravanning (why I hear you say?).
A touring van 2 or 3 years old, will still be in excellent condition, yet offer quite a decent saving.
How Much Is A Static Caravan?
A Static caravan will cost you between £30,000 to close to £250,000. Size, the model, and the quality of the interior fixtures will determine prices. Once again you can reduce the initial outlay by buying secondhand.
With a static caravan, there are additional costs that you will have to consider.
Installation Costs
Depending on if you bought your van from a factory, you might have transportation and installation costs to get it to the location and park you have chosen. Some costs may not be apparent at first. For example, levelling the caravan, connecting it to electricity, gas, water, sewerage and commissioning the appliances. 
If you're buying used, then it's probably already in situ.
Pitch fees
These will make up the biggest of your ongoing fees. These fees will vary depending on the services offered at your chosen site. Some sites are almost like giant villages, with shops, entertainment etc. Be aware that they will also rise, probably every year, because of inflation.
Electricity And Gas
I think you've got this. 
Insurance
You'll probably find the site will insist on various insurances. They will also be able to offer you specialist caravan insurance at preferable rates. If you take care of your own make sure it covers:
 Public liability

 Third-party liability

 All-year-round insurance, even when your van is not in use.
Extra Costs
Many of these static caravan parks are proud of their safety standards and appearance. Part of your agreement or contract might be an acceptable standard of maintenance and site repairs to your caravan, which comply with the park standards.
In Summary
I hope this article gives you some idea of the cost of a caravan. There's a great deal for you to ponder. But first is the choice of going static or going touring. What instantly appeals to you? We all have our preferences.