Caravanning is a great – and wallet-friendly – way to soak up the sights and atmosphere in one of our favourite holiday destinations, but getting to France in the first place can be an expensive business. Ferry companies use airline-style dynamic pricing, so if you don't book well ahead, you won't be getting the bargain fares. School holidays are never cheap, sadly, and weekend crossings are also expensive. 
Normally, we'd advise planning your trip several months in advance, nabbing the cheapest fares possible, then spending the intervening period dreaming of that first glass of vino rouge under plane trees, watching a game of pétanque on a village square. Unfortunately, the Covid-19 pandemic and uncertainty about Britain's future relations with the EU mean a bit more flexibility is required in 2021. Hopefully, there'll be a vaccine, and Kent won't be turned into a giant lorry park, but booking a sailing with the option to amend or cancel might be worth a few extra pounds, especially in the first few months of the year. And allow extra time for the journey if you're travelling to Dover or Folkestone.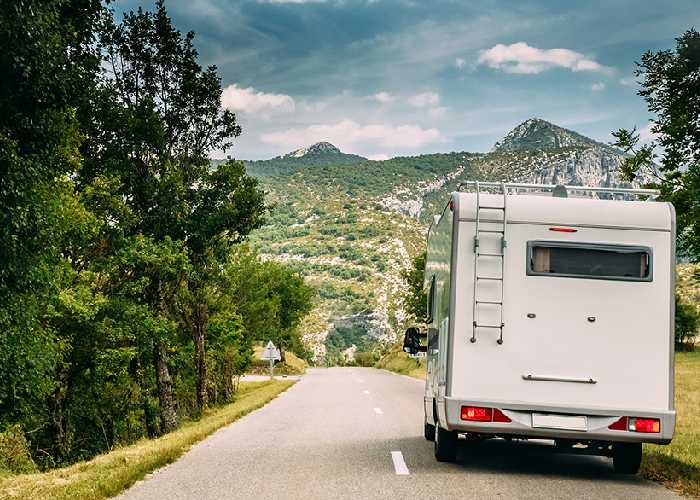 Here Are Our Top Tips To Get To France
Here's our guide to the cheapest ways to get to France with your caravan, and a few of the pitfalls to watch out for.
Do your homework
Boring and frustrating it may be, but putting in the research before your trip can save oodles of cash and spare you grinding hours of motorway driving. You can check route times and costs at viamichelin.co.uk, which allows you to plot a route without the dreaded tolls. As a rough guide, it's about £250 each way from London to Marseille via Calais with tolls. You can use comparison websites such as Direct Ferries, Compare Ferries and Ferrysavers to find the cheapest fares on your chosen route. And don't rule out the Eurotunnel from Folkestone to Calais: it has a reputation for being expensive, but it's faster than the ferry, and it takes less time to get in and out of the port. 
Before trying to save money, make sure you're won't be liable for a fine or for costly medical assistance. Whatever the outcome of trade talks with the EU, there will be new regulations and requirements for Britons travelling to EU countries. You must have at least six months left on your passport when you travel, you'll need private insurance for healthcare and you might need an International Driving Permit or green card. If you're taking the dog, the pet passport will no longer be valid, so contact your vet four months before you travel to make sure you've followed the rules. For full details of all these issues, visit gov.uk/visit-europe-1-january-2021.
Drivers in France are required to carry high-vis jackets and warning triangles, fit headlamp beam detectors and have a GB sign on the back of the car. For a comprehensive guide to driving in France, visit autoexpress.co.uk/car-news/driving-abroad/92245/driving-in-france-top-tips.
Choose the right port
Dover to Calais or Dunkirk is the most popular option, as it's the shortest crossing, but that can mean extra time in the car on both sides of the Channel, not to mention potential queues at the port. It's a 10-hour drive from Calais to Marseille.
If you live in the southeast or Midlands and want to travel to the south of France or Normandy, consider Newhaven to Dieppe, which takes four hours. Portsmouth is great for Normandy, Brittany and southwest France, with services to Le Havre, Caen, Cherbourg and St Malo.
Anyone travelling from the southwest or Wales should look at Poole, for Cherbourg and St Malo, Weymouth, for St Malo, and Plymouth, which has services to Roscoff, for Brittany and the southwest. 
Don't sail to France
Several ferry operators offer services to the Netherlands and Spain, which could be cheaper and more convenient for anyone who doesn't live in the southeast – and offers the chance to combine your French holiday with a city break in Amsterdam, Barcelona, Bilbao or foodie San Sebastian. Some of these journeys are overnight crossings, so you'll be able to get some kip in a cabin ahead of an early drive to your destination.
If you're travelling from the east of England, the Midlands, the north or Scotland, heading to Holland makes more sense than playing sardines at Dover. There are services from Harwich, in Essex, to the Hook of Holland; from there, it's a 12-hour drive to Marseille, so not much more than from Calais. And if you're heading to Alsace or the Vosges mountains, the journey time is pretty much the same. 
Sadly, the long-established service from Hull to Zeebrugge has been cancelled, probably for good, but Hull to Rotterdam and Newcastle to Amsterdam are great options for anyone travelling from the north or Scotland. Again, it's a 12-hour drive to Marseille from either port.
If you're heading to southwest France – Bordeaux, Toulouse, Biarritz, the Pyrenees or Languedoc-Roussillon – an overnight crossing to Spain is worth considering. You can sail there from Portsmouth or Plymouth, making this a particularly good option for travellers from the southwest. It's a five-hour drive from Plymouth to Dover on a good day, and driving from Calais to Bordeaux takes 8½ hours, but Bilbao to Bordeaux is a breezy 3½-hour trip. And you can enjoy cruise-style facilities onboard, unless you book a low-cost "economie" sailing from Portsmouth to Bilbao with Brittany Ferries.
Be flexible about timing
Ferry companies use dynamic pricing, so the cheapest fares go early. Check the ferry companies' websites and price comparison sites from late summer the year before you plan to travel. If you're travelling from Dover, weekdays are cheaper than weekends and afternoons are less busy than mornings – but book a morning ferry back from Calais or Dunkirk. Perhaps unsurprisingly, sailings between midnight and 6 am are the least popular, so there are bargains to be had if you're prepared to drive in the dead of night.
If you live near a UK port and want to visit Paris, Lille, Normandy or Brittany, check out the ferry companies' short-break deals – trips lasting up to five days. 
Shop your way to a saving
If you're booking with P&O, Stena Line or Eurotunnel, getting a Tesco Clubcard could be an easy win – not least because you'll get discounts every time you shop. Download the app onto your phone and you can save £3 off the price of a ferry or Eurotunnel ticket for every £1 voucher you cash, getting a discount of up to £210 off a Dover-Calais return. Discounts aren't available on all routes, and there are restrictions on when you can sail: read the small print at secure.tesco.com/clubcard/browse/travel/4294967286.cat?pageNo=1.
If you're sailing from Dover, Newcastle or Newhaven, DFDS has a partnership with Nectar, so you get two points per £1 you spend with the ferry line online. Find out more at dfds.com/en-gb/passenger-ferries/nectar. 
Join a club
The Caravan and Motorhome Club and the Camping and Caravanning Club both offer a range of discounts on ferry sailings with P&O, Brittany Ferries, DFDS and Stena Line, as well as Eurotunnel savings – terms vary from route to route, but reckon on 10% off. Membership starts at £54 a year for the Caravan and Motorhome Club and £41 a year for the Camping and Caravanning Club, which allows non-members to access its discounts for a £20 booking fee.
The four ferry companies listed above and Eurotunnel offer a variety of discounts for frequent travellers or members of their loyalty schemes, so check their websites for details before you book. You can't use Avios points to book a ferry, but there are discounts available through other organisations, including the AA and the RAC. If you've signed up to any annual membership scheme, have a look at the website to see if there's a special offer.