As liberating as a caravan can be, the size and shape of them can eat into your space. Not to mention the security concerns to be had when it comes to leaving your pride and joy exposed on the driveway. So it goes, caravan and campervan owners in the Birmingham area have a range of options on their doorstep to keep their home-on-wheels safe and sound. Check out our picks for caravan storage near Birmingham below.
Indoor caravan storage Birmingham
We were unable to find adequate indoor caravan storage in the Birmingham area. However caravan storage Birmingham area has an array of open-air facilities, which are still highly secure and reasonably priced.
Store4U Limited
Store4U is a self-storage facility equipped to handle campervans, caravans, motorhomes, and boats. Located handily for Redditch, Birmingham, and the West Midlands in general, Store4U has an open-air site with hard-standing surfaces. 
Storing your caravan at a facility with 24/7 security and CCTV can help to reduce your insurance premiums. Store4U is just the place to keep your caravan safe for a low price. At the time of writing three months costs as little as £150, six months £300, and a whole year for only £600.
Halesowen Caravan Centre
Halesowen Caravan Centre has branches located throughout the UK, including as far north as Aberdeen. Down in the West Midlands, the Birmingham branch is in the town of Halesowen, to the west of the city, handy for the motorways leading you to the Cotswolds, Brecon Beacons, and beyond.
What stands out about Halesowen is their Gold Award from the Caravan Storage Site Owners' Association (CaSSOA), which they have held since 2012. As well as multiple national locations Halesowen has high security on site, with a side in buying and selling caravans – you might be tempted to upgrade. There are steel storage containers for additional items and racking available to make sure everything is organised correctly.
If your caravan needs servicing Halesowen is an insurance company approved and capable of keeping everything tuned up for you. 
Midland Caravan Storage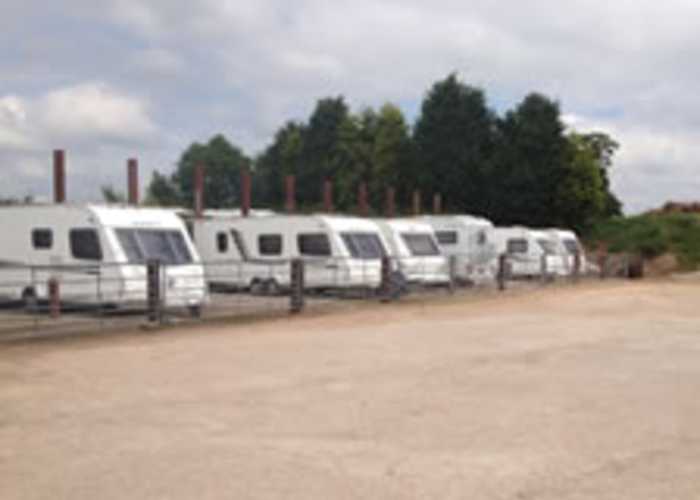 Situated to the north of Birmingham, near Abbots Bromley, the Midland Caravan Storage site is a useful spot for caravan storage in the Birmingham area. This family owned company operates on a working farm, with concreted and hard-standing areas available for lease. 
Located on a 'no through road' in the Staffordshire area the site has additional security in the form of 24 hour recorded CCTV, gated and locked compounds, as well as that family feel. The secluded area means the caravans are not visible from the main road.
New and nervous towing drivers can be rest assured that parking is easy, the pitches are not packed together. This relatively small facility is restricted between 10pm to 6am, however, a quick call is all that is needed to gain access during these times.
Caravan Storage Birmingham Area
For a further list we'd recommend checking out some of the sites mentioned here, they're spread around the West Midlands area and offer a range of services.