One of the great things about owning a caravan is the fact that it gives you the freedom to try and explore new places. Places you may not have had the chance to visit before, either for financial or logistical reasons. You aren't restricted in the same way you are when you're trying to pay out for hotels or other forms of accommodation. Although you will still have to book ahead for many of the more popular caravan sites to secure a spot, because you are in accommodation on wheels, you can stop anywhere. Even at caravan sites near Portsmouth Ferry Terminal.
Most of the posts on Caravan Halper have focused on domestic caravan holidays and trips. However, having a caravan means you are free to travel not just throughout the UK, but also further afield, particularly to Europe. Thanks to the amazing ferry links between the UK and Ireland and continental Europe, there's even more options for holidays and adventures than you may have first thought.
Best Caravan Sites Near Portsmouth International Port
Now that we've established the why, let's look at the where. There are numerous caravan parks that are suitably located to give you quick and easy access to the port. To help you with finding the right one for you, we've highlighted 8 that we think are the best below.
Kingfisher Caravan Park Gosport, Hampshire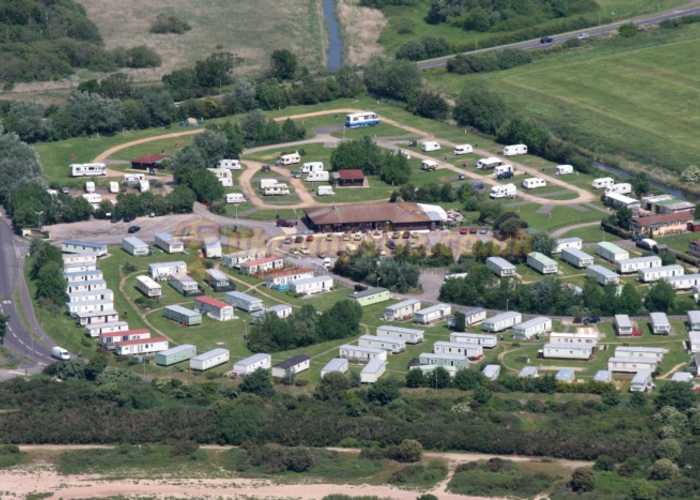 The first caravan park within a short distance away from the ferry terminal that we've chosen is a lovely one in Gosport, Hampshire called Kingfisher Caravan Park. The park is based close to Stokes Bay and is a short walking distance away from a pristine pebble beach that offers amazing views of the Isle of Wight and the Solent.
It stretches across 14-acres and the land is made up of a lot of grasslands with flowers, trees, shrubs, a river, utility buildings and some great footpaths and roads to help you get from one part of the park to the other. Depending on how long you intend to stay there, there are a lot of great facilities that you can benefit from.
There's an onsite restaurant and clubhouse that has plenty of local beers and real ales, as well as a great selection of traditional bar food and popular dishes. If necessary, there's a great laundry centre for all your clothes and linen cleaning needs. You have access to free cold and hot showers along with toilets and washrooms that are also completely free, so you can always refresh yourself on the morning of your ferry trip.
For entertainment purposes and keeping yourself connected to the internet, you can use the 16-amp electricity available and there's free Wi-Fi accessible from the club house. This means you can check ferry times and make sure there are no delays.
If you are looking for a nice little pit stop that's not too far away from the terminal and want to make your most of being in Portsmouth, this is a great option.
Southsea Holiday Home and Lodge Park Southsea, Hampshire
Next, we have another great Hampshire caravan park. The Southsea Holiday Home and Lodge Park is ideally placed next to the Solent and with a beach across from it, as well as stunning views of the Isle of Wight. Here you will find many of the normal facilities you'd expect such as hot and cold showers, toilets and an onsite bar and restaurant. They even set up a cool bar on the beach when the weather is particularly nice. Even if you are just looking for a place to stop after a long journey down to Portsmouth before taking the ferry on the next part of your adventure, Southsea Holiday Home and Lodge Park is a good option.
Fishery Creek Touring Park, Hayling Island, Hampshire
Located on one of the more curious and intriguing spots of the South Coast, Hayling Island, is Fishery Creek Touring Park. It's called an island because there is a bridge that you need to cross to get to this scenic part of Hampshire. The creek in its name is not just some clever sales pitch because the site itself is based on grasslands with a tidal creek that runs into a lake on one side can be viewed from many of the pitches around the park. As well as getting you into the holiday spirit of calming relaxation, the tidal creek offers a great chance to spot wildlife while you are there.
Now, in terms of facilities, there is a very modern shower block that was renovated in 2010 and benefits from ventilated showers with heated floors and continuous run of hot water. There is also a very modern WC block with all the features you'd expect. For your clothing and linen, there's the laundry room that has most of the more crucial features.
They even have a little bistro that serves tasty food and a play area for children. If you're looking to take a boat out or just get in some fishing or crabbing before heading onto the ferry, the creek is ideal.
Chichester Camping and Caravanning Club Site
The Chichester Camping and Caravanning club site is set in some beautiful land that used to be an orchard. It is well connected to many great places in the local area such as Bognor, Brighton, Littlehampton, Southampton and of course, Portsmouth. It's not far away either from the Blue Flag beach along at West Wittering full of sandy dunes and just lots of space to breathe in the fine sea air and relax.
On site, there's many of the amenities and facilities you'd expect from a fully registered Club site, with flushing toilets, showers, Wi-Fi and wash basins. You also get the benefit of a choice in pitch for your caravan from a normal pitch and electric hook-up and a hardstanding pitch with electric hook-up. Again, if you need to do any laundry while you are there, before heading onto your next stop or catching the ferry to Europe, there's washing machines. Note, though, that you will have to take care of the drying yourself.
Sadly, although the park is very nice and conveniently located, we went there once last year, and we had a space booked on the ferry at 8.30 in the morning. That meant we had to get to the terminal for around 7.30, because you have to check-in one hour before departure. When it came to the time we needed to leave, we were told they would not, under any circumstances, unlock the site gates for us until after 7.30. Which, considering its location in relation to the terminal, is a little disappointing to say the least.
Kite Hill Farm Caravan and Camping Park
Okay, so this one is on the Isle of Wight. However, it is placed in such a beautiful location, that we didn't think we could avoid mentioning it. Woolton Bridge has been awarded the designation of Area of Outstanding Natural Beauty and is still a family-run site set across 12-acres of meadows and fields.
So, if you are intending on visiting the Isle of Wight as your main destination via the ferry terminal, or fancy taking a stop for a day or two there, you will be richly rewarded.
It's a traditional caravan and camping site, but still boasts a nice selection of facilities. Toilets and showers, electric hook-up and washing, drying and ironing facilities make it perfect for ensuring you always have clean clothes.
Fleet Farm Campsites
Another fine caravan site close enough to the Portsmouth ferry terminal on Hayling Island is Fleet Farm. This is a much smaller operation than others featured in our guide, but you still benefit from electricity, toilets, showers, a washing up area and it's even just five minutes walking distance away from the local pub.
Really, if you are heading to the ferry soon, and the place you stay in and around Portsmouth is just an overnight thing to recuperate from the journey getting to that point in the country, this is perfectly adequate.
Waverley Park
Again, this is another caravan and camping park on the Isle of Wight, so is more for your journey from the ferry terminal. However, it was too nice not to mention it. It's a great place to incorporate into your travelling itinerary, with lots of unmarked spots so you have the freedom to move around when you are parking up and don't have to fit into unforgiving pitch spaces. There's an onsite bar that also serves food open and provides evening entertainment. For the children there's a play area and you can have a cool down with all the family in the open-air pool.
As well as newly built and very modern showers and washrooms, the site also has dishwashing and laundry facilities too.
Greenbarn, Church Road, Newtown, Fareham, Hampshire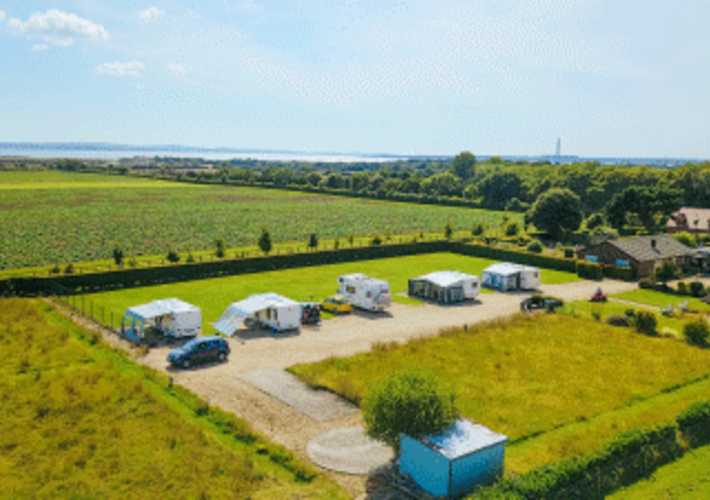 Another ideally situated caravan park for the International terminal at Portsmouth is Greenbarn. Although this is another of the more modestly kitted-out caravan parks and only has around 0.75-acres of land, it is still a good place to make a stop for a night or two before you take that ferry to warmer climates. There's the choice of hardstanding or grass pitches, electric hook-up. However, the shower and toilet facilities are only available seasonally, so if that's important to you, then you should check with the site owners before you book a pitch.
Alternatives to Traditional Caravan and Camping Parks
If none of the above suit you or you are looking to save a little money, you could opt for one of the following alternatives. You still are close enough to the ferry terminal to get there for your departure time and by saving a little money on the accommodation and trip this side of the Channel, you'll have more money to spend in Guernsey, Jersey, the Isle of Wight or wherever you are going on mainland Europe.
Portsmouth Lorry Park/Truck Stop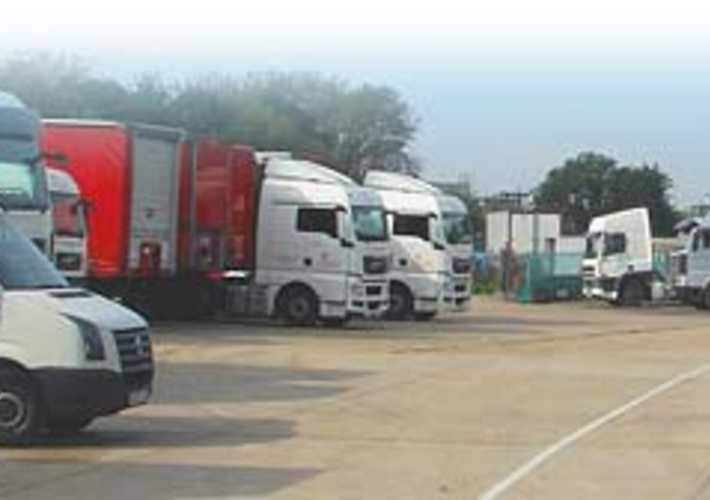 Why not join the long-haul haulage truck drivers and stop at this lorry park/truck stop for the night? Although you need to pay for the privilege it can be a great place to stop without having the fuss of trying to manoeuvre around a caravan park, especially as many are obviously located off the major motorways and dual carriageways.
Surprisingly, or unsurprisingly if you've worked in the delivery, transportation and haulage business before, truck stops like this one are fully kitted-out with a comprehensive range of facilities including a launderette, diner, bar, male and female washrooms, electric hook-up and there's even a B&B on site too.
The Ship Inn, Langstone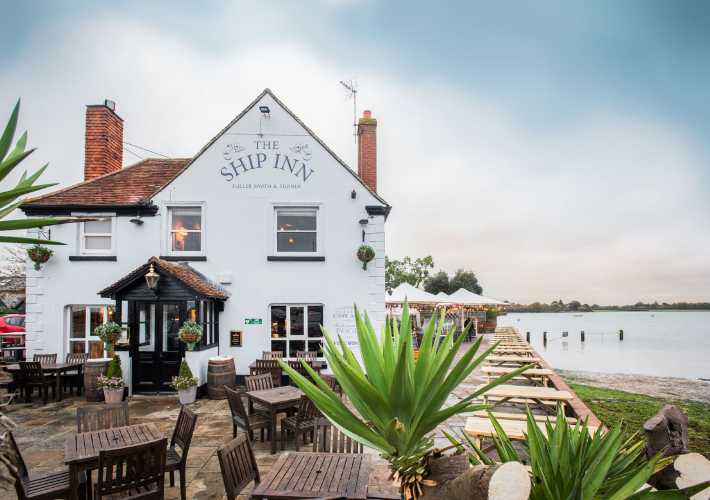 A former mill, The Ship Inn is another great option. The owners don't mind caravanners stopping up for the night. That is, if you eat and drink in the pub. However, this seems like a good trade-off because the food always gets great reviews and there is a nice selection to choose from. It might not quite have all the luxury and glamour of staying at the Ritz, but when you go caravanning, unless you have a fancy motorhome, you are not going for the glamour or luxury really, are you?
Plus, it's only 20 minutes from the ferry terminal, so ideal for setting off for those early departures.
Why Visit Caravan Sites Near Portsmouth Ferry Terminal
If you're looking for a great place to travel to, for the local points of interest as well as its connections to Europe, you should consider the Portsmouth International Port.
Accessible from the M275, this is the UK's most well-connected port and offers not just routes to Spain and France, but the Isle of Wight and the Channel Islands. There are no shortage of routes and what's more, the port has a brand-new terminal building. The new terminal is modern, light and very comfortable with a well-equipped concourse.
So, you can combine your love for caravan holidays with traditional holidays abroad where the sun is in more plentiful supply.
Now, depending on where you are travelling from originally, Portsmouth International Port is the best option for the most routes to Europe and other areas of interest. While you may be able to simply travel there on the day of your departure and get yourself on the ferry, if you are travelling a great distance, you will probably need to stop off along the way.
When you think about the fact that if you had to get yourself to Portsmouth ferry terminal and didn't have a caravan, and were coming from 200 miles away, you'd have to find a B&B or a hotel to stay at. Because you have a caravan, you can just find a caravan site along the way, or in and around Portsmouth and the surrounding area and rest up for the night.
Conclusion
So, if you are heading on the ferry from the international port at Portsmouth, we hope we have shown all the options open to you for stopping at caravan parks, truck stops and even in pub car parks. At Caravan Helper, we've always loved that aspect of caravan-based holidays – the sense of adventure, doing something a little different. We hope you have the same kind of unique and adventurous trip the next time you head out on the open road in your tourer.