Awnings are obviously a necessity if you really want to get the best out of your caravanning experience. They help to open up the available covered floor space you have beyond what's available in your caravan. However, as there are so many different sizes of awnings available, it can be quite a headscratcher trying to figure out what the right size is for your caravan. Especially, if you don't know what you are looking for.
Normally, you will find what is often referred to as the 'A' measurement or awning measurement for your caravan make and model in the owner's manual you received at the time you bought your caravan.
However, if you do not have that handbook anymore, for whatever reason, and have no access to one, there is a way you can accurately determine your caravan 'A' measurement.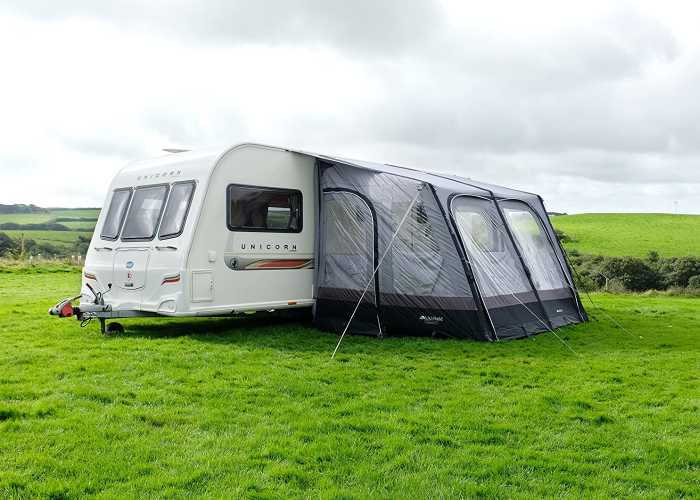 Working Out the 'A' Measurement
This can be done by measuring from the ground, along what is known as the caravan channel (from the bottom corner at the back, up vertically along that side and then along the roof and then down the front to the ground.
You can carry that out by taking a piece of string long enough from the ground at one end of the caravan channel to the ground at the other. Pro Tip – Don't even bother attempting this alone or you will easily lose your temper. Rope in a friend or relative and avoid those headaches and swear offs. Remember to measure it in centimetres, as that's the way most manufacturers market their awnings.
The measurement you take a note of is the size of awning you need. Generally, you will find that most caravan awning manufacturers sell theirs in size ranges. For example, if you have an awning measurement of 960cm, a manufacturer may have an available awning with a size of 930 to 960cm, which is the one you need. If though your awning measurement is, say, 937cm, you may need to buy one that has a size range of 930 to 950 instead. Although the size ranges will be different and those are just examples, this is the principle used.
Even if you are unsure what size of awning to buy, if you have taken the measurement accurately you can take it to your nearest showroom or a retailer who carries awnings and caravanning accessories and they will be able to point you in the right direction of the right awning size for your tourer.
Measuring for a Porch Awning
If you would like a porch awning, there are slightly different measurements that you need to take.
First, you need to take your string and measure the height of your tourer from the awning rail to the ground, making sure you take it to the highest point. Ignore whatever height is cited in your owner's manual as this is generally the shipping height and inaccurate as it will include any aerials or domes on the caravan roof.
Before you take the next measurement, take as long as you need to look down your caravan along the side and try to imagine where you would like to fit your porch awning. You need to remember that your porch awning will incorporate the caravan doorway, but it may be that you don't want it to include windows, so take that into consideration while measuring the available space. Now, measure the length of your awning rail that is completely straight, ending the measurement to avoid windows if you prefer. This will determine how wide a porch awning your tourer will be able to have fitted to it.
You will find that the majority of porch-style awnings are retailed and marketed with a manufacturer/brand name followed by the model name or number and numbers. For instance, SunnCamp Swift 220. That number describes the straight rail length that is necessary to accommodate that particular porch awning from SunnCamp.
So, whether you are looking to benefit from a full-size awning or prefer the idea of having a miniature porch awning, there is no longer any mystery about how you figure out which size is right for your caravan.
Don't forget to keep your awning clean!