If you have rented a campervan in the past and ready to take the plunge and buy one then you'll want to know what is the best campervan to buy? There are more choices than ever before, so yes, it takes some thought. They don't come cheap, but that's to be expected because there are some genuine beauties on the market.
There are many reasons people choose to leave the traditional hotel room style holidays behind. Not least of which is the freedom you get when you can just jump in your van and literally go anywhere you want in the UK and Europe.
As I mentioned there are some amazing campervans available to buy, there's no need to leave any creature comforts behind, not anymore. Today's campervans are a far cry from bare-bones campers prevalent twenty to thirty years ago.
Gone are the days when you need to sleep on 2-inch cushions, watching a small 12-inch black-and-white TV or rushing out in the pitch black dead of night, trying to find the toilet block of the campsite you're staying in.
Read on and find out what's the best campervan to buy:
1. Volkswagen California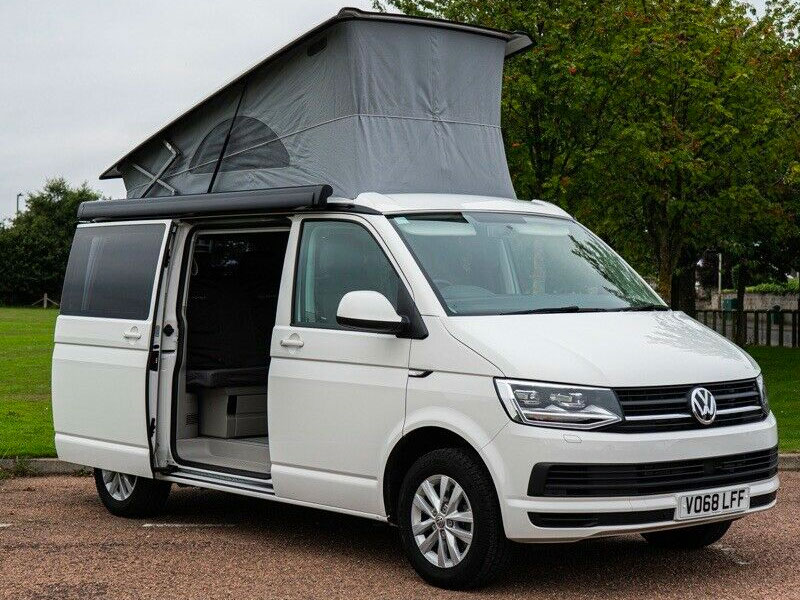 Who hasn't heard of the iconic VW Camper, from countless TV shows and movies, it's held a place in campervan enthusiast' hearts for generations? So it's not surprising this is the first campervan people think of when there's a list of the best campervans.
The VW California is a conversion of the VW Transporter van and built entirely by Volkswagen Commercial Vehicles (VWCV) Special Business Unit, a subsidiary of Volkswagen Commercial Vehicles.
The Volkswagen California's spacious interior, luxurious fixtures and fittings and driving capabilities make it our No1 choice. It's sufficiently low enough you can even park it in a multi-story car park.
This campervan can comfortably sleep four. Depending on which trim level you choose, the prices are £55,000+ for the Coast and £63,000+ for the Ocean. 
All the creature comforts you want from a luxury Campervan. These include a refrigerator, gas hob, sink with running water, front revolving chairs and a sliding rear bench seat which folds down to make a double bed.
2019 saw VW give the van an upgraded dashboard featuring VW's current infotainment system. Improvements to the general build quality.
There's only one engine choice, but it's a good one. VWs 2-litre 148bhp DSG auto transmission.
While the Coast has a pop-up roof, the Ocean has a power-assisted system which also has a double bed in the roof compartment.
There's a natty space-saving area in the boot door where you can store a picnic table and two chairs. Both California trims include an extendable side-awning.
Another improvement added in 2019 was the electromechanical steering system, which allows the fitting of some excellent safety features. For example, crosswind-assist. This helps the camper's stability when you hit some of those severe motorway cross-winds.
When you park up the driver and passenger seats revolve around so the occupants can sit at the table.
The higher-spec Ocean has double-glazed windows and an integrated sat-nav system.
2. Mercedes-Benz V-Class Marco Polo
They base the Marco Polo camper on the MB V-Class MPV. It wasn't always available to buy in the UK and many people are still unaware they exist.
There are 4 trim levels and prices range between £58,000 to £70,000+ and will sleep up to 5 people or 4 depending on which model you buy.
Similar to the VW California, the front two seats swivel into position alongside the table. While the back seating folds down into a double bed.
When you're on the campsite, you can hook the Mercedes to an external power source if you want to run any electrical devices.
Extend the power-roof and you have sufficient room for a decent size double bed.
The vehicle has a 2-litre turbo diesel and a buyer can opt for one of two power outputs. One with 161bhp or a more powerful 236bhp – and a 9-speed automatic transmission. 
The Marco Polo incorporates an extendable side-awning.
3. Ford Transit Custom Nugget
I really like this campervan, it has unique features and even allowing for the ridiculous name (Nugget) would be my preference. The price range is £59,000+ to £63,000+. It surprisingly starts off more expensive than a VW California.
Similar to the VW California, it has a neat space-saving device in the door boot for a picnic table and two chairs. The roof space is extendable but unfortunately, you can only operate it manually.
The main bedroom has an unusual setup. While the two rear seats fold down to make the bed, the lower part of the bed disappears into the kitchen units.
There is a unique design in the kitchen area. This is 'L' shaped and incorporates a fridge, 2-ring gas stove and a cutlery drawer.
The standout features of the Ford Nugget Campervan are the external shower unit, its own freshwater fill-up supply connector and an electric heater if you use the van in early spring, autumn or the summer is not what you hope for.
The Nugget drives more like a car; they base the design on the Ford Transit, having one engine with two power outputs. Either 128bhp or 183bhp supplied by a 2-litre EcoBlue diesel. Both incorporate a six-speed manual gearbox, but you can have the six-speed auto transmission included with the top-of-range version at £63,000+. 
If you believe the UK summer nights are getting hotter, or are you intending to take the van into Europe's warmer climes? If so, you might want to fork out nearly £1000 for air-conditioning. If you're a keen biker, you might like to include the optional bike-rack.
The Final Word
Everybody is unique, with their own likes and dislikes. Which makes it a pleasant idea that there are so many campervans to choose from.
Choosing the best one for you will come down to what you're looking for and what you want from your campervan.
With the three we've chosen, I hope they tick some of your boxes. Even though the VW California is most people's iconic idea of a campervan. That will not be as important for many other potential buyers.