Scotland is one of the best places for outdoor adventures. It is endowed with beautiful sceneries and landscapes, from golden coastlines and glistening lochs, towering mountains and magnificent glens that will never fail to amaze you.  And what better way to enjoy them than going out with family and friends, caravanning and camping to your heart's content. You can even add castles and quaint towns to your itinerary and immerse yourself in Scottish culture and history.
So, take your camper to the open and scenic route. Here is a compilation of the best sites for a caravanning tour in Scotland.     
Best Touring Caravan Sites in Scotland (Some Great Choices)  
Located in Stirling in the heart of Scotland, the Blair Drummond Caravan Park sits within an 8.5-acre walled garden where you can set up camp amid mature trees and shrubs. The park features tracks and private roads that are great for cycling, walking or hiking. It even has a dog walk for your furry friend.
The park is equipped with the following amenities that make for a comfortable stay:
Children's play area

Toilets & showers with hot water and disability aids 

Site shop

Information Room

TV and Wi-Fi

Laundry room
There are many places that you can visit when staying in Blair Drummond Caravan Park. It is adjacent to the Blair Drummond Safari Park with its exotic and interesting animal collection which include alpacas, axis deers, lemurs, bison, Ankole cattle, and elephants. The nearby Quarry Loch is an excellent place for birdwatching with different migratory birds like osprey and white-tailed eagles, as well as a variety of waterfowl.
You can also visit the different castles in Stirling and Doune, the breathtaking Loch Lommond and Trossachs National Park, or take a cruise in Loch Katrine on the 118-year old steamship Sir Walter Scott. You can also visit art galleries and museums in Edinburgh and Glasgow which are just a few hours'-drive away.
Park tariffs vary during the value season and peak season:
Pitch

 

– £6

 

– £12

Adult (per) – £8 – £9

Child (per) – £1.40 – £1.70

Dog

 

(per) – £0.50
Riverside is a family-run caravan park in Hawick, close to the fascinating Scottish borders near Jedburgh and Kelso. It sits on a 10-acre of land with the River Teviot bordering the property. It is a wonderful place for fishing, cycling, hiking, nature-trekking, horseback riding, archery, or just for a little peace and quiet. You can also enjoy long walks with your pets as you take in the unspoiled beauty of this riverside setting or watch wildlife like red squirrels and otters in their natural habitat.
You can also visit the historic Border quietly charming towns of Melrose, Galashiels, Kelso, Jedburgh. The various attractions in the area are St. Cuthberts Way, Jedburgh Abbey, Harestanes Visitor Centre, Monteviot House, and Gardens, and St Boswells Donkey Sanctuary. You can also go clay pigeon shooting or play a round of golf at neighboring facilities or have a drink or two at nearby pubs.  You can also take an hour's drive to Newcastle, Edinburgh, or Carlisle for some retail therapy.     
The park's facilities and amenities include:
Lodges

Play areas

Secluded flat grass area for tents

Fishing

Freshwater and electricity bollards/hookups

Drainage for tourers

Wi-fi and TV

Tourer storage

Eco-friendly showers & toilets with disability access/areas

Baby changing facility

Laundry
Tariffs for tourers and motorhomes vary depending on the season, from £25.50 to £27.50.  The tariff for campers also varies depending on the number of people in your group and month of the year, from £9-11 for a solo camper to £23-26 for a group of 5-8 people.  Pets are free, as with the use of showers, toilets, and washing up facilities.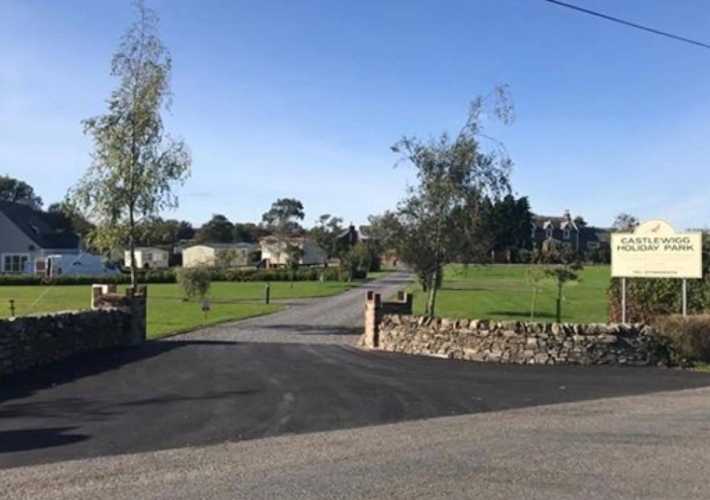 Situated in the heart of the Machars peninsula with its undulating hills, Castlewigg Holiday Park is your perfect getaway for a caravanning holiday.  It is surrounded by the alluring and unspoiled countryside with sandy beaches just 5 miles away. It is a great place to unwind away from the hustle and bustle of city life. Just pitch your camp or touring caravan and you can go walking, hiking, cycling, and birdwatching.  There are also a few easily accessible excellent golf courses for a round or two.
The mild climate created by the North Atlantic Drift allowed plants to flourish in the area. Visit Galloway House, Logan Botanic Garden and Castle Kennedy and literary stop and smell the flowers. These places boast a wide collection of beautiful tropical and unusual plants. There, you can walk through palm or eucalyptus trees or just stay in the shade of the gunnera with its extremely large leaves. 
Facilities and amenities in the park include:
electrical and water connection

Wi-Fi

Waste disposal and fill-up

Dog lawn

Washing cubicles

class="s2″>Washing machine and tumble dryer
There are restaurants and food outlets 3 kilometers from the site, while sailing, swimming, surfing, and angling are just 7 kilometers away.
Tariff for motorcaravan with a maximum of 2 persons ranges from £22 – £25. Extra persons are charged £1.50 per person per night.
Linwater Caravan Park near Edinburgh provides accommodation for motorhomes and caravans. It also provides an area for tents and glamping. The family-run park also offers static holiday homes and self-catering lodges. It sits amid farmlands but is close enough to the shopping centers and local amenities like cinemas, supermarkets, doctor and dentist clinics, pubs and takeaway food shops. There are also regularly held farmers markets from Wednesday to Sunday in different locations in Edinburgh.
While on your caravaning tour, visit Edinburgh Castle, St. Giles Cathedral, Palace of Holyrood House, or Mary King's Close. Take the time to also visit Camera Obscura, the National Museum of Scotland, the National Portrait Gallery, and the New Scottish Parliament in the area. Meet the pandas and other wildlife at the Edinburgh Zoo. And if you're up to something more challenging, climb the top of the extinct volcano Arturs Seat or try out the course at Europe's largest Edinburgh International Climbing Arena.
The different amenities and facilities within the park are:
Children's play park with picnic area

Dog walking trail

Shop and reception room

Fishing onsite

Hot water showers with changing areas

Privacy cubicles with wash basins

Toilets and urinals

Washroom with baby bath and changing area

Complimentary hair dryers

Free internet/Wi-Fi access 

Laundry room

Gray water disposal point 

Indoor camping kitchen will be available starting March 2019
There are also services and amenities nearby like riding, sailing, boat launch, and shops.
Tariff rates vary from month to month and depending on the number of persons in your group. Touring pitch tariff range from £11 per night for a solo traveler to £17-24.50 per night for 2 persons. Children under 5 years old are free.
Situated in a quiet farm site in the Banff area of Aberdeenshire, Wester Bonnyton Caravan and Camping Park is a great place for rest and relaxation. It has spectacular and scenic views of the North East Scotland countryside. Enjoy a walk be amazed by the beautiful landscape, and catch the magnificent sunset while you're at it. There are tracks available for the cycling enthusiasts to use.
You can also go and take a look at the attractions and landmarks in Aberdeenshire. Be close to nature and visit the Scottish Dolphin Centre and Macduff Marine Aquarium, or take the Puffin Cruise for sightseeing.  Visit historic castles and monuments like Delgatie, Crathes, Fyvie, Craigievar, and Huntly. 
The family- and dog-friendly park offers the following amenities and facilities:
Playground and play barn

Grass and hardstanding pitches

Shop

Electric hookups

Toilet and shower

Onsite shop

Wi-Fi

Laundry room and drying facilities
There are pubs,  restaurants, shopping centers, bowling, and squash facilities nearby. You can also make a short drive to the city centers of Elgin and Aberdeen. If you want to feel the calming effects of the bay, explore Banff's sandy beaches and have a meal at the harbor town of Macduff. 
Tariff rates vary from £10 to £25 per night.
Sitting on 20 acres on the southern shore of Beauly Firth, Inverness, the Park offers stunning views of the whale-back shaped Ben Wyvis. The peaceful and serene family-run park is surrounded by tall and mature trees ideal for campers and caravanners alike.
Enjoy a stroll up the hills or a hike through the many coastal pathways or forest trails. You can also cycle thru these trails, the country lanes or up the mountains, and even end up in Loch Ness. There are also other activities that you can enjoy in Inverness like rock climbing,  skiing, surfing, kayaking, and other water sports. You can even arrange for whiskey trail tour to the different distilleries nearby and appreciate its role in the rich cultural heritage of Scotland. And, while you're at it, why not try to learn a little Gaelic?
The park amenities and facilities include:
Children's play area

Well-stocked shop

Electric vehicle charging point

Free shower block with hairdryer points

Fully-equipped toilets

Laundrette with ironing

Wi-Fi and desktop computers

Dishwashing block

Chemical disposal point

Public telephone

catering van
Tariff range from £15 to £22 during the low season to £18 to £25 during the peak season (July and August), depending on the type and size of vehicle and tent used.
The Lidalia Touring Caravan Park is a membership only park for members of the Caravan Club or their referrals.  It is located in the heart of Newcastleton, also called  Copshaw Holm in the Scottish Borders. You leave all the stresses behind as you hitch up your tent or caravan as you enjoy the beautifully landscaped natural setting. Take a short walk and soak in the stillness of the moors while looking at the layout of the model town of Newcastleton. Partake in outdoor activities with your family and friends like cycling, golfing, fishing, and horse riding, even challenge yourself to a game of orienteering and test your navigational skills.
The village is easily accessible where you can find reasonably priced food from local hostelries and pubs. Enjoy a slice or two of local pies or a piece of bread from the mini- market or baker. Purchase your supplies from the village's small friendly shops. Banking and postal services are also available at the village. You can easily take a bus ride to Carlisle or Hawick for more sightseeing. Visit Hadrians Wall and the Hermitage Castle and be transported to the time of Mary Queen of Scots.
The Park offers the following on-site facilities:
Dog walks

Fishing

Electric

Wi-Fi

Hot and cold showers

Laundry and dishwashing

Disability facilities

Heated utility block

Waste disposal
There are also plenty of off-site but easily accessible facilities like green or lawn bowling and golf course. You can also join the Scottish Music festival if you come in late June – early July or the Holm Show at the end of August.
This 4-star park is located within the beautiful estate of Thirlestane Castle in the idyllic Scottish Borders.  You will definitely feel refreshed as you wake up to the view of a vast meadow and be surprised to see a magnificent and historic Thirlestane Castle as your neighbor. Visit and see one of the finest and oldest castles in Scotland and enjoy your cup of tea as you get transported back in time. Go hiking or walking with your furry chum or go rock climbing or cycling thru the village's lanes.
Explore the offerings of the Scottish Borders, from visits to ancient ruins and historic abbeys to specialty museums to fishing sites and moors. Edinburgh is also just 25 miles away if you need a little retail therapy. 
Facilities and amenities at the site are:
Children's play area

Electric hookups

Modern toilet and washing

Disability and family baths

Wi-Fi

Laundry and drying

Food preparation, fridge, and dishwashing

Winter and all-year storage

Overnight late night parking is available
The Park is on the bus route to Edinburgh and also has direct access to the Southern Upland Way for those who love to explore and go on long country walks.
Tariff for motorhomes varies from £18 to £ 21 per night for 2 adults with 3 children, depending on the length of your motorvan and whether you choose a hard or grass pitch.  Electric hookup and hot water and showers are free. Additional fees will be charged for larger groups.
The town of Aviemore in the Cairngorms National Park is the beautiful setting of the Camping in the Forest Glenmore Campsite. Enjoy the outdoor life and feel refreshed as you wake up to stunning landscapes and mountains. Revel in the wonders of the forest as you immerse yourself in ancient forests or frolic in the beach of Loch Morlich and other hidden lochs. Take your family and friends, both human and furry, on treks thru mountain trails or ski runs.
The Park provides sits within the unique Cairngorms National Park, where you see flora and wildlife in their natural setting. Cycle and bike through the trails of Tolmount and appreciate the breathtaking beauty of Loch Morlich. Bask in the culture and heritage of the mountains' distinct culture and traditions as you visit castles and historical sites like Ruthven Barracks. You can even learn a little Gaelic along the way.
The Park offers the following:
Toilets and showers

206 pitches available

Hardstanding and grass pitch

Electric hook up
Prices start at £16.95 per night for two adults. A security bond of £20 per pitch is requested for groups needing 5 units or more. Senior campers aged 60+ years are given a 20% discount off the grass pitch.
Castle Point Caravan Site is located in the small coastal village of Rockcliffe, Galloway. It offers panoramic views of Solway Firth, Hestan Island, and Rough Island, sometimes, even the Cumbrian coast. You can easily reach 3 beaches since the sea since is just 300 yards away.  So, take your family and pets for a romp at the beach.
Castle Point is in itself a historic site. It is where an ancient Roman fort used to be.  There are several walking trails or options for the explorer in you, you can go over the cliffs to Glenstocken cove then proceed to see the cormorants at the Monument and Sandyhills.  You can also take a walk to the sailing village of Kippford and have a cup of coffee or a mug of beer at a local pub.
Facilities and amenities on site include:
Wi-Fi

Electricity and hot water

Laundry, dryer, drying cabinet, and wash up areas

Toilets blocks with disability toilets

Showers

class="s2″>Caravan storage
Tariff varies from £20.60 to £25.75 per night for two persons depending on the season. Extra fees are charged for additional persons, £1.00 for children aged 5-16 and £2 for each extra adult.  Children below 5 years are free of charge.  Dog tariff is at £0.50 per night.
Conclusion
So, rev up your camper and enjoy the great outdoors with family and friends. Bring your pets with you and bask in the beauty of Scotland's beautiful coastlines, crags and moors, lochs, and mountains.
Need some more ideas?